The Holiday book ending explained—could there be a season 2 of the sinister Channel 5 adaptation?
If The Holiday book ending is anything to go by then fans are in for a dramatic final episode...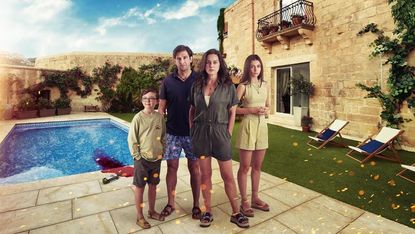 (Image credit: Channel 5)
If you want The Holiday book ending explained then you're probably not alone as fans of the disturbing Channel 5 adaptation await the show's finale…
Adapted from T.M.Logan's Sunday Times bestseller of the same name, Channel 5's The Holiday has left viewers with some serious questions. From wondering where was The Holiday Channel 5 filmed to questioning main character Kate's deductions as she attempts to uncover who has betrayed her, if there's one thing this new drama knows how to do it's create intense twists and turns.
Just like many of the best book-to-movie adaptations, this TV adaptation sees the characters' apparently perfect lives suddenly overturned. But whilst book fans will know where Kate's journey will take her if The Holiday book ending is faithfully adapted, others might still be in the dark about what could lie in store.
Here's The Holiday book ending explained and why there could be a season 2 of the show…
The Holiday book ending explained
*Warning: major book spoilers ahead!*
Whilst it's not yet known whether the chilling revelations made in The Holiday book ending will be identically brought to life in the Channel 5 adaptation's final episode, if they're anywhere close, things are about to take a very dark turn. Just like with The Girl Before book, T.M. Logan's thriller uncovers the identity of the murderer and makes you see the characters in a whole new light.
Throughout The Holiday book (and so far in the show) we've seen happily married mum-of-two Kate's world fracture as she discovers texts from her husband to a mystery woman known only as CoralGirl. Already a life-changing moment, she makes this discovery whilst the couple are on holiday with their kids Lucy and Daniel and Kate's best friends and their families.
Suspecting he's been unfaithful and that one of her friends is the Other Woman, Kate sets out to uncover her identity. As The Holiday book ending prepares to unravel the mystery, one of Kate's friends, Izzy, is found dead at the bottom of a cliff the day after their other friend Jennifer's eldest son Jake got drunk and spoke to Izzy.
Kate later sees Jennifer and Sean arguing and after Jennifer leaves, finally confronts her husband about what he knows. The truth couldn't be more unexpected—Sean wasn't having an affair with Jennifer, they were both covering up their respective children's involvement in the murder of a teenage boy, Alex Bayley, back at home.
Kate and Sean's daughter Lucy had dated Alex, before being left devastated after they broke up and he taunted her with a nude video he'd taken of her when they were together. During a gathering of the families, a drunk and furious Lucy told Jake about her hatred for Alex and her hopes that he'd be made to pay.
In an apparent attempt to impress her, Jake then agreed that he could help make sure Alex has "an accident" and asks Lucy if that's what she wants. Her upset response in The Holiday book ending?—yes. Taking Lucy's words as an instruction, Jake stole Jennifer's car one night, deliberately knocking the teenager down.
It's then that Sean came across the horrific scene during one of his runs (he'd stopped prior to their vacation, with Kate believing he was conserving energy for an affair) and recognized Jennifer's car and Jake. After the boy drove off, Sean was about to call the police when Jennifer rang him in tears, begging him to spare her son.
After all, Jennifer was Kate's friend, so Sean goes against his instinct and leaves Jake out of it when he calls the police. Things then take an even darker turn as Jennifer reveals Jake caught Lucy's words on video and blackmails Sean to keep his mouth shut about her son's involvement—or else.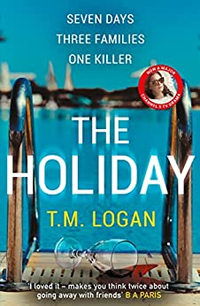 The Holiday by T.M. Logan, £3.99 | Amazon
When three families go away on a Mediterranean holiday together, Kate isn't prepared for the betrayal, danger and heartbreak in store. Convinced her husband is cheating on her, things take a deadly turn when it seems someone is prepared to do anything to keep the truth from her...
Jennifer was CoralGirl, using a fake profile to update Sean on the investigation. Arriving in Malta, she believed they had got away with it, until news broke that Alex had died and Jake got drunk and told Izzy. Having lost her fiancé in a hit-and-run, Izzy won't be persuaded to keep quiet and Jennifer kills her.
Upon hearing the dreadful truth from her husband, Kate knows that implicating Jennifer and Jake means Lucy going to prison too. But after almost killing Daniel, Jennifer is eventually arrested in Provence, leaving things uncertain.
Could there be a The Holiday Channel 5 season 2?
The Holiday book by T.M.Logan was a standalone thriller and there are currently no reports or confirmation of a The Holiday season 2 to come from Channel 5. However, if shows like Big Little Lies prove anything, it's that if the demand is there from fans, if there's enough of a story to be told, a sequel season could be possible.
And The Holiday book ending does have scope to be explored further, with a "One Month Later" section revealing what happened to Kate, Sean and their family after Jennifer's crimes. Here we learn Jennifer is still in prison in France and see Kate let herself into Jennifer's family home with the key she'd once given her and wipe all copies of Jake's video of Lucy talking about Alex.
Not only that, but Kate also takes samples from Jennifer's car which has remained in the garage since that fateful night after Sean convinced her that it would look too suspicious to take it in to be repaired so close to Alex's hit-and-run. Even as she does this, Kate knows that when the police present Jennifer with the evidence, she'll confess to both murders to protect Jake.
It's not a complete form of justice, but Kate believes that Alex and Izzy's families deserve whatever closure she can give them. In the final pages, police arrive to speak to Jennifer's husband Alistair about what happened to Alex and he invites them in.
These dramatic events would certainly be an intriguing premise for any potential season 2, with Lucy still in the dark about the videos' original existence and Jake, Jennifer, Kate and Sean all still keeping a secret about what really happened to Alex.
It's also possible that the Channel 5 adaption will change the conclusion entirely, like when they changed the location from Provence in the book to Malta in the show. If it is different, it could make another person the murderer or ensuring Jake is punished for his crime and leave lots of potential avenues open to explore further.
Opening up to RadioTimes.com, Kate's actor Jill Halfpenny expressed her belief that the show is "pretty close" to the book, though she did hint that there could be changes as the finale draws closer.
"Towards the end there are a few little changes here and there but other than that, I would say it was pretty close," she said.
Jill continued, "It's always difficult when somebody loves a book that's been adapted because you can't get the amount of detail and nuance in a drama that you get in a 600-page book, otherwise it'd be a 20-episode drama. So I think people do always feel like, 'Oh, you didn't put the part in that was my favourite.' But there just has to be a choice when you're adapting something and the story has to keep moving."
"With books, you read a lot about the characters' internal worlds. That's why we love novels. We love to know what people are thinking. But with drama, it's visual; you show, not tell. It doesn't make me nervous, but I think I'm very realistic about people holding books very, very dearly in their hearts," she added.
With the final episode set to air on Friday March 4, The Holiday book ending will have many book lovers excitedly waiting to see whether similar events will unfold. Until then, there's plenty of time for thriller fans to enjoy everything from Trigger Point ITV to the Chloe BBC ending before the The Holiday answers their questions.
Emma is a Senior Lifestyle Writer with six years of experience working in digital publishing. Her specialist areas including literature, the British Royal Family and knowing all there is to know about the latest TV shows on the BBC, ITV, Channel 4 and every streaming service out there. When she's not writing about the next unmissable show to add to your to-watch list or delving into royal protocol, you can find Emma cooking and watching yet more crime dramas.