Best Christmas movies on Netflix 2020 to watch right now
We've picked the best Christmas movies on Netflix this year so you don't have to spend ages scrolling.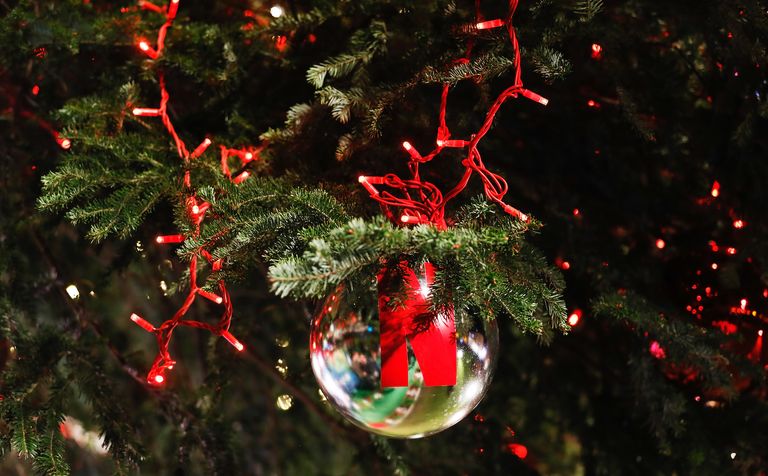 (Image credit: Getty Images)
There are almost too many Christmas movies on Netflix to choose from, which is why we've picked out the best Christmas movies on Netflix for you! 
When it comes to Christmas movies, Netflix has the genre pretty much wrapped up. The streaming service has released a multitude of Netflix original festive films since it first launched and the new releases keep on coming.
So save time of browsing the streaming platform's endless catalogue of films and spend it snuggled up in front of one of these great Christmas movies on Netflix instead. Just add a glass of mulled wine and your favourite Christmas jumper for a full helping of holiday spirit…
Best Christmas movies on Netflix 2020 to watch right now
The Holiday 
A modern classic Christmas movie, The Holiday is universally loved for its feel-good festive tale of romance thanks to a serendipitous house swap. Starring Cameron Diaz and Kate Winslet as the trans-Atlantic home owners who decide to trade places for the holidays and find themselves (and true love) along the way.
A Christmas Inheritance
To inherit her father's company, socialite Ellen must learn more about the true spirit of the business she's set to inherit and visit the small town where it all started. A Netflix Original movie that stars Andie MacDowell (from Four Weddings And A Funeral fame) this heartfelt film has an important – and pertinent – message at its core about the importance of helping others.
Christmas Made to Order 
Jonathan Bennett (Mean Girls) stars in this festive rom-com about a holiday decorator who is hired to help an architect get ready to host his family for Christmas – but he gets a lot more than he bargained for.
Let it Snow
A story about three different holiday romances and a group of students whose lives suddenly become intertwined when a snowstorm hits a small Midwestern town on Christmas Eve. What at first seems simple is more complicated than they could have imaged and by Christmas morning, things will be forever changed.
The Grinch
This animated retelling of The Grinch by Dr. Seuss first came out in 2018 and features the voice of Benedict Cumberbatch. A light-hearted festive film that will have both young and old alike giggling. 
The Christmas Chronicles 
A brother and sister must work together to save Christmas after accidentally crashing Santa's sleigh. The original film, starring Kurt Russell as a Silver Fox-take on Santa, is a fun addition to the festive movie archives but don't be tempted to watch the sequel – it doesn't hit anywhere near as close to the mark.
Nativity
Martin Freeman stars as a lovelorn primary school teacher who ends up being tasked with his worst nightmare – direct the school nativity play. A heart-warming and comical tale commences. If you fall in love with the characters of this feel-good film and are left wanting more, the sequel and Nativity 3 are both on Netflix in the UK too, so you can have a festive movie marathon.
Jingle Jangle: A Christmas Journey
One for the whole family to enjoy, this Netflix original movie stars Forest Whittaker and Downtown Abbey's Hugh Bonneville.  A brand new Netflix Original for 2020, the film follows the story of a toymaker who rediscovers joy and hope when his granddaughter comes into his life.
Klaus
This animated, feel-good Christmas film is so good that it was recognised by the Academy Awards and nominated for an Oscar. The movie is about a selfish postman and reclusive toymaker who form an unlikely alliance in the hope of bringing joy to a rundown, unhappy town.
Arthur Christmas 
A feel-good Christmas film about Santa's son, Arthur, who is entrusted with an important mission ahead of Christmas. Featuring a star-studded cast of actors who have leant their voices to the animated movie including James McAvoy, Hugh Laurie and Bill Nighy.
A Christmas Prince 
This Netflix Original has been popular with viewers since it first debuted in 2017 and continues to trend on the platform today. The basis of the story is that an aspiring writer is sent abroad to get a scoop on an eligible young prince about to become king. If you don't already know the film, we won't spoil what happens next but let's just say that the film's two sequels - A Christmas Prince: The Royal Wedding and A Christmas Prince: The Royal Baby – are also available to watch on Netflix.
Operation Christmas Drop 
A new Netflix Original Christmas movie for 2020, this film forgoes the stereotypical winter wonderland backdrop for a tropical paradise instead. A festive rom-com with an island-twist, this is a story about a political aide who travels out to the tropics to shut down a base there – and an Air Force pilot who is tasked with changing her mind.
Holiday in the Wild
Kristin Davis (famous for playing Charlotte from Sex and the City) stars as a woman who embarks on what was meant to be her second honeymoon alone, after her husband abruptly ends their marriage. Whilst taking a solo safari, Kate discovers much more in Africa than she was counting on.
Holidate
Brand new for 2020, this Netflix Original movie stars Emma Roberts and Luke Bracey as two singletons who team up to be each other's date for the holidays – with no strings attached. But things that start off simply rarely end that way…
Looking for the likes of Home Alone or The Sound of Music? You can find these Christmas movies on Disney Plus along with many more!