17 Best Christmas movies on Disney Plus to watch 2020
Prepare for a festive movie marathon courtesy of these cracking Christmas movies on Disney Plus…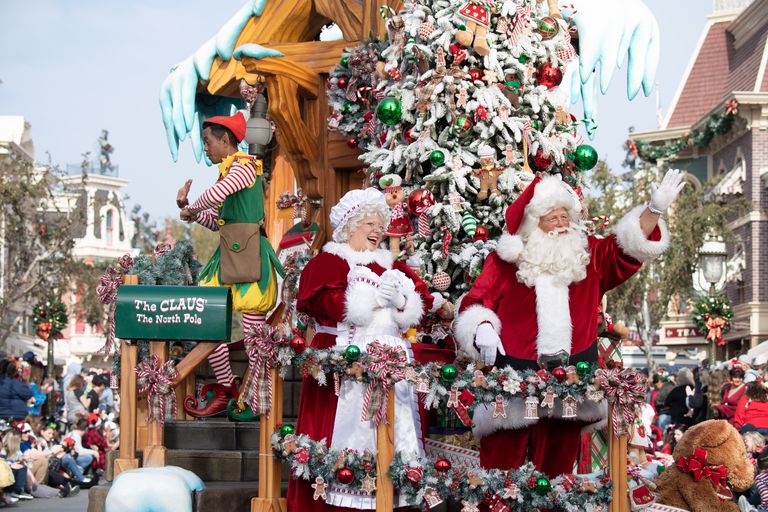 (Image credit: Getty Images)
The Christmas movies on Disney Plus this year are some of the best holiday films offered in 2020 across all of the streaming services. Where else can you catch classics like Home Alone and Santa Clause and also get to see new Christmas movies like Godmothered and Noelle? 
Sure to get you in the holiday spirit this year, the Christmas movies on Disney Plus are not only family friendly but will appeal to all generations too. 
So grab some mince pies, a slice of Christmas cake or make a mug of hot chocolate and settle down in your favourite Christmas jumper for a festive movie marathon courtesy of these cracking Christmas movies on Disney Plus...
Best Christmas movies on Disney Plus 2020
Noelle
A fairly new entry into the Disney Christmas movie archive, Noelle first came out in 2019 and stars Anna Kendrick (Pitch Perfect, Up in the Air) as the daughter of Santa who wants to do all she can to help the festive season be as jolly as possible. When her brother gets cold feet as his time comes to take over the family business, it falls to Noelle to step up - and save Christmas. 
Godmothered
A brand new Christmas movie on Disney Plus and from Walt Disney this year, this family-focused tale follows Godmother-in-training Eleanor as she sets out to save her kind and prove there is still a need for fairy Godmothers - and a little magic - in our modern world. 
Home Alone (1, 2 and 3!)
KEVIN! Christmas wouldn't be the same without Home Alone - arguably one of the best festive movies ever and a true Christmas classic. For all the nostalgia feels, follow the blockbuster from 1990 with its sequel - Home Alone 2: Lost in New York - which is also on Disney Plus along with Home Alone 3, too. 
The Nightmare Before Christmas
A festive film with a twist, this movie first came out in 1993 but the story of Jack Skellington and how his newly discovered obsession with Christmas leads him to abduct Santa Claus is still enchanting audiences today. 
The Santa Clause
The Santa Clause is a family comedy from 1994 about a divorced dad who accidentally takes on the role of Father Christmas after unwittingly agreeing to the 'Santa clause'. If you loved this movie, the other movies in the series - Santa Clause 2 and Santa Clause 3: The Escape Clause - are also both on Disney Plus.
Frozen & Frozen II
Frozen II was one of the big draws for early subscribers to Disney Plus, and now both the original Frozen film and the sequel are available to watch on Disney Plus. Revisit the magic and memorable tunes from the first movie or be enchanted by yet more animation magic and brilliant ballads in the equally impressive second instalment of the franchise.  
The Chronicles of Narnia: The Lion, The Witch and The Wardrobe
The epic tale penned by C. S. Lewis is bought to life in this star-studded adaptation that first hit screens in 2005. A talented cast of young actors leads the ensemble as Peter, Susan, Edmund and Lucy - the children who discover a winter wonderland where all is not as it seems in an old wardrobe.
Should you get swept up in the story, you can also watch the next two movies in the series, The Voyage of the Dawn Trader and Prince Caspian, as both are available to stream on Disney Plus.
Sound of Music
This 1965 classic is one of our favourite things and while it might not have the typical tropes of other festive-themed movies, the Sound of Music has been televised for so many years at Christmas that it is now forever associated with holiday classics. 
The Nutcracker and the Four Realms
Starring Helen Mirren, Keira Knightley and Morgan Freeman, this fantastical retelling of  Tchaikovsky's festive ballet sees a young Clara find out she not only holds the key to a magical world of fairies and toy soldiers, but also the fate of the world in her hands. 
The Muppet Christmas Carol
Fans of The Muppets will love this version of the old festive tale about the old miser Scrooge who hates Christmas. A funny film for all the family that re-tells a classic story with a side of comedy. 
A Christmas Carol (2009)
For a slightly different adaptation of Charles Dickens' Christmas Carol, this animated movie features the voice of Jim Carrey as Ebenezer Scrooge. Directed by Robert Zemeckis, this captivating Christmas movie also boasts the likes of Gary Oldman, Colin Firth and Steve Valentine in the cast.
While You Were Sleeping
A feel-good film set at Christmas time, this romcom from 1995 stars Sandra Bullock as Lucy, a lonely ticket booth worker from Chicago who saves a man's life one day while at work. Later at the hospital while the man is in a coma, she is mistaken by his family for his girlfriend and when she doesn't correct them straight away, things get more than a little complicated...