The best real Christmas trees—which variety to buy and how to care for yours
The best real Christmas trees all have differing pros and cons depending on their variety, so it's important to choose wisely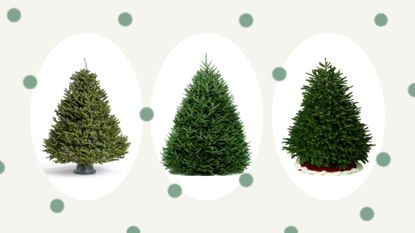 (Image credit: Future)
The best real Christmas trees are fresh, full, long-lasting, and delicious-smelling. But when it comes to finding the perfect real tree, it's about deciphering which is the right tree type for your home and needs.
While the best artificial Christmas trees are easier to maintain (less dropped needles, and you can reuse them, too), there's something special about a real tree at Christmas—the smell, the feel, the excitement of picking one out.
So in order to help you pick the right one for you, we asked Christmas tree experts to explain the main varieties of trees and their defining characteristics. We've also listed the best options in both the US and UK, as well as where to buy them. The experts also shared their insights into how to care for your tree so it lasts throughout the season. And, after you've decided on the best real Christmas tree for you, you might want to take a look at our guide to the best Christmas tree decorating ideas to ensure yours looks stylish and festive.
Black Friday real Christmas tree deals
Why you can trust Woman & Home Our expert reviewers spend hours testing and comparing products and services so you can choose the best for you. Find out more about how we test.
There aren't a ton of Black Friday Christmas tree deals on real trees, given that now is a prime time to buy your tree—however, there are some retailers who are selling their trees for a brilliant price at the moment, if you're keen to snap up a bargain.
UK:
US:
Three most popular types of real Christmas trees
Norway Spruce
Many of the best Christmas decorating ideas are traditional and classic, and if that's the theme you're after, then a Norway Spruce may be for you. "If you close your eyes and imagine a Christmas tree, you're probably picturing a Norway Spruce," Mark Rofe, a Christmas tree expert who runs christmastrees.co.uk, explains. Perfect for the traditionalists, Will Kidger—fellow Christmas tree expert and founder of Send Me A Christmas Tree—told us, "The Norway Spruce is probably the tree a lot of us had in the house as a child, as it was rare to find other varieties on sale about 20 years or so ago."
With narrow branches and a rich festive scent, the shape is instantly recognizable, and we like to think of it as the quintessential Christmas tree—generally slimmer and more symmetrical than any other tree. Will said, "It's a very bushy tree with slim spiky needles and a beautiful rich piney scent that fills the room, and instantly evokes Christmassy feelings."
However, there's one con to the Norway Spruce. Kidger said, "The big drawback is that it does drop its needles a lot more than the other varieties, which is why the Nordmann Fir is now, instead, the UK's most popular tree by a distance." Mark advised us not to discount the Norway Spruce though. "The Norway Spruce is an excellent choice as an outdoor tree, or if you like to put your tree up indoors after 10th December, just in time for Christmas," he told us. So if you want to buy your Christmas tree online, why not pre-order for then?
Nordmann Fir
Perhaps the most popular variety of real Christmas tree nowadays, the Nordmann Fir is easily recognizable for its wider shape at the base and thinner, sparser branches at the top. And its main draw is that the needles are much less likely to drop than that of the Norway Spruce. "The Nordmann is a wide and pleasantly symmetrical tree, with broad, lush needles that hold on through the Christmas season better than any other tree," Will explained. Mark said, "Its large but soft needles make it ideal for households with young children or pets, and its strong branches are suitable for hanging heavy ornaments or baubles." Nordmann Firs can also benefit greatly from decorative Christmas tree skirts, as their bases tend to be longer and more in need of a tidying up.
This means that this real tree is great for maintaining a lush finish throughout the season—and we reckon its deep green foliage is best dressed in fewer of the best Christmas decorations, making it the perfect choice for a more minimalist style home. The one drawback to the Nordmann is that you won't get much of that Chrismassy scent that we've all come to associate with real trees. Will explained, "You're not really going to get much of a scent—so if that's a really important part of your Christmas tree experience then you might want to look at other varieties, like Fraser Fir or the classic Norway Spruce."
Fraser Fir
"The Fraser is the perfect all-round Christmas tree, with great needle holding abilities, a zesty aroma that smells like Christmas, and beautiful dark green foliage with blue undertones," Mark told w&h. This tree is of a slightly narrower, slimmer build, making it a good option for a smaller space. We especially love the blueish tint to the foliage, which offers something a bit unique to the more traditional green trees.
In terms of scent and needle dropping, the Fraser Fir often has a delicious and distinctive citrus scent that many love around the holidays—though it does smell less piney, so if that's what you're after, one of the other two tree varieties may suit best. In terms of its staying power, it can be slightly hit and miss. Will told us, "Although it won't hold on to its needles quite as well as the Nordmann, it's still a low-drop tree and you're not going to be hoovering up needles nearly as much as with the Norway Spruce. The Fraser does tend to grow in a bit more of a wobbly fashion than other trees, so perfect symmetry is hard to achieve for growers but many people have fallen in love with the look of them."
---
So which tree should you choose? Overall, each Christmas tree variety has its pros and cons. Ask yourself—do you want a tree whose needles drop more often, or does that not bother you? Do you want that pine scent, or are you not fussed either way?
Mark explains, in summary, "The Norway Spruce has slightly sharper needles, whereas the Nordmann and Fraser have softer needles and foliage. The Norway Spruce has an incredible Christmas scent, while the Nordmann, as beautiful and popular as it is as a Christmas tree, doesn't have much in terms of scent. A Fraser Fir smells good and drops fewer needles, so can make for a great compromise for anyone who is looking for something in between and can't quite decide."
Plus, it's worth noting that there is a myriad of other Christmas tree varieties available in both the US and the UK, including:
Blue Spruce
Serbian Spruce
Sussex Fir
White Pine
Balsam Fir
Douglas Fir
As well as many more! The three pointed out above are the most popular, but the less well-known versions can also offer a brilliant festive experience.
The best real Christmas trees to buy in the US
1. Real Fresh Cut 6-7' Fraser Fir Christmas Tree - Cottage Hill
Specifications
RRP: $55.28 (originally $109.99)
Sizes available: 6-7ft
Reasons to buy
+
Very affordable with Black Friday deal
+
Unique blue-green color
Reasons to avoid
-
Some say it is a bit gappy
In a unique blue-green color, this Fraser Fir tree comes in a box and is ready to be put up in a flash. It doesn't come with a stand though, so you'll need to make sure to add one to your shopping list. This tree from Walmart comes with neat and shaped branches so there should be no additional pruning required, and it's recommended that you only use it inside rather than outside. Given its upward branches, this is also a great option if you love adding plenty of Christmas decorations to your tree—they should slip on easily and hold well, without little hands scrambling at them!
2. Lowe's Nordmann Fir Real Christmas Tree
Specifications
RRP: $89.98
Sizes available : 7 and 8ft
Reasons to buy
+
Lush and bushy
+
Minimal odor
For those wanting an uber traditional Christmas tree, look no further than this Nordmann Fir available at Lowe's. Thick, full, and bushy it's what most of us picture when we envisage a classic Christmas tree and would look equally lovely in either modern or less modern homes. Its branches are strong, so it's a good pick for those who love to layer masses of lights and decorations onto their tree—it's recommended that you put between 140-160 ornaments on it as a maximum. It's also a solid option for allergies sufferers as it has a very minimal odor (like many Nordmann Firs)—though this may be a negative for some shoppers looking to have a tree with an overly festive smell. And, it's good for outdoor and indoor use.
3. Freshly Cut Live Balsam Fir Christmas Tree
Specifications
RRP: $59.98
Sizes available: 7-8ft
Reasons to buy
+
Long-lasting needles
+
Affordable
Reasons to avoid
-
Strong smell which might be off-putting for some
A dense and bushy tree, this Balsam Fir option is darker in color than many of our other trees, so a good option if you're looking for a more dramatic tree. This pyramid-shaped tree is uber-symmetrical so it's ideal for those who want to guarantee a certain shape and size for their tree—plus, it guarantees even decoration for a less messy end product. But bear in mind, this tree largely has upward-sloping branches, which will create a certain effect—but can often be helpful to ensure less drooping as the festive season goes on. It also has a strong, spicy scent which is ideal for those who consider this a must for their Christmas tree!
4. Hammacher Schlemmer Freshly Cut Christmas Tree
Specifications
RRP: From $109.95
Sizes available: From 5.5ft-8.5ft
Reasons to avoid
-
Not available to ship to Canada
Hammacher Schlemmer offers a range of freshly cut Fraser fir trees, which are specially selected for the company at a tree farm in North Carolina. Each of their deep green trees has a full body and a rich fragrance, so it's a brilliant option for those after a stand-out tree for their home. They offer a range of sizes, from 5.5ft to 8.5ft, so there's an option for all spaces. However, the website doesn't provide information for delivery yet, so check back on the lead-up to Christmas to see when they are available to purchase. It is worth noting that these trees won't ship to Canada, either.
5. A Tree To Your Door White Pine Christmas Tree
Specifications
RRP: From $39
Sizes available: 3ft-8.5ft
Reasons to buy
+
A unique variety
+
Affordable
+
Great for allergy sufferers
Reasons to avoid
-
Not the traditional green tree
White Pine Christmas trees are a little more unique and usually only available in the US, so if you want a tree that's a bit more unusual, this should be your go-to. White Pine trees typically have a soft branch and needle, so they're good for those wishing to avoid those irritating prickles from regular, real trees, or those who have young children. One defining feature of these trees is that they tend to have much less scent than other real Christmas trees—and while this might be a characteristic many would miss, it does mean that they are actually better for allergy sufferers, reportedly producing fewer reactions than those trees that have more of a defining, piney smell. At atreetoyourdoor.com, you can purchase a White Pine in varying sizes, from 3-4 ft, 4.5–5.5 ft., 5.5–6.5 ft., 6.5–7.5 ft., and 7.5–8.5 ft. Their trees are available to buy from 10th October so be sure to snap yours up as soon as you're ready.
6. Fast Growing Trees Fat Albert Colorado Blue Spruce
Specifications
RRP: $99.95
Sizes available: 2-3ft, 3-4ft
Reasons to buy
+
Unique blue-silver foliage
+
Neat form
This Blue Spruce tree would make a great addition to any home throughout the month of December, with distinctive blue needles and a great natural pyramid form. Generally, Blue Spruce trees also have that signature Christmas smell, making them a great option for the holidays. Specifically, the Fat Albert variation of the Blue Spruce is great for colder regions given that it's pretty hardy—meaning that once you're done with it inside your home, you could easily plant it outside where it'll thrive. In fact, the tree will generally grow to around 15ft tall within 10 years, which is fantastic if you have the space. Fast Growing Trees are currently offering trees that are 2-3ft and 3-4ft in size (much more manageable for your living space), and even better, there's up to 41% off if you buy now.
The best real Christmas trees to buy in the UK
1. John Lewis & Partners Korean Fir Real Christmas Tree,
Specifications
RRP: £79-£99
Sizes available: 5-6ft, 7-8ft
Reasons to buy
+
Full shape
+
Great needle retention
Reasons to avoid
-
On the more expensive side
Korean Fir's are still pretty rare in the UK so this is a great buy if you want a more unique tree. The needles are green with a silver underside, so although this tree has that traditional bushy green look, it still has a fun twist to it that those with more playful Christmas decor may appreciate. It also has brilliant needle retention, so you shouldn't experience much dropping. Your tree will be hand-selected for you at the time of purchase and is suitable for both indoor and outdoor use too.
2. Christmas Tree Direct Fraser Fir
Specifications
RRP: £69.99
Sizes available: From 4ft-9ft
Reasons to buy
+
Variety of sizes available
+
Unique looking branches
+
Soft
Reasons to avoid
-
Doesn't have the piney smell you might expect
Christmas Trees direct are selling their own version of the Fraser Fir, which is perhaps one of the most popular real Christmas tree types in the US, and a tree that is quickly gaining in popularity in the UK too. Their Fraser Fir (like the rest of their trees), is cut fresh in the UK and delivered to you during an allotted four-day period (from 22 November), so you can guarantee that your tree will arrive in your home fresh and ready to be set up. Unlike chain stores, their Christmas trees are grown and cared for year-round by an expert team, so once again you can rest assured that it'll be of brilliant quality. We love the silvery green branches of this tree, which Christmas Trees Direct claim has some of the softest needles around to help avoid the often-inevitable scratches whilst putting up decorations. With a sweet, citrusy that is purported to last for as long as the tree, this Fraser Fir is a fantastic option for your home this Christmas.
3. The Christmas Forest 9ft Nordmann Fir
Specifications
RRP: £133
Sizes available: 3ft-12ft
Reasons to buy
+
Quality guarantee
+
Great shape
Nordmann Firs are hugely popular for their thicker base and their deep green foliage, and this 9ft option from The Christmas Forest is a great option if that is the type of tree you are after. Of course, at 9ft, there's no doubt that it's a hefty addition to any home so be sure you have the space (both in height and width) to display it first, before purchasing. The Christmas Forest freshly cut their trees, and offer a Christmas quality guarantee in case you are worried about not choosing your tree in person, which allows for great peace of mind. These also claim that their Nordmann Fir's are 'non-drop'—so this could be ideal if you want a Nordmann but are worried about needles on your floor. Reviewers of their Nordmann Fir praise the tree for its 'beautiful shape' and great structure, with many also noting the fact that the company offers installation too, as a handy perk.
4. Pines & Needles Norway Spruce (Outdoor)
Specifications
RRP: £132.95
Sizes available: 10ft
Reasons to buy
+
Great for indoor and outdoor
+
Pest-resistant
Reasons to avoid
-
May be too tall for some
While most of us are on the hunt for indoor trees, a lucky few may be keeping their eye out for outdoor trees to decorate their front or back gardens. Norway Spruce trees are typically indoor trees but they can work very well outdoors too, given that they are pest resistant and so won't attract many creepy-crawlies, and can flourish in almost all conditions from sun to shade. This Norway Spruce from Pines and Needles has been praised for its great shape, and at 10ft tall, it's definitely a better option for an outdoor space than an indoor one—unless you have particularly high ceilings. With a lovely sweet-smelling fragrance, you can expect this tree to be delivered straight from the company's Christmas tree farms in Scotland. So bear in mind, if you want a local tree, you might be better headed to a local farm nearer you.
5. Send Me A Christmas Tree Norway Spruce
Specifications
RRP: From £41-£230
Sizes available: 4ft-16ft
Reasons to buy
+
Gorgeous pine scent
+
Wide variety of sizes
If you're after a real Christmas tree that conjures up memories of your childhood, this Norway Spruce from Send Me A Christmas Tree is the perfect option. Defined by the brand as 'Britain's Original Christmas Tree', the Norway Spruce is dark green with thin (often spikey) needles and is categorized by a wider base and a much thinner, sparser top. The company sells their Norway Spruce in a huge variety of sizes, from 4ft to 16ft. The bigger sizes come in a range, between 12-14ft and 14-16ft, which would be ideal for large homes or big, high-ceiling entryways. With a powerful piney scent, this pick will truly bring the spirit of Christmas into your home in an instant—and with super-strong branches, this is the ideal real Christmas tree for hanging any and all of your decorations. Best of all, you can pre-order this tree now for a selected delivery date in November or December (if you are very organized).
6. Christmastrees.co.uk Korean Fir
Specifications
RRP: £77.99
Sizes available: 5ft-8ft
Reasons to buy
+
Unique tree
+
Lovely scent
Reasons to avoid
-
Not ideal for bigger homes
Korean Fir trees are much rarer in the UK, but they are still one of the best real Christmas trees you can buy. Christmas Trees sell an affordable version of this tree for £74.99, grown right here in the UK and at a sustainable farm, so you can rest assured that your purchase is as good as it can possibly be for the environment. If you're after a tree that's more unique, a Korean Fir is a way to go—with the classic bushy green foliage, it also has special, silver-blue undersides, and sometimes will even come with indigo cones on it too! This tree has a more natural, woodland scent as opposed to pine, but it'll still strike a real festive note. Generally, Korean Firs are smaller than your typical Norway Spruce or Nordmann Firs, so this tree comes in size options between 5ft-8ft. Because of this, they are best suited for smaller homes or homes with lower ceilings.
7. John Lewis & Partners Fraser Fir Real Christmas Tree
Specifications
RRP: £79-£125
Sizes available: 5-6ft, 6-7ft, 7-8ft
Reasons to buy
+
Upward branches are great for decorations
+
Available in a range of sizes
Reasons to avoid
-
Taller than it is round—which may not be to some people's taste
John Lewis explain that their 5ft-7ft Fraser Fir trees are grown on a piece of land called Dyke Foot in the heart of Scotland, which is the ideal breeding ground for these types of Christmas trees—so if a Fraser Fir is the tree you're after, then this is a great option! With upward branches you Christmas decorations are guaranteed to hold firm, and the tree comes in a nice slimline shape (e.g, it's not too round), which means it'll fit in almost any space. Although if you are after a rounder tree, it's probably not the right pick for you.
Top tips for caring for your tree throughout the festive season
We've put together some helpful tips for maintaining a lush green tree with a gorgeous color all season. Be sure to make a note of these when it's time to buy a set up your Christmas tree, as they will help your tree to look its best from the day it is installed, to the day you take it down.
Test needle retention before you buy—the best real Christmas trees should retain their needles well in the beginning. Before you buy, lift the tree up by the trunk and tap it on the ground. If you are presented with a shower of needles you might want to reconsider, as it may not be very fresh—and make more of a mess.
Treat the trunk—if you buy a cut tree, saw off the bottom 2.5cm when you get it home and stand it in a bucket of water for as long as possible. This will keep it looking fresher for longer. Will explains, "Even with a fresh tree, sap will ooze out of the trunk when it's harvested and then dry up, effectively bunging up the base of the tree and impeding its ability to take up water. So, if at all possible, sawing an inch or so off the bottom of the tree will give the tree a big helping hand."
Keep it watered—a tree will last longer if you position it in a stand that has a water reservoir, Mark says. "It is best to buy a good Christmas tree stand which has a water reservoir, so the base of your tree is always in contact with water, and you can keep it topped up so that it remains hydrated."
Don't dry it out—try and avoid placing your tree by a radiator if you can. Will explained, "The main mistake people make is to put the tree up close to a radiator; that direct heat is going to dry the tree out really quickly and it will be looking sad and droopy before long. If that's the only spot for it, turning the radiator off or down will make a huge difference to how long your tree lasts. "
Trim off branches if it needs it—don't be afraid of trimming off some larger branches lower down if the trunk is too wide for the space. You can use these excess sprigs for extra decoration elsewhere in your home—such as a mantelpiece or a shelf.
Plant it outside after Christmas—if you've opted for a pot-grown Christmas tree you can enjoy this again next year. Plant it out in your garden as soon as possible in January in a sunny spot with plenty of space around it.
Recycle your old tree—once you've (begrudgingly) removed your decorations and packed them away you can put your tree to good use by recycling it. Check with your local council on services in your area.
Black Friday deals on Christmas tree accessories
If you've just picked up your real Christmas tree (or are planning on it soon!), there are a couple of essential accessories that can also be helpful to have, to help your tree look its best throughout the month of December and beyond. And luckily, many of them are also on offer during the Black Friday weekend!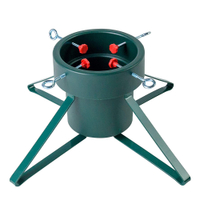 (opens in new tab)
Green Christmas Tree Stand With Large Water Tank: £19 £13.99 (save £5.01) | Amazon (opens in new tab)
Region: UK
Every real Christmas tree needs a stand, and this one has a handy £5 discount right now! With four screw clamps to help hold it in place and a water tank that holds up to 1.8 liters, it's a great option for keeping your tree in tip-top shape over the festive period.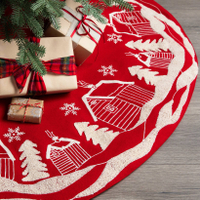 (opens in new tab)
Christmas Village Embroidered Tree Skirt: $199 $149 (save $50) | Balsam Hill (opens in new tab)
Region: US
No tree is complete without a Christmas tree skirt and this option from Balsam Hill is wonderfully traditional if you prefer to style your home that way during the festive season. And best of all, it's got a $50 discount over Black Friday!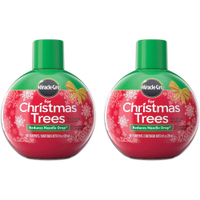 (opens in new tab)
Miracle Gro Christmas Tree Food: £56.04 | Amazon (opens in new tab)
Region: UK
To help keep your real Christmas tree fresh and hydrated throughout the entirety of the festive season, pop a capful of this into the water in your stand weekly throughout December.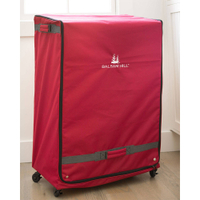 (opens in new tab)
Deluxe Rolling Ornament Chest: $299 $229 (save $70) | Balsam Hill (opens in new tab)
If you always struggle for a place to store your Christmas tree ornaments then look no further than this ornament chest, which can be easily stored in the loft or garage during the rest of the year. And best of all, it's $70 off during the Black Friday sales.
---
With thanks to Will Kidger, founder of sendmeachristmastree.co.uk (opens in new tab), and Mark Rofe, a Christmas tree expert who owns christmastrees.co.uk (opens in new tab) for their invaluable time and expertise for this article.
Amy Hunt is an experienced digital journalist specialising in homes, interiors and hobbies. She began her career working as the features assistant at woman&home magazine, before moving over to the digital side of the brand where she eventually became the Lifestyle Editor up until January 2022. Amy won the Digital Journalist of the Year award at the AOP Awards in 2019 for her work on womanandhome.com.