Our expert guide to making sure you pick the best real Christmas tree this season
Picking out your tree can be a fun activity for all the family to get you in the festive spirit - so we've put together a breakdown of the most common varieties of real Christmas tree that you might come across.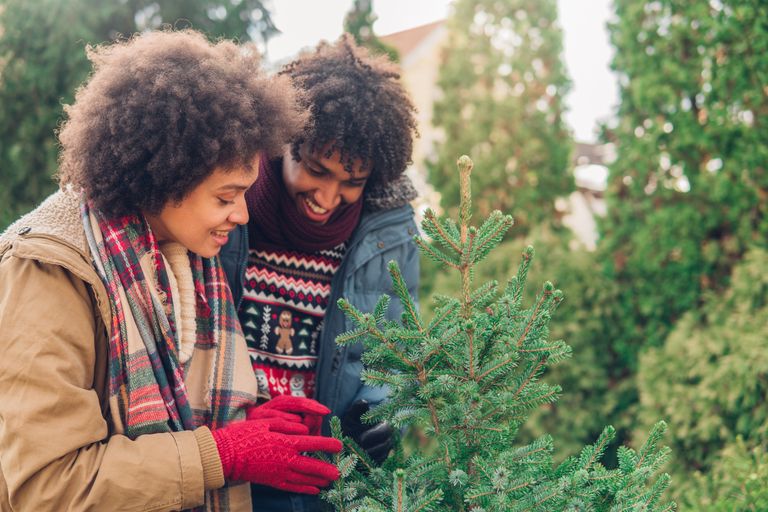 (Image credit: Getty)
When it comes to finding the ideal real Christmas tree it's all about finding the perfect match for your needs.
Picking out your real Christmas tree can be a fun activity for all the family to get you in the festive spirit. So set aside some time for a trip to your local garden centre to have a look on what's on offer
MORE: The best artificial Christmas trees to set the scene in style this festive season
There are plenty of options, but thereare three main varieties of real tree in the UK to choose from. These are the ones we reckon will look the most fabulous in your home, and last well all throughout the festive season...
The three most popular types of real Christmas trees
Norway Spruce
Perfect for the traditionalists among us with narrow branches a rich festive scent. The shape is instantly recognisable and we like to think of it as the quintessential Christmas tree. The downside is that it can be prone to dropping it's needles.
Fraser Fir
A slightly narrower variety that's perfect for a smaller space. We especially love the blueish tint to the foliage and the delicious scent has hints of citrus.
Nordmann Fir
Perhaps the most popular variety given its dense, soft needles are slow to drop so it's great for maintaining a lush finish throughout the season. It's deep green foliage is best dressed in fewer decorations so perfect for a minimalist style home.
Once you've chosen your tree it's time to go home and get decorating. Whatever your tree decorating style, keeping your festive foliage looking fresh will help to give your bejewelled branches the wow factor.
We've put together some helpful tips for maintaining a lush green colour all season.
Top tips for caring for your tree throughout the festive season
1. Test needle retention before you buy
Before you buy, lift the tree up by the trunk and tap it on the ground. If you are presented any a shower of needles you might want to reconsider.
2. Treat the trunk
If you buy a cut tree, saw off the bottom 2.5cm when you get it home and stand it in a bucket of water for as long as possible. This will keep it looking fresher for longer.
3. Keep it watered
A tree will last longer if you position it in a stand that has a water reservoir. Try not to whittle away the sides of the trunk to make it fit as these other layers are the most efficient at taking up water.
4. Don't dry it out
Try and avoid placing your tree by a radiator if you can as the heat will make it dry out much more quickly and the needles will begin looking old and tired.
5. Give it some shape
Don't be afraid of trimming off some larger branches lower down if the trunk is too wide for the space. You can use these excess sprigs for extra decoration elsewhere in your home, such as a mantelpiece or a shelf.
6. Plant it out
If you've opted for a pot-grown Christmas tree you can enjoy this again next year. Plant it out in your garden as soon as possible in January in a sunny spot with plenty of space around it.
7. Recycle your old ones
Once you've (begrudgingly) removed your decorations and packed them away you can put your tree to good use by recycling it. Check with your local council on services in your area.