27 of the best Christmas decorations to brighten up your home this festive season
The best Christmas decorations will leave your home looking like a winter wonderland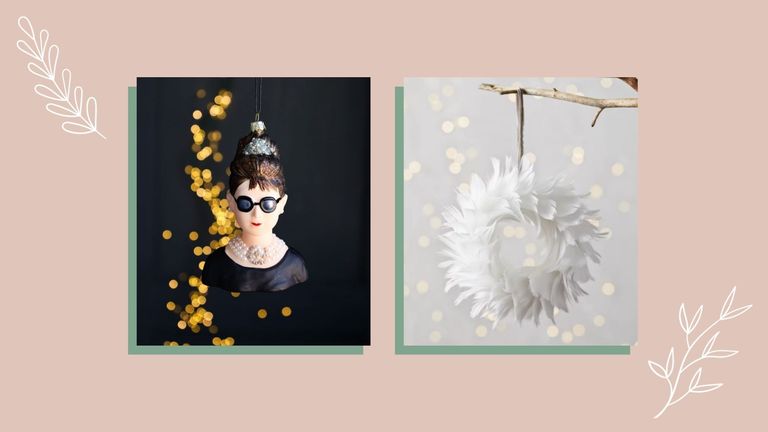 (Image credit: Future)
By Abigail Malbon , Amy Hunt
Choosing the best Christmas decorations to put in your home is always one of the main jobs of the festive season—and it's always lots of fun, too.
Whether you're looking to add to your collection of decorations or you're looking to elevate your Christmas tree decorating ideas with new, stylish and chic options to replace older pieces you've clung onto for years, there's plenty of new Christmas decorations for you to browse online this year.
Unlike buying the best artificial Christmas tree or the best real Christmas trees for your home, Christmas decorations are much easier to purchase, being neater and more compact.
We suggest going for classic Christmas decorating ideas that will stand the test of time, as then your Christmas decorations can be used year after year no matter what the trends are.
For a change, add new decorations to your collection each year or try placing your favourites in different spots each year, to help you mix up your decor in December.
Best Christmas decorations 2021
Christmas tree decorations
1. Etsy hooraydays Custom White Baubles
Specifications
RRP: $5.39
Material: Ceramic
Dimensions: 6cm (2.4 inches)
Region: US and UK
Reasons to buy
+Can be personalized+Available in other colors
Whatever your preferred Christmas tree decorating ideas, every tree needs baubles! And these are the perfect chic, minimalistic tree decorations, for those who prefer that kind of theme for their decor. This is a pure white ceramic bauble that you can customize with whatever you prefer—be it your name or a loved ones, if you're after a festive Secret Santa present. You can also get the text in a variety of different colors, choosing from gold, rose gold and black.
2. Swarovski Annual Edition 2021 Ornament
Specifications
RRP: $64.01/£47.48
Material: Swarovski crystal
Dimensions: 3" x 2 3/4" x 3/8"
Region: US and UK
Just because it's a Christmas decoration, it doesn't mean you can't treat yourself to an elegant investment piece that'll stay in your family for years to come. This Swarovski crystal star decoration is stylish and beautiful to look at, but it's worth noting that you'll have to pay a bit more for such a special item. It might also be one you want to keep away from kids or pets, to avoid damaging it.
3. Home Depot Shiny Silver and Red Striped and Glittered Mercury Finish Glass Christmas Ornaments
Specifications
RRP: $39.46 (for the 9-piece set)
Dimensions: Between D2 in. and 2.5 in.
Material: Glass
Region: US
Reasons to buy
+Great value+Will go well with a traditional color scheme
Traditional red, white and green are always failsafe colors for the holiday season, so we love this 9-piece set from Home Depot which will help to fill up your tree in time for December 25th. In the pack you'll receive various different baubles in different shapes, all featuring red, white and green stripes, with some accented with glitter for a sparkly touch.
4. 3 Function Bi-Color LED Acrylic Snowflake Christmas Tree Topper
Specifications
RRP: $29.98
Dimensions: 14.5 in H x 8.25 in W
Material: Acrylic
Region: US
Reasons to buy
+Timeless tree topper+Lights up
No Christmas tree is complete without a tree topper (or a Christmas tree skirt) and we love this one from Home Depot. With internal LED lighting and a fun icicle design it's a great addition to your tree without being overwhelming—it won't steal focus from the rest of your tree, but will compliment it fabulously. We'd suggest that because of the neutral white color, this would go best with contrasting, traditional green trees, as opposed to more modern white or snowy trees.
5. Rockett St George Audrey Hepburn Inspired Christmas Tree Decoration
Specifications
RRP: £18
Material: Glass
Dimensions: H13.5cm
Region: UK
Reasons to buy
+Really unique decoration+Timeless
If you're after a unique Christmas tree decoration, this fun Audrey Hepburn ornament is both chic and a fabulous talking point. Featuring the iconic movie star in her signature Breakfast At Tiffanys glasses, bun and black dress, this decoration is made from glass and measures in at 13.5cm in height. Plus, if Audrey isn't your style, there are a range of other stars available to buy in ornament form—from David Bowie to Anna Wintour.
And if this decoration has inspired you to catch up on some classic films, see our guide to the best Christmas movies on Netflix!
6. The White Company Mini Feather Wreath Christmas Decoration
Specifications
RRP: £10
Material: Feathers
Dimensions: 15cm
Region: UK
Reasons to buy
+Delicate and elegant+Affordable
We all love having one of the best Christmas wreaths on our door over the festive period, so why not one on our Christmas trees? This elegant, delicate wreath would look angelic on any tree, especially if you prefer a neutral theme for yours. Crafted with fine white feathers, this is a decoration you'll want to keep for years to come.
7. John Lewis & Partners Festive Field Gingerbread Cookie Bauble
Specifications
RRP: £8
Material: Glass and metal
Dimensions: L11.5cm
Region: UK
Reasons to buy
+Kids will love it+Will fit with all decor
Fun, festive decorations needn't be tacky—and this adorable gingerbread man bauble proves just that. Made of glass and metal, the sweet design will be a show-stopper on your tree and no doubt popular with any younger family members. Coming in a traditional red and gold palette, it should go easily with any of your other tree ornaments too. And if this gingerbread-esque decoration has made you feel a little hungry, why not see our guide to the best Christmas food gifts?
Christmas decorations for the table
1. Etsy Personalised 2021 Gonk Decorations Place Names
Specifications
RRP: $2.75/£2.04
Dimensions: 8cm tall x 6.5cm wide x 6mm thick
Material: Oak veneer
Region: US and UK
Reasons to buy
+Fun and useful+Sustainable
A Christmas table would be nothing without some fun place settings, so why not treat your loved ones to these adorable 'Gonk' place name decorations? Choose which adorable gnome-figure you want (there are four different, equally sweet variations), and type in all of the names you want delivered. You can purchase up to 56 of them at a time, which should be plenty to account for all of your Christmas guests! Kids and adults alike will be delighted by these adorable, rustic, and fun-looking place settings.
2. Mackenzie-Childs Walk in the Woods Centerpiece
Specifications
RRP: $306.07/£227.89
Dimensions: 28"L x 15.5"W x 14.5"H
Material: Natural materials and polyester ribbon
Region: US and UK
Reasons to buy
+Easy way to decorate your table+Show-stopper
If you're after an easy decoration item to adorn your table with, this impressive, show-stopping centerpiece is a fantastic choice. It's pricey, but you can simply place it in the center of your table, scatter through a few candles or fairy lights, and your table is set and ready for your guests to arrive—no problems.
And if you want more inspiration to help you decorate your table, look no further than our guide to the best Christmas centerpiece ideas.
3. Macy's Elegance Elrene Poinsettia Jacquard Holiday Table Runner
Specifications
RRP : $37.33/£27.75
Dimensions: 13" x 70"
Material: Polyester
Region: US (but delivery to UK is available)
Reasons to buy
+Practical for placing hot items on+Can layer a centerpiece on top
No festive table is complete without a table runner, which is essential for both decor and practical purposes. This one from Macy's comes in classic festive colors such as red, green and white, and is a great easy-care option given that it's machine washable. Layer other decor items on top, such as candles, mini trees, and fairy lights, to create a beautiful table.
4. Desktop Miniature Pine Trees
Specifications
RRP: $14.99
Dimensions: 10.12 x 4.09 x 2.8 inches
Material: Wood and plastic
Region: US
Reasons to buy
+Can be placed anywhere in the home+Can form the start of a centerpiece
For a simple, affordable Christmas table decoration look no further than these fun mini pine trees—which have a snowy, festive look that'll easily add some cheer to your dinner set-up. You'll receive three mini-trees for the price, and they'd look just as lovely on their own at your table, as they would paired with some other mini Christmas decorations—why not create your own mini Christmas village? Plus, if you don't want to keep them on your table, they work equally well on a fireplace or entryway table.
5. Large Metal Truck with Christmas Tree Decorative Figurine
Specifications
RRP: $20
Dimensions: 9.5 in H x 13.75 in W x 6.75 in D
Material: Metal
Region: US
Reasons to buy
+Great for vintage lovers+A good base from which to create a display
Add a touch of vintage old-school decor to your home this festive season with this metal truck figurine, which features a green pick-up truck carrying two snow-covered Christmas trees inside it. This would be the perfect base for creating a simple centerpiece on a table or sideboard, or placed on the windowsill of your children's rooms. You could also place it on your mantel, either alongside other decorations or on its own—either would work brilliantly.
6. Rockett St George Set Of 2 Paper Christmas Trees
Specifications
RRP: £8.95
Dimensions: Small - H13cm, Large - H20cm
Material: Paper
Region: UK
Reasons to buy
+Affordable+Great for modern decor schemes
Every table needs show-stopping mini Christmas trees, dazzle your guests, and this set of two paper trees may be perfect choice. These silver glitter trees are slimline enough that they won't take up too much space alongside all your Christmas food essentials, measuring at 20cm tall in the largest size. And you can accessorize the rest of your table around it—stick with the glitzy theme and choose sparkly, glitter candles, lights and candlesticks to match.
7. The White Company Elegant Small Dinner Candle Holder
Specifications
RRP: £25
Dimensions: H23.5cm x W8.5cm x L8.5cm
Material: Glass
Region: UK
Reasons to buy
+Elegant+Can be used throughout the year
No Christmas table is complete without candles—and this stylish glass candle holder from The White Company is a great way to display your favorite candles. It comes in just one size (measuring H23.5cm x W8.5cm x L8.5cm), and is actually a great investment given that it's not overtly festive—you could use this candle holder year-round given its simple and stylish design.
8. John Lewis & Partners Festive Field Mini Trees Table Centre
Specifications
RRP: £45
Dimensions: H25 x W100 x D10cm
Material: PVC, wire and woods
Region: UK
Reasons to buy
+A simple way to create a centerpiece+Will fit with natural decor
This festive trees table decoration is an easy way to decorate your table with minimal effort. The sweet small trees come with 60 LED lights, so you'll even have some illumination on your table to help you see what you're doing. The wooden, row on which the trees set will add a rustic, earthy feel to your table, and because of its slimline nature the decoration will fit almost anywhere too—be it your dinner table, coffee table, or fireplace.
Christmas light decorations
1. Christmas Lights Outdoor Purtuemy Meteor Shower Lights
Specifications
RRP: $16.49
Dimensions: Dropped lights are 12 inches
Indoor or outdoor: Outdoor
Region: US (but shipping to UK available)
For something really special, look no further than these incredible outdoor meteor shower lights. Ideal for hanging on trees, you can place them in your front or back garden for a really amazing light display that is sure to wow all of your guests.
2. Twinkle Star 300 LED Window Curtain String Light
Specifications
RRP: $17.99
Dimensions: W 6.6ft x L 9.8ft
Indoor or outdoor: Both
Region: US
Reasons to buy
+Can work anywhere in your home+Will create a cozy ambience
Nothing says festive more than fairy lights, and these draped, curtain string lights are perfect if you want to include more in your home this year. They can be dangled down any length, be it your curtains, a black wall, or even outside if you prefer.
3. 150-Light Mini Clear Net Christmas Lights
Specifications
RRP: $8.98
Dimensions: 48 in x 72 in
Indoor or outdoor: Both—but mainly outdoor
Region: US
Reasons to buy
+A great way to add decoration to outdoor foliage+Affordable
Oftentimes decorating the foliage and plants outside your home can be tricky—but these outdoor bush lights are a great, simple way to do this. In a warm white color, they are great for covering and wrapping around trees, small bushes, flowers, or hedges—though you'd likely need to buy a couple of them to cover a hedge fully. These can also be used inside too if you have no need for them outside.
4. Studley Rattan Light Up Reindeer Family
Specifications
RRP: £299.99
Dimensions: H 125, H 98 & H 60cm (three reindeers)
Indoor or outdoor: Both
Region: UK
Reasons to buy
+Visually impressive+Set comes together—no need to buy separately
What better way to decorate your lawn (front or back), than with this adorable light reindeer family? For the price you pay you get three reindeers of varying heights, which you can scatter or group together on your grass areas. These will definitely have the neighbors envious!
5. The White Company Silver Micro Lights
Specifications
RRP: £10
Dimensions: 500cm long
Indoor or outdoor: Indoor only
Region: UK
Reasons to buy
+Delicate and elegant+Great for dressing a table
These delicate micro lights would be great for use all around your home, be it the table, your Christmas tree, a sideboard or a windowsill. Instantly creating a relaxed and cozy ambience, we'd suggest you snap these up.
6. Dunelm Large Metal Light Up Star Decoration
Specifications
RRP: £28
Dimensions: 83cm H x 75cm D
Indoor or outdoor: Both
Region: UK
Reasons to buy
+Suitable for indoor and outdoor use+Will create a cozy ambience
If you prefer light decorations to regular decorations, this impressive large metal star light is a great option. Not only while it light up your room (though it's suitable for outdoor use too!) but it's also incredibly chic and stylish, and will fit with any exiting home decor—but we think it would particularly suit modern homes. Place it in a corner for a practical way to style the item, or pop it outside to create a welcoming entry to your home.
Christmas room decorations
1. Lacourte Reindeer Decorative Throw
Specifications
RRP: $35.95/£26.70
Dimensions: 50" x 60"
Material: Cotton
Region: US and UK
Reasons to buy
+Decorative and comfortable+Affordable
We all want holiday decorations that are as comfortable and easy to have in our homes as it decorative, and this reindeer throw is the perfect middle ground. Not only will it increase the festive decor in your home (be it your bedroom or living room), but it'll be incredibly comfortable to snuggle up with during a winter's evening.
And if you want more comfortable Christmas decor, why not see our guide to the best Christmas bedding sets?
2. BrainCageDesignsUS Christmas Mantel Decor
Specifications
RRP: $40+
Dimensions: 9.5in H x 17.5in W x 4.5in D
Material: Wood
Region: US
Reasons to buy
+Will create a festive ambience+Goes with any decor
This beautiful piece available at Etsy is a great way to create an incredibly cozy festive atmosphere in your home—all you need to do is place tea light candles behind the Santa's sleigh design to enjoy a dazzled, lit-up display that your guest will love. We'd suggest placing these either on your mantel or in your entryway, where it will really make a statement. A note though that the candles are not included, so if you're planning on getting this for your home, you'll have to have some to hand to really enjoy this decoration properly.
3. 6 ft. Santa Greeter Standing Decor
Specifications
RRP: $179
Dimensions: 6ft H x 3.85ft W
Material: Polyester
Region: US
Reasons to buy
+A show-stopper piece+Sings and tells stories
Nothing says Christmas quite like a life-size Santa! If you're on the hunt for a show-stopping piece of decor, look no further than this animated Father Christmas figure. Standing at 6ft tall, it's a fabulous option for an entryway or an empty corner of the room that can be filled with some festive decoration. Not only does it look great, with a realistic beard and a sack full of toys, but this Santa figure will also sing carols and tell festive stories—a fun way to delight your guests both young and old (though we reckon children especially will love this). Place this against a wall to ensure it doesn't interrupt your living space, and bare in mind that this won't need too much other decor around it.
4. John Lewis & Partners Festive Field Ladder Tree Wall Decoration
Specifications
RRP: £25
Dimensions: 88cm L x 61cm w
Material: Wood and plastic
Region: UK
Reasons to buy
+Great for utilizing wall space+Simple and Scandi-inspired
If you're looking to fill some blank space on a wall with Christmas decor, this hanging ladder tree wall decoration is ideal, particularly if you naturally gravitate towards muted, Scandi-inspired decor. Simply attach it to a hook and you're good to go.
5. Extra Large Winter Woodland Luxury Door Wreath
Specifications
RRP: £26
Dimensions: D 40cm
Material: Natural materials
Region: UK
Reasons to buy
+Unique take on a wreath+Stylish
No home is complete at Christmas time without a wreath, and we love this white, natural materials one with a few sprigs of sage green, that is a little different to the traditional green you usually see. Reminiscent of a rustic country home, this will add some style to your home as soon as people come in the front door—or, you could even place it inside for an extra special touch.
6. John Lewis & Partners Snowman and Tree Snow Globe
Specifications
RRP: £18
Dimensions: H 13.1 x D10cm
Material: Resin, glass and water
Region: UK
Reasons to buy
+Will go anywhere in the house+Affordable
A snowglobe is a must-have Christmas decoration and this adorable one is a great pick that will go anywhere in your home. With a chunky, wooden base, you'll find a sweet snowman and Christmas tree scene inside the snowy globe that kids will have plenty of fun shaking. Place this on a sideboard or Christmas table to wow your guests.
How to decide on a color scheme for your Christmas decorations
Before you start shopping for festive decor, it's a good idea to decide whether you want to follow a color theme, to ensure there is some uniformity in your home, and that you don't end up with a bizarre end result that only gives you a headache. Some like to use a traditional approach in their Christmas decor, choosing to decorate with greens, red,s and golds—whereas others prefer a more minimalistic approach, with more whites, silvers, and sparkles.
Xander Shreenan, an interior designer at home décor brand Dowsing & Reynolds, told w&h, "Silver and gold will always make up the core color palette for Christmas. These add shine and sparkle—guilty pleasures we all like to indulge in over the festive period. "However, blush tones have been rising in popularity too over the years—but I believe monochromatic themes will be the main trend this year and can be a great way to create an edgier-looking decor in your home."
Whatever theme you decide on if you need some inspiration to get you started, look no further. From baubles to garlands and lights, we've selected the very best Christmas decorations to make your home feel like a grotto.