20 of the best Christmas decorations to brighten up any home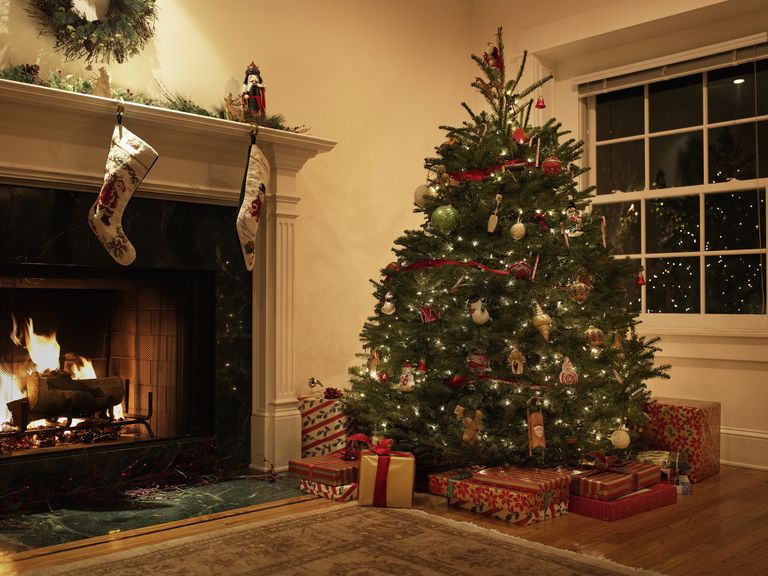 It's almost time to put your Christmas decorations up again! Whether you're an early bird or like to leave it until the last minute, there's lots of time to get your shopping in.
And unlike buying Christmas presents - festive home decor is just for you to enjoy!
Some of us will already have plenty of Christmas decorations. However, you might be looking to add to your collection - or maybe you've recently moved and want to start fresh. Either way, we're here to get you inspired…
Christmas decoration colour theme ideas
Before you start shopping for festive decor, it's a good idea to decide whether you want to follow a colour theme. Some like to include a traditional mish-mash of all colours in their Christmas decor. Meanwhile, others stick rigidly to two colours. Silver and green work well, while red and gold is a great traditional combination.
If you're going for the 'more is more' style, embrace the trend for rainbow decorations. You could also take a look in charity shops, which are likely to have seconds that could suit.
However, if you need some inspiration to get you started, look no further. From baubles to garlands and wreaths, we've selected the very best Christmas decorations to make your home feel like a grotto.
The best Christmas decorations to buy this year:
Set of Six Recycled paper baubles
RRP £32
You can still decorate your tree and be eco-conscious, thanks to these recycled paper baubles. A far cry from the usual plastic designs, these are made from upcycled shredded cotton fabric waste of the fashion industry, and come in a stunning autumnal set of colours.
Glass Vegetable Christmas Tree Baubles
From £6
If quirky is the vibe you're looking for, we can't think of better than these adorable vegetable baubles. Choose from sprout, carrot, pea pod, garlic or asparagus - or go all-out and pick up all. They're made from delicate glass, though, so be careful not to break them!
Dunelm Three Silver Parcels
RRP £25
Brighten up the foot of your tree with these light-up parcels, which come in three different sizes. They're battery operated, which means you can place them anywhere in your house and they'll instantly brighten the place up.
This sleek wreath is one of the most stylish we've seen. Made from fern and decorated with gold glitter, it's pre-lit - and guaranteed to bring some sparkle to your home!
Paperchase Sandwich bauble
RRP £10
Know someone who loves a festive-themed sandwich? This is the decoration for them! It looks surprisingly realistic (and enough to make us peckish) and is made from glass, so should last as long as you store it safely.
John Lewis & Partners Bloomsbury Stick Star Garland, Orange
RRP £25
This rustic garland is decorated with wood sticks, tied in a cross pattern and decorated with orange fruit, pine sprigs and real pine cones. It might not be quite as gaudy as some Christmas decorations, but we think those with more minimal tastes will really appreciate it.
Dried flower baubles
RRP £7.50
Dried flowers have been a massive trend this year, and these gorgeous little branches housed in glass baubles make the perfect decorations. Choose from four different designs including dried heather and coral grass.
Cody Foster & Co Rainbow tree topper
RRP £29
This gorgeous tree topper will be the star of the show - literally. The gorgeous foil ornament is the perfect finishing touch to your decorations, and will look stunning atop any tree - whether you choose classic, or prefer a white or black option.
Deck The Halls Monogram Decoration
RRP £8
These personalised decorations are so stunning, we're tempted by the whole alphabet! Whether you get initials for the people in your family, or choose to spell out a word or phrase, they're bound to stand out on your tree.
John Lewis & Partners Pop Art Rainbow Bauble Wreath
RRP £25
Made from multicoloured baubles, this bright wreath is great for bringing a bit of colour to this year's decorations. Whether you hang it on your front door, on the wall or artfully place it on a fireplace, it will certainly get your guests' attention.
Sass & Belle Christmas Cheer Tequila Shaped Bauble Set of 4
RRP £10
Tequila lovers will adore this fun set, which includes a bottle of tequila, slice of lemon, shaker of 'salt' and bottle of glitter. In bright, fun colours they'll set the tone for the rest of your tree.
Matalan 49 Piece Bauble collection
RRP £6
If you're doing 2020 decorations on a budget, we can't think of much better than this selection of 49 miniature baubles. In a gorgeous colour scheme of pink, white, blue and silver, they'll deck your tree in no time - and leave you some money spare for lights!
Gingerbread wreath Christmas hanging decoration
RRP £10
Who could resist this adorable gingerbread wreath? The claydough decoration will look good on any tree, and is certain to become a family favourite. We'll be picking up a few, just in case!
6ft Pre Lit Garland with Cones and Berries
RRP £20
This traditional garland is already lit for you, so all you need to do is drape and go! Decorated with pine cones and berries, it's a classic buy that you'll use year after year.
Paperchase Felt tree topper
RRP £10
Want something different on top of your tree this year? This felt dove and olive branch topper is a sweet alternative, and will contrast beautifully against a green tree. When styled with gold decorations, it looks gorgeous.
Wedgwood The Christmas Sky at Night Bauble
RRP £35
For a really special bauble, this Wedgewood offering takes the cake. It not only looks gorgeous, but is handmade by the pottery brand. Perfect for marking the first year in a new house.
50cm Battery Acrylic Beaded Garland Christmas Decoration
RRP £15.99
If you're drawn to all things sparkly, this garland is the one for you! With warm white LEDs, it's brighten up a tree or a staircase, and makes a change from the usual fairly string lights.
John Lewis & Partners Tyrannosaurus Tree Decoration
RRP £12.00
This sweet dino is great for children or adults in the household, and would look adorable on a very colourful tree. It's made from glass, so younger children will have to handle it carefully - but we think it will become a firm favourite.