Christmas tree decorating ideas – stylish looks to try for 2022
Let the experts inspire you with their top Christmas tree decorating ideas for the holidays, from bold brights to floral touches for an on-trend look that is simple to achieve and effortlessly stylish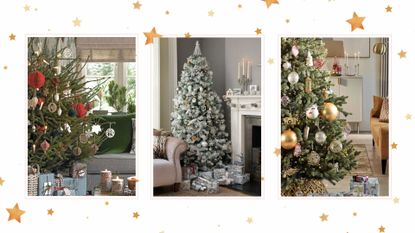 (Image credit: Future | John Lewis & Partners)
woman&home newsletter
Sign up to our free daily email for the latest royal and entertainment news, interesting opinion, expert advice on styling and beauty trends, and no-nonsense guides to the health and wellness questions you want answered.
Thank you for signing up to Woman & Home. You will receive a verification email shortly.
There was a problem. Please refresh the page and try again.
Interior designers, florists, and more share the latest Christmas tree decorating ideas for inspiration on how to make your tree look effortlessly chic, stylish, and undeniably festive this year.
Whether you prefer artificial Christmas trees or real Christmas trees there's no denying that your choice of Christmas tree decor is really what makes the tree. Some prefer a maximalist theme, with decorations aplenty – while others opt for a less is more approach, decorating their tree with a minimal selection of only the best Christmas decorations.
However you plan to decorate your Christmas tree, experts predict that this year, decorating for the holidays will be bigger and more significant than ever before. Joanna Wood, an internationally-renowned interior designer, explains, "People are prepping for Christmas much earlier than normal this year. Tree-wise I think we're going to see less of an interest in the 'bushiness' of the tree and more focus on what goes on it."
Christmas tree decorating ideas for 2022 holidays
1. Go merry and bright with rainbow colors
Christmas 2022 is the year to celebrate color when decorating your tree. For those that are looking for a bright color Christmas tree theme this year is all about the rainbow color palette - celebrating color like never before.
"We have seen bold and bright colors grow year on year, with the rainbow colors representing positivity, coming together and joy," explains Jason Billings-Cray, Christmas buyer at John Lewis. "We've gone bolder this year with new products and finishes, and we also have an array of rainbow characters."
To get the look dress your tree with an assortment of brightly-colored baubles, choosing either to keep them in color blocks to mimic a rainbow or mix the pops of primary color together to create a more eclectic feel.
2. Use gold and bronze accents for a classic festive look
No matter what the trends, gold will always be a failsafe color when it comes to Christmas decorating ideas. So, if you want something classic, why not embrace gold and bronzy tones on your tree this year?
Opt for lighter, almost white colors for a more modern look, or choose bronze, deep gold, and browns for a more traditional look. Joanna says, "an all-gold or silver tree is understated and elegant."
Joanna suggests opting for one color but varying the shades for a simple yet stylish scheme: "One color when done properly can look very smart, depending on the interiors it is sitting in."
3. Opt for boho style with on-trend pampas grass
Dried flowers and pampas grass have enjoyed a huge resurgence in popularity in recent years. This year sees on-trend grasses being used in the most effective way for adding a touch of boho chic to Christmas trees.
"This boho decorating trend could actually work all year round as it introduces subtle, simple details all in natural materials,' suggests Dani Taylor, product and creative director, at Cox & Cox.
We love the feathery pre-lit pampas stems at Cox & Cox woven into the tree to create a beautifully calm and dreamy aesthetic. "For this trend, I found a gorgeous, really dense tree in the softest blush and styled it by simply pushing in individual pampas stems," Dani explains. "This is a really simple way of achieving the same dramatic look that the full-on pampas trees of Instagram create, without the need for masses of oasis and a floristry degree!
4. Try out an ombre color scheme
A tree where the color of the decorations descends from light to dark can look like a real show-stopper, giving the impression of colorful lights. An ombre tree is much simpler to put together than it looks, too. Just decorate your tree in four or five sections, taking a different shade of your chosen color in each section.
It'll be easier to keep the decorations themselves simple, perhaps with just lights and baubles, to avoid clashing within each section.
5. Keep the look traditional with red and white
When it comes to Christmas tree decorating ideas you can't go wrong with a classic red and white color scheme, punctuated by accents of equally classic green.
Let other colors take a back seat to the red if you want a more traditional look, or punctuate with white for a fun and festive 'candy cane' inspired color scheme.
6. Adorn your tree with festive citrus fruit
Usually found in a mug of mulled wine, slices of dried orange and apple and sticks of cinnamon can also make for a beautiful, rustic, woodland effect when decorating your tree. It's also one of our favorite Christmas centerpiece ideas. For an easy way to achieve this, purchase some potpourri, which will come with dried fruit slices, and simply hang them on your tree using thread.
To elaborate on this decor idea you could add other rustic elements to your trees, such as pine cones and cinnamon sticks, or eucalyptus leaves. This is a more pared-back look overall, so be sure not to overload your tree – keep it simple.
7. Use oversized star lights for a unique take on lighting
Fairy lights are generally considered a must for trees, but oversized lights can be even more striking. A great way to do this is to use large star lights, which you can place on the surface of the tree to give the impression of an expertly decorated Christmas tree.
We love the visual impact of this snowy white tree adorned with Neon star lights by John Lewis. The unapologetically statement star lights add real character to this Christmas decorating scheme.
And you needn't only use oversized star lights – any oversized lights would work to create an impressively illuminated tree that effortlessly captivates a room.
8. Maximize impact with oversized baubles
Think big this Christmas, because it is all about maximalism for those who want to make a statement with their decorating scheme - bigger lights, bigger trees, and bigger baubles!
Decorating your tree with oversized decorations creates a look that will stop guests in their tracks and is great if your tree is placed in a larger room, hall, or entranceway. Use the stylish rule of working in multiples of three, so mix three large baubles with three smaller baubles to balance the tree.
A bigger tree with bigger decorations can make the rest of the room feel small - so look for ceiling height and plenty of space if you've got big ambitions for your tree this year.
9. Decorate a tree with faux snow and simple decorations
Snowy faux trees have grown in popularity over the last few years, and for good reason – they create a cozy, woodland effect whilst still looking very chic and stylish.
White, gray, and beige tones are great if your style leans toward minimalist chic. Make things simple by purchasing an artificial tree with a faux snow effect, then finish off the look with a few neutral-colored decorations and woodcut ornaments. You can add accent color but keep tones washed-out and desaturated so they don't distract from the snow white scheme – such as soft sage green as seen here.
We love the addition of shimmery glass baubles which complement the white of the snow without having to add color.
10. Deck the tree with pretty pastels
Opt for cool pastel colors like light blues, pinks, and whites for a modern look – adding decorations, baubles, hanging decor, and lights. This decorating idea works on real and faux trees alike it works particularly well on a snowy artificial tree – the crisp white background adds an ethereal feel to the softness of the accent colors.
Turn the process of decorating your tree into a new family tradition by donning matching Christmas pyjamas and playing festive music while you work.
11. Place flameless candles on your tree for a dramatic effect
Flameless candles are a great way to decorate your tree, as they're totally safe and will create a really dramatic, manor house effect in your home. Best of all, given the different varieties available you can find candles that will hang from the branches to drape in amongst the foliage or ones that you can secure to a branch to stand upright like a traditional tree candle (only a safer version). We love these Floating LED Candles by Dunelm, which add an element of magic to Christmas tree decorating ideas.
Decorating with flameless candles is a super easy way of illuminating your tree, as it's a dramatic enough look that you won't need to add additional lights or any more decorations if you so choose.
12. Hang minimal decorations for a contemporary theme
Never fear, you don't have to go maximalist to have a lovely Christmas tree for 2022 but the theme of less is more is just as popular. Sometimes, paring it back can create a chic and soothing minimalist tree that you'll love having in your home.
One way to do this is to use minimal decorations – try 10-20, depending on the size of your tree. Then, simply drape a long ribbon, fairy lights, or a garland, around the tree, and voila you're all done.
This is an especially great Christmas tree decorating idea if you are keen not to create a feeling of clutter and overwhelm a small organized space with a tree. This less is more approach is also ideal for a second tree, perhaps one in an entryway or dining room.
13. Drape lights and decorations for an icy winter effect
Recreate the icy, cold, winter effect of real fir trees in Finland by draping decor, such as icicle decorations, thin ribboning, or icicle lights to feel like the cading icicles in a winter wonderland scene. Simply scatter lights up and down your tree and decorate the rest of it with very cool, neutral tones such as whites and silvers.
14. Hang paper pom poms for a homespun feel
Similar to the cottagecore fashion trend there's a real affection for country style this season in interiors also. You can embrace this homely homespun trend in a fun and playful way with colorful paper pom poms and homemade crafted decorations.
You can get these from any good craft store, and they'll quickly add a really fun look to your tree and home – plus you'll get to enjoy a calming cheap, and easy hobby idea. Feel free to add more decor around it to build out the tree – but don't worry about too much, as you simply won't need it.
15. Intersperse festive foliage and berries for a natural rustic look
Gail Wetherell from florist Rebel Roses explained that foliage isn't only for the best Christmas wreaths – it's perfect for use on your tree too. "Foliage is a must for Christmas. By mixing different varieties, textures, and tones, you can easily create a 3D showstopper," she said.
Embrace the concept to create a natural, rustic-looking tree that will look as though it's just been plucked from the forest. Layer berries, branches, moss, and leaves throughout your tree (fake is best for longevity). The main color theme of this look is red, green, and brown, so you could add a few more pieces of non-foliage-based decor too to really make it come alive.
16. Go maximalist with multiple layers of decor
More is more for some and one way to create a gorgeous Christmas tree is to add as much decor as possible (all within the same color scheme of course). Take inspiration from this tree and add garlands, lights, baubles, flowers, stars and branches, to create a tree that's straight out of a fairytale wonderland.
The key to making this look work is to space out each different type of decor item—for example, make sure baubles are strategically placed far enough away from one another, and branches face away from one another in different directions.
17. Layer flowers for an unexpected twist
The poinsettia is traditionally used in festive floral displays thanks to its red leaves and green foliage. Including this flower in your Christmas tree decor makes for a fresh twist on a traditional idea. Consider using faux flowers to ensure you can use them year after year.
If you want to incorporate additional flowers into your tree design, Anna Eklöv, founder of LÖV Letterbox Flowers, suggests, "Add a couple of large red roses, dark red calla lilies or red Love-Lies-Bleeding (Amaranthus) in traditional themed decor. For decor in silver and white, I would suggest sticking to white winter flowers."
18. Keep it simple with minimalistic illuminations
Sometimes, you don't need to do anything at all to have a lovely-looking tree in your home, just let the natural beauty shine. If you've got no time or inclination to decorate yours, why not opt for a pre-lit tree which can look utterly fabulous all on its own?
These days, you can buy some really beautiful ones that simply don't require decorations. Choose a fluffy, bushy tree to ensure it looks as impressive as possible, switch the lights on, and you're good to go – a minimalist, low-effort tree in a matter of seconds.
19. Decorate in a simple Scandi-style
Daisy Coombes, marketing manager at Sass & Belle, told w&h, "Often at Christmas, we see traditional schemes, or more minimal Scandi styles taking pride of place in our homes."
And this year is no exception. The Scandi style of decorating (read: neutral, simple, and minimal), is hugely popular throughout the year, so why not at Christmas too? Keep it super simple with a small tree and a minimal amount of neutrally colored (but pretty) decorations. It's low-effort and low-cost, too.
20. Use ribbons for understated elegance
Instead of fairy lights or sparkly tinsel, try decorating your tree with simple silky ribbons, big or small to create an understated but elegant look.
"Being a ribbon fan, a tree simply decorated in bows is one of my favorites," explains Joanna Wood. "Less is more with fabric on a Christmas tree and if you want to keep things really simple, see what it looks like with no lights." Using solely ribbons is ideal if you want a more uniform look, forgoing a mixture of different ornaments.
21. Welcome pink for a festive surprise
Pink is one of the biggest Christmas tree color trends for 2022. With the trend for Barbiecore leading the way in fashion, it's paved the way for our homes to celebrate pink too – as we've seen with the popularity of the pink paint colors of late.
Pink may not be the first color that jumps to mind when you think of Christmas decor because it's not very traditional, but it can look gorgeous on your tree. Choose between different blush pink tones with your decor and pair them with white accessories to compliment the pink perfectly. You could even add faux snow to your pink tree to really give it some texture.
Christmas tree decorating trends 2022
Christmas tree decorating trends for 2022 is largely about, much like many key interior design trends of 2022, traditional and more neutral schemes that feel effortlessly stylish:
Merry and bright – for those who want to use color this year the most popular choice is the maximalist approach of using all bright, primary shades. Jewel tones are still popular to add to more traditional trees but the 2022 color trend is for rainbow brights in unapologetically bold baubles and decorations that command maximum attention. More is more when it comes to adding color this year.
Cool, icy tones – if you generally prefer more neutral, cool colors when it comes to decorating your tree, it seems you won't be alone this Christmas, as the less-is-more mantra is predicted to be a popular trend this year. Go for calming greens, silver, and icy white baubles with cool-toned white Christmas lights for a fresh take on December decor.
Decorating the base of the tree – Christmas tree skirts might not be something you've considered using previously, but they can really elevate a tree and are set to be big in 2022. Decorating the bottom of your Christmas tree/Christmas tree stand is a key decorating element to consider this year to add the perfect finishing touch to a more minimal tree; whether it's a skirt made of corrugated paper, a cozy knitted stand cover, or simply some glitter paint. The different colors and textures will add a new dimension to your Christmas tree.
Nostalgic decor – it's been a tough few years, so you might not be surprised to hear that our decor could well reflect the joy of Christmas past. Joanna explains, "There's a certain nostalgia around Christmas this year – so why not bring out some older decorations that have been collected over the years? My favorites are the ones my children made at school." Pair with other traditional Christmas decorations such as velvet bows, nutcrackers, and luxury Christmas crackers to complete the look.
Sign up to our free daily email for the latest royal and entertainment news, interesting opinion, expert advice on styling and beauty trends, and no-nonsense guides to the health and wellness questions you want answered.
Amy Hunt is an experienced digital journalist specialising in homes, interiors and hobbies. She began her career working as the features assistant at woman&home magazine, before moving over to the digital side of the brand where she eventually became the Lifestyle Editor up until January 2022. Amy won the Digital Journalist of the Year award at the AOP Awards in 2019 for her work on womanandhome.com.