The best Christmas wreaths for a festive front door that your neighbors will be jealous of
From light-up wreaths to evergreen shrubs, these are the best Christmas wreaths to shop this year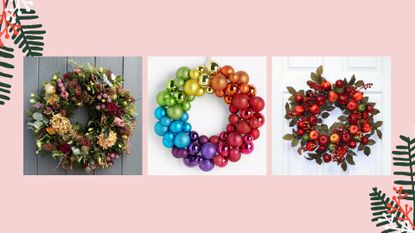 (Image credit: The Real Flower Company | John Lewis | Wayfair)
Adorning front doors and mantelpieces with the best Christmas wreaths is a simple yet stunning way to dress your home for the holidays.
Out of all the traditional Christmas decorating ideas, a wreath is one of the simplest, whether you hang it on your front door or place it on the inside of a window, it instantly symbolizes the holidays are coming.
Each year the best festive wreaths get bigger and better – from designs full of foliage, and flowers to fun bauble clusters and showstoppers full of sparkle, the latest Christmas wreaths are available in a range of styles and colors to suit all.
The best Christmas wreaths for 2022
As you plan how to decorate for Christmas, we've rounded up the very best Christmas wreaths for 2022 to add to your decorating scheme from a range of price points, including both real foliage wreaths and natural-looking artificial alternatives.
The best Christmas wreaths in the US
1. Balsam Hill Outdoor Kaleidoscope Foliage Wreath
Specifications
Price: $149 (reduced from $249)
Fresh: No
Indoor or outdoor: Both
Dimensions: 30in diameter
Next day delivery: No
Reasons to buy
+
Outdoor-safe with UV protection
+
A statement piece
If you're after a fun wreath to up the ante for your outdoor Christmas decorating ideas this year then look no further than this premium pick from Balsam Hill. You might think ornaments are just for your Christmas tree decorating ideas – but this wreath will prove you wrong. With an array of multi-colored baubles nestled into the glittered green foliage of this wreath, it's perfect for those who believe that the more color the better during the festive season (neutral lovers, this might be one to steer clear of).
To add to the look, the design comes pre-lit, so it will be illuminated for the whole street to see – with the lights gleaming off the colorful baubles.
Whether you hang this inside your home or on your front door, it's guaranteed to make a real statement, so ensure you don't have any clashing colors or decor items near it as it could quickly overwhelm a space.
You'll also find some of the best Black Friday Christmas tree deals at Balsam Hill if you want to kill two birds with one stone.
2. Norwood Fir Artificial Christmas Wreath with 200 White Lights
Specifications
RRP: $99
Fresh: No
Indoor or outdoor: Both
Dimensions: 48in diameter
Next day delivery: Yes
Reasons to buy
+
Suitable for indoor and outdoor use
+
Pre-lit with 200 warm lights
A pre-lit wreath is a fantastic option for creating a warm, welcoming, and homely feel this Christmas with little to no effort. So we love this option from Home Depot which comes complete with 200 warm fairy lights (an essential Christmas centerpiece idea) for an ultra-cozy vibe. Less is more with this design, it's simple yet sophisticated enough to add to any style house exterior or interior decorating scheme.
Not only does it look good, but it can also act as a practical light on the outside of your home this festive season, as it's safe for both outdoor and indoor use.
3. Amazon Artificial Eucalyptus Wreath
Specifications
RRP: $22.99
Fresh : No
Indoor or outdoor: Both
Dimensions: 20in diameter
Next day delivery: Yes
Reasons to buy
+
Minimalist style
+
Durable silk leaves
For a simple, minimalistic choice, opt for this faux eucalyptus wreath, made up of three different types of eucalyptus leaves to add depth to the simple arrangement. The exposed woven frame adds to the rustic charm while the white berries add a hint of color and also realism to the artificial design.
It's good to note that the leaves are silk, so shouldn't degrade too badly over time – this gives the wreath a durable finish to be able to stay outdoors in all seasons. Place it inside or outside for a really sophisticated look. This design is elegant and rustic as well as festive, so could be used aside for the holiday period to brighten up the front of the house.
4. Wayfair Mixed Apple Pomegranate and Leaf on Natural Twig Base Styrofoam Wreath
Specifications
RRP: $57.99
Fresh: No
Indoor or outdoor: Indoor only
Dimensions: 24in diameter
Next day delivery: No
Reasons to buy
+
Transeasonal to dress homes for fall, not just Christmas
+
Thoroughly realistic look
This fruity wreath offers something a little different to your home decor this festive season. And it's not just for the holidays, it's so versatile that you could even hang it up well before December, as it'd be a great piece of general winter decor too. Adorned with styrofoam apples and pomegranates as well as a smattering of branches and green leaves, this wreath is ideal all year round.
The natural aesthetic of fruit, berries, and foliage suits almost any home that is looking to add a touch of decoration and a pop of jolly red. The only downside is that it's not recommended for outdoor use because it's not water resistant – but it could be used for short periods outside in fair weather if sheltered from the elements, such as on a porch with a screendoor for example.
5. Wayfair Dunhill Fir Lighted Wreath
Specifications
RRP: $59.99
Fresh: No
Indoor or outdoor: Both
Dimensions: H32" by W32"
Next day delivery: Yes
Reasons to buy
+
Unique star shape
+
Suitable for indoor and outdoor use
Who says the best Christmas wreaths need to be circular? This fun star-shaped wreath will add something a little different to your holiday decor with a unique star-shape. Adorned with rustic pine cones, faux berries, a gold bauble ornaments, and delicate warm fairy lights, it'll go with almost any decor and is suitable for both indoor and outdoor use—pop it on your front door or the inside of any windows.
6. Amazon Christmas Wreath with Pinecone Berries
Specifications
RRP: $39.99
Fresh: No
Indoor or outdoor: Both
Dimensions: 20in diameter
Next day delivery: Yes
Reasons to buy
+
Fun unique sign
+
Traditional colors
We love this fun Christmas wreath decorated in traditional red and green foliage and berries – and best of all, it has a fun and unique Merry Christmas sign for an added bit of festive cheer to greet guests at the front door.
This is the best Christmas wreath option for those who are after something a little extra from their door decor, something with a little more festive sentiment. While suggest hanging this on your front door as a greeting to any guests over the festive season it would work equally well inside your home too to spread the cheer.
7. Target Shatterproof Plastic Bauble Wreath
Specifications
RRP : $20
Fresh: No
Indoor or outdoor: Indoor
Dimensions: 15.5" diameter
Next day delivery: No
Reasons to buy
+
Shatterproof for durability
+
Fun alternative to foliage
For something, a little different, this fabulously fun Wondershop bauble wreath is a great pick and one of the best Christmas wreaths for those that want a more unique option.
Weighing just over a pound this light design is ideal for hanging with ease on any front door or interior wall. The playful assortment of shatterproof and shiny red, green, and gold baubles adorn a gold tinsel base that adds a flicker of decoration between the ornaments and around the edging. It's only recommended for indoor use but if secure fastening down, to prevent it from blowing away, and under a sheltered porch we see no reason this wreath can't be used to brighten up the front of the house.
Christmas wreaths: UK
1. Bloom Festive Lavender Wreath
Specifications
Price: £130 – £170
Fresh: Yes
Indoor or outdoor: Both
Dimensions: Available in 3 sizes (12",14",16")
Next day delivery: Yes
Reasons to buy
+
Luxurious quality fresh foliage
+
Fragrant Christmas wreath
Bloom's expert London florists make every single festive wreath by hand and you can absolutely tell. When woman&home received a wreath from Bloom to review we were in awe of the wreath's luxurious quality and abundance.
Bursting with fresh foliage, fragrant lavender and eucalyptus, and festive pine cones, you could judge this wreath's quality on its weight alone, let alone how healthy the leaves appeared and how full and fresh it was coming out of the box.
Despite its weight, this wreath is easy to hang and looks simply stunning on a front door. Don't just be the envy of your neighbors, be the neighborhood trendsetter – as everyone's going to want to know where you got this wreath from when you hang it up.
2. Bloom Mulled Festive Wreath
Specifications
Price: £110 – £150
Fresh: Yes
Indoor or outdoor: Both
Dimensions: Available in 3 sizes (12",14",16")
Next day delivery: Next day delivery available
Reasons to buy
+
Hugely fragrant
+
An array of dried fruits adds scent and color
This festive clementine wreath is available in three different sizes, but even the smallest, 'modest' version from bloom is bursting with fragrant, festive elements including dried fruits and assorted, fresh-cut spruce varieties, meaning that each time you open the door, you will get a waft of the most delicate scent.
One of the best Christmas wreaths we've seen this year, the mulled festive wreath was designed by an award-winning florist to the stars Larry Walshe, and oozes a sense of luxury and abundance, for which he has become renowned. Every wreath is handmade using natural products that should be expected to dry within 2 weeks.
3. Wintry Berry Holly Leaf and Pine Wreath
Specifications
Price: £56.99
Fresh: No
Indoor or outdoor: Indoor only
Dimensions: 77cm diameter
Next day delivery: Yes
Reasons to buy
+
Timeless appeal for all decorating schemes
+
Natural-looking realistic foliage
We love this natural-looking and timeless wreath from Wayfair, simple but pleasing because sometimes there's nothing better than a bushy green wreath to conjure up the feeling of Christmasses gone by. The artificial foliage is enhanced by a smattering of red berries, pine cones, and snow-tipped branches to add a subtle woodland feel.
For indoor use only, this best Christmas wreath would be a great option for bedroom or living room doors and would compliment a modern rustic or natural decor.
4. Handmade natural dried flower wreath
Specifications
RRP: £43.50
Fresh: No
Indoor or outdoor: Indoor
Dimensions: 50cm diameter
Next day delivery: No
Reasons to buy
+
Chic and stylish
+
Great for modern homes
Not strictly a 'Christmas' wreath, but we love this dried flower wreath for some floral foliage around the house this festive season. Etsy offers some of the best DIY Christmas wreaths and kits, but we adore this ready-made option from the seller 'Handmade Sussex Store'.
Decorated with natural flowers including roses and other dried foliage such as fern, wheat, and grasses, this wreath would suit homes with a Scandi-inspired or neutral decor– or those who have opted for neutral Christmas decorations. It would also fit beautifully in more rustic, cottage homes too, which would really compliment the more rugged decor on this wreath.
5. Forest Pine Cone Christmas Wreath
Specifications
RRP: £24.95
Fresh: No
Indoor or outdoor: Both
Dimensions: 36cm diameter
Next day delivery: No
Reasons to buy
+
Natural foliage
+
Will go with any color front door
Sometimes, the best Christmas wreaths are the most simple ones. This example from Not On The High Street proves just that, the pair-back design expertly treads the line between minimal and stylish.
Comprising of mostly green foliage, it features pops of color in the form of pine cones and white and gold berries, to create an almost ethereal feel. It's completely timeless and won't date in years to come, so this is a good choice if you don't like to shop for a new wreath every Christmas.
6. Balsam Hill Silver Frost Foliage Wreath
Specifications
Price: £179
Fresh: No
Indoor or outdoor: Indoor or outdoor covered use
Dimensions: 28" diameter
Next day delivery: No
Reasons to buy
+
Glitzy show-stopper with frosted foliage
+
Pre-lit with warm white LED lights
Guarantee a little bit of glitz and sparkle in your home with this show-stopping silver wreath – full of cool silvers, blues, and turquoise. Interspersed with delicate warm fairy lights (one of the best Christmas tree topper ideas) and snow-covered evergreen needles, it looks both natural and modern and will add an elegant look to any area of your home, or an outdoor covered porch.
7. Marks & Spencer Pre-lit Pine Cone Wreath
Specifications
Price: £39.50
Fresh: No
Indoor or outdoor: Both
Dimensions: D60cm
Next day delivery: Yes
Reasons to buy
+
Thoroughly realistic foliage
+
Pre-lit to add a soft illumination
This pine cone-adorned wreath is a country-style classic that welcomes a traditional feel to festive decorating. This is one of the most realistic artificial foliage wreaths we've seen in real life this season. The classic foliage design features a fusion of eucalyptus leaves, red berries, and pine cones all gently dusted with snow that looks like it's part of a real woodland scene.
The pre-lit wreath is wrapped in warm fairy lights that include a built-in timer; 6 hours on, 18 hours off, and requires 3 AA batteries to power. The illumination is subtle, providing just enough light to gently illuminate the detailing of the branches. Because it's artificial it just needs teasing into place once you get it out of the packaging
There is no mention of its suitability to be left outdoors because it's not waterproof so we'd recommend only leaving it outside if it's sheltered from the elements, so under a porch or on a veranda is ideal.
8. John Lewis & Partners Santa's Rainbow Workshop Rainbow Bauble Wreath
Specifications
RRP: £25
Fresh: No
Indoor or outdoor: Indoor
Dimensions: 40cm diameter
Next day delivery: Yes
Reasons to buy
+
Super lightweight and easy to hang
+
Mixed baubles to add glitz and shine
Inspired by Santa's workshop this brightly colored bauble wreath is just the tonic for those who want to create a merry and bright welcome for guests who arrive at the front door, or those looking to set the scene for a more vibrant Christmas tree color trend this year.
The design is entirely made of rainbow-colored baubles that create a kaleidoscope of bright hues around a circular metal frame. The baubles are color coded but in an assortment of different sizes in a mix of matt and glitter finished to add decorative interest to the design. The wreath hangs from a simple gold silk-like ribbon that sits almost undetectable behind the brightly colored wreath.
9. The Real Flower Company Copper, Plum and Gold Rose Door Wreath
Specifications
RRP: £129
Fresh: Yes
Indoor or outdoor: Outdoor
Dimensions: 14" diameter
Next day delivery: No
Reasons to buy
+
Unique mix of flower arrangements
+
Fragrant and fresh
The Real Flower Company produces some of the most breathtaking fresh floral wreaths available, such as this Copper, Plum & Rose gold Door Wreath that captivates with its fresh flower arrangement of some of the best cottage garden plants and flowers.
We've had the pleasure of receiving one of these magnificent fresh floral wreaths and can say firsthand just how impressive they are – while not cheap, they are a worthwhile investment if you want a fresh door wreath to wow guests on the doorstep.
As part of this year's arrangement, our wreath design of choice features red, antique, and soft yellow roses blended with wintry foliage, textured layers of Hypericum, Scabious seed heads, and coppery dried Bracken.
These hearty fresh Christmas door wreaths are made on a 12" Oasis base (measuring approximately 14" in size when complete) and feature a secure fixing on the back of the frame to hang it safely in place of your front door.
10. Ronny Colbie Love Actually Christmas wreath
Specifications
RRP: £105 – £205
Fresh: Yes
Indoor or outdoor: Both
Dimensions: Available in 3 sizes (12",14",16")
Next Day delivery: Yes
Reasons to buy
+
Luxury fresh foliage with scented dried oranges
+
Sophisticated red ribbon finishing touches
We love the creative fresh foliage designs by renowned luxury florist Ronny Colbie whose designs are inspired by some of the most iconic feel-good Christmas movies of all time.
"My favorite design for 2022 would have to be the Love Actually wreath," Ronny tells w&h. "It's bursting with ruby red hydrangeas, dried orange slices, and an assortment of festive berries and pinecones. It features traditional colors paired with rich green tones, making it the most elegant Christmas wreath."
How to choose the best Christmas wreath for your home
Knowing what kind of Christmas wreath would best suit your home can be tricky, especially with so many options.
But according to celebrity florist and founder of Bloom (opens in new tab), Larry Walshe, the best way to focus your decision-making is to decide on the overall color scheme of your Christmas decorating first. He advised: "First look at the color scheme you intend to decorate with. It is always wonderful to have a consistent narrative, and pairing the lead color with your wreath will work well to start the journey for your friends and family alike as they visit during December."
There are so many festive color schemes and Christmas tree themes to choose from, but ones that would match particularly well with the range of Christmas wreaths on offer this year are:
Traditional – think green, gold, and red for that classic festive look. A huge array of wreaths feature these colors altogether, so finding one that matches your home's festive decor should be no problem.
Metallics – think silver, bronze, white, and gold. Equally as festive as the traditional Christmas colors, this color scheme can work great in modern homes, and again, there are so many wreaths out there (and above!) that would match.
Alternative – in recent years, many households have begun to opt for a Christmas color scheme outside of the norm. Think pink, purple, or even an ombre look. If this is your preference, you're sure to find a Christmas wreath to match, as there are tons of pink, purple and multi-colored options out there.
And, for a super-seamless transition between your front door and the inside of your house, Walshe suggested, "Pair your color palette with your Christmas tree decorations too, for a scheme that resonates throughout the home."
What is the most fragrant Christmas wreath?
If you've decided on a fresh Christmas wreath this year, one of the main draws is its unique scent, which will be a welcome surprise to guests!
If you want your wreath to smell good as well as look good, be sure to choose a fresh wreath that has at least one of these things in it. Most of them will also conjure up an immediate feeling of festivity.
"If fragrance is of the utmost importance to you, select a combination of aromatic evergreens for your wreaths," advises Ronny Colbie, luxury florist. "A mix of pine, cedar, eucalyptus, balsam, and juniper will result in a wintry scent. My top tip to keeping a wreath fresh is a daily misting of water."
The scent of your dried wreath will depend on the materials and ingredients added to it, but some of the main, most fragrant smells will come from things like – lavender, cinnamon sticks, citrus fruits, and pine.
When should you hang your Christmas wreath?
Walshe advised that fresh wreaths are best hung as close to the beginning of December as possible, to keep them looking their best. He said, "Fresh Christmas wreaths are at their optimum for around 4-5 weeks.
"We suggest arranging your delivery for early December, to get the maximum amount of enjoyment out of your purchase. They will dry naturally during this time; this is totally normal, but they will retain their shape for the whole holiday period."
As for artificial/faux wreaths, you can put them up whenever you want as one of their main benefits is that they won't dry out. However, most professional Christmas decorators suggest putting all of your Christmas decorations up (including your wreath), at the beginning of December.
And, once your wreath shopping is all complete, why not treat yourself to some more festive essentials? We've rounded up the best Christmas pajamas, as well as the best luxury Christmas crackers for your dinner table.
Tamara is a highly experienced homes and interiors journalist, with a career spanning 19 years. Now the Lifestyle Editor of womanandhome.com, she has spent the last 16 years working with the style teams at Country Homes & Interiors and Ideal Home, and it's with these award-winning interiors teams that she gained a wealth of knowledge and honed her skills and passion for shopping, styling and writing about every aspect of lifestyle and interiors.
With a keen eye for the latest interior trends, there's not a lot she doesn't know about home decor – whether it's what colour we should be painting our living rooms next season, or if the latest 'must-have' buys are actually worth investing in.
A true homes and interiors expert, Tamara has served as an ambassador for leading interior brands on multiple occasions, including appearing on Matalan's The Show and presenting at top interiors trend events such as the Autumn Fair and Spring Fair.