The best Christmas wreaths to decorate your door with this festive season
Select the best Christmas wreaths for your home and front door from our curated list of tried and tested festive garlands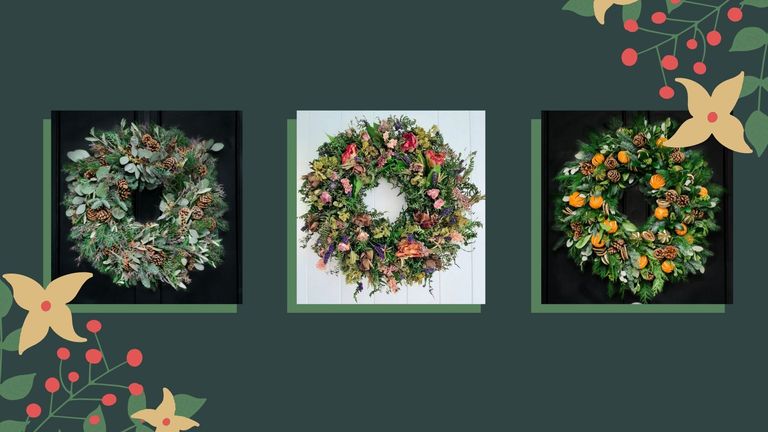 (Image credit: Future/Canva)
It's not too late to buy the best Christmas wreaths for your home this year, as there are still plenty in stock from florists and online retailers alike.
Christmas wreaths have had something of a revamp in recent years—now, the very best ones are full of sparkle, foliage, and flowers, and come in a range of styles and colors. Out of all the traditional Christmas decorating ideas, a wreath is one of the simplest, whether you put it on your front door or hang it on the inside of a window.
To help you deck out your home as you plan how to decorate for Christmas, we've rounded up the very best wreaths out there at a range of price points, including both real wreaths and natural-looking faux alternatives.
The best Christmas wreaths for 2021
The best Christmas wreaths in the US
1. Balsam Hill Outdoor Kaleidoscope Foliage Wreath
Specifications
Price: $129 (reduced from $199)
Fresh: No—dried
Indoor or outdoor: Outdoor
Dimensions: 30in
Next day delivery: No
Reasons to buy
+
Very fun and colorful
+
A statement piece
If you're after a fun wreath for your home then look no further than this premium pick from Balsam Hill. You might think ornaments are just for your Christmas tree decorating ideas—but this wreath will prove you wrong. With an array of multi-colored baubles nestled into the green foliage of this wreath it's perfect for those who believe the more color the better during the festive season—neutral lovers, this might be on to steer clear of. Whether you hang this inside your home or on your front door, it's guaranteed to make a real statement, so ensure you don't have any clashing colors or decor items near it as it could quickly overwhelm a space.
You'll also find some of the best Black Friday Christmas tree deals at Balsam Hill, if you want to kill two birds with one stone.
2. Norwood Fir Artificial Christmas Wreath with 200 White Lights
Specifications
RRP: $99
Fresh: No—dried
Indoor or outdoor: Both
Dimensions: 48in
Next day delivery: Yes
Reasons to buy
+
Creates a cozy ambience
+
Unique with lights
A pre-lit wreath is a fantastic option for creating a warm, welcoming and homely feel this Christmas with little to no effort. So we love this option from Home Depot which comes complete with 200 warm fairy lights (an essential Christmas centerpiece idea) for an ultra-cozy vibe. Not only does it look good, it can also act as a practical light on the outside of your home this festive season, as it's safe for both outdoor and indoor use.
3. Amazon Artificial Eucalyptus Wreath
Specifications
RRP: $19.99
Fresh : No—dried
Indoor or outdoor: Both
Dimensions: Inside—9.8in Outside—20in
Next day delivery: Yes
Reasons to buy
+
Minimalist style
+
Elegant
For a simple, minimalistic opt for this faux eucalyptus wreath, made up of three different types of eucalyptus (one of the best Christmas decorations out there) with white berries. It's elegant and rustic as well as festive, and it's good to note that the leaves are silk, so shouldn't degrade too badly over time. Place it inside or outside for a really sophisticated look.
4. Wayfair Mixed Apple Pomegranate and Leaf on Natural Twig Base Styrofoam Wreath
Specifications
RRP: $57.99
Fresh: No—dried
Indoor or outdoor: Indoor only
Dimensions: 24'' H x 24'' W x 2'' D
Next day delivery: No
Reasons to buy
+
Versatile—can be hung outside Christmas
+
Hardy
This fruity wreath will offer something a little different to your home decor this festive season—it's adorned with styrofoam apples and pomegranates as well as a smattering of branches and green leaves, to suit almost any home. Plus, it's so versatile that you could even hang it up well before December, as it'd be a great piece of general winter decor too.
5. Wayfair Dunhill Fir Lighted Wreath
Specifications
RRP: $49.99
Fresh: No—dried
Indoor or outdoor: Both
Dimensions: 32"
Next day delivery: Yes
Reasons to buy
+
Unique star shape
+
Suitable for indoor and outdoor
Who says the best Christmas wreaths need to be circular? This fun star-shaped wreath will add something a little different to your holiday decor with a unique star-shape. Adorned with rustic pine cones, faux berries, a gold bauble ornaments, and delicate warm fairy lights, it'll go with almost any decor and is suitable for both indoor and outdoor use—pop it on your front door or the inside of any windows.
6. Amazon Christmas Wreath with Pinecone Berries
Specifications
RRP: $57.99
Fresh: No—dried
Indoor or outdoor: Outdoor
Dimensions: 20in
Next day delivery: Yes
Reasons to buy
+
Fun unique sign
+
Traditional colors
We love this fun Christmas wreath decorated in traditional red and green foliage and berries—and best of all, it has a fun and unique Merry Christmas sign for an added bit of festive cheer! It's a great option for those who are after something a little bit different with their Christmas wreath. We suggest hanging this on your front door as a greeting to any guests over the festive season—but it would work equally well inside your home too.
Christmas wreaths: UK
1. Bloom Festive Lavender Wreath
Specifications
Price: £130.00 – £170.00
Fresh: Yes
Indoor or outdoor: Both
Dimensions: N/A
Next day delivery: Yes
Reasons to buy
+
Fresh
+
Luxurious quality
+
Fragrant Christmas wreath
Bloom's expert London florists make every single festive wreath by hand and you can absolutely tell. When woman&home received a wreath from Bloom to review we were in awe of the wreath's luxurious quality and abundance. Brimming with fresh foliage, fragrant lavender and eucalyptus and festive pine cones, you could judge this wreath's quality on its weight alone, let alone how healthy the leaves appeared and how full and fresh it was coming out of the box. Despite its weight, this wreath is easy to hang and looks simply stunning on a front door. Don't just be the envy of your neighbours, be the neighbourhood trend-setter – as everyone's going to want to know where you got this wreath from when you hang it up.
2. Bloom Mulled Festive Wreath
Specifications
Price: £110.00 – £150.00
Fresh: Yes
Indoor or outdoor: Both
Dimensions: Available to buy online in 3 sizes
Next day delivery: Next day delivery available
Reasons to buy
+
Hugely fragrant
+
Array of dried fruits
This festive clementine wreath is available in three different sizes, but even the smallest, 'modest' version from bloom is bursting with fragrant, festive elements including dried fruits and assorted, fresh-cut spruce varieties, meaning that each time you open the door, you will get a waft of the most delicate scent. One of the best Christmas wreaths we've seen this year, the mulled festive wreath was designed by award-winning florist to the stars Larry Walshe and oozes a sense of luxury and abundance, for which he has become renowned.
3. Wintry Berry Holly Leaf and Pine Wreath
Specifications
Price: £30.99
Fresh: No—dried
Indoor or outdoor: Indoor only
Dimensions: 61cm D
Next day delivery: Yes
Reasons to buy
+
Timeless
+
Natural-looking
Sometimes there's nothing better than a bushy green wreath to conjure up the feeling of Christmasses gone by—and so we love this natural looking and timeless wreath from Wayfair. For indoor use only, this would be a great option for bedroom or living room doors, and would compliment rustic or natural decor.
4. Handmade natural dried flower wreath
Specifications
RRP: £48
Fresh: No
Indoor or outdoor: Indoor
Dimensions: 50cm in diameter
Next day delivery: No
Reasons to buy
+
Chic and stylish
+
Great for modern homes
Not strictly a 'Christmas' wreath, but we love this dried flower wreath for some floral foliage around the house this festive season. Etsy do some of the best DIY Christmas wreaths and kits, but we adore this ready-made option from seller 'Handmade Sussex Store'. Decorated with natural flowers including roses and other dried foliage such as fern, wheat and grasses, this wreath would suit homes with a Scandi-inspired or neutral decor—or those who have opted for neutral Christmas decorations. It would also fit beautifully in more rustic, cottage homes too, which would really compliment the more rugged decor on this wreath.
5. Forest Pine Cone Christmas Wreath
Specifications
RRP: £24.95
Fresh: Crafted from natural materials
Indoor or outdoor: Both
Dimensions: Diameter: 36cm
Next day delivery: No
Reasons to buy
+
Natural foliage
+
Will go with any color front door
Sometimes, the best Christmas wreaths are the most simple ones. And we love this option from Not On The High Street, which expertly treads the line between minimal and stylish. With mostly green foliage, it has pops of color in the form of pine cones and white and gold berries, to create a rather regal feel overall. It's completely timeless and won't date in years to come, so this is a good choice if you don't like to shop for a new wreath every Christmas.
6. Balsam Hill Silver Frost Foliage Wreath
Specifications
Price: £259
Fresh: No—dried
Indoor or outdoor: Indoor or outdoor covered use
Dimensions: 28in W
Next day delivery: No
Reasons to buy
+
Glitzy show-stopper
+
Good for modern homes
Guarantee a little bit of glitz and sparkle in your home with this show-stopping silver wreath—full of cool silvers, blues and turquoise. Interspersed with delicate warm fairy lights (one of the best Christmas tree topper ideas!) and snow-covered evergreen needles, it looks both natural and modern, and will add an elegant look to any area of your home, or an outdoor covered porch.
7. Winter Sparkle Pink Christmas Door Wreath
Specifications
Price: £24
Fresh: No—dried
Indoor or outdoor: Both
Dimensions: 39 cm D
Next day delivery: No
For something a bit different, this chic yet fun pink and white snow-dusted wreath is a great pick and one of the best Christmas wreaths for those that want a more unique option. Studded with furze buds and sprays of candy pink moss, and adorned with real foraged pink cones it's both natural and stylish, and is great for those who don't want a traditional green wreath. This one also has a light dusting of glitter, for an extra sparkle that would go very well with other glitter-based decorations.
---
How to choose the best Christmas wreath for your home
Knowing what kind of Christmas wreath would best suit your home can be tricky, especially with so many options.
But according to celebrity florist and founder of bloom (opens in new tab), Larry Walshe, the best way to focus your decision-making is to decide on the overall color scheme of your Christmas decorating first. He advised: "First look at the colour scheme you intend to decorate with. It is always wonderful to have a consistent narrative, and pairing the the lead color with your wreath will work well to start the journey for your friends and family alike as they visit during December."
There are so many festive color schemes and Christmas tree themes to choose from, but ones that would match particularly well with the range of Christmas wreaths on offer this year are:
Traditional—think green, gold and red for that classic festive look. A huge array of wreaths feature this colors all together, so finding one that matches your home's festive decor should be no problem.
Metallics—think silver, bronze, white and gold. Equally as festive as the traditional Christmas colors, this color scheme can work great in modern homes, and again, there are so many wreaths out there (and above!) that would match.
Alternative—in recent years, many households have begun to opt for a Christmas color scheme outside of the norm—think pinks, purple, or even an ombre look. If this is your preference, you're sure to find a Christmas wreath to match, as there are tons of pink, purple and multi-colored options out there.
And, for a super-seamless transition between your front door and the inside of your house, Walshe suggested, "Pair your color palette with your tree decorations too, for a scheme that resonates throughout the home."
What is the most fragrant Christmas wreath?
If you've decided on a fresh Christmas wreath this year, one of the main draws is their unique scent, which will be a welcome surprise to guests!
The scent of your fresh wreath will depend on whatever is inside it, but some of the main, most fragrant smells will come from things like—lavender, cinnamon, citrus fruits, and pine.
If you want you wreath to smell good as well as look good, be sure to choose a fresh wreath which has at least one of these things in it. Most of them will also conjure up an immediate feeling of festivity!
And of course, if you've opted for a dried wreath, be aware that there won't be a scent.
When should you hang your Christmas wreath?
Walshe advised that fresh wreaths are best hung as close to the beginning of December as possible, to keep them looking their best. He said, "Fresh Christmas wreaths are at their optimum for around 4-5 weeks.
"We suggest arranging your delivery for early December, to get the maximum amount of enjoyment out of your purchase. They will dry naturally during this time; this is totally normal, but they will retain their shape for the whole holiday period."
As for artificial/faux wreaths, you can put them up whenever you want as one of their main benefits is that they won't dry out. However, most professional Christmas decorators suggest putting all of your Christmas decorations up (including your wreath), at the beginning of December.
And, once your wreath-shopping is all complete, why not treat yourself to some more festive essentials? We've rounded up the best Christmas pyjamas, as well as the best luxury Christmas crackers for your dinner table.
Amy Hunt is an experienced digital journalist specialising in homes, interiors and hobbies. She began her career working as the features assistant at woman&home magazine, before moving over to the digital side of the brand where she eventually became the Lifestyle Editor up until January 2022. Amy won the Digital Journalist of the Year award at the AOP Awards in 2019 for her work on womanandhome.com.