14 stylish Christmas tree themes for 2021
Lead designers and specialists share the top Christmas tree themes for 2021 and how to re-create them at home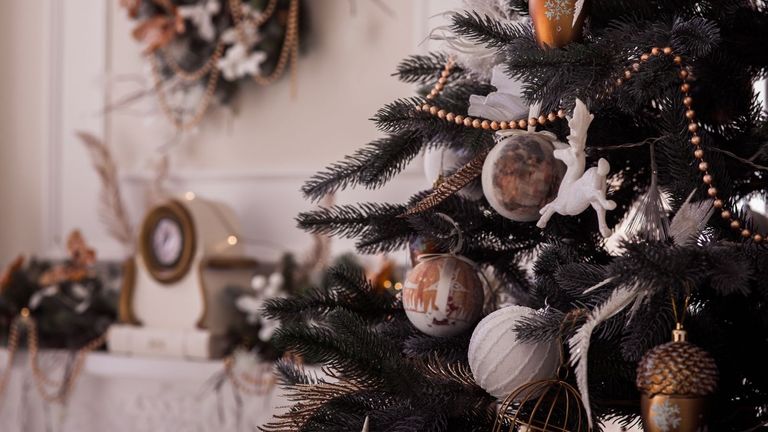 (Image credit: Getty Images)
If you're thinking about your festive décor, we've got you covered with the best Christmas tree themes for 2021. Think traditional color schemes, stylish baubles and luxe lighting.
Decorating your Christmas tree should be a fun and joyful experience and whether you choose the best real Christmas trees for your home or opt for artificial Christmas trees in bright and bold hues, the possibilities are endless.
Valerie Stafford, Lead Designer at HGTV's "2021 Designer of the Year" Rumor Designs, advises that when choosing themes and Christmas tree decorating ideas, you should stick to what you love, and remember that "less is more":
"Stay away from things that aren't "natural", and avoid clutter as it adds to holiday anxiety," she says. "For me, vintage decor, natural decor, or simple modern decor are all winners depending on your Christmas decorating ideas and mood,"
Christmas time is the perfect opportunity to spend time with family, reminiscing on old memories while making new ones. Valerie suggests incorporating this into your Christmas tree themes this year:
"Homemade ornaments or ornaments that have special memories are great conversation starters and can all mix well with other simple ornaments of bright colors or muted tones, depending on the mood of your Christmas tree."
Christmas tree themes to try in 2021
1. Rustic Christmas trees
Rustic home décor has remained a top trend throughout 2021, so it's no surprise that this simple, laid-back style will lend itself to the Christmas tree themes of the 2021 festive period. Incorporate this trend with homespun accessories like handmade garlands, rattan Christmas tree topper ideas, and plenty of earth-toned, muted hues.
2. Silver and gold Christmas trees
A classic combo that screams sophistication, opt for a silver and gold Christmas tree if you're all about that luxe life. In terms of how to decorate a Christmas tree with this theme, Glass ornaments, metallic ribbon, snowflakes, and hints of sparkle are all great options.
3. Minimalist Christmas trees
After spending more time at home, we've all come to embrace the "less is more" mindset. Incorporate this into your holiday decorating and opt for a minimalist Christmas tree theme. A deep green fir tree is best, decorated with simple ornaments, neutral colors, and a wicker Christmas tree skirt.
4. Red and gold Christmas trees
Another traditional Christmas tree theme, red and gold Christmas trees are a timeless style that will look great in any space this festive season. Some of the best Christmas decorations come in these colorways too, so you won't be short on choices.
5. Monochrome Christmas trees
Go for a monochrome look this Christmas with a black and white tree. Start with a black artificial Christmas tree and decorate with whimsical white and gold ornaments, a feather garland, and white string lights for a contemporary look.
6. Technicolor Christmas trees
Start with a snow white Christmas tree, and add bright and colorful ornaments and accessories to bring a playful pop to your festive space.
7. Snowy Christmas trees
Snow-tipped Christmas trees will ensure that a white Christmas is a reality whatever the weather. With a snowy Christmas tree, it's best to keep things simple—just add warm string lights and white ornaments to bring everything together. You can also work this Christmas tree theme into your Christmas centerpiece ideas too, for a pulled together holiday decor scheme.
8. Candy cane Christmas trees
Good enough to eat, sweeten the deal this festive season with a candy cane-themed Christmas tree. Think a red and white color scheme, over-the-top ornaments, and plenty of real candy canes for good measure.
9. Potted Christmas trees
Small space? No problem. A potted tree is the perfect Christmas tree alternative to keep things festive when things are a bit of a tight squeeze.
10. Vintage Christmas trees
If you're a vintage lover, take things back in time with a vintage-style Christmas tree. Incorporate classic colors, tinsel and tassels, and ornaments with a little wear and tear. Don't know where to start? Get thrifting!
11. Pink Christmas trees
Opt for a pretty in pink theme this Christmas, whether it's an all-pink tree or a few blush-toned ornaments dotted around. Feathers, bows, and blush tones are also a great addition to complete the look and can be worked into other elements of your decor - like your Christmas wreaths.
12. Floral Christmas trees
Get in bloom this holiday season with a floral Christmas tree. Add your favorite faux flowers and bring a touch of spring to winter with this unique tree style.
13. Half Christmas trees
Another great option for if you're short on space—or baubles—are half Christmas trees. Placed against a wall, you'd never know the difference. Decorating the back of the tree is a thing of the past.
14. Rainbow Christmas trees
This Christmas, consider a kaleidoscope of color. Create a gradient effect with different hues of your favorite shades, or go all out with bold and brights. Finish the look with fairy lights and an oversized tree topper.
How to choose a Christmas tree theme for your home
When choosing a Christmas tree theme, you should consider your overall design aesthetic, and opt for pieces that you can use year after year, minimizing overall cost and waste.
Rachel Epstein, Design Specialist and Creative Director of CARME Home, says that it's important to think about existing themes when choosing a tree.
"Christmas trees are a standout feature of the home and so you'll want to choose a theme that complements your interiors without clashing with your décor. The main things to consider when choosing a theme are the color and lighting," she tells Woman & Home. "The color of the decorations should complement your tree as well as the rest of the room too. For lighting, stick with your current lighting tones, so if you have warm lighting go for warm lights. Contrasting lighting is a big no!"
Rachel says that a fashionable and cozy Christmas tree is "essentially a balancing act". Each time you place a decoration try to coordinate where the next one will go, think about the size, color, and texture of the items.
"Start with your standout decorations and place them in the prime locations making sure that each section of the tree has a good standout bauble. A great tip to make your tree look taller is to hang any large decorations at the bottom and keep going smaller towards the top," she notes. " A classic mistake people always make is forgetting about the tinsel or lights! Place these on first and then your decorations, there's nothing worse than weaving lights in and out of your filled-up Christmas tree."
After watching 13 Going on 30 one too many times, Emma decided that she wanted to be a journalist and studied Multimedia Journalism at the University of Salford. She started her career as a fashion copywriter before delving into the world of digital journalism and her published work can be found in the likes of woman&home, Cosmopolitan, Metro, i-D and Apartment Therapy. Emma writes about interior design, travel, film and television, celebrities, and internet culture.
When she's not writing or editing, Emma can be found doing yoga (badly), reading the latest TikTok trending novel, or listening to the ten-minute version of Taylor Swift's "All Too Well" on repeat.