Christmas tree themes: 15 stylish decorating ideas to try in 2022
From boho blush pink to striking monochrome, we reveal the best Christmas tree themes for 2022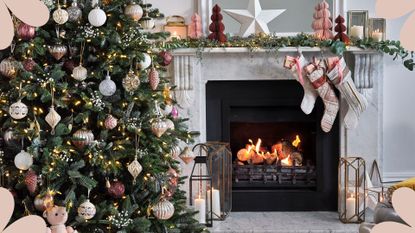 (Image credit: Future)
If you're already thinking about your festive decor, look no further for inspiration than our curation of the must-have Christmas tree themes for 2022. Think of coordinated color schemes, stylish baubles, and luxe lighting.
Decorating your Christmas tree is a fun and joyful experience to get you feeling festive, and whether you choose the best real Christmas trees for your home or opt for an artificial Christmas tree in bright and bold hues, the possibilities are endless.
These suggestions bring together the latest Christmas tree color trends along with our favorite Christmas tree decorating ideas for 2022 but remember, the most important thing is to pick a festive theme that you love and adore and will return to for years to come.
Christmas tree themes to try in 2022
1. Rustic charm
Modern country and rustic home decor have remained a top interior design trend in 2022, so it's no surprise that this simple, laid-back style will lend itself to the Christmas tree themes of the 2022 festive period.
Incorporate this trend with homespun accessories like handmade garlands, rattan Christmas tree topper ideas, and plenty of earth-toned, muted hues. Warm lights are a must for this look, to emulate the soft glow of ambient candlelight and roaring fires which are synonymous with country-style.
2. Glam gold
For a classic festive decorating scheme that exudes sophistication, opt for a gold Christmas tree theme. If you're wondering how to decorate a Christmas tree with this metallic scheme, consider glass ornaments, metallic ribbons, stars, and hints of sparkle.
For most, a gold look is unapologetically glam but you can also make it feel more muted if you choose matt gold finishes, rather than shiny attention-grabbing gold Christmas decorations.
3. Natural wonder
Inspired by nature, this year's emerging festive trend celebrates the natural beauty of winter woodland, keeping decoration colors neutral or derived from nature.
"This Christmas tree theme captures the essence of woodland charm, but is simplistic and accessible in nature," explains Wayfair's (opens in new tab) Resident Style Advisor, Nadia McCowan Hill. "Introducing fresh natural foliage, and mixing earthy neutrals and touches of frosty snowy whites to create a soothing and enchanting look.
"Incorporating classic festive greenery into decorating schemes will instantly lift a room, but the complementary tones of oatmeal, verdant greens, and pale woods will elevate the look and make it feel instantly more contemporary."
4. Frosted silver
On the opposite side of the metallic color scale is silver for an icier approach to using gilded tones. From frosted silver trees to using glitzy decorations and cold-hued lights, a silver Christmas tree theme gives a more polished look ideal for contemporary glam decor.
From matt pewter tones to high-shine silver baubles and glitter-covered ornaments a mix of silver touches adds depth to this effortlessly cool theme. Silver can be effortlessly supported by white decorations that add to the snowy, iced aspect of the color palette.
5. Understated minimalism
With the busy world outside, many of us have come to embrace the "less is more" mindset when it comes to our homes. Incorporate this into your holiday decorating and opt for a minimalist Christmas tree theme that makes just the right style statement without overwhelming your living space.
A deep green fir tree is best, decorated with simple ornaments, neutral colors, and a wicker Christmas tree skirt to add a stylish yet simple finishing touch.
6. Traditional red and gold
Another traditional Christmas tree theme, red and gold Christmas trees are a classic choice that provides a timeless style that will look great in any space. Some of the best Christmas decorations come in these colorways too, so you won't be short on choices. This color scheme is best suited to a natural-looking fir tree to welcome a touch of green foliage which acts as an accent color. And because the look is more traditional you can add woodland touches via the decorations to create a cozy cabin feel that adds to the ambiance.
7. Modern monochrome
Go for a monochrome look this Christmas with simple black and white decorations. you can opt for a black artificial Christmas tree if you're feeling bold and decorate with whimsical white and gold ornaments, a feather garland, and white string lights for a contemporary look. Or follow the lead from this simple yet striking monochrome scheme styled by Matalan (opens in new tab) that sees a natural tree decked head to toe in black and white star decorations – simple yet stunning.
8. Merry and bright
Some would say that Christmas is the ideal time to be bold with color choices because it's not permanent, so for those people, there are merry and bright Christmas tree themes to embrace bold hues for the holidays.
Whether decorating alpine spruce or a snowy white tree, add bright and colorful ornaments and accessories to bring a playful pop of color to your festive space. A bohemian mix of jewel-toned brights to welcome a kaleidoscope of festive color, all of which will omit a warm glow when illuminated by the tree lights.
9. Snowy sophistication
Snow-tipped Christmas trees will ensure that a white Christmas is a reality whatever the weather. With a snowy Christmas tree, it's best to keep things simple – just add warm string lights and white or pastel ornaments to bring everything together.
You can also work this Christmas tree theme into your Christmas centerpiece ideas too, for a pulled-together holiday decor scheme.
10. Candy cane delights
Good enough to eat, quite literally in some instances, sweeten the deal this festive season with a candy cane-themed Christmas tree. Think of a red and white color scheme, over-the-top ornaments, and plenty of real candy canes, lollipops, and hanging sweet treats for good measure. Of course, if you're worried about little hands helping themselves to real treats you could opt for sweet-themed decorations instead of the real thing.
11. Scaled-back style
Small space? No problem. A potted tree is the perfect Christmas tree alternative to keep things festive when things are a bit of a tight squeeze.
As Dunelm's 3ft Albies Tree with Burlap Base (opens in new tab) proves, you don't have to have an enormous tree to make a statement with your chosen Christmas tree theme – one that suits your living area is far more impactful than trying to squeeze in a tree that suffocates the surrounding space.
12. Vintage elegance
If you're a vintage lover, take things back in time with a vintage-style Christmas tree. Incorporate classic colors, tinsel and tassels, and ornaments with a little wear and tear. Don't know where to start? Get thrifting!
13. Boho beauty
Opt for a pretty in pink theme this Christmas, whether it's an all-pink tree or a few blush-toned ornaments dotted around. Like the current best pink paint colors the tone is sophisticated, think more blush than Barbie. Feathers, bows, and blush tones are also a great addition to complete the look and can be worked into other elements of your decor - like your Christmas wreaths.
For a further on-trend touch of boho, take inspiration from the tree here to add stems of pampas grass interspersed among the branches. "I found a gorgeous, really dense tree in the softest blush and styled it by simply pushing in individual pampas stems, " explains Dani Taylor, product and creative director at Cox & Cox (opens in new tab). "This is a really simple way of achieving the same dramatic look that the full-on pampas trees of Instagram create, without the need for masses of oasis and a floristry degree."
14. Floral fancy
Get in bloom this holiday season with a floral Christmas tree. Add your favorite faux flowers and bring a touch of spring blooms to winter with this unique tree style.
Simply place faux flower heads of your best cottage garden plants such as roses and hydrangeas in between the branches of your festive tree to welcome a floral touch to your decorating. You can still add complimentary colored feathers, baubles, and ornaments to enhance the flowers and fill out the tree.
15. Rainbow color schemes
This Christmas, consider a kaleidoscope of color placed in order of a rainbow to really make a statement. Create a gradient effect with different hues of your favorite shades, or go all out with bold and brights. Finish the look with fairy lights and an oversized tree topper.
How to choose a Christmas tree theme for your home
When choosing a Christmas tree theme, you should consider your overall design aesthetic, and opt for pieces that you can use year after year, minimizing overall cost and waste.
Rachel Epstein, Design Specialist and Creative Director of CARME Home (opens in new tab) says that it's important to think about existing themes when choosing a tree.
"Christmas trees are a standout feature of the home and so you'll want to choose a theme that complements your interiors without clashing with your décor. The main things to consider when choosing a theme are the color and lighting," she tells Woman & Home. "The color of the decorations should complement your tree as well as the rest of the room too.
"For lighting, stick with your current lighting tones, so if you have warm lighting go for warm lights. Contrasting lighting is a big no!"
Rachel says that a fashionable and cozy Christmas tree is "essentially a balancing act". Each time you place a decoration try to coordinate where the next one will go and think about the size, color, and texture of the items.
"Start with your standout decorations and place them in the prime locations making sure that each section of the tree has a good standout bauble. A great tip to make your tree look taller is to hang any large decorations at the bottom and keep going smaller towards the top," she notes. " A classic mistake people always make is forgetting about the tinsel or lights! Place these on first and then your decorations, there's nothing worse than weaving lights in and out of your filled-up Christmas tree."
After watching 13 Going on 30 one too many times, Emma decided that she wanted to be a journalist and studied Multimedia Journalism at the University of Salford. She started her career as a fashion copywriter before delving into the world of digital journalism and her published work can be found in the likes of woman&home, Cosmopolitan, Metro, i-D and Apartment Therapy. Emma writes about interior design, travel, film and television, celebrities, and internet culture.