13 of the best Christmas tree topper ideas that will finish off your decor in style
These Christmas tree topper ideas will ensure your tree looks polished and perfected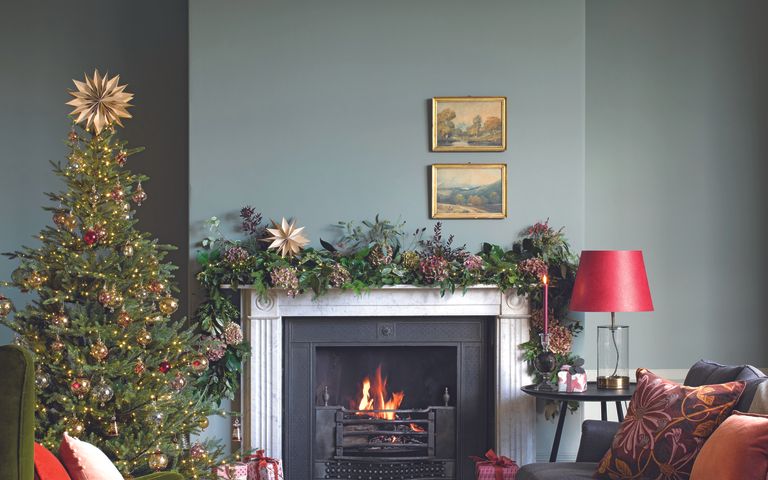 (Image credit: Future)
By Amy Hunt
These Christmas tree topper ideas will help you finish off your festive decor in style—because no tree is complete without a striking star, angel, snowflake, or ribbon to finish it off with.
When it comes to Christmas tree decorating ideas, a tree topper is up there as one of the most important finishing touches, whether your preference is for an angel, a fairy, some lights, or something a bit more unique. The best Christmas tree topper ideas—whether you're placing them on top of one of the best artificial Christmas trees or the best real Christmas trees—should be impactful, impressive, and should go with the rest of your decor. It's important that it doesn't let the rest of your tree down!
Whether you're looking to upgrade your old topper or you need to buy your very first one, our guide to the best Christmas tree toppers will help you find the right one. We've also got advice from an expert below, on the most popular tree toppers to ensure you're bang on trend for 2021...
Christmas tree topper ideas: UK
1. Champagne Gold Snowflake Christmas Tree Topper
Specifications
RRP: £16
Dimensions: 27cm H x 18cm W x 7cm D
Material: Lightweight iron with a mirror polished finish
Reasons to buy
+Handmade+Glittery and stand-out
Made with sturdy yet lightweight iron, this Christmas tree topper in a snowflake pattern is a real show-stopper. Handmade in a workshop by a small team in West Yorkshire, it has been sized to fit most artificial and real Christmas trees, it's been designed to fit securely and snugly at the top of your tree. If you prefer modern Christmas decorating ideas, such as silver, gold or black decor, this topper would go brilliantly.
2. Liberty Wire Dove Tree Topper
Specifications
RRP: £14.95
Dimensions: 17cm L, 20cm W, 10cm D
Material: Wire—iron and polyester
Reasons to buy
+Dove design that is different from typical stars or fairy designs+Modern metallic look
For a really elegant look opt for this Dove Christmas tree topper idea from Liberty. Doves are a slightly more unusual tree topper option, with many favoring things like stars and snowflakes. But that's what makes us love this option—it's unique and certainly stands out, so if you want something a bit different on top of your tree, this is a great pick. This topper would go brilliantly in more modern homes, and would expertly complement more celestial, metallic decor, such as silvers, whites and bronzes.
3. John Lewis & Partners Festive Field Berry Star Tree Topper
Specifications
RRP: £10
Dimensions: 30.5cm L x 21.5cm W
Material: Rattan, metal and plastic
Reasons to buy
+Great for rustic decor+Affordable
A rustic-style Christmas tree topper, this is a brilliant tree topper for homes that are a bit more natural in their decor. Adorned with red berries and made in a wooden wrap rattan, it would go best with trees that have been decorated in natural tones, such as pine cones, dried fruit, and foliage. Easy to assemble and affordable to boot, it's a safe bet for rustic homes.
4. Fenwick Christmas Angel Tree Topper
Specifications
RRP: £13
Dimensions: 17cm x 13cm x 5cm
Material: Wool
Reasons to buy
+Kids will love it+Traditional
Kids will adore this traditional angel tree topper, which would work on any kind of tree. Made of wool, it's soft, delicate and ultra-festive, and is one of those tree toppers that can be passed down for generations. As mentioned, this tree topper would work with almost any kind of tree decor—though we'd suggest it would look best alongside traditional decorations rather than more modern looks.
And if you're searching for more festive products your children will love, take a look at our guide to the best Christmas gifts for kids.
5. Selfridges star Christmas decoration
Specifications
RRP: £20
Dimensions: 25cm H, 21cm W, 4.5cm D
Material: Wool
Reasons to buy
+Alternative tree topper+Easy to install
This adorable red wool/felt tree topper is the perfect option if you're looking for a softer piece of decor for the top of your tree—for example, if you're worried about it ever falling on your floors, or pets/little ones as they potter around the tree. It's one of the safest options on this list as it's made entirely of wool, so it won't cause any damage if it were to fall or scrape on any walls. It's a slightly alternative option given its more unique, off-kilter design, but that's what makes it so special. Choose this Selfridges tree topper if you've opted for traditional tree decor—the red will go perfectly with golds and greens.
6. Large Bethlehem Star Beaded Tree Topper
Specifications
RRP: £119
Dimensions: 15.5in L x 2in W
Material: Made from iron and covered with sequins, beading, glitter, and fabric
Reasons to buy
+Will make a statement+Classic and elegant
If you're looking to make a real statement with your tree topper (or your Christmas tree generally), this Balsam Hill beauty is guaranteed to do the job. Standing at a pretty huge 15.5 inches tall, and embellished with sequins, beads and intricate lace, it'll likely be the first thing that catches your guest's eyes as they enter your home. Pair this Christmas tree topper with whatever tree decor you'd like—be it colorful or neutral—it'll go with just about anything. Just make sure you have the space on top of your tree for this option to fit—you may need to slightly reduce the size of the tree for it not to hit your ceiling.
Christmas tree topper ideas: US
1. Lit Mercury Glass Star Tree Topper Silver
Specifications
RRP: $10
Dimensions: 10in
Material: Plastic with silver mercury finish
Reasons to buy
+Attaches easily+Will go with any type of decor
Nothing beats a festive gold star when it comes to Christmas tree topper ideas—in fact, they're almost as essential as Christmas tree skirts when it comes to decor. And this option from Target is one of the best out there. With a speckled, shimmery mirror design, it's a great blend of both classic and modern, and at 10in long and wide it's a decent size too. This would look great attached to a tree with any decor, but particularly those with traditional colors such as gold, silver, red and green. It also lights up and is incredibly easy to attach to your tree—simply pop it on and you're good to go.
2. Silver Tinsel Snowflake Starburst Christmas Tree Topper
Specifications
RRP: $13.69
Dimensions: 7in
Material: Plastic
Reasons to buy
+Stylish+Pre-lit decoration
An affordable option, this silver tinsel snowflake tree topper is a unique option, with fun pink flower lights, tinsel around the outside, and a snowflake shape in the middle. This tree topper is pre-lit too so it'll be the perfect way to light the tip of your Christmas tree. Plus, we love how affordable it is, meaning it should fit into almost all budgets.
3. Golden Angel Tree Topper
Specifications
RRP: $80
Dimensions: 12in
Material: Stainless steel, silver and gold wire
Reasons to buy
+Hand-crafted+Classic
One of the most popular and best Christmas decorations is an angel, so they're a great idea for the top of your tree. This classic, handmade angel Christmas tree topper is ideal for those who prefer more traditional decor, so we'd advise it for trees and homes with gold/silver decor. Standing at 12 inches tall it's pretty big, so ensure you have the space for it above the tree! It's worth noting that it's one of the most expensive tree toppers on our list so it won't be suitable for every budget.
4. LEWOT Christmas Tree Topper Bow
Specifications
RRP: $15.99
Dimensions: 11 x 13.7 x 1.1 in
Material: Polyester ribbon
Reasons to buy
+Versatile—can work elsewhere too+Will go with almost any color scheme
Ribbons are another hugely popular option for Christmas tree toppers (and a core part of some of the best Christmas centerpiece ideas), and this option, available at Amazon, is both fun and sophisticated. With two types of golden tassel ribbon, it would suit both neutral Christmas tree color schemes (such as gold, white and silver) as well as more alternative colorful Christmas trees, like purple, pink, or green. And the best part is that if you decide in a year or two that you want a different kind of tree topper, you can use this one almost anywhere else—be it on your front door as an alternative wreath, or on your mantel as another item of decor.
5. National Tree Company Star Tree Topper with 20 Dual Color LED Lights
Specifications
RRP: $29.99
Dimensions: 13.5in H
Material: Metal and artificial lights
Reasons to buy
+Simple and minimalistic+Pre-lit
For those after a minimalistic tree topper that won't detract from the rest of your tree decor, this is a fantastic choice. A simple, silver star design adorned with a few small colored LED lights, it's still fun whilst being minimal too. Plus, you can also hook up this tree topper to change its lights in unison with the colored lights on your tree (if you have them), for a truly matching look.
6. Selfridges Angel Tree Topper Christmas Decoration
Specifications
RRP: $89
Dimensions: 43cm H, 31cm W, 15cm D
Material: Polyester and porcelain
Reasons to buy
+Traditional option+Will work year after year
An elegant and traditional option, this angel Kurt S. Adler tree topper is timeless and will work year after year in your home. It's a more expensive choice, but given that it likely won't date, we reckon it's a good investment pick if you'd rather not buy a new tree topper every year. We lovely the attention to detail on this angel tree topper—the dress has been made in a metallic floral pattern that will make a real statement on top of your tree. And best of all, it's super easy to care for too—just wipe clean with a dry cloth.
7. Kurt Adler 10-Light 6-Point Capiz Star Treetop
Specifications
RRP: $30.90
Dimensions: 9in H
Material: Plastic
Reasons to buy
+Unique star design+Pre-lit
This heavy, pre-lit star decoration is a great pick for shoppers looking for a star tree topper that is a little bit unique, and unlike the rest of the options on offer. With a golden decorative scroll design in between the points of the star and 10-clear incandescent light's it'll certainly become the show-stopper of your tree—but be aware that it's intended for indoor use only.
What is the most popular Christmas tree topper?
According to search data, a star is the most popular Christmas tree topper—closely followed by an angel, and then by a bow. So if you're keen on any of the above Christmas tree topper ideas, you'll be within the popular majority of people who choose either one of these three for their trees this year.
Celebrated interior designer Steph Briggs, and co-founder of award-winning independent gifts and interior retailer, La Di Da Interiors, agreed that angels and stars were popular, saying, "Fairies, angels are stars are the most popular Christmas tree toppers."
And when it comes to choosing your perfect tree topper, she suggested that you ensure you make note of a few things before purchasing. "Make sure it's one that works with the shape and size of this year's tree," she told w&h. "I also always make sure that the lights go right up to the top of the tree so that it feels part of it rather than plonked on top."
When should you put your Christmas tree topper on?
When it comes to decorating your tree—at what point during the process should you add your Christmas tree topper?
According to professional Christmas tree decorator Laura Perry, from Team Festive, the tree topper should absolutely go on last of all.
She explained, "Our top tip is to always put the topper on last. This is for many reasons—including the fact that you might want to see what works best with your chosen colours or theme before finishing off your decor. And, if you have kids, as a child (or a big kid!), putting the tree topper on as a finishing touch is one of the most privileged things to be responsible for, and creates lasting memories and traditions."
It can also be helpful to add your tree topper last in order to avoid pushing it off our moving it when decorating the rest of the tree.
So, now that you've chosen your favorite out of these Christmas tree topper ideas, why not take a look at our guides to the best luxury Christmas crackers and the best Christmas wreaths too, to complete your decor?
Amy Hunt is an experienced digital journalist, currently working as Life Channel Editor at womanandhome.com. She began as the magazine's features assistant before moving over to digital as a News and Features Writer, before becoming Senior Writer, and now a Channel Editor. She has worked on other women's lifestyle websites previously too—including Woman's Weekly, Goodto.com, Woman, and Woman's Own. In 2019, Amy won the Digital Journalist of the Year award at the AOP Awards, for her work on womanandhome.com.
She is obsessive about everything homes and interiors—whether she's sniffing out the very best deal on a KitchenAid stand mixer or keeping up the latest Dyson release. And when she isn't editing or writing articles on interior trends or the latest home gadgets, she's passionate about books—you'll usually find her with her nose in a gripping thriller at the end of the working day.