The best Christmas tree lights for 2022 - tried, tested and ranked
We test the best Christmas tree lights for all your festive needs, from sprucing up the tree to illuminating a porch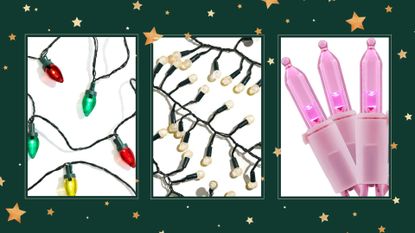 (Image credit: Lights.com | Amazon)
The holiday season hasn't started until a set of the best Christmas tree lights are up. Whether you're ready as soon as it starts to get cold, or you're waiting until after Halloween, putting up festive lights is the ultimate way to get in the Christmas spirit.
Though as much as the best Christmas tree lights are pretty, they have to be practical. Be it string lights best on artificial Christmas trees indoors, or large bulb lights for outdoor Christmas decorating ideas there are tons of tree lights for different decorating needs.
Are you on the lookout for colorful lights or bright white lights? Ones that flash, or a set that you can control from your smartphone? Either way, we've done the testing for you, to find the best festive lights on the market. We've spent the past month testing and comparing products for brightness, bulb shape, size, and features. All of which are good quality and budget-friendly.
And if you're not set on which style you'd like for your festive display, then we've spoken to the experts too, for their advice on which are the best Christmas lights to go with the latest Christmas tree decorating ideas.
Best Christmas tree lights: 10 best indoor and outdoor sets
Why you can trust Woman & Home Our expert reviewers spend hours testing and comparing products and services so you can choose the best for you. Find out more about how we test.
Since there are more than a few Christmas tree lights to choose from, we've looked to lights from the retailers we know and love, like Amazon, Balsam Hill, Lights.com, and more. They're available in both the UK and the US too – meaning no one has to miss out on the fun. Rated on performance and price, we've put them in order, so you can see which ones are for you:
Image 1 of 2
1. Twinkly 250 gold edition
Our favorite Christmas tree lights: the brightest performance and prettiest look
Specifications
Type : Smart fairy lights
Color : Gold and silver
Length : 65ft |19 m
RRP : $139.99 / £129.99
Reasons to buy
+
Smart controlled
+
Customizable
+
Lots of settings
+
Bright and long-lasting
Out of the Christmas tree lights we've tested, these are by far a standout and not just in the brightness department.
Features & functions
After downloading the Twinkly app, these lights can be switched on and off just about anywhere, which is great considering they're suitable for both indoor and outdoor use. They have a black electric wire (which isn't the most aesthetically pleasing), but the pre-loaded lighting effects and controls sure make up for it. With 3000 hours of use, sync to your Amazon Alexa or Google Assist too and rock around the Christmas tree all season with tunes and lights in tandem.
What's special?
As far as first impressions go, we cannot ignore how beautifully packaged these lights were when they came. Wrapped up and cushioned in a sturdy display box you could keep for years, there's no letting these lights get tangled. Premium feel aside, once switched on they're also the best-performing lights we've used. Controlled and customized easily with the app, you can create stunning displays at the touch of a button.
Image 1 of 2
2. Rudolph Multi-Color Outdoor String Lights
Best colored Christmas tree lights: for a fun aesthetic
Specifications
Type : String lights
Color : Multicolored
Length : 58ft | 17 m
RRP : $50 (US only)
Reasons to buy
+
Classic Christmas colors
+
Affordable price
+
Automated timer
+
10 different settings

Reasons to avoid
-
Not the brightest
-
Not the most durable
We can't get enough of this fun set of colorful Christmas tree lights. In a classic C7 bulb shape, they give off a traditional holiday aesthetic that never goes out of style. They are multi-colored, though so won't fit with every Christmas tree theme.
Features & functions
Ideal for indoor use, be it on your tree or over the mantelpiece, these colorful Christmas lights are heavy-duty enough to shed light to your outside. They're completely weather resistant and relatively large in length, and bulb size too. Plus with an automated timer, you can leave them on for a few hours at night, without having to wake up.
What's special?
While these may not be the brightest of lights on the list, they produce an inviting glow that can be customized to your preference. Ranging from a 'steady on' option that's subtle and warm to a bright and flashing mode that's full-on funfair, we made the most of matching the rhythm to our mood. Like any Christmas lights, we recommend being gentle when assembling. A couple of bulbs broke and there were no extra bulb replacements to fix them!
Image 1 of 2
Click the arrow button to see the lights in-situ
3. Balsam Hill Cluster lights
Best white Christmas tree lights: bright and white for a cool look
Specifications
Type: Micro LED
Color : White
Length : 19.5' | 50 cm
RRP : $99 / £99
Reasons to buy
+
Bright white color
+
8 display settings
+
Wireless remote
+
Automated timer
Reasons to avoid
-
Need two sets for a 7ft tree
-
Expensive for the length
Want to stick to a simple color palette this year? Well, regardless of your chosen Christmas tree color, these best white Christmas lights are the perfect way to enhance a neutral look. Hang from the ceiling, wrap around the banister or put them on your tree for a truly festive glow.
Features & functions
Don't worry about stretching around the tree or crawling underneath it to reach the plug since these cluster lights include a wireless remote control with 8 settings and a built-in 8-hour timer. Choose from steady on, combo, waves, twinkle/flash, and more, and watch your tree light up without having to lift a finger.
What's special?
Utterly versatile, we love these white lights for their endless display potential. Want to opt for a winter wonderland theme of blue, white, and silver? Perhaps the pink look is for you this year? Or maybe you want to go all out in full candy cane red and white stripe? Either way, these white lights will work.
Image 1 of 2
Click the arrow button to see the lights in-situ
4. Twinkly festoon light
Best twinkly Christmas tree lights: choose which bulbs flash, glow and sparkle from your smartphone
Specifications
Type : Edison bulb style
Color : Multicolored
Length : 32.8 ft | 10m
RRP : $249 / £209
Reasons to buy
+
Smart controlled
+
Customizable
+
Lots of settings
+
Super durable
Reasons to avoid
-
Not suitable for small trees
-
More expensive
Where do we begin with why we love these Twinkly Christmas lights? The color? Performance? The endless customizations? Or maybe the quality?
Features & functions
These festoon-style Christmas lights come from the same brand as our favorite set. So they have a lot of similar functions, including smartphone connectivity, compatibility with Alexa or Google assist to switch your lights on and off, and a variety of pre-set displays available.
What's special?
But what's different, is the Computer Vision Mapping System accessed through the Twinkly app that allows you to choose the color, and light setting of each individual bulb. Impressive! We tried this out and loved getting our creative juices flowing, trying out different tonal gradients, patterns, and palettes. Who needs the best Christmas decorations when you have lights like these?
Image 1 of 2
Click the arrow button to see the lights in-situ
5. Pro series festoon lights
Best outdoor Christmas tree lights: large bulbs for bigger trees outside
Specifications
Type : Bulb
Color : Warm white
Length : 48 ft / 14.6 m
RRP : $109.99 / £97
Reasons to buy
+
Classic and timeless look
+
Extra durable for outdoor use
+
Great price
+
On-trend bulb shape
Spruce up your outside space with these extra-durable festoon lights. Fuss-free and easy to use, simply plug in and watch your tree outside light up through the window.
Features & functions
Forget all the unnecessary flickering functions and smart connectivity features with these traditional-style string lights. They have one setting, which we think is enough, and if you're into the paired-back look, then we know you'll agree too. Got an event coming up? A venue to decorate or perhaps a patio that could do with some love? Then keep these lights past Christmas.
What's special?
We'll let the lights do the talking...if you've got a big tree to decorate outside, then there are 30 warm white LED bulbs to play with across a 48ft cable. But if that's not enough, you can extend up to 160 ft of lights from one plug using the Core connectors on each end. There's not a branch these can't cover - or balcony, which is where we've now put ours.
Image 1 of 2
6. Cosmic Cluster Lights
Best indoor Christmas tree lights: subtle and chic for a tree that's not too much
Specifications
Type : Fairy lights
Color : Warm white
Length : 25 ft | 7.6 m
RRP : $50 / £45
Reasons to buy
+
Subtly chic
+
Great price
+
10 settings to choose from
+
Automated timer
Reasons to avoid
-
Not very bright
-
Not as durable for outdoor use
If you're wanting to add a warming glow to your tree, mantel or porchway, these cute clusters like will look great in any area of your house.
Features & functions
This set of string lights offers 390 warm white LEDs – that's more than most on the market! They may be small bulbs but clustered together they give a beautiful effect. And since you can choose from ten just rhythm sequences and settings, they can flicker, glow or flash to your heart's content. They are weather resistant and claim to be heavy-duty, but we wouldn't recommend keeping them outside as the bulbs feel more delicate than most.
What's special?
With the unique round bulbs, we instantly fell in love after opening the box. The lights came nicely packaged, and with just a few twists of the ties, we were able to unravel, easily plug in and watch them shine. We love the look of these lights, and how the faceted texture gives the appearance of sparkle, even when in the 'steady on' mode. Just pop on the best Christmas tree topper and your tree will be fit for a king.
Image 1 of 1
7. 100 LED Warm White Battery-Operated String Lights
Best lights for tabletop Christmas tree
Specifications
Type : LED battery operated
Color : Warm white
Length : 17.5' | 45cm
RRP : $20 / £17
Reasons to buy
+
Battery operated
+
Super affordable
+
8 settings
+
Automated timer
Reasons to avoid
-
Battery box has to be covered from rain
-
Not big enough for big trees
These simple LED string lights are ideal for illuminating your small tabletop tree. Whether you're wanting to bring some Christmas cheer to your work desk or have an extra one on your side table, you can use these lights just about anywhere.
Features and functions
They're battery-operated - this may be a downside in years to come, as the batteries will need replacing, but if you're after a cheap pair of fairy lights to put on the small tree for now, then they're an easy buy you can't go wrong with.
What's special?
That's not to say these lights are basic. They may be easy to use with a classic fairy light look, but they do have eight illumination settings and an eight-hour timer to make sure the lights shine to your needs. They're also on a green wire, which we love, as they blend better with the tree branches for a tidy, concealed look.
Image 1 of 2
8. Lights4fun Core series fairy lights
Best extra-long Christmas tree lights if you've got a big tree or large room to decorate
Specifications
Type : Fairy lights
Color : Warm white
Length : 104 ft | 32 m
RRP : $19.99 / £25
Reasons to buy
+
Super long length for large trees
+
Great price
+
Clear wire for concealed look
+
8 settings
Reasons to avoid
-
No auto-timer
-
Not the brightest
If you're lucky enough to have a large tree of 7ft or over if your home this year, then you're going to need a lot of lights to get from top to bottom.
Features & functions
With 100 bulbs per 104 feet of string, there's plenty of lights to go around with this set. And if you require some more than you can connect up to 196 ft of length thanks to its clever connectable feature. They have eight different flash settings too, but no auto-timer, so you'll have to remember to turn these ones off before you go to bed.
What's special?
To put it bluntly, we didn't find anything to be overly special about these warm white fairy lights. In fact, we found them to be the dimmest of all the ones we tested. Nonetheless, their simplicity goes a long way – literally. Otherwise we like that they come on a clear wire, which make the lights look discrete. Always a bonus.
Image 1 of 2
9. Warm White LED Micro Christmas Tree Lights
Best micro Christmas tree lights for the tiny trees and small living spaces
Specifications
Type : Micro LED
Color : Warm White
Length : 98 ft | 30 m
RRP : $44.99 / £39.99
Reasons to buy
+
Green wire for concealed look
+
Super bright but very small
+
Great price
Reasons to avoid
-
Not suitable for bigger trees
-
Only one setting
If the bright lights, flashing in your face isn't the mood you're going for, then these micro Christmas tree lights offer a more muted ambiance.
Features and functions
These lights only come with one setting, but since the subtle look is what they're designed for, you won't want anything overly flashy. There's a lengthy near-100 feet of cable with 300 warm white lights. And while this may sound like a lot, you'll need to shape them around your tree more times you would a traditional set of lights. Otherwise, you risk the small LED's becoming buried in branches. Check out our guide on how to decorate a Christmas tree for more pointers here.
Anything special
We tried these lights on both a large and regular-sized Christmas tree, and can definitely say they look better on the smaller. We like that the thin wire is flexible enough to wrap around tree branches, which makes the tree look almost pre-lit. Yet, this also meant they got easily tangled when taking them off and storing them away.
10. Yuletime Pink LED Christmas string lights
Best on-trend lights for a pink Christmas tree theme
Specifications
Type : LED string lights
Color : Pink
Length : 66 ft | 20 m
RRP : $52 / £86
Reasons to buy
+
On-trend colorway
+
Consistent brightness
+
Pink cable, wire and cap
Reasons to avoid
-
If pink isn't for you
-
A little pricey
Pink decor is becoming one of this year's biggest Christmas trends. From blush pink Pampas trees to hot pink tree decorations, we're seeing Barbiecore go beyond fashion and all-season homeware.
Features and functions
These lights have a consistent 'steady on' setting – anything more flashy and it'll be pink-overload, we think. You can choose from a green or pink matching lead, plug socket, holder and cap. We've tested the pink and love the continued colorway. If you've gone as far as getting a pink tree too, then you'll want to pick this option.
What's special?
White lights step aside because these pink LED lights are the perfect way to modern up a traditional holiday look. If you love pink enough (and who doesn't) dressing your tree head to toe in these LEDs creates a fun, on-trend Christmas display. There's no doubt they steal the show.
---
How we tested these best Christmas tree lights
It's true: we've tested every set of Christmas lights on this list. From unboxing and first impressions to turning them on and using them in every space of our home, we've had hands-on experience, so you can try (through us) before you buy. But what does testing really mean? Well, aside from switching these lights on and off to ensure they work as they should, there are certain things to look out for:
We've looked at the types of settings, their brightness, and how long they stay bright for. The more settings the better, we say, and of course, they shouldn't dim within a few hours of use. If these lights used smart connectivity, it was important for us to use them to their full potential by connecting to the app and using their Bluetooth control.
On to the more practical elements, the durability of the wire, how long it is and its color are points that can make all the difference to what makes a great set of lights. You don't want to find yourself furiously Googling how to fix Christmas tree lights on a weekly basis. Some have sturdier cable leads that are less likely to get tangled, and others have long lengths between the light and plug. Both of these points make them easy to switch on and off and to store away after use. During testing, we'd measure the length and see how simple the lights were to use.
How to choose the best Christmas lights for you
There are lots of lights out there to choose from, and finding the perfect set for you, your tree and your home aesthetic can be tricky. There's color, type and style, length of lights and of course price to think about. Plus, the possibility of personalisation is an extra special touch to consider. So to help you decide, we've spoken to the experts below for their advice on which lights might be:
What kind of lights look best on a Christmas tree?
From Festoon and Edison styles to fairy and LED lights, there are lots of types to choose from when it comes to Christmas lights. There are long-length options or some with shorter lead lengths and smaller bulb sizes. If you opt for an alternative Christmas tree you'll have different needs again. But which one looks best on a Christmas tree? While we'd first suggest this depends on whether you've chosen an artificial or a real Christmas tree, it also depends on which Christmas tree theme you've decided to go for:
Cluster string lights: Simple yet effective cluster string lights are the most popular type of light to decorate the tree with. Available in every color you can imagine, with simple LED glass bulbs, they're classic and sure won't go out of style. Pablo Diaz Barriga, VP of International Business at Balsam Brands (opens in new tab) confirms "Traditionally, Christmas trees are lit with multi-colored or white string lights. Sizes can vary, but the best can be set to modes like twinkling, waves, and fade."
Micro LEDs: If you're wanting to bring a more cozy feel to your home this winter, Emily Kelsey, at Lights4fun, suggests, "The subtle green cable and delicate glow of micro LEDs will seamlessly blend in with your Christmas tree as they discreetly weave around each branch. Designed to be almost invisible when off and sparkle when illuminated, microlights also allow for easy decorating".
What color of lights are best on a Christmas tree?
Considering the rest of your festive decor and home aesthetic will help determine which color tree lights you opt for. "Do you use lots of colors in your decor?" asks Sheva Knopfler, co-founder and creative director of Lights.com (opens in new tab). If so, she suggests "choosing multicolored lights to continue the fun. If you use more neutrals colors in your decor, white lights may look better with the aesthetic."
The trendy Christmas tree decorations you've decided on will also need to work with which color lights. As Pablo at Balsam Brands (opens in new tab) puts it. "Your Christmas tree lights should complement rather than fight the baubles and other decorations you might hang on your tree. Colorful lights can look fantastic set against metallic golds and silvers which reflect the colors of the lights, or can be paired with colorful decorations for a nostalgic feel, for example."
But you also don't need to pick just one option because as Pablo and Emily both suggest, smart Christmas tree lights, like our number one Twinkly Lights, give you the option of choosing alternative color at the touch of a button. You can select from a wide range of colors, effects, and designs to customize your own Christmas tree display.
How many lights do you need for a 7ft Christmas tree?
Whether you've opted for a small tabletop or a large 7ft tree, knowing how many lights you need for the density of your tree can make all the difference to the display. For example, Diaz from Balsam Hill (opens in new tab)states, "generally speaking, an average 7ft tree of medium density will need around 900 lights. For a brighter look, you might want to add more or less for lighter coverage."
But it's also important to always check the length of the lights to ensure you have enough to get from the top to the bottom. Emily recommends, "using 20 meters of lights to illuminate a 7ft Christmas tree".