The best outdoor rugs to style patios and backyards this summer
The best outdoor rugs are an essential addition to any deck or patio to transform your backyard space into a well-dressed outdoor living room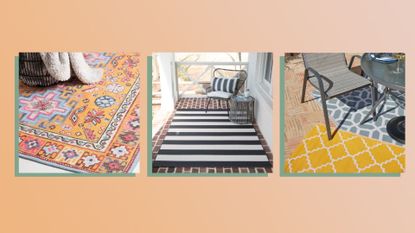 (Image credit: Homebase/ Wayfair/ Anthropologie)
The best outdoor rugs should be durable, and resistant to both mold and mildew, as well as adding an extra layer of comfort, style and color to your backyard.
When choosing the best outdoor rugs for this guide we took these factors into consideration, as well as if the rugs had fade-resistant finishes against UV rays and shower-proof coatings to repel rain. We also considered aesthetics, of course, and chose pieces that follow the latest garden trends and would fit in with a range of different outdoor living room ideas, depending on the design of your backyard.
We trawled the new collections to find the best outdoor rugs from our most-loved retailers. These are designs that we would happily give a home to in our own backyards and products that will go with all your best outdoor furniture.
Our pick of the best outdoor rugs for 2022
Why you can trust Woman & Home Our expert reviewers spend hours testing and comparing products and services so you can choose the best for you. Find out more about how we test.
1. Novah Handwoven Outdoor Rug
Specifications
RRP: From $47.90 / £38
Dimensions: 2ft x 3ft / 61 x 91cm
Material: Polyester, cotton mix
Reasons to buy
+
No rug pad needed
+
UV-resistant so the fabric should retain its bright color for longer
+
Available in 5 sizes
Reasons to avoid
-
Spot clean only
-
Rug might show signs of ageing over time
A great choice of outdoor rug for those looking to inject a burst of bright color and pattern into a terrace or patio area. Designed for indoor and outdoor use, this design is very much in-keeping with the latest interior design trends and is a fashionable way to anchor any sunroom, veranda, or outdoor living room space where interior furnishings play a key role in dressing the decor.
Available in five different dimensions, from small 2ft to generous 9ft, this rug caters to all sized outdoor plots. While the design is durable and UV-resistant, Anthropologie recommends rotating periodically to ensure even wear, which implies the rug might show signs of aging when used every day. But in all honesty, given the style of design, we think an element of fading will only add to its vintage-like charm.
2. Juneau Teal Rose Outdoor Rug
Specifications
RRP: $313.84 / £249
Dimensions: 150 x 215cm
Material: Polypropylene
Reasons to buy
+
Machine washable
+
Rug pad included
+
Mold and mildew resistant
Reasons to avoid
-
Thin pile
-
More expensive than designs by IKEA and Decker
A huge plus for any outdoor rug is the washability factor, so should any spillages occur while hosting a garden party or BBQ there's no fear of the outdoor rug being stained if you can pop it in the washing machine quick enough. The design should fit in a standard size machine.
Another great factor is that all Ruggable designs come accompanied by a latex-free rug mat that provides a nonslip surface, ensuring the rugs stay in place, on every floor surface.
I'm personally looking at ordering this rug for my folk's garden, because the earthy color pallet is perfect to coordinate with the shades of their plot, complimenting the cobalt blue glazed planters and touches of terracotta tiling. When choosing an outdoor rug consider what colors you already have in the backyard, and choose to complement or contrast depending on your desired look.
3. Jimi Indoor/Outdoor Oriental Rug
Specifications
RRP: $345 / £273.72
Dimensions:: 8' x 10'/ 304 x 243cm
Material: Polypropylene
Reasons to buy
+
Perfect for indoor use too
+
Made from recycled plastics
+
Generous coverage
Reasons to avoid
-
Limited sizing
-
Spot clean only
Crate & Barrel is home to many of the best outdoor furniture brands and this highly-decorative design will welcome a faded grandeur to any outdoor space. Despite the colorful palette of blue, yellow, rust, and purple the desaturated tones prevent this patterned design from feeling overwhelmingly bold or distracting. These qualities make the Jimi Indoor/Outdoor Oriental Rug a fabulous addition to a garden space (or indoor space for that matter) that's looking to add a subtle hint of decoration.
Because the design exudes a luxury aesthetic you'd be forgiven for thinking it wasn't made using recycled plastics, but remarkably it is. The 8' by 10' design is ideal if you're looking for maximum floor coverage, to be able to go under furniture for example. The only other size option is a runner-style rug which measures 2.6' by 10', which is more ideal for a porch or entrance.
4. Yellow Pattern Outdoor Rug
Specifications
RRP: £20 (the UK only)
Dimensions: 120 x 180cm
Material: Polypropylene
Reasons to buy
+
Bold color
+
UV-resistant
+
Budget-friendly
Welcome a ray of sunshine to your backyard with this colorful outdoor rug. Using such a strong color on the ground helps anchor an outdoor living room scheme, complimenting warm teak wooden furniture and natural rattan alike.
An injection of bright yellow is ideal to accentuate lush greenery from your surrounding garden plants. The trellis-style pattern somehow feels subtle because of the vibrancy, but its presence adds depth to the design and stops it from being a solid block of overwhelming color.
The bold shade of sunshine yellow is both a 'For' and 'Against', simply because if you are looking for captivating color then this is the hue for you, but if you don't like yellow it is an instant no-no because it is so intense.
5. Decker Striped Duck Egg Outdoor Rug
Specifications
RRP: $88.16 / £69.95
Dimensions: 200 x 290cm
Material: Polypropylene Flatweave
Reasons to buy
+
Great value
+
Available in 5 sizes
+
Weatherproof
Reasons to avoid
-
Needs to be stored inside in bad weather
-
The jute backing isn't anti-slip
Inspired by deckchair stripes this Decker design is perfect for emulating beach house style, in a fresh and soft ocean-inspired color combination of pale greeny-blue and off-white. This design extends a laidback coastal feel to any outdoor space.
The flatweave material is weatherproof to contend with outdoor living, however, the design team does advise storing this rug indoors during spells of prolonged bad weather and over the long winter months in a bid to preserve it in tip-top condition.
6. Green Tropical Palm Leaf Outdoor Rug
Specifications
RRP: $37.73 / £29.99
Dimensions: 120 x 180cm
Material: Polypropylene
Reasons to buy
+
Great value
+
Waterproof
+
Easy to clean
Reasons to avoid
-
Lightweight look
-
Too picnic-like
If you're looking for an affordable rug to dress the patio for a summer garden party this practical, plastic, tropical leaf print design by Talking Tables could be perfect. The playful pattern welcomes fun holiday vibes to provide a sense of escapism in our own gardens.
The versatile rug is suitable for both indoor and outdoor use, with a stain-resistant finish to ensure easy cleaning. The waterproof element protects from rain, drink spills and pets to make it highly practical for busy households.
7. Cecile Stripes Flatweave Outdoor rug
Specifications
RRP: $84.43 / £66.99
Dimensions: 160 x 230cm
Material: Polypropylene
Reasons to buy
+
Stain-resistant
+
Good value
+
Simple yet striking
A simple monochromatic stripe can be all that's needed to add a stylish touch to a minimalist outdoor space. While adding interest, the black and white color scheme doesn't overcomplicate or distract from your outdoor furniture and furnishings.
Made from a durable synthetic material, this Cecile Stripe design is practical, despite being largely white in color – a shade you might otherwise avoid as a choice to dress floors in a busy entertaining area. The practical material makes the rug easy to clean and maintain, with a simple wipe down with a damp cloth.
8. Crawford Outdoor Rug
Specifications
RRP: $995 / £789
Dimensions: 6' x 9' / 183 x 274cm
Material: 100% Recycle water bottles
Reasons to buy
+
Recycled materials
+
High-end, designer rug for a luxurious look
+
Striking design
Reasons to avoid
-
Very expensive compared to other outdoor rugs in this guide
-
Professional clean only
Get the designer look outdoors with the help of this striking Jonathan Alder outdoor rug. Who would have thought such a sophisticated design could be made entirely from recycled materials? But that is the case with this Crawford rug, made from 100% recycled plastic water bottles with bound edges to prevent it from fraying.
The most expensive outdoor rug in this guide, this is a buy for those looking for a statement, luxury rug from a high-profile designer. An investment piece, this rug would look fabulous on a deck or in a sunroom - because this rug is ideal for indoor use too.
The combination of navy blue, teal, and brilliant white produces a striking masterpiece to gain maximum attention wherever the design is placed. To keep this designer rug looking its best the team at Jonathan Adler recommend vacuuming regularly, with the best cordless vacuum for ease. For a more thorough clean, it's recommended for professional cleaning only.
9. Fab Hab Kilimanjaro Outdoor Rug in Black
Specifications
RRP: From £99.95 (UK only)
Dimensions: 180cm x 270cm
Material: Polypropylene
Reasons to buy
+
Made from recycled plastics
+
Reversible design
+
Resistant to mildew, mold, and UV
Reasons to avoid
-
Not colorful
-
Needs to be stored inside during bad weather
Fab by name and by nature clearly because this Fab Hab Kilimanjaro Outdoor Rug is one of the most popular selling designs, earning a 4.9/5 star Feefo independent rating. The sustainable story is a big selling point because this rug is expertly woven from recycled plastic to give a new life to plastic straws.
Despite being water-resistant the makers don't recommend leaving this design outside in the rain, so it might not be an ideal choice if you are looking for a permanent floor accessory for your outdoor space.
The pleasing monochrome print is reversible, with a black side and off-white side to make it interchangeable depending on your mood. The monochrome scheme is ideal for adding tonal interest to a dark-painted decking or gray-hued patio paving.
What type of outdoor rug is the most durable?
The most durable outdoor rugs are those made from synthetic materials as they tend to fare better in all weather conditions.
"We recommend those made with polypropylene as it is best suited to rainy, damp, and humid climates," says Clare Vallely at Kukoon Rugs. "Polypropylene is stain-resistant, mold-resistant, mildew-resistant, and easy to clean. It makes for the perfect outdoor rug material as it can handle high moisture and high foot traffic."
"Polypropylene rugs are available in an extensive range of styles and colors and, as they are UV-resistant, their vibrant colors won't fade in the sunlight. Although polypropylene rugs are inexpensive, hard-wearing, and weatherproof, they still offer comfort, providing the same feel underfoot as experienced with any natural fiber rug."
Can outdoor rugs be left in the rain?
Not all outdoor rugs can be left in the rain and it's important to check with the manufacturer of your product if it needs to be stored inside in bad weather.
However, if you have an outdoor rug made of synthetic materials this is likely to be able to be left out in most weathers, as they tend to be quick to dry and, as they are mold and mildew resistant, they can be washed with water and left outside when it is raining.
"Although outdoor rugs fare well in most weather conditions, it is probably best to store them away during snowy or icy conditions. You can either bring your outdoor rug inside for home use or store it away until spring," advises Clare. When storing away an outdoor rug, it is essential that you roll it up, as opposed to folding it, which will ruin its shape."
"Outdoor rugs are best stored in a dry, indoor space, such as a garage or shed, however, if these options aren't available to you, an outdoor rug can be rolled up, wrapped in plastic, and placed under the decking."
Tamara is a highly experienced homes and interiors journalist, with a career spanning 19 years. Now the Lifestyle Editor of womanandhome.com, she has spent the last 16 years working with the style teams at Country Homes & Interiors and Ideal Home, and it's with these award-winning interiors teams that she gained a wealth of knowledge and honed her skills and passion for shopping, styling and writing about every aspect of lifestyle and interiors.
With a keen eye for the latest interior trends, there's not a lot she doesn't know about home decor – whether it's what colour we should be painting our living rooms next season, or if the latest 'must-have' buys are actually worth investing in.
A true homes and interiors expert, Tamara has served as an ambassador for leading interior brands on multiple occasions, including appearing on Matalan's The Show and presenting at top interiors trend events such as the Autumn Fair and Spring Fair.