Garden party ideas that will turn outdoor gatherings into an unforgettable summer event
A garden party is one of the best ways to spend a warm summer afternoon. Here's all the decor you'll need to create an can't-miss event...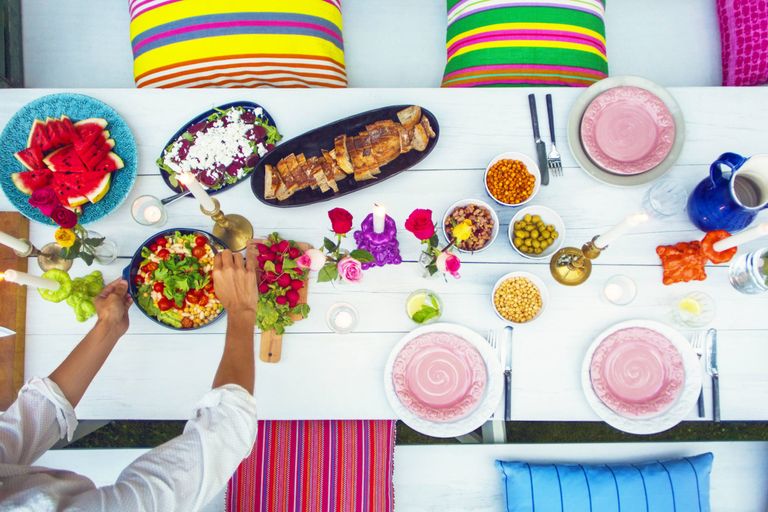 (Image credit: Maskot)
By Amy Hunt
Welcome to woman&home'sonline shoppingguides, where we revealwhere to buy the most popular and top-rated products. This guide is about where to buy garden party decorations, but you may also be interested in our edits of flower delivery services, where to buy plants online and luxury garden furniture.
The summer is finally here, so it's time to make the most of the lovely weather as much as we can.
It's Britain, so we never know how long the sun will stick around for - which just means it's even more important to luxuriate in it as much as possible (all whilst being safe and wearing tons of sun cream, of course). And one way to do so is by throwing a quintessentially British garden party.
Garden parties are, right now, one of the safest ways for family and friends to socialise during the ongoing lockdown, and they might just be theideal pick-me-up after the last few months. And outdoor parties are are even more perfect when the weather is warm.We're picturing glasses of Pimms, fun music, and of course, gorgeous garden party decorations...
After all, garden party decorations can make or break a fun outdoor gathering. Welcome your guests in to a fun, kitted out back garden - and they'll walk in ready to have a good time.
Garden party decorations can be super practical, as well as fun. A decorative light feature can illuminate your back garden as the sun fades and the night gets darker, while outdoor rugs on your decking can make guests much more comfortable if the event stretches on into the wee hours.
MORE:The UK's favourite paint colours for each room have been revealed
Any party can benefit hugely from a theme too - so we've come up with a selection of garden party ideas to inspire your next gathering. Be it a festival-inspired do, or a Hawaiian theme inspired by the beach, there are some fun decorations out there to help you achieve the look you're after.
Garden party decorating ideas and tips
Decorating your outdoor space for a party can mean anything from decking decorating ideas, to outdoor rugs, or even outdoor wall decor.But whatever you choose to use to decorate your home for a gathering, it can help to stick to a few simple rules.
Try and decide on a colour scheme for your party - be it a colourful mix, a neutral pink/white look, or a subtle grey to match your pre-existing garden furniture.
Having things stick to a specific colour palette...
a) Makes your decorating choices much simpler
b) Guarantees that your garden looks fabulous and put-together, rather than scatter-gun!
MORE:The best summer dresses to buy now and wear all summer - even if it's just in your garden
Also, try and ensure you don't buy too many decorations - as your party is really about the people, and you don't want your garden to be too overloaded that your loved ones can't mingle, chat or dance properly!
The garden party decorations you need for every kind of theme
Take a look at our pick of the best items for your next outdoor get-together, to turn it into a real event...
Festival decorations for gardens
Festivals are the ultimate summer party, and given that this weekend would have seen the arrival of Glastonbury (thanks lockdown), why not celebrate in your garden? A festival-inspired garden party can be a slightly more civilised affair than a real one - and no one need to pay hundreds of pounds to get in!
Cox & Cox Rusty Outdoor Woodburner
£425, Cox & Cox For those chiller nights, we love this chic and rustic looking woodburner, that'll keep you and your guests cosy even if the temperature drops. After all, outdoor gatherings needn't be confined to the summer months!
Postbox Party Tropical Party Flamingo Sunglasses
£7.80, NOTHS Novelty props make for great photographs - especially if you can dig out that old polaroid camera! Team with your best glittery festival jacket and you're ready to party.
The Letteroom Personalised Beer Bucket
£28.95, NOTHS No festival-inspired get-together would be complete without a beer bucket to keep everyone's drinks cool, and we love this one from Not on The High Street. You can personalise the writing on the front to say whatever you fancy, and each bucket holds around six beers - or two or three bottles of wine. It also comes in three different colours - green, grey or blue, so choose one to match your pre-existing garden decor.
John Lewis & Partners Garden Chair
£55, John Lewis & Partners Every festival needs a handy canvas chair, so why not bag yourself a big of an upgrade for your guests, with these lovely John Lewis camping chairs? These lightweight (and so easily movable) chairs are easy to get out ahead of the party, and simple to put away too at the end of the night. They come in two colours - cream, or the purple you see here. And when the party's over, they're ideal for an afternoon spent relaxing (or nursing a sore head).
Ginger Ray Gold Star Backdrop curtain
£8, John Lewis & Partners Transform your doorway with this fun gold star curtain - it makes the perfect background for photographs! The curtain comes in once piece, so it's super quick and easy to hang.
WdtPro Solar Lights Outdoor
£24.99 for six, Amazon Keep the party going on through the night with these handy solar garden lights, which create a warm, well-lit effect whilst also creating a beautiful pattern on your grass or patio as the light fades. Plus, they sound super easy to install - there's no need for wiring or extra batteries. Simply insert the solar light into the soil, press the switch, and let the light do the work for you.
Hawaiian party decorations
While most of us won't be able to travel abroad this year, we can pretend we're only a tropic island somewhere by throwing a Hawaiian-inspired garden party! Get your outside space looking fun and colourful with these products - and don't forget to add cocktails...
Talking Tables Tropical Birds decoration
£12, John Lewis & Partners These vibrant birds of paradise can perched just about anywhere - from trellises to tablecloths and washing lines to water jugs. Perfect for a tropical theme!
John Lewis & Partners Honolulu Bar
£575, John Lewis & Partners Serve your guests up some deliciously refreshing cocktails from this fun tiki bar for your Hawaiian-inspired garden party. The straw roof will make your friends and family feel like they really are abroad, and the whole thing will create a real ambience for your get-together. All you need to do is supply the drinks!
aovowog 21Pcs Party Decorations Set
£14.68, Amazon Kit out your garden with these fun and brilliantly colourful decorations. The set includes tissue paper flowers, paper pom-poms, a flower garland and some ribbons, to help you get your outside space looking tip-top. Plus, who doesn't love a pop of colour!
John Lewis & Partners Wind-up Parasol
£99, John Lewis & Partners For those times when the sun is just that bit too hot, or when you realise you've all been sat out for too long, this parasol is a must. Large enough to encompass multiple guests, it's lightweight and durable, and the canopy offers UV50+ sun protection. The canopy comes in orange, blue or green, so it'll go brilliantly with any hawaiian theme too!
Classic English garden party
Nothing says British summertime better than a garden party, so why not make the very country we live in the theme of your get-together?
Dunelm Kilner 5 Litre Drinks Dispenser
£12, Dunelm Dispense your Pimms or punch in this fun 5-litre Kilner drinks dispenser that'll be large enough for the whole party, and means you don't have to buy multiple jugs! It comes with an easy-to-use serving tap too, so everyone can fill up whenever they fancy. Just remember to keep sanitising right now...
John Lewis & Partners 6 Mallet Family Croquet Set
£39.99, John Lewis & Partners This croquet set is as much a fun game as it is a decorative piece for any traditional English garden party. The set includes 6 mallets with handles, 6 plastic balls, 2 target sticks, 10 wickets, a cotton bag and rule book. Just make sure to take turns...
Dunelm Artificial Wildflowers Multi in Crate 34cm
£12, Dunelm Decorate your table with these utterly gorgeous artificial flowers, that'll brighten up any garden, dinner, or drinks table. You might generally prefer fresh flowers, but for a garden party a faux arrangement is a no-brainer, as they'll last forever and won't wilt in the heat!
Ginger Ray Vintage Chalkboard Wooden Arrow Wedding Signs
£7.99, NOTHS These signs might be meant for a wedding, but we reckon they'd be ideal for a garden party too, especially if you're lucky enough to have a large outdoor space. Direct your guests to the bar, seating area or BBQ, and simply hang them on your garden fences and you're good to go.