Garden party ideas: 18 ways to transform your outdoor space
These thoughtful garden party ideas are the best way to turn any outdoor gathering into a special occasion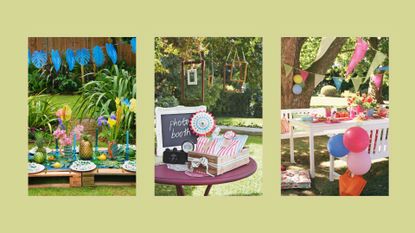 (Image credit: Talking Tables | Future)
Whether throwing a family gathering, graduation party, birthday celebration, or a simple summer soiree, the right garden party ideas can elevate outdoor spaces and backyards into an impressive party setting.
From outdoor lighting and garden bar pop-ups to fabulous garden decoration ideas and tropical garden party themes, with a few easy steps, you can welcome guests into a beautifully styled space made for entertaining.
If you're entertaining regularly, or want to invest in your outdoor space, think about drawing on some of the hottest garden trends of 2023 and include some of the more permanent outdoor living room ideas in your backyard, like ambient lighting or a stylish fire pit.
For one-off parties, sophisticated table styling and subtle decorations can really help to transform your space in a flash.
Whatever the occasion, see our inspiring garden party ideas to inspire how you style your next summer gathering.
Garden party ideas and decorating tips
1. Choose a decorating theme
Any party can benefit hugely from a theme to make decorating for a garden party a breeze. Be it a festival-inspired do or a Hawaiian theme inspired by the beach, there are so many fun decorations out there to help you achieve the look you're after.
Adopting a color scheme or theme can help to instantly make an outdoor space feel stylish and ready for a special occasion. The color, say the latest sage green color trend, can then be used throughout the space, from outdoor cushions on seating to the tablecloths and napkins on the table.
Speaking of the latest trends for garden party color schemes Devin Shaffer, Lead Interior Designer at Decorilla explains: "Fashion trends influence color themes for both indoor and outdoor spaces and it can sometimes take a year for the color themes to hit the decor scene. For example, summer fashion catalogs from a year ago are now having a huge impact on garden party design color schemes."
"Both pastels and exaggerated vintage (antiquated) motifs made a big wave in fashion last year and because of that we're seeing a very 'Bridgerton-inspired' demand for those planning garden parties."
2. Decorate with flowers
Our hero suggestion of a theme leads us nicely to our second idea of filling your garden party with flowers. Take inspiration from your favorite flowers and the best garden plants to add further blooms to decorate tables.
With the trend for bohemian styling, flowers are the key ingredient to effortlessly adding color, interest, and even fragrance to your garden decorations. A mix of ceramic jugs and glass Kilner jars are ideal for displaying fresh or faux flowers for an effortlessly laid-back look. The trick when decorating with flowers is to keep it simple and let the flowers do all the work.
Devin Shaffer offers his insight into how this garden party idea looks for 2023: "Last year, clients were hyper-focused on live flowers however, this year's outdoor party settings are filled with oversized artificial flowers such as white peonies, baby blue hydrangeas, and yellow roses."
3. Serve drinks from a garden bar
No garden party idea would be complete without a garden bar to serve up some deliciously refreshing Cosmopolitan cocktails and traditional Pimm's. Fun and fashionable, Tiki bars are a great way to welcome a Hawaiian-inspired garden party theme.
Repurposing the shed is another growing trend, where the side features a hatch that can be dropped down to fashion a bar. Alternatively, you could simply cover an outdoor table with a tablecloth and serve beers from ice buckets stacked alongside barware on the table. Whichever you choose, all you need to do is supply the drinks!
4. Create an atmosphere with music
Music is a powerful tool to get any party started. Whether you opt for a soft jazz soundtrack to provide background noise, or a disco party playlist to get everyone dancing, music is a must-have for any social event.
For a garden party, a simple outdoor speaker is enough to do the trick - you are not looking for festival-style loudspeakers because you do have neighbors who might not be so keen on the playlists.
You can even source outdoor, wireless speakers that add light to double up on ambiance, like the IKEA VAPPEBY Bluetooth speaker lamp ($71.99/£60). Such speakers that double up as outdoor lights are the perfect companion for making garden parties more fun and functional. With the lamp's soft glow and long battery life, it means you can keep the good vibes going long after the sun goes down.
5. Set up outdoor games
Let the games begin! Playing games is a great way to break the ice at an outdoor gathering to make it a little easier for people to mingle and get involved instead of standing on the sidelines.
Outdoor games are also perfect for a garden party idea when kids are in attendance because they will be looking for ways to stay entertained and involved.
From playing a game of croquet on the lawn or throwing the Hoopla ring toss to stacking giant Jenga there's a wealth of inclusive outdoor games to suit all ages, providing fun for all.
6. Introduce on-trend lighting
Festoon lights are the outdoor lighting craze to follow in 2022, offering a playful twist on the much-loved fairy light. Festoon lights feature bulbous bulbs, more like the style of indoor light fittings. By their nature, they make more of an impact
Speaking about the latest garden trends for lighting Ian Austick, at LED & Power says: "Festoon lights have shown to be a popular choice as they offer a modern spin on outdoor lighting, creating a beautiful look. Proving to be a popular choice for weddings and events, as well as gardens."
"We suggest that you opt for warm white festoon lights to bring a cozy feel to your surroundings, or to create more of a party atmosphere use color-changing bulbs."
Follow the styling rules of the team at Nest to suspend your festoon lights over a dining table. To create a cascading effect hang a line of string above the table—it could even be the washing line—to drape the lights over. When dressing for your party, be mindful of plugging into the mains if your set of festoon lights is not solar-powered.
7. Forget the furniture
For a more informal garden party idea, you might choose to keep it simple, like opting for a picnic blanket on the floor to save the need for extra furniture. Dig out your best blankets and cushions to layer the look with soft, inviting textures. These can also prove useful if the temperature drops after sunset.
"Furniture isn't always needed to make the most of the outdoors," agrees Clotilde Passalacqua, interior design manager at IKEA. "Some cushions, throws and blankets can help to create a relaxed picnic in the garden. Tactile accessories will effortlessly add an element of comfort to your outdoor space, helping to create an inviting environment for you and your guests to enjoy time outdoors."
We love how the styling team at Dekoria (above) has used simple wooden palettes as makeshift tables, providing purpose for outdoor dining.
8. Style a buffet table
Party food is essential when hosting a daytime soiree, because you're more than likely spanning lunch and dinner time, and you don't want your guests going hungry. Incorporate a styled element into your catering by introducing different height displays and an assortment of serving platters to add a little finesse to finger foods and picky bits.
The current trend for grazing tables is a great way to jazz up a buffet area and lunch ideas for entertaining friends. Just be mindful that when outdoors you're inviting pests to take a pick of the food too, so best not to leave it all uncovered for long periods of time.
"When styling your buffet table, start with a focal point you can build everything else around" advises Wayfair's Resident Style Advisor, Nadia McCowan Hill. "This could be a large rustic wooden board or an elegant cake stand, sitting in the middle of your table as a centerpiece."
"Serveware is key for a stylish grazing table, choose various heights for added interest. Decide on a theme as this will help you to both choose items for display and the food itself. For example, a Mediterranean-style grazing table will incorporate natural woods, greenery, and fresh lemons alongside a mezze of focaccia bread, olives, and dips.'
"If you'd prefer a contemporary English garden party theme, then scones are a must, with plenty of floral touches using seasonal flowers in pretty pink, lilac, and cream."
9. Keep warm with a fire pit
After the sun has gone down it can sometimes get chilly, so it's important to introduce an element of heat. And what better way to do that than to light up an on-trend fire pit? It not only provides the heat but also creates a campfire vibe, acting as a warming focal point to gather around.
As an outdoor heater, a fire pit will keep you and your guests cozy even if the temperature drops. After all, outdoor gatherings needn't be confined to the summer months! It's also an idea to offer guests plenty of cozy blankets to keep warm once the sun goes down, which also adds to the campfire ambiance.
"If you are hosting guests in your garden in the evening, make sure the fire pit is lit before guests arrive" advises Jonny Brierley, CEO at Moda Furnishings. "This creates a wow factor as they step into the garden, and also helps them to relax more quickly."
"Firelight is said to create a more intimate setting, allowing guests to relax and talk, letting their guards down at the end of the day. The fire provides a visual, psychological comfort from which you and your guests will benefit."
10. Set the scene for memorable photos
Did the party even occur if there aren't amazing photos to prove it? Make your garden party all the more memorable with the addition of a DIY photo booth, complete with novelty props and old picture frames to capture great photographs.
The treasured snaps will be especially good if you can dig out that old polaroid camera! Team comical glasses and headbands with your best glittery festival jacket and you're ready to snap away as you party.
11. Illuminate the garden with solar power
Make sure your garden party continues effortlessly into the evening with plenty of ambient outdoor lighting. Seek solar power for a smart outdoor lighting solution, with designs that offer pretty presentation but also a practical sustainable living idea. Handy solar-powered garden lights are brilliant because they spend all day charging in the sunshine to then omit a warm glow as the light fades.
Plus, solar lights are super easy to install – there's no need for wiring or extra batteries. Simply insert solar stake lights into the soil then press the switch, and let the light do the work for you.
"Solar lighting is a brilliant way to add some extra warmth and light to your outdoor space, without having to worry about extension wires or a garden power source," says the team at Wayfair.
"A brilliant practical purchase for some added safety, line pathways, and frame garden borders with slim solar stake lighting or some contemporary outdoor lanterns. Free to run, outdoor solar lights are an economical addition, with no need for batteries or electricity. Super energy-efficient, integrated LED lights can last up to 50,000 hours, making them a long-lasting garden accessory which will cast a warm white glow."
12. Hang decorative bunting and lanterns
Kit out your garden with some fun and brilliantly colorful decorations to add an instant party vibe, because who doesn't love a pop of color?! Lightweight lanterns and bunting are ideal for hanging from pergola structures, up in the trees, or suspended along a string above tables to elevate decorations, to ensure the staging is seen from all aspects of the garden.
These reusable lanterns will inject cheery color to brighten a garden party theme during the day and conjure up ambient magic when lit up after dark.
Novelty bunting is also great if you're working along a specific theme, for example, if you're planning a seasonal-themed party.
13. Seek shade
For those times when the sun is just that bit too hot, or when you realize you've been sitting out for too long, some form of shade is a must. From makeshift awnings to generous parasols, there are many ways to welcome shade to your outdoor living space.
Look for a solution large enough to encompass multiple guests. If freestanding, choose lightweight so it can be easily moved around the garden but ensure it's durable enough to withstand any wind.
"A parasol will not only add some extra shade to an outdoor space but can also quickly refresh the overall look of your garden," says the style team at Wayfair. "Combining practicality and style, choose a parasol with personality to add a splash of color to your patio. Creating a covered space for dining and entertainment, a parasol can also help to zone an area, adding height and structure."
You can also buy a canopy that offers UV50+ sun protection, worth looking into if you want maximum protection from harmful rays. And of course wear plenty of the best SPF sunscreen, even when under said shade, because there will still be times throughout the day when your skin is exposed.
14. Transform tables with linens
Make outdoor dining feel more formal with simple but effective styling tricks. It's amazing what a simple tablecloth can do to transform any outdoor dining occasion. Not only does a lovely linen or decorative cloth cover a less-than-presentable table beneath, it can also create a seamless look when tables are pushed together to create one large banquet table for feasting on the party food menu.
We love the look of simple linen in muted tones of gray or off-white, to provide an effortlessly stylish background for any garden party-themed table setting.
"I love to take a personal approach to laying the table outside, starting with a tablecloth," says designer Matthew Williamson. "I think there is something so special about having a textile to sit at. It softens the physical experience and provides a platform for color and pattern, upon which you can clash your flatware and glassware.'
"Add a vintage vase for your cut flowers or leaves. The plates could very well match, or if you prefer, take a more eclectic approach, layering contemporary charger plates with mismatched vintage dinner plates."
When throwing a garden party for a large party you might need to move an indoor dining table out to join up with your outdoor table, and providing they are of similar height they can be dressed in matching tablecloths to unify them.
15. Hang colorful balloons
Balloons are the heroes of the party prop world; easy to source, easy to inflate and brilliant for adding a sense of party with a pop of color. The only thing about using balloons to style a garden party is the possibility of them literally going pop if left in intense heat. To avoid any loud bangs that will scare your guests we suggest using balloons in shaded areas to reduce the likelihood of them spontaneously bursting.
You can use balloons to set a color scheme or to merely enhance a theme you already have going on with your other decorations. To keep things really simple tie them onto chairs and surrounding tree trunks because these won't require the balloons to float.
If you do want to add colorful balloons to back of chairs you will need to use helium gas to inflate them, which is easy enough but it will mean you have to buy a canister from your local store.
16. Add ambience with candlelight
Candlelight is the perfect way to create ambiance for any intimate gathering. To save you from having to waste your best-scented candles outside in the open air, where the smell will be lost, instead try the latest in candle technology - the best flameless candles.
Flameless candles, aka LED candles, are the perfect way to enjoy candlelight outdoors at a garden party firstly thanks to the safety element and then secondly for the simple fact that they will stay alight no matter the weather. Of course, we're not implying that garden parties are hosted during bad weather but sometimes even the gentlest of winds can wipe out the chances of using real candles.
Flameless candles have come a long way too, with new waterproof outdoor candles that are specifically designed to live comfortably outside and provide a flickering flame at the touch of a button come rain or shine. Best of all, they won't burn out, so the candles will keep going for as long as the party does.
17. Display a welcome sign
Set the scene for your party in style by putting out a welcoming sign. Simply write a message that sets the tone for your garden party and place it in a prime loaction to ensure all your guests see it as soon as they arrive.
You can easily make your own DIY sign by painting a wooden board with Chalkboard paint to create a surface suitable to chalk up the message of your choice, from a simple welcome to a party running order - the choice is yours.
In our example we've painted the side of an empty frame to allow the gold gilded frame to enhance the sign but you can paint any surface to suit your party theme. If you do want to replicate this idea look in thrifty shops and yard sales because that's where you'll unearth a treasure to upcycle.
18. Make dining feel formal with styling
To host a garden party that feels a little more formal all you need is the right styling ideas. Firstly choose a theme to coordinate your decorations, dinnerware, and linens. Inspired by a charming cottage garden this quintessentially British setting styled by the team at Sophie Allport features cottage garden flowers and strawberries as the theme.
The styling ensures the table feels formal thanks to all the little details that you would use to set the table for a dinner party, using napkins; place settings, and table linens for starters. Cut flowers are used uniformly along the center of the table to act as an understated table centerpiece, which is more of a formal dining idea.
Even the sage green chairs coordinate perfectly with the chosen color palette – such attention to detail is significant for creating a formal garden party setup.
How do you host a fun garden party?
Hosting a fun garden party is easy with a few simple rules - most importantly, you need to ensure there's food, drink, music and loved ones to enjoy it with. All good garden party ideas are about making it feel 'special'. Whether that's serving drinks from a pop-up bar, in fun festive glassware, or decorating the trees with colorful paper lanterns – it's the little touches that dress up outdoor spaces to make a gathering feel more like a party.
Fun elements of light are key to creating an atmosphere. Layer the look by placing storm lanterns on the floor, filling a low-level coffee table with votives and stringing atmospheric festoons above from fences or trees.
Music is a powerful tool to add fun to any party. Introducing an element of music will determine what type of garden party you want to throw, it can transform from a formal affair during the day accompanied by the sound of acoustic guitars to a disco with club classic tunes after dark.
The other easy way to welcome fun to your garden party is the addition of garden games, to create a sense of camaraderie and get all involved.
When asked what you need for a garden party to make it fun Devin Shaffer, at Decorilla replied: "A garden party host's best friend is a bar cart. Not only will you look polished and prepared, but you'll also be able to sit back and have just as much leisurely fun as your guests."
"Bar carts have gotten more sophisticated over the years and for outdoor options its best to go with a cart that offers wheels (outdoor parties can quickly move from the deck to the yard and other areas in the yard), ice bucket bins with a cover, built-in glassware holders (especially when using real glass, which isn't always advised for late night parties), bottle holders (a must and going with an option that can store not just wine bottles but also liquor bottles and mixers)."
Tamara is a highly experienced homes and interiors journalist, with a career spanning 19 years. Now the Lifestyle Editor of womanandhome.com, she has spent the last 16 years working with the style teams at Country Homes & Interiors and Ideal Home, and it's with these award-winning interiors teams that she gained a wealth of knowledge and honed her skills and passion for shopping, styling and writing about every aspect of lifestyle and interiors.
With a keen eye for the latest interior trends, there's not a lot she doesn't know about home decor – whether it's what colour we should be painting our living rooms next season, or if the latest 'must-have' buys are actually worth investing in.
A true homes and interiors expert, Tamara has served as an ambassador for leading interior brands on multiple occasions, including appearing on Matalan's The Show and presenting at top interiors trend events such as the Autumn Fair and Spring Fair.

With contributions from