Decorating for a garden party: Ideas to make your outdoor space ready for entertaining
The best garden party decoration ideas to turn your backyard into a cause for celebration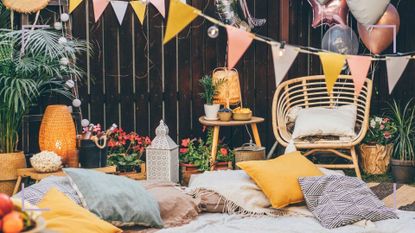 (Image credit: Getty Images/Maria Korneeva)
Decorating for a garden party and in need of some inspiration? Look no further, because we have curated the best garden party decoration ideas to suit all kinds of celebrations.
Whether a birthday BBQ, a summer solstice celebration, or just an excuse to invite friends over to show off your new landscaped lawn, our garden party ideas offer ample ways to decorate for the occasion.
When decorating the garden for a party it's about more than just bunting and novelty napkins, your decor should cover all aspects of styling, spanning from the latest trend-led tableware to cater for a fun-themed party, to patterned floor cushions to provide extra seating in an outdoor living room idea. Here are our favorite ideas, plus some quick tips on how to ensure your garden looks tip-top ahead of your guests' arrival.
Decorating for a garden party? Check out these ideas
1. String out the bunting
Bunting is a simple and effective garden party decoration. After all, nothing transforms an outdoor space more instantly than rows of mini triangle-shaped flags flapping in the breeze.
The fun addition of traditional bunting goes a long way to enhance your garden party theme and color scheme. Rows of bunting can be used in all manner of imaginative ways, from being tied to fence posts and draped along posts to create a border or wrapped along a veranda or pergola structure.
"A pergola is an ideal place to hang bunting from, running from the corners to the center for maximum impact" adds Wayfair's Resident Style Advisor, Nadia McCowan Hill.
Because bunting—whether paper or fabric—is super lightweight, it's easy to hang in trees, on the wall, above the outdoor dining table, or across the entrance to the garden party. It is super easy to put up, by simply tying each end securely to whatever surface you are decorating. Bunting is the decorating gift that keeps on giving because it can be reused time and time again when taken down carefully. If you're looking for inspiration, plain pastel bunting adds a fresh touch to any space, while themed iterations are great if you're planning a patriotic Platinum Jubilee party.
Multicoloured Rainbow Bunting
$6.68 / £5.09| This best-selling rainbow bunting is made of 12 gorgeous shades of rustic hessian fabric, including rose pink, lilac, soft yellow, mint green and baby pink. The pastel assortment of 17cm flags decorates 3.5 meters of jute string.
Red, White and Blue Fabric Bunting
$21.50 / £16.95 | This reusable quality fabric red, white and blue bunting with tassels is handmade from sustainably sourced 100% cotton and is washable. The patriotic colors make it ideal for all manners of seasonal celebrations. Measuring 3 meters in length.
2. Decorate with paper pom poms and streamers
If you'd prefer a change from bunting, paper decorations are a brilliant on-trend alternative. Just like decorating with bunting, decorating for a garden party with paper honeycombs and fans ensures easy coverage of color on all levels, because they are so versatile and easy to use.
You can hang paper pom-poms from trees to elevate the decorating scheme, adding interest at eye level to ensure guests can see your efforts from any position within the garden. Meanwhile, paper streamers are a great solution to cover garden fences or exterior walls.
A cluster of colorful paper decorations is also an easy and effective way to add color to the front porch to create an inviting entry point for guests. This simple styling trick helps to set the scene for what's to come and introduces a hint of what guests can expect when stepping into the beautifully decorated garden beyond.
These decorations are reusable too - paper heart-shaped streamers also make effective DIY Valentine's Day decorations when the time comes around, or can be strung up around the house for birthday parties or special occasions.
$5.58 / £4.50 |These fan decorations help create a festive atmosphere in a flash and are easy to hang from any structure thanks to the lightweight design and handy hanging loops. After the party store back in the packaging, to use over and over.
Honeycomb Ball Decorations 8 Pack
$11.24 / £9.06 | Introduce bold bursts of color with these colorful honeycomb ball decorations! These are the perfect way to brighten up your garden celebrations with ease, and will instantly help transform a party venue, with a unique style that adds a fun flourish and extra dimension.
3. Hang Chinese paper lanterns
Pretty Chinese-style lanterns are lightweight so ideal for hanging on trees or suspended above tables. They will inject cheery color at eye level during the day and conjure up ambient magic when lit up after dark by simply popping in the best flameless candles to cast a warm glow. Many modern designs are pre-lit with led lights, so they come ready to party!
If you need further convincing, these are also great from a sustainable living standpoint, as reusable lanterns can be used year in, year out.
3 Lucena Tassel Solar Lanterns
£34.99 (UK only)|With three lanterns in white, yellow and pink, these ones are sure to add a splash of color to your garden. Simply hang the bright lanterns in a sunny spot and they'll illuminate for 6-8 hours each night. The perfect addition to a garden party, they're eye-catching even before lit.
Paper lanterns with Chinese tassels
$10.53 / £8.49 | Decorate your home or garden for a party with Talking Tables Boho Style Paper Lanterns Decorations. The set of three is perfect for adding a pop of color with vibrant pink, yellow and blue designs.
4. Use colorful glassware
When choosing glassware for your garden party, look to add color, rather than simply recreating your finest selection of traditional glassware. A garden party gives you an excuse to add vibrant color without the need to work within the confines of your interior color scheme.
An elegant alfresco dinner party deserves color-coordinated outdoor wine glasses and tumblers, to add an element of style and fun to the occasion.
Some might prefer a more practical alternative to serving glass such as practical melamine plastic because no one wants to see their best dinnerware glasses knocked over and smashed on the patio below. Whether real or imitation there's a garden party glass for all to sip from in style.
Stacking Plastic Picnic Wine Glasses
$12.42 / £10| We love this colorful set of four plastic wine glasses that stack together for compact storage. Perfect for picnics and parties, they are pretty but highly practical.
Mexican Margarita Glasses
$39.99 / £32.20|Even the name of these colorful glasses suggests 'party'! The set of six hand-blown drinking glasses bring the fiesta, thanks to the mirage of bold colors. These Mexican-inspired glasses would make a great addition to a fiesta birthday party or Cinco de Mayo celebrations.
5. Themed picnic and tableware
Create the ultimate garden party tablescape with plates and platters inspired by your chosen theme. A trend we're welcoming to our backyard decorations for 2022 is a wild one, covering abstract animal prints and sophisticated animal motifs to celebrate the natural world. The color palette is muted, as apposed to the garish brights that are so often associated with safari-inspired prints.
Of course there are tableware collections to suit all garden party themes, it's a matter of personal choice. Coastal tones and beach motifs look sophisticated and calming. Whereas tropical bights printed with pineapples and palm leaves create a carnival vibe that super fun. Alternatively, if you're looking to bring the indoors outside, draw inspiration from the interior design trends of 2022.
Modern Glam melamine picnic set
£20 (UK only) | An abstract take on a leopard print, this funky monochrome black and white spotty picnic set is just the thing to add pattern to your tablescape. The orange rim adds a fun flash of accent color.
Jungle picnic dinner plates
$18.63 / £15 | We adore these striking jungle themed plates, almost retro in style, bringing extra flair to outdoor dining. They're made from hardy melamine and can be put through the washer, a plus for clearing up after the party.
Animal Square Picnic Plates
$19.87 / £16| Serve with a side of sophisticated safari with these fabulous Yvonne Ellen designs. Perfect for picnics and parties, this modern take on safari is a softer approach to the wild theme. The pastel color palette is perfect for the summer garden party trends of 2022, as are the majestic animal illustrations.
6. Fill Ice buckets for a makeshift bar
Ensure drinks are chilled and accessible by adding a few buckets filled with ice to the garden table. Guests can help themselves without having to trek back and forth to the main house. Children will enjoy a glass pitcher and goblet dispenser filled with soft drinks too.
Keter Mia Green Rattan effect Cool stool
£40 (UK only)| A cool stool that hides an ice cooler under its trendy-looking and comfortable surface. It's made out of a weather-resistant resin.
BarCraft Copper cooler bucket
$45.91 / £36.96 | An impressive bar or food table centrepiece, this wine cooler bucket brings the trendy copper look to the forefront of any party or garden get-together.
7. Add ambience with storm lanterns
Lanterns dotted about a garden party will add an air of ambient luxury and keep the party softly lit into the night. Layer the look by popping candle votives and wrap fairy lights around trees.
For a safe display, especially around children, consider decorating with the best flameless candles to avoid any real flames.
$41.49 / £33.40 |An ornate lantern is ideal to add interest and a captivating warm glow to an outdoor soiree, especially one with a Moroccan garden party theme.
La Rochelle globe lantern
$99.31 / £79.95 | This nautical themed lantern is reminiscent of summer holidays spent by the seaside. Inspired by fishing nets, the circular lantern features chunky netting cover made from rope with a robust rope handle. Made from nickel-plated stainless steel, glass and rope.
8. Style with outdoor soft furnishings
Soft furnishings are a great way to enhance a garden party decoration theme by welcoming patterns and pops of accent color. Any experienced party host will know you can never have too many seating options, and there's a sense of freedom to the scheme when you do without traditional chairs and opt instead for a more bohemian vibe with piles of floor cushions and beanbags.
Outdoor rugs will also add a layer of comfort to the scene, inviting a more permanent decoration for an outdoor living room. Layer the look to create a sense of coziness for when the party continues into the night and offer guests your best blankets and throws to take cover under, should there be a chill in the evening air.
Orange print outdoor cushions set of two
$36.64 / £29.50 | Give a vibrant look to your garden furniture with this pair of outdoor cushions. Each features a colorful orange print and is finished with a stylish braided edge. A water-resistant finish gives them extra protection during sudden showers.
Aaima Diamond Flatweave outdoor rug
$77.06 / £53.99 | Give your patio a geometric print with a weather-proof garden carpet, that will welcome decoration to a patio long after the party ends. outdoor rugs are one of the biggest trending accessories to buy for 2022, so get yours pronto if you don't already have one.
Hessian outdoor floor cushion
$99 / £79.90 | Bring maximum comfort to your yard with this Emanuela Carratoni Meadow Flowers theme outdoor floor cushion by Deny Designs. The decorative floor cushion design features a UV fabric coating to make it fade-resistant in the sunshine and water-resistant, should any spillages occur. Plus there's a handle for easy transportation.
How do I make my garden look nice for a party?
To make your garden look nice for a party there's a whole regime that takes place before we can even reach for the decorations. Wayfair's Resident Style Advisor, Nadia McCowan Hill offers her advice on preparing the garden itself: "Just as you would inside your home, the first thing to do when prepping for a garden party is to have a little spruce up of the area. Clear any clutter or fallen leaves with a quick sweep of the patio or decking and give any pots and planters a tidy-up." As you would with your indoor space, think about putting together a cleaning checklist.
"It is amazing how quickly small changes can make a difference to refresh a space and get it guest-ready. If the garden is looking in need of a deeper clean then use a pressure washer for a speedy makeover," she continues.
"Layering your garden with accessories will soften the space, borrow cushions and throws from inside to ensure guests are sitting comfortably. The addition of some recycled glass vases filled with cut flowers will add a celebratory feel to any occasion."
If you're not particularly green-fingered, check out our easy gardening tips for beginners or buy plants online - most of these are ready to pot.
When it is finally time to think about decorating for a garden party it can mean anything from decking decorating ideas and outdoor rugs, or even outdoor wall decor. But whatever you choose to use to decorate your home for a gathering, it can help to stick to a few simple rules.
Try and decide on a color scheme for your party. Be it a colorful mix, on-trend sage green, or a subtle grey to match your pre-existing garden furniture. Having things stick to a specific color palette makes your decorating choices much simpler while guaranteeing that your garden looks fabulous and put together, rather than scatter-gun!
Tamara is a highly experienced homes and interiors journalist, with a career spanning 19 years. Now the Lifestyle Editor of womanandhome.com, she has spent the last 16 years working with the style teams at Country Homes & Interiors and Ideal Home, and it's with these award-winning interiors teams that she gained a wealth of knowledge and honed her skills and passion for shopping, styling and writing about every aspect of lifestyle and interiors.
With a keen eye for the latest interior trends, there's not a lot she doesn't know about home decor – whether it's what colour we should be painting our living rooms next season, or if the latest 'must-have' buys are actually worth investing in.
A true homes and interiors expert, Tamara has served as an ambassador for leading interior brands on multiple occasions, including appearing on Matalan's The Show and presenting at top interiors trend events such as the Autumn Fair and Spring Fair.

With contributions from