22 Valentine's Day decorations and ideas to dress your home
From simple to the show-stopping, these Valentine's Day decorations are easy to make and will add a romantic touch to your home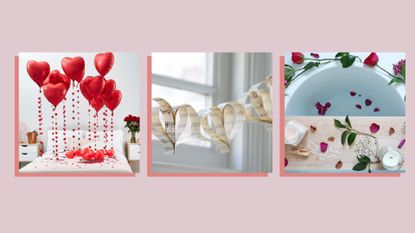 (Image credit: Ginger Ray | Future | Claire Douglas)
woman&home newsletter
Sign up to our free daily email for the latest royal and entertainment news, interesting opinion, expert advice on styling and beauty trends, and no-nonsense guides to the health and wellness questions you want answered.
Thank you for signing up to . You will receive a verification email shortly.
There was a problem. Please refresh the page and try again.
Whether you're looking to set the mood, or just keen to add some fun seasonal charm to your home, Valentine's Day decorations are a sweet way to switch up your decor.
Like the best Valentine's Day gifts, there's something for everyone. There are some brilliant DIY Valentine's Day decorations and ideas, you can embrace the love and look to incorporate romantic decor into every room of your home this February.
In our pick of the best Valentine's Day decorations for 2023, you'll find everything from thoughtful DIY creations that you can make with the kids, to statement ideas that will really impress guests – whether you're throwing a party or just having a few friends over to watch the best romantic movies on TV.
Creative Valentine's Day decorations for 2023
These simple Valentine's Day decorations are perfect to show some love to your home, whether you're entertaining or simply looking to decorate for the occasion to cheer up your winter decor post-Christmas. From homemade wreaths to photo-worthy balloon arches, there's a decorating idea to suit all.
1. Add a Valentine's Day wreath to your front door
Who said door wreaths were just for Christmas? In fact, decorative wreaths are becoming increasingly popular throughout the year – so why not add some romantic charm to your property with a gorgeous display of fresh flowers, and not just the ones from the best flower delivery services?
Whether you opt for romantic red roses or pretty pink peonies, if you DIY it, you've got complete control over which flowers are included and what additional decorative details you choose to include. You can work with a florist to create your wreath, or plenty of retailers have the essentials for a DIY wreath available to buy, such as a wire and a wreath base, to help get you started. We love the DIY Valentine's Day wreath kits from Etsy (opens in new tab).
2. Flower bath & DIY Upcycled Bath Board
A flower bath is the height of self-care and Valentine's Day is the perfect excuse to indulge. Why not DIY yourself a rustic bath board from an offcut of wood or a repurposed floorboard and use it to hold your bath time essentials (yes, we mean flowers, your best-scented candles, and wine!).
Cut your wood to size and sand down any rough or sharp edges so you don't scratch your bath. You could seal the wood with a clear waterproof sealant to extend the life of your fab new bath board, then it's time to relax. Adding flowers, rose petals and scented bath salts will help you feel Zen in no time. 

3. Table stand with hanging floral display
Tablescapes are a great way to create a romantic atmosphere and can be a visual feast too. The only downside, especially with a small table, is that they can hinder your dining experience by taking up too much table space.
On a romantic evening, the last thing you need is for your date to be hidden behind a tall vase of flowers or a candlestick. This is where the clip-on table stand comes in and saves the day. You can decorate to your heart's content (no pun intended) without sacrificing any table space.
Table stands are versatile and lend themselves to use with faux, dried or fresh flowers, although you'll need to consider a water source for the latter to ensure maximum enjoyment. Floristry wires and tape are a handy duo when it comes to creating a hanging display. Place a wire on the end of a stem and wrap the tape around both a few times to secure the wire then you can hook it over the main bar of the table stand to suspend each flower in the perfect position.
4. Faux flower cloud with foraged foliage
Flower clouds are dreamy and can make the perfect focal point for your Valentine's decor. The best bit is they are also pretty simple to construct, especially if you use dried or faux flowers. First, you will need some chicken wire to create the base to build your flower cloud around. Then, you'll need to attach some hooks to the ceiling to support your flower cloud.
Use the appropriate fixings for your ceiling type to ensure your floating installation stays floating. Fishing wire or clear nylon thread works well to suspend the cloud as you can't see it from a distance adding to the magic. Thread your flower stems through the chicken wire until you have created the desired shape and size and then stand back and admire your romantic floral creation.
Adding foraged foliage to your flower cloud is a great way to keep costs down whilst maintaining a natural aesthetic.

5. Design heart-shaped paper chains
If you're after Valentine's Day decorations the whole family can get involved in making, look no further than an easy craft project like these heart-shaped paper chains.
These can be really simple to make: simply cut your strips of paper into the shape you want (we'd suggest love hearts for an easy option), and glue it all together. Then, wrap the second strip of paper around your completed shape, and glue that one together – and so on and so forth, until you have a chain that's the length you want it. It may sound fiddly, but it's certainly a fun exercise to do with kids, and the completed look will be totally worth it.
Using red or pink colored paper is great for adding traditional Valentine's day colors but why not use sheet music of your favorite melody for a sentimental touch?
Whether they're hung in the hallway, in your living area, or perhaps even down the banister for a more subtle look, they're an affordable way to embrace the season of love via your decor.
6. Pop up some letter lights
Whether you buy them or hire them, carnival-style light-up letters are an easy, zero-fuss decoration to set up and display. Place them on the floor of your living space, or on a large cabinet.
The simplest option is to use them to spell out 'love'—though if you're trying to impress a loved one, you could spell out their name or initials too! If you're after a more affordable option, you could use fillable letters (opens in new tab)instead. Decorated with the filling of your choice, they can offer a more budget-friendly way to spell out your feelings than the light-up letter.
7. Make your fireplace a decorative focal point
If you're lucky enough to have a fireplace in your home, incorporate it into your decoration plans – after all, the hearth is traditionally the heart of the home.
"A fireplace is the focal point of many living rooms, and you could consider decorating it for Valentine's Day so that you can have something to admire whilst you relax on the sofa with your loved one," says Jess Martin, decoration expert at Ginger Ray (opens in new tab). She suggests trying:
Balloon bunting or a tassel garland: "They'd look great hung across the fireplace and would leave plenty of space on top for setting the mood with candles."
Paper fans: "Try hanging these from the edges of the mantlepiece and arrange them in groups of odd numbers to achieve a polished look."
8. Put up a Valentine's Day tree
Thought decorative trees were just a Christmas decorating idea? Think again. Whether you opt for a mini artificial tree that can sit on a countertop, or decide on a bigger one for your living space, a Valentine's-inspired tree is a truly creative – and on-trend take on romantic decor.
"Believe it or not, Valentine's Day trees are the latest trend taking over social media," explains Jess. "Baubles, fairy lights, and tinsel have been replaced by red and pink themes and an abundance of sickly sweet decorations."
So how should you style your Valentine-inspired tree? "The general rule has to be more is more," says Jess. "An artificial rose garland can look stunning adorning the branches, or try weaving in ribbons in shades of pink and red to make things a little more romantic. Bunting and garlands with cute messages will also look great draped around the tree and make for the perfect Instagrammable backdrop."
9. Add a pop of fun with balloons
Whether you opt for one statement balloon as a decorative Valentine's day gift idea for your loved one, or a statement balloon backdrop, balloons can add a really fun touch to your decor.
Jess has a few different ways to add balloons to your Valentine's day decorations:
Use balloons to fill the bedroom: "Balloons are a great way to create impact. Some love heart-shaped balloons could be a gorgeous way to fill your bedroom and will be sure to impress. You can even get fun and flirty balloons to turn up the heat."
Use a balloon arch kit: "Whether you choose a classic pink and red color scheme or some more muted nude and metallic tones, arches achieve a major wow-factor."
Use individual letter balloons: "Spell out a personalized message and show your significant other that you've really gone the extra mile to make it special for them."
10. Get creative with blackboard displays
A blackboard is a wonderful way to add some low-key Valentine's sentiment to your home, whether you use it to draw pictures, write love notes or share the best love quotes inspired by movies, books, and poetry.
This decorative idea is low-effort and low-cost, but it can add a lovely feel to your quickly and easily, especially in places that often aren't ripe for decor, such as the kitchen and bathroom. For an extra special touch, pop it in an elegant frame, as per the one above.
11. Hang hearts above and around your bed
Fill your bedroom with hearts. Use either a cluster of heart-shaped balloons to float above your bed or make your own paper decorations to hang on the wall behind.
Vertical garlands of paper hearts make for a fuss-free decorative addition to any home, but they can add a lovely romantic touch to the bedroom especially. If you want to make yours, simply fold your paper hearts in half and carefully attach them to a board backdrop, rather than putting them directly on the wall.
Once you've decorated your bed, why not snuggle up in some of the best Valentine's Day pajamas?
12. Hang a Valentine's-themed neon sign
Neon light displays are bang on trend right now and adding a love-heart one could be the perfect way to up the wow factor on February 14. Neon signs combine modern energy with an endearingly retro feel.
Depending on their size, they can look great on walls or propped up on counters, and are as much an art installation as they are a colorful way to light up your home. This decor option can look so stylish that you might even want to keep it past February...
And if you want to make February 14 even more stylish, why not take a look at our guide to some stunning Valentine's Day nail ideas too?
13. Craft some love letter bunting
Love letters are the epitome of romance, so why not embrace the sentiment in your decor, with a hand-designed love letter garland? You can find an easy tutorial for the above garland here (opens in new tab), and it's a cute way to add a really authentic feel to your Valentine's Day decor.
You can make it super personalized too – choosing everything from the envelope color to the garland thread used, meaning you can tie it into an existing décor scheme, or pick your loved one's favorite colors if you're giving it as a sweet Valentine's Day gift idea too.
No glue gun? No problem. Make the envelopes out of paper or cardboard instead. You could even use actual envelopes and include love notes or inspirational poetry quotes inside each one if you were feeling really romantic.
14. Branch out with paper hearts in vases
Whether they're purchased from your favorite florist or have been sourced while out on a walk, branches and sage green foliage make a great alternative to bouquets of flowers.
For Valentine's Day, you could use a glue gun to attach paper hearts in varying sizes and colors. Or, buy or hand-make felt decorations that can be hung from the branches. Place your decor in a clear vase for maximum impact. And, take the look one step further by twining strings of fairy lights around the sticks.
15. Create a romantic drinks trolley
If you have an at-home bar cart or are planning to get one, it's an easy way to add some Valentine's Day decor to your home. Adorn the sides of your drinks trolley with garlands of faux florals or twinkling lights, and fill the shelves with fresh blooms, a bottle or two of your favorite fizz, and glittering glassware.
A decorative bar cart will make a great addition to date night too, if you're planning on staying in and cooking some Valentine's Day recipes on February 14. And who's to say it can't stay dressed for future date nights too?
16. Invest in heart-themed home accessories
Keep it simple for Valentine's Day by adding heart-shaped everyday items to your home, such as tableware, textiles, or wall prints. The secret here is to only buy products that won't offend you on the other 364 days of the year.
"Seasonal homewares offer a quick and often budget-friendly way to add a pop of personality to any space," explains Dayna Isom Johnson, Trend Expert at Etsy. "Plus, Valentine's Day decorations like these can be easily repurposed for other occasions in the year, such as anniversaries and birthdays, allowing you to get as much use out of your purchases as possible."
17. Create a layered ladder display
Decorative wall ladders are one of the best bathroom storage ideas, as well as a popular option for adding decor to your living room or bedroom. But they can also be a great way to display Valentine's Day decorations – allowing you to showcase everything from candles and flowers to garlands and ornaments at different levels.
When it comes to styling your ladder shelving, getting the balance right is vital. A few tips for styling your ladder are:
Start at the top: "Think about displaying something a little larger on the top shelf to make your ladder the center of attention it deserves to be," says Jess.
Add floral pieces: "Try displaying the bunch of flowers you might have been gifted for Valentine's Day by splitting a larger bunch into some smaller vases and placing these on different shelves," Jess suggests.
Opt for the classics: "Bunting is a timeless decoration for good reason: it's easy to assemble, can be used time after time (which is great for making your decorations more sustainable), and looks great against most backdrops," says Jess. "Flower garlands can also look stunning and add a really romantic touch when wound around the sides of a ladder."
18. Decorate your garden gate
If your property features a gate, adorning it in Valentine's Day decorations makes for a fun way to set the tone from the moment someone approaches your home. This simple hanging wreath idea needn't be just for Valentine's day either, it can live there all year round to show how much you love your home.
A simple willow wreath is the best bet to provide a weatherproof solution because even faux flower wreaths wouldn't be able to withstand all weather and still look as pristine.
19. Set the table with style
Whether you're planning a romantic meal for two or a dinner party for multiple guests on Valentine's Day, set the scene by creating a gorgeous tablescape – like this one by Sophie Allport (opens in new tab).
"It's about creating an experience that feels different from your average night in," explains Callie Pettigrew, founder, and Creative Director at Studio Dine (opens in new tab). "Think about small personal touches you can add to the table to make it feel special. Don't be afraid to get creative."
Creating a beautiful Valentine's tablespace needn't be complicated. For inspiration on how to create yours, Callie suggests:
Adding a floral touch: "If you're after a modern look, steer clear of classic Valentine's day staples like roses, and replace with something a little more unexpected –Ranunculus are a great choice, come in many shades, and will save you a few pennies too. Alternatively, pop stems from the garden into bud cases." Add a couple of vases to your table for a really special, layered look.
Get the lighting right: "Table styling is really all about creating atmosphere, so lighting and 'vibe' is also important. You want your space to feel warm and cozy, so make sure to light a candle and put your favorite playlist on to set the scene." You could also add fairy lights to the table, for a more magical feel.
Make it personal: "Handwrite menus or add a personal note to add to each place setting," Callie suggests, for a really personalized experience.
20. Hang paper decorations above the table
From paper fans to strings of love hearts, a paper "chandelier" is a great option if you're keen to create one statement area, instead of having decorations scattered all over the home.
Buy or make paper decorations in typical Valentine's Day colors, think reds, pinks, and whites. Hang them from your ceiling, you can use washi tape or hooks to do this, above your dining table for a real showstopper.
21. Add decor to your morning coffee station
If you and/or your partner are fans of hot drinks, consider transforming the tea/coffee area of your kitchen into something a bit special for Valentine's Day. This is another great way to add Valentine's Day decorations to a part of the home that doesn't often get decorated: your kitchen.
You could splash out on heart-patterned crockery, linen, or napkins, or add cute and romantic signage. Just make sure that your decor doesn't interrupt how you use your best coffee machine – you want your decorations to add joy to your life, not cause inconvenience as you go about your daily tasks.
22. Use playing cards for a fun and unique decor option
Playing card décor might not be something you've considered before, but they can make for a really fun and unique way to decorate your home for February 14. From card bunting to quirky table place-settings, there are all sorts of ways to incorporate the 'Queen of Hearts' into your decorative plans. Plus, it's one of the most affordable DIY Valentine's Day decorations ideas if you've already got a pack to hand!
Valentine's Day decor trends for 2023
Valentine's Day might not warrant quite the same level of decorative detail as Christmas, but that's not to say it's not worthy of some proper thought if you choose to embrace it.
If you do, there are some exciting decor trends for 2023 that might influence your Valentine's decor plans:
At-home wellness havens: Incorporating self-care into your Valentine's Day plans is a great way to help you and your loved one switch off. "We're seeing shoppers focusing on self-love as well as romantic love this year, by creating soothing, stress-free sanctuaries in their homes, with everything from handcrafted wooden bath caddies to heart-shaped Himalayan salt tealight holders," says Johnson.
Red and pink: These traditional colors are at the beating heart of most Valentine's Day decor ideas, and they're not going anywhere for 2023. "Color blocking is the retro trend everyone is loving at the moment, and a pink-and-red combo is a popular duo," says Jess. "Whilst red and pink have always been big for Valentine's Day decor, this year they're back together to spread some romance all year round."
Decorations inspired by nature: "We're increasingly seeing shoppers opt for decorations that are inspired by nature and sustainable living," Johnson notes. "Think decorations that are made from sustainable materials, such as wood or canvas, that offer a sophisticated twist on traditional motifs." This also stretches into wider home trends – sustainability is predicted to be big for the most popular bathroom trends of 2023 and kitchen trends for 2023, as well.
Katie Byrne is a contributor to woman&home and a writer whose interests span everything from homes and interiors, to pop-culture, travel, business and self-development. A former digital editor, her freelance journalism has featured across a wide range of print and online titles, including Raconteur, Digital Spy and more. When she's not writing, she loves reading (and has the groaning bookshelves to prove it...), dreaming up new décor ideas for her flat and devouring Netflix's latest true-crime series with her husband. You can find her on Twitter: @katie_b123 (opens in new tab).