11 inspirational poetry quotes that will get you thinking
These inspirational poetry quotes from the likes of William Shakespeare, Emily Dickinson, and Maya Angelou pack a powerful punch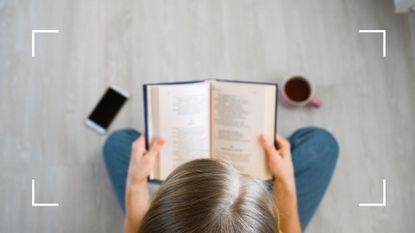 (Image credit: Getty Images)
These 11 powerful and inspirational poetry quotes from famed poets throughout the years give us a chance to reflect on some of the most important aspects of life—such as love, heartbreak, choices, strength, and death.
Poetry can be incredibly emotive. After all, poets, like the writers of the best books of all time and best book club books, have a way of expressing emotions that we might not be able to put into words. And there are certain poets who over the decades have done this best, such as Maya Angelou, Robert Burns and Elizabeth Barrett Browning.
Below, we've rounded up some of the best poetry quotes from these writers (and many more), which we're sure you'll find uplifting and thought-provoking, and brilliant to refer to if you're looking for a boost of inspiration. With poetry quotes from the 1600s all the way through to the 21st century, these very powerful lines certainly stand the test of time.
11 inspirational poetry quotes
1. "You may trod me in the very dirt, but still, like dust, I'll rise"—Still I Rise by Maya Angelou
Maya Angelou penned much of her most powerful work on the struggles faced by black people, both during the Civil Rights Movement in the 1960s and indeed throughout history, (though she's also known for writing some of the best feminist books too). This inspirational poetry quote in particular brings to mind images of a phoenix rising from the ashes, being beautifully reborn in the face of adversity.
---
2. "How do I love thee? Let me count the ways. I love thee to the depth and breadth and height my soul can reach"—Sonnet 43 by Elizabeth Barrett Browning
Browning was a Victorian poet who was involved with the Romantic movement, and she wrote this famous sonnet in 1850. It was addressed to her husband, fellow poet Robert Browning, and this, one of the most touching poetry quotes in our list, beautifully encompasses the expanse of true, deep love.
---
3. "Do not go gentle into that good night. Rage, rage against the dying of the light"—Do Not Go Gentle by Dylan Thomas
The Welsh poet Dylan Thomas published this poem in 1952, in his collection 'Country Sleep, and other poems'. It was written for his dying father, and this line was a demand for him to reject death and keep on fighting. However, it has since been interpreted as an empowering voice of revolution; a message to fight for what you believe in and not submit to the will of others. It has arguably become one of the most famous and best life quotes there is, and certainly one of the most inspirational poetry quotes on our list.
---
4. "Love is you and love is me. Love is prison and love is free. Love's what is there when you're away from me" Love Is by Adrian Henri
Adrian Henri wrote this poem in 1968, and its inspiring definitions of what "love is" have resonated with thousands of people. These lines emphasise the contradictions and complexities of love, but also its beauty.
---
5. "It matters not how strait the gate, how charged with punishments the scroll, I am the master of my fate: I am the captain of my soul"—Invictus by W.E.Henley
Henley published this famous poem in 1888, while recovering from the amputation of his leg as a result of Tuberculosis complications. This, coupled with his impoverished childhood, inspired him to write this sad yet uplifting poem of survival, and the idea that no matter what happens you are in charge of your destiny.
---
6. "So long as men can breathe or eyes can see, so long lives this, and this gives life to thee."—Sonnet 18 by William Shakespeare
We all know Shakespeare was a master wordsmith, and writer of some of the best romance books in history—so of course one of his sonnets had to feature in our round-up of the best poetry quotes around. One of his best-known sonnets was Sonnet 18, also alternatively titled as 'Shall I compare thee to a summer's day', which is how it begins. These lines comprise the final rhyming couplet, addressing the idea that love can give eternal life; an uplifting thought.
7. "Unable are the loved to die, for love is immortality"—Unable Are The Loved To Die by Emily Dickinson
This famous line is from Emily Dickinson's short work, which is often otherwise titled 'Poem 809'. Its sentiment on grief and the undying nature of love has resonated with readers for decades. One of the most beautiful love quotes of all time.
---
8. "Do not bother holding on to that thing that does not want you"—Rupi Kaur
Penned by modern writer Rupi Kaur, this inspirational poetry quote is all about the power of letting go of things that no longer serve you; be it a job, a relationship, or anything else that may apply. In this poem, Kaur suggests that letting go might just be the most liberating thing you can do.
---
9. "Two roads diverged in a wood, and I—I took the one less traveled by. And that has made all the difference" The Road Not Taken by Robert Frost
This inspirational poetry quote is incredibly famous, and symbolizes the idea of being at a crossroads, and the possibilities that can come when you opt for the less conventional route. However, there is also a school of thought that this Frost poem is as much about what you didn't do, as well as the path you did choose—and how that may have impacted your life...
---
10. "If you can keep your head when all about you are losing theirs and blaming it on you...Yours is the Earth and everything that's in it"—If by Rudyard Kipling
Rudyard Kipling is responsible for some of the most well-known books quotes of all time, but the poem 'If' may well have spawned some of his most notable. It's arguably his most famous piece of work, and illustrates the virtue of being able to maintain your composure and integrity even when everything around you is swirling out of control. One of the best inspirational poetry quotes for those attempting to rise above!
---
11. "There is no such uncertainty as a sure thing"—Robert Burns
This quote from famed writer Robert Burns illustrates the idea that even those things we feel most sure about can change at the drop of a dime. Essentially, Burns is suggesting that the only constant in life is the idea of uncertainty and change—another liberating thought.
---
Sign up to our free daily email for the latest royal and entertainment news, interesting opinion, expert advice on styling and beauty trends, and no-nonsense guides to the health and wellness questions you want answered.