17 bathroom storage ideas to help you create a calm and organized room
Keep your sanctuary tidy and functional with these savvy bathroom storage ideas—no matter how big or small the space is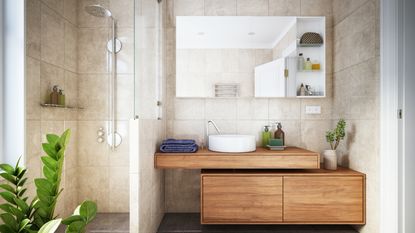 (Image credit: Getty Images)
The ideal bathroom should be a sanctuary—inviting, relaxing, and above all, tidy and organized. Of course, this isn't always easy to achieve, so we've detailed some of the most helpful bathroom storage ideas, to get your bathroom working better for you.
Our bathrooms house a multitude of items—toiletries, towels, cleaning products, wellness gadgets, and those miscellaneous items that somehow end up in bathroom cabinets—so attempting to organize the space can feel overwhelming. An organized space will save you time and streamline your morning and evening wellness rituals. Not to mention improving its appearance. Martin Carroll, Managing Director, Duravit, a bathroom design company, explains, "A cluttered bathroom will never have a luxurious feel—keep the bathroom tidy and organize products and accessories so that the bathroom is a functional and enjoyable space."
There are a few options if you're on the hunt for bathroom storage ideas that will improve your space. And, if your bathroom needs a deep clean before you tackle its contents, our step-by-step guides on how to clean a bathroom and how to clean a toilet should come in handy.
What to consider before investing in bathroom furniture
Before investing in bathroom furniture it's wise to consider the following:
Space—bathrooms can often be a smaller rooms, meaning you may want to look at options that offer more storage within a smaller space and can adapt to make the most of any wall or floor space without being too intrusive. "Before you think about buying bathroom furniture, you need to map out the amount of space you have. For instance, in a small bathroom, you may want to opt for slimline cabinets," Kane Hughes, an interior designer at MyJobQuote.co.uk, told us.
Moisture—"you also need to choose furniture materials that can withstand moisture" Hughes told w&h. Certain materials will show wear and tear more easily if faced with moisture exposure on a regular basis. "You should try to avoid using wood in your bathroom, especially low-quality wood, which tends to expand and crack when exposed to moisture," Hughes said. Try furniture made from plastic or glass instead.
Position—"you also need to consider the position of your bathroom furniture, as you need to make sure that it is not interfering with any plumbing fixtures," Hughes explains.
17 clever bathroom storage ideas
Clever bathroom storage ideas needn't be expensive or time-consuming—a lot of our tips below can be added to your room on a budget or done yourself, without the need for a builder. It's all about making use of the space you have, and really utilizing any dead space that could work well for storing your bathroom products. If you are making some home improvements, we've included some ideas for built-in storage, too. And when you've finished organizing your bathroom, why not take a look at our kitchen storage ideas or our kitchen splashback ideas, for inspiration?
Bathroom storage ideas for under the sink
Use drawer separators
Keep your bathroom essentials as well organized as your kitchen drawers, with drawer separators that allow you to have compartments for everything. For example, keep your make-up brushes in one section, your make-up in another, and your face cloths in a third section. While it looks organized, it also makes your morning and nighttime skincare routines that much easier, as you can separate products into a logical order.
Try open shelving under the sink
If you don't want a built-in sink vanity, tiered shelves instead can be a fabulous storage option, particularly if you prefer a more natural, pared-back look for your bathroom. All you would need to do is purchase a tiered shelving unit (we love the wooden one above), and get your sink installed on top of it. Tiered shelves can be used to turn belongings such as folded towels and high-end toiletries into a stylish display—and the doorless concept can help to create a sense of openness in your bathroom.
Bathroom wall storage ideas
Install a floating wall unit
Hughes explained, "A floating wall unit is one of the best storage solutions for creating an illusion of space in a bathroom, especially if you have limited floor space." A wall unit might either be a cupboard—which appears as if suspended mid-air—or a cluster of drawers that you can hang on a hook to your wall, as above. The latter can be an affordable way to add storage space to your home. And the former are cute cubby holes, that offer space to display more attractive items too. Hughes continued, "You can install a floating unit above a sink for convenience, as you can store your toothbrush, toothpaste, soap, and any other everyday bathroom essentials."
Installing a tall floating unit is ideal for keeping all of your items hidden away too. It's a great storage solution for making use of an empty, thinner wall, that would otherwise be useless. Plus, it'll help to create space, by giving you back floor space where you could pop another storage solution, such as a basket or a small caddy. For tall units, you could even add a door organizer as well. Floating units are also a great place to put a mirror—and being able to close to the door on your items will help to keep moisture and dust out, too.
Embrace open airing cupboards
Awkward airing cupboards built into bathrooms can actually sometimes look better with doors removed and shelves installed. The open shelving can make the bathroom feel bigger, and by designing them in your decor style they can even help to add character to the space. For a luxe feel, fold up fluffy white towels and layer them on the shelves, or line up candles and small plants.
Install a built-in recess
A single built-in recess shelf right by the tub makes for easy access storage while you are bathing. Hughes agrees, saying, "Recessed built-in shelves can be built over your bath in order to create seamless space for washing essentials, such as shower gel, shampoo, and conditioner. This will not only look good but will also provide complete convenience while showering or bathing."
It's also a simple DIY job, too. Hughes explains, "The first thing you need to do is locate the studs within your wall using a stud finder. You should then make a small hole to check for any plumbing or wiring interference."
Hughes advises to create a built-in recess you will need to:
Once you are sure that there is nothing the way, you can measure the width and length of the area where you want your shelf to be. When doing this, you should use a spirit level to ensure the lines are straight before cutting between the studs.
To build the shelf, you should cut pieces of wood to the desired length and width of your shelf. You should then arrange them in the open space and nail them into position. You should then add on a shelf lip that will hang over the front of the wall to secure the shelf in place.
You can then install the wall panels by fixing battens onto the wall. You can then cover the inside of the shelf with any leftover tiles to match the walls alongside your bath.
Add floating shelves
A built-in ledge and floating shelves can transform an awkward bathroom corner into an incredible storage and display combination. Floating shelves can be useful in both big and small spaces—they can help you turn dead wall space into chic storage space. As they are open, you'll want to choose only your loveliest products to display in this way.
Bathroom storage ideas for towels
Use a basket to store towels
It might not be your first consideration, but it's vital to think about where to stow your towels to avoid a messy bathroom. Hughes explains, "Towels are something that is often forgotten about—however, it is important to consider towel storage in order to create a clutter-free space. Baskets can all be used to store your towels in a tidy and stylish fashion." Popping rolled towels in a chic, stylish basket creates a relaxed and boho storage look, reminiscent of your favorite spas and hotels.
Install a mounted towel rail
Mounted towel rails dry damp towels in no time, which is why they are one of the best bathroom storage ideas for towels. And they needn't be boring stainless steel or white—we love this glamorous gold version that matches the opulent fixtures. You can paint yours any color you want—be it black, red, or a shimmery gold like this. And if you can, why not opt for a heated towel rail, which will make early morning showers extra cozy?
Put a towel 'section' in your vanity unit
Fresh folded white towels look clean and neatly arranged under this wall-hung vanity unit—if you can, design a small section of your vanity to incorporate towel storage, for a convenient place to keep yours.
Bathroom cabinet storage ideas
Display products with glass-fronted cabinets
A glass-fronted bathroom cabinet in neutral tones looks ultra-chic and is super convenient if your bathroom doesn't already have built-in storage around the toilet, bath, or sink. All-white and muted colored toiletries inside give the bathroom in the above image a glamorous vibe—so while you might not have products in the same color palette as in this photo, we'd suggest displaying only your best-looking products in a glass cabinet.
Add hanging baskets to cabinet doors
If you never know where to put bathroom essentials, hanging removable baskets to the inside of your cabinet doors can be a real life-saver. Cheap to buy, they can be put on and taken off instantly, and are ideal for storing anything from cleaning products such as shower squee-gees or cleaning sponges to beauty items such as hair dryers or hair straighteners. And if you don't want them in your cabinet anymore, you can simply take them off and place them on another cabinet elsewhere in your home—it's also a great kitchen cabinet organization idea.
Bathroom storage shelve ideas
Use ladder shelves
Ladder shelves make clever and attractive storage additions to smaller bathrooms, as their narrow design means they have the potential to fit almost anywhere, as long as you have a bit of wall space to spare. They're also very on-trend right now, so it's a chic storage solution to boot. Hughes told w&h, "Ladder shelving has become one of the main bathroom storage staples in recent years. This is because it provides a lovely space to display decorative items such as greenery, soap dispensers, and embellished towels. They are also very easy to fit, so you can install this kind of bathroom storage quickly and efficiently without any fuss."
Try mounted shelves over the toilet
The unused area above the toilet is a practical space to mount open shelves. For example, decorative items such as plants and picture frames can work really nicely here—but it's also a handy place to store things like cleaning products, too. This is a great idea for tiny bathrooms, as you will always be able to find shelves to fit any space—no matter how small—and this solution won't take up any valuable floor space.
Bathroom storage accessories
Store essentials on a caddy
Bathroom shelves don't necessarily need to be built in to look luxurious—quite the opposite! A freestanding bathroom caddy is a great place to store perfectly folded towels and toiletries and can be chosen to fit perfectly in smaller spaces. This storage option is also significantly cheaper than some of our built-in options. You could also go for a shelving unit with wheels, so you can move products in reach of the bath, shower, or sink as needed. Plus, removable storage like this makes cleaning your bathroom much easier, as it can be moved to wipe down floors and walls.
Repurpose kitchen spice racks
Kitchen spice racks mounted above the toilet—where there is normally some free wall space—can provide the perfect space for some color-coordinated toiletry displays. Spice racks are compact and narrow enough to provide ample storage for bathroom products and not take up too much room on your bathroom walls. Just be wary to place the rack(s) away from areas exposed to a lot of steam and moisture as wood is more prone to moisture damage.
Add a hanging rack to your door
You might commonly see an over-the-door hanging rack in kitchens, but they can also be a fabulous storage solution for bathrooms. "Door racks and hanging racks are ideal for bathrooms, as it creates convenient storage space for towels and robes," Hughes said. Plus, many of them are plastic, and so provide a hygienic environment for storage in what is often a damp and humid room. Hanging racks allow you to really utilize the dead space on the back of your door, as it means you can store a number of items without taking up any floor or surface space. Plus, the racks are generally fairly cheap to buy from any good homes store.
Decant essentials into glass jars
Glass jars go with any bathroom scheme and create a charming, apothecary look. Why not use them for your essentials, such as cotton buds and bath salts, as above? Not only do they offer a kitsch vintage feel, but they're also a good option for storing less exciting items, so as not to ruin your decor.
---
What built-in bathroom storage should I have?
If you can, consider bathroom storage at the planning stage, to make sure you have a proper home for everything. In fact, if you are planning and installing a bathroom from scratch, good storage should be on your list of must-haves, along with bath, shower, washbasin, toilet, and fixtures.
Of course, if you're lucky enough to plan your dream bathroom from scratch, you can consider built-in options that offer brilliant space-saving solutions and can cover plumbing simultaneously. Built-in bathroom storage options can include:
A vanity—which houses the washbasin and is free standing or wall-hung.
A combined vanity—washbasin and cupboards fitted next to and around to close in the toilet.
Cabinets—fitted above the washbasin or the toilet.
Freestanding storage units—separate to the other bathroom items, but still built-in to the bathroom. These can be tall and long or short and wide, depending on your requirements.
With thanks to Martin Carroll, Managing Director at Duravit (opens in new tab), Tom Rastall, Head of Product Management at Heritage Bathrooms (opens in new tab), and Kane Hughes, interior designer at MyJobQuote.co.uk (opens in new tab), for their time and expertise for this article.
Rachel Homer has been in the interiors publishing industry for over 15 years. Starting as a Style Assistant on Inspirations Magazine, she has since worked for some of the UK's leading interiors magazines and websites. After starting a family, she moved from being a content editor at Ideal Home to be a digital freelancer and hasn't looked back.