Kitchen splashback ideas to perk up and protect your walls
Inject color and personality into your home with these kitchen splashback ideas, as selected by experts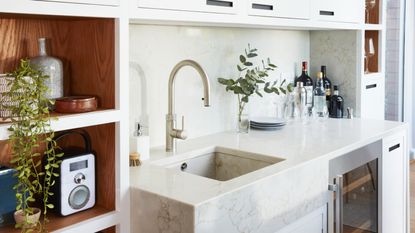 (Image credit: Gemini Worktops)
woman&home newsletter
Sign up to our free daily email for the latest royal and entertainment news, interesting opinion, expert advice on styling and beauty trends, and no-nonsense guides to the health and wellness questions you want answered.
Thank you for signing up to . You will receive a verification email shortly.
There was a problem. Please refresh the page and try again.
Kitchen splashbacks can make a practical finishing touch to kitchens. The clue is in the name—they protect walls from water and food splashes. But's not just the safeguarding element that makes kitchen splashbacks special. From classic tiles to modern block metals, installing a backsplash to walls adds depth, interest, and color, thus fusing the whole kitchen scheme together.
Kitchen splashbacks are a great way to integrate different materials into your space, like vintage patterned tiles, or striking marble, two key kitchen trends for 2022. Traditionally, a kitchen splashback was a run of kitchen wall tiles laid around worktops, cooking areas, and sinks.
But as kitchen design and trends change, manufacturers are exploring all kinds of materials to do the job, such as slate, granite and vinyl for a range of different effects. If you're giving your kitchen an overhaul, you might also want to check out our guides on how to organize a kitchen, kitchen cabinet organization ideas, and tips and tricks for organizing a pantry before you get started.
What materials can be used for a kitchen splashback?
Kitchen splashbacks are practical, keeping food and water splatters from damaging our walls and often where we store some of our best cookwear, but they're also a chance to get creative with design, which is where the use of different materials comes in. "Kitchen splashbacks are a must for protecting walls from cooking splashes, heat, and steam. They are an essential feature in kitchen design and are made from easy clean materials such as glass, tiles, stainless steel, vinyl, and granite," Emma Hoyle, founder of Emma Hoyle Design (opens in new tab), told w&h.
There are four key materials when it comes to kitchen splashback options, according to Emma Hoyle, though other materials like copper, vinyl, and glass are also rising in popularity.
Steel—easy to clean, not too expensive, and has a cool industrial vibe.
Glass—strong, long-lasting, and can come in many colors. Gives a great contemporary feel to a kitchen.
Tiles—perhaps more of a traditional choice but still plenty of scope for creativity with the different shapes and styles.
Granite—hard wearing and easy to clean. A favorite in contemporary and traditional households alike.
Worktops made from decorative stones such as marble and quartz can be extended or matched with tiles to create a seamless and luxurious flow. There are benefits to each material. Toughened, colored glass is reflective and looks clean, while metallic panels bring in an opulent and glamorous glow. Stainless steel can tie in with other integrated kitchen appliances.
"Kitchen splashback styles can range from tiled backsplashes, which can come in various colors, sizes, and styles, to metal splashbacks such as copper/brass which will patina over time," said Xander Shreenan, interior designer at home décor brand Dowsing & Reynolds (opens in new tab). "Or even a classic steel look that gives that industrial edge. Stone, such as marble, is always a classic choice which can really add a wow factor with its natural patterns, which are totally unique."
If choosing tiles as a kitchen splashback seems overwhelming, a decorative panel could be an easier, more fluid, and less time-consuming option. As long as it's water-proof, almost any material can be used to create a protective layer to become a standout or harmonizing feature of the kitchen scheme.
Kitchen splashback ideas for 2022
1. Use color accents
Bright and bold colors can make a real impact in an otherwise plain kitchen. Try a bold all-over color, or patterned tiles reminiscent of holidays abroad for a stylish finish that's full of character.
You can use your splashback to create an eye-catching feature in an otherwise neutral space. "Do this by applying colorful and playful designs to create a focal point," says Melissa Klink, creative director at Harvey Jones (opens in new tab). "Choose one bright color that will complement the units and wall color that you've chosen, or a combination of hues that work well together to establish a lively scheme."
Patterned tiles look at home next to deep ceramic sinks and add an exotic touch to a plain kitchen. Mix and match graphic patterns for a striking effect, with bright colors that will transport you to a sunny holiday, or muted shades like sage green and lilac for a more rustic, farmhouse look.
2. Try marble for subtle elegance
A marble effect in a neutral shade is a super subtle and modern way to dress your kitchen space—this style works particularly well with muted and pastel shades. This type of splashback is perfect for those who prefer a minimalist style, without any fuss, as an interior designer and managing director at All Done Design (opens in new tab) tells us. Charlie Avara recommends.
She told w&h, "For a high-end, luxurious finish I would recommend marble as it can be used for your worktops and splashbacks alike. For the ultimate finish, speak to your supplier about book matching the marble. This will ensure that the veining pattern follows through all the pieces helping you to achieve a seamless finish and allowing the surfaces to flow into one another."
A statement marble splashback will immediately add interest to your scheme, while the material itself will last for years to come. It's easy to clean, too, for day-to-day maintenance.
3. Embrace industrial chic with steel
"If industrial-chic is the look that you're going for then a stainless steel splashback is a wonderful option," Charlie Avra continued. "The benefits are numerous, not only is stainless steel easy to clean and ideal for an ergonomic style, but it is also extremely cost-effective."
Dark-hued splashbacks will work particularly well with neutral-colored kitchen units and floors.
4. Use brick bond tiling
"Metro (or subway) tiles continue to be a popular choice for kitchen splashbacks since they're endlessly versatile and easy to keep clean," says Colin Roby-Welford, Creative Director at Fired Earth (opens in new tab). "For a fresh and contemporary take on classic brick bond layouts, try creating a vertical basketweave or herringbone design. An eye-catching geometric layout will transform even the simplest and most inexpensive metro tiles into a focal point."
A simple but effective design tip is to use a grout color that contrasts with the tile color. Consider refreshing your existing splashback tiles by updating the grout color to create a completely new look. If you want to get your grout in good condition before deciding on a tiling effect, read our guide on how to clean grout.
5. Opt for geometric patterns
Tiles also give you the opportunity to touch on trends, so choose geometric shapes like these, which can be laid in an interesting pattern to make the splashback look truly unique.
"Cool shades [which are one of the key interior design trends for 2022] are often associated with calm and relaxation but they can really make your kitchen space stand out," says Amanda Telford, Marketing Manager at CTD Tiles. "Especially when paired with white marble surfaces and modern finishes."
If your tiles are porcelain, they may need extra care when it comes to cleaning. Take a look at our guide to how to clean porcelain tiles for step-by-step instructions.
What kitchen splashback will suit my space?
In small kitchens, try to keep the splashback simple to keep small spaces from looking cluttered. However, if you can't resist a striking focal point, the rest of the kitchen scheme should remain subtle. In large kitchens, it's unlikely the backsplash will overwhelm the room—so here you can go to town and be bold.
Open-plan kitchens benefit from splashbacks that tie looks together. Product Manager for Worktops, Bushboard UK (opens in new tab), Fiona Jackman comments, "connect with the rest of the home using similar colors, textures, and materials. If you love dark wood furnishings and this is something you use throughout the rest of the home, why not incorporate this into the kitchen with a statement walnut splashback to create an on-trend paneled effect?"
Xander Shreenan told w&h, "When considering a splashback think about how you want this to sit with the rest of your kitchen space. If you want your splashback to be subtle with hints of texture, consider tiles. If you want this to be the statement piece, then opt for brighter colors and patterns, or a large piece of brass."
If you do want to move away from traditional tiles or your kitchen is quite busy already, quartz is another popular choice for kitchen splashback for a minimalist look. "Moving away from tiles, a single slab of quartz offers a more streamlined, minimal look to your kitchen design, as well as bringing in a beautiful focal point to the space. We are particularly loving the use of both a quartz worktop and splashback for a seamless look," Matt Rotherham of Gemini Worktops (opens in new tab) told us. "Another modern kitchen splashback idea is to continue the quartz worktop surface part the way up the wall around all of the worktop surfaces."
Are tiles the best choice for a kitchen splashback?
Ceramic and porcelain wall tiles are the typical choice to protect kitchen walls but that doesn't mean the look has had its day. Far from it, as there are now so many options to suit every kitchen style you could imagine. The simple grid of 4x4 inch squares we see covering kitchen walls in vintage magazines of the 1950s has evolved and even come around full circle with many modern interior designers favoring a nod towards the retro trend.
Tiles are now produced in all shapes, patterns, and sizes. From tiny mosaics to brick effect subway or metro tiles. From quirky hexagons to lengthy planks and large-scale looks that can be repeated on the floor. Color, pattern, and texture are choices to make too as well. Innovative laying designs are having a bit of a moment—with raised and layered tiles adding a fresh twist or tiles blended with grout for a more natural look. The options are endless, so installing a new kitchen splashback is a chance to get super imaginative and creative.
A final word on kitchen splashbacks
As long as you clean your splashback regularly from grease and steam stains it should do its job for years to come. A grout pen can freshen up faded or cracked grout. The only reason it should need replacing is if you can wait for a new look.
And if your windows also suffer from grease, condensation or stains, see our guide on how to clean windows here.
Rachel Homer has been in the interiors publishing industry for over 15 years. Starting as a Style Assistant on Inspirations Magazine, she has since worked for some of the UK's leading interiors magazines and websites. After starting a family, she moved from being a content editor at Ideal Home to be a digital freelancer and hasn't looked back.