Kitchen cabinet organization ideas that will declutter your space and save you time
These kitchen cabinet organization ideas will make cleaning, cooking and dining a more streamlined experience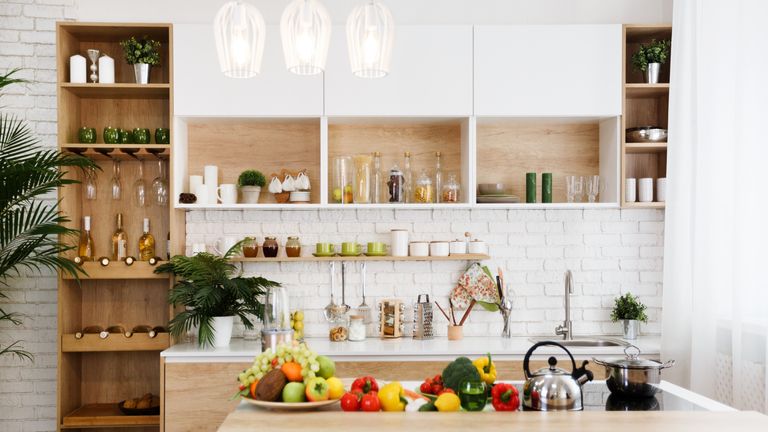 (Image credit: Getty Images)
By Helen Booth
We all live with a certain amount of everyday kitchen chaos, but clever kitchen cabinet organization will help you in the long run. If you've reached the stage where finding a baking tray is a frustrating 10-minute mission, cleaning cabinets is impossible, or packets of food are tumbling out of open doors, it's time to organize your kitchen cabinets.
Be warned, there will be a little upheaval at first (and you may want to check out our guide to how to clean a kitchen before you get started). "You need to make a mess to clear a mess," says Rachel Burditt, who runs personal organization service The Declutter Darling. "But keeping the end goal in mind will help to motivate you. Once you have decluttered and organized your cupboards, it will be so much easier for you to maintain as everything will have its place." The end result is deeply satisfying—and will save you so much time in the future.
If you're on a decluttering mission, check out our guides on how to organize a pantry, how to organize a kitchen, and clever bathroom storage ideas. 
Good kitchen cabinet organization requires two things
Having beautifully organized kitchen units comes down to two simple things—good planning and clever storage ideas.  
Planning—you may find the thought of planning the organization of your kitchen cupboards overwhelming. It's common for kitchen cupboards to be stuffed full to the brim with gadgets (like food processors and hand blenders), foodstuffs, cans, and kitchen utensils that will need categorizing, or ditching, first. Like with most things in life, preparation is key—a clear plan will mean it's easier to get started. 
Clever storage solutions—to help you with your kitchen cabinet organization, we've gathered some storage solution ideas together—as recommended by professional organizer Rachel Burditt—to help you take control. 
How to plan your kitchen cabinet overhaul
Decide how much time you have to dedicate to the task—you could spend a weekend sorting out all the cupboards at once, or one cupboard at a time might be more realistic if you only have a few hours to spare at a time, or perhaps a few evenings over a week. 
Take everything out of your cabinets and decide what to keep—ahead of the organization, remove everything from your cabinets, and audit the contents. Throw out any food that's out of date, then donate unopened, in-date store cupboard ingredients to a food bank. Take unwanted pots or plates to charity (or list them on Freecycle), and consider selling any rarely-used appliances.
Clean the cabinets—for a clean slate, use a cloth soaked in diluted washing-up liquid (adding vinegar if there are any lingering odors in the cupboard) to give everything a good wipe. Vinegar is also a great ingredient to use when figuring out how to clean your washing machine and how to clean your oven—so make sure you have it in your cupboards! 
Think about where to store things based on when you use them—store frequently used items (eg. tableware and glasses) in easy-to-access upper cabinets, and less frequently used bakeware, etc in lower cabinets, so you're not bending down too frequently. Keeping cookware near your oven, and crockery near your dishwasher or draining rack will make cooking and tidying quicker and easier.
Plan out your kitchen items by activity—for example, if you have your kettle or coffee machine on the counter, consider putting all of the necessary items to make your morning tea or coffee inside the cabinet directly above your machine. Or, you might want to place your saucepans directly underneath—or next to—the hob. By employing this method of kitchen cabinet organization, you'll make life moving around your kitchen so much easier and more straightforward. 
Kitchen cabinet storage solutions
1. Consider clear containers for bulk food items 
There's no doubt that storing pasta, grains, cereals and other food items in clear containers looks great (just check out our guide to organizing your pantry), and there are other advantages to using this system during your kitchen cabinet organization, too; it keeps your food dry and fresh, and safe from pests. However, it does involve a lot of decanting, labeling, and ongoing maintenance. If you choose this system and have limited space, look for upright and straight-sided containers that will make the best use of every inch available on your shelves. 
2. Use shelf inserts to create extra space
If you have a cupboard in which you need to store items of different heights (eg. cereal boxes and jars), consider splitting the vertical space as needed with shelf inserts. These are also useful for separating different sizes of plates, bowls, and glassware, and come in a variety of materials to suit all styles of kitchen cabinet organization. They are also fantastic at creating a more organized space—shelf inserts will allow you to see every item you have clearly, without having to scramble around in the back of the cabinet.
3. Use hooks or baskets on cupboard doors 
In order to use every inch of space your kitchen cabinets have, and prevent the need to stuff them full, why not use a hook or a basket to store any kitchen essentials? If space inside the cupboard allows, you could use the cupboard doors for hooks or baskets. This is a good place to install hooks for measuring spoons, tea towels, or maybe even bottles of cleaning products, for example. Once again, there are plenty of options available to buy which it comes to cabinet hooks, so take a look around and see which ones work best for your space.
4. Use spinning organizers
Spinning organizers—or lazy susans—are the unsung heroes of kitchen cabinet organization, as they can help you see what you have at the back of your cupboards. A lazy susan is great for spices and other small items, as well as storing oils and condiments together. With a spinning organizer, you can easily reach your foodstuffs around from the back to the front as needed. These will make your kitchen cabinets appear much more organized, and—like the shelf inserts—will save you from reaching around in the back of the cupboards for the right container whilst mid-cooking! Store your best cook books right next to this cabinet and you'll be good to go when it comes to cooking your next meal.
5. Use pot racks and protectors for pots and pans
If you struggle with keeping your pots and best induction pans organized in your cabinets and instead find yourself battling with them every time you need that big saucepan, look no further than pot racks. An incredibly handy kitchen gadget, you can nest similar sets of pots and pans together using pot racks, that keep your utensils separate (and easy to grab) while making good use of space. Keeping them organized this way also means that they are less likely to scratch one another, guaranteeing that yours will stay in tip-top shape for longer. 
6. Use cabinet dividers for chopping boards, slim pans, plates, and platters
A chopping board is one of those kitchen items that tend to get shoved into any space, meaning they're sometimes tough to locate and rarely well organized. A divider not only looks aesthetically pleasing, but will also help keep your boards in better condition by keeping them separated and dry. You can also use this nifty kitchen accessory to store slim pans, plates, and platters, or annoying pan lids that can feel impossible to store away neatly. Why not invest in a divider for each kitchen cupboard for a satisfyingly uniform approach to organizing cookware and crockery?
7. Install a magic cupboard in lower cabinets
For truly slick kitchen cabinets, consider a magic cupboard to store pots, pans, or crockery. A magic cupboard may look like a regular kitchen cabinet from the outside, but when you pull it open, storage racks swivel out revealing neatly arranged pots and pans. This means you can keep more cumbersome items out of the way without them getting in the way and each tray swings independently, so you can quickly reach the kitchen item you need. This is also a great way to make the most of otherwise unused corner space, making it one of our favorite pan storage ideas.
With thanks to Rachel Burditt AKA The Declutter Darling for her expert opinion and insight.
Helen Booth is a freelance writer and maker who loves interiors, crafts, and keeping tabs on homes trends. When she's not sourcing inspirational homes for magazine features, you'll find her curating irresistible interiors shopping edits, posting on Instagram—or selling her handmade homewares on Etsy. She also co-founded the popular weekly newsletter Lunch Hour Links, a curated selection of the best books, articles, podcasts and TV shows to browse while you eat your lunch.