How to organize a small kitchen: 10 inventive ways to maximize your space
Follow these expert tips on how to organize a small kitchen to make the most of every inch of space available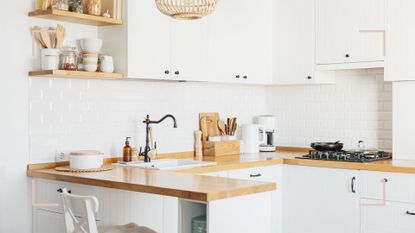 (Image credit: Getty Image / Switlana Symonenko)
Knowing how to organize a small kitchen can be a challenge, but with a little expert guidance, lack of kitchen space needn't be a problem.
When it comes to understanding how to organize a kitchen that is limited in size, the key is making better use of the space available. While most of us could use a bigger kitchen, more cupboards, or extra worktop space, using what we do have more efficiently can make the space feel stacks bigger without the need for a costly refurb.
From rethinking wall shelves to clever kitchen storage ideas or looking at smaller steps like decluttering, a little can go a long way to transforming a tight kitchen space.
We consult kitchen designers and decluttering professionals to find out the expert know-how that could make all the difference in making a small kitchen feel organized and functional.
How to organize a small kitchen
The right kitchen organization ideas for small spaces can make all the difference between a small kitchen feeling cramped and unusable to transforming into a highly-functional space to make everyday life a little easier.
"Small can be beautiful," says Louisa Forsyth, Senior Sales Designer at Kitchens International. "Even if space is limited, there's no reason not to create a kitchen that is elegant and functional. Whether with a more practical layout, integrated cabinetry, or space-saving storage."
1. Start with a kitchen declutter and detox
One of the easiest ways of freeing up extra space, especially in a small kitchen, is to follow simple steps to declutter your home. Kitchen worktops and cupboards can be home to all manner of things that might no longer be used or needed, from out-of-date ingredients and surplus foodstuff to unused appliances, gadgets or repeat items.
It's pointless wasting storage space on unwanted or unused items, so be ruthless and get rid of anything you no longer require.
"To start, ask yourself what items you really need and use on a daily basis," says Al Bruce, founder of kitchen company Olive and Barr. "Clear out those extra baking dishes that are never used and collecting dust, not to mention the dry food that has been lost to the back of the cupboard and is well over its expiry date. Having an organized kitchen brings a sense of calm, and is especially important in a compact kitchen."
"Try to keep duplicates to a minimum except where needed," advises Siân Pelleschi, APDO Conference Director and founder of Sorted!, "for example crockery, cutlery, and baking tools. Be true to requirements - you don't need a full set of crockery items for a family of four plus guests if there's only two in the house."
Empty the contents of kitchen cupboards onto a table or worktop so you can assess what there is. Then either compost, bin, or re-home any expired foods, broken equipment, or items that are no longer wanted.
2. Take stock and rethink storage
Once you've cleared out and mastered how to clean kitchen cabinets, assess exactly what you have before you automatically put things back in the same spot. Think about where things belong before you put them away again.
Store most frequently-used items within easy reach, rather than at the back of cupboards or on high shelves - reserve these spots for items that aren't used daily or weekly and store bulky or heavy equipment such as food processors or bread makers in base units so they're easier to lift out.
To avoid filling the newly cleared space with unnecessary storage professional organizer Vicky Silverthorn for Brabantia advises, "Don't go out and buy storage without a plan to use it somewhere – know what you're buying, why and where it's going to live. Often once you've got rid of things you no longer want you'll find your storage problem isn't as bad as you first thought."
3. Organize your countertops
Reserving countertop space for frequently used items is sensible so that everything is within easy reach. However, having too much 'stuff' out can overwhelm a small kitchen – keep it down to essential items only.
Organizing your kitchen countertops by activity makes it easier to navigate and flow more smoothly. If you can, try to store like with like, so that those items you use together are all located in the same spot. Store spices, oils, and cooking utensils within grabbing distance of the hob, or mugs, tea caddy, coffee, and teaspoons close to the kettle so everything is to hand when you go to make a cuppa.
"Create a cookware area, complete with sockets and lighting which can be used for food prep, coffee bar, or as a baking area," says Louisa. "Or to add extra work surface space in a small kitchen, choose a sink with a lid so when not in use it gives extra surface space. Alternatively, mid-way rail systems below wall units provide additional storage for items and free up work surfaces."
4. Utilize counter-to-ceiling space
When kitchen space is tight, making use of the gap between cabinets and ceiling can be a clever way of working in additional storage without impacting floor space. Opt for extra-tall upper cabinets instead of standard wall units to utilize space just below ceiling level that might otherwise be left to gather dust.
If adding new cabinetry is not within your budget you can still use the space as effectively with moveable, lidded storage boxes that will provide a concealed place to store all manner of best kitchen gadgets and appliances. Just be sure to measure the space before you buy storage to guarantee it fits.
5. Choose slimline vertical units
Slimline cupboards, freestanding or fitted, offer a more practical storage solution for small kitchens by utilizing vertical space meaning you feel the benefit of seeing the width of the room – creating a sense of space.
Like when considering how to organize a pantry tall slimline floor-to-ceiling units or narrow larder cupboards offer extra useful storage for foodstuffs, ingredients, and even crockery but take up less floor space than standard base units. Vertical storage units will often offer more shelves than a standard base unit, ensuring no valuable space is wasted.
"If you're looking at ways to maximize a kitchen space, tall kitchen units provide handy storage and timeless style, making them a great choice for any kitchen design," says Tom Howley, Design Director at Tom Howley kitchens. "Suitable for small and large kitchens alike, you can integrate them in a way that suits your layout and your lifestyle."
6. Make the layout work harder
Choosing a layout that makes efficient use of floor space can be the key to getting it right, making a small kitchen space feel less crowded and cluttered.
In a small, square-shaped kitchen, rather than opting for units wall-to-wall, consider an L-shaped arrangement (with units positioned on two adjacent walls) which still gives plenty of cupboard or shelf storage, but without making the kitchen feel too tight and hemmed-in.
"Thinking about how you use the space is really important," says Matt Baker, kitchen designer at Harvey Jones. "For example, opting for an L-shaped layout gives the room an open, more inclusive feel, so it's easier for family and guests to interact. While other popular layouts for small kitchens include U-shaped layouts, which are a great solution to maximize storage and work surface areas, creating a remarkably efficient cooking space."
"When it comes to choosing the right layout for a small kitchen, the most important consideration is for the space to be easy to navigate," Matt explains. "This is where the working triangle comes in, with sink, cooking, and fridge zones all in relatively close proximity. There should be a good-sized space of worktop run for preparation, preferably next to or opposite the hob zone."
7. Opt for open shelves to balance narrow layouts
Many small kitchens follow a galley-shaped layout, which is long and skinny, with units on both sides. While galleys can be fairly efficient, with plenty of cupboard space and everything within easy reach, galleys can sometimes feel a bit crowded and corridor-like if lots of units are crammed-in on both sides.
Make a narrow galley kitchen feel more spacious by ditching wall units on one side and opting for open-plan shelving up above instead. It will make a long, skinny kitchen feel lighter, brighter, and less hemmed-in and create a decorative display area that can be styled with crockery and kitchenware. This smart solution still offers plenty of storage, without overwhelming the small space.
8. Utilize space inside cupboards
Looking for smart ways to organize kitchen drawers and cabinets to maximize the internal storage available can help create order and move clutter from surfaces.
Adjustable shelves inside cabinets will allow for the interior to be arranged to suit what's going to be stored inside - with larger gaps between shelves for tall items like boards, trays, and appliances - or smaller gaps for tins, jars, cartons, and packets of food. Utilize any wasted space in between shelves with space-saving racks, stepped shelves, carousels, and under-shelf caddies that are super-useful for storing smaller items that often get lost at the backs of cupboards.
"Or consider innovative larder systems (like these above), that move the contents of the cupboard out to you, making everything easy to see and access," says Graeme Smith, Head of Design at Second Nature Kitchens.
9. Go for wall-mounted storage
Making use of wall space above counters for extra storage is an easy way to win when it comes to how to organize a small kitchen. "Hooks on walls or in cupboards, make better use of space," says Siân. Open shelves give easy access to most-used items, while utensil racks are handy for hooking up utensils, chopping boards, mugs, and tea cups, helping to free-up counter space while still being easy to grab.
10. Allow space for a small kitchen island
While kitchen islands are a staple of large open-plan spaces, don't assume that an island is completely out of the question in a kitchen that's on the smaller side. Having an additional surface for prep or storage will free-up countertop space and there are plenty of island designs that are compact or narrower than standard sizes, so can easily be slotted in.
Alternatively, a freestanding island or trolley-style unit can be moved in and out of play as needed so is a practical, space-saving option when space is limited.
"Homeowners with small kitchens automatically assume they haven't the room for an island, but that isn't always the case," says Al. "A slimline island adds extra surface space and a cooking area. While an induction hob that has a built-in downdraft extractor is a clever way of opening up the space, while also allowing you to move the hob to the island for sociable cooking set up."
How do I design a small kitchen layout?
You can make extra space in a small kitchen by following our expert advice above, for easy ways to win. But if you are at the kitchen planning stage and looking to design a small kitchen with a sense of extra space, Matt offers this advice, "Galley kitchens offer a simple and practical option for small kitchens. The great thing about them is that everything is within reach."
With insight into making the small space more practical, he adds, "Positioning your sink on the opposite side of the cooker is a good idea, as it avoids worktop conflict. Think also about placing your fridge freezer away from the windows and near the entrance, so that people can access it without entering the kitchen."
Homes and interiors journalist
Lisa is a freelance journalist who has written about interiors for more than 25 years and has worked on all the major homes titles, primarily Ideal Home, but also including Homes & Gardens, Country Homes & Interiors, Style at Home, Livingetc, Woman & Home, Easy Gardens and Good Homes magazines. Homes and interiors have always been a passion and she never tires of nosying around gorgeous homes, whether on TV, online, in print or in person, as well as being a serial shopper/bargain hunter.