How to clean grout for a sparkling finish in your kitchen or bathroom
It's something we often overlook, but learning how to clean grout can make your kitchen or bathroom look so much better...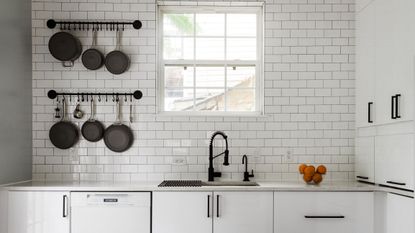 (Image credit: Getty Images)
woman&home newsletter
Sign up to our free daily email for the latest royal and entertainment news, interesting opinion, expert advice on styling and beauty trends, and no-nonsense guides to the health and wellness questions you want answered.
Thank you for signing up to . You will receive a verification email shortly.
There was a problem. Please refresh the page and try again.
One thing many of us often overlook in our housekeeping routine is how to clean grout. Sure, we clean the tile on the counters, on the walls, and in the shower. But grout can be a bit trickier to clean, and it often goes unconsidered.
Many of us do not even notice it is getting dirty until it starts to turn a darker color. Having dirty grout not only looks bad, but it can also be a potential health hazard too - harboring bacteria and allowing mold to grow.
As with many household cleaning chores, such as understanding how to clean a washing machine, how to descale a kettle, how to clean an oven, or how to clean a stovetop, the key to doing it right is knowing exactly the right process and products to use. So how do we clean grout specifically? There are a lot of ways to clean grout using basic household products.
But it's important to bear in mind before you adding cleaning your grout to your kitchen cleaning routine, that some products are too harsh for grout and the tile it surrounds. Therefore, it is best to start with the mildest of cleaning products then work up to stronger ones.
What is grout and what is it made of?
Grout fills in the voids left between tiles. Not only is it aesthetically pleasing, but it prevents moisture and contaminant build-up while supporting the tiles, keeping them in place - most often in your kitchen or bathroom. It should be cleaned often, so be sure to factor it into your routine when working out how to clean a bathroom.
How to clean grout with three different methods
Before you start cleaning your grout, remember to completely rinse off any prior attempts at cleaning. Accidentally combining cleaning products could result in the creation of toxic gas. Whatever you use, do not be afraid to put a little muscle into your cleaning efforts. There are three key methods when it comes to cleaning grout - and it's all about the formula you use, as detailed below.
Warm water and a brush - Run yourself some warm water and get a good stiff brush — there are plenty of brushes on sale at places like Amazon, specifically made for cleaning grout. Just make sure it has some stiff bristles. First, spray your warm water along the grout lines. Then - just like brushing your teeth - scrub the grout in a circular motion. This will dislodge any lingering, top-level dirt or mold.
Vinegar and warm water solution — For a slightly tougher approach to your grout cleaning, mix equal parts of vinegar and warm water into a spray bottle. Spray onto the grout and let it sit for five minutes. Use your trusty grout brush and scrub, followed by a rinse with plain water. This will work a bit harder to remove stuck-on dirt or mold from your grout.
Baking soda to your mix — Or, if you want to, you can also use baking soda - a kitchen essential - to clean grout. Add equal parts of warm water, vinegar, and baking soda to a small tub or bowl. When first mixed this will create a foam. Give it a few minutes, and once it is done foaming, use your brush to scrub. Rinse with plain water.
What to do if it still isn't clean
If you've left your grout uncleaned for some time, or the grout itself is very old, getting it clean and sparkling might take a little bit more work. But never fear - if the above solutions haven't completely worked, there are some further options if slightly more aggressive cleaning is needed.
Use hydrogen peroxide — If you still see stains in your grout, get out the hydrogen peroxide. You can apply straight or mix with baking soda to create a paste. Scrub thoroughly and then rinse with warm water, being careful to use gloves and clean in a well-ventilated room.
Try oxygen bleach as a last resort — There are many brands of oxygen bleach, the best-known is probably OxiClean. Follow the directions on the box and make sure the area you are using it in is well vented to reduce the fumes. Allow the solution to sit for 10 to 15 minutes. Then rinse thoroughly using a gentle sponge or dishcloth.
How to remove mold from grout
Some aforementioned cleaning methods are also efficient in removing mold, depending upon how developed the mold has become. The stronger the cleaning method, the more likely you are to eliminate mold.
Another way to help eliminate mold is to use salt. Wet down the affected grout area and sprinkle salt onto it. With your brush, scrub the grout lines. Let the salt sit there overnight. In the morning rinse the area with fresh water and wipe down.
How to maintain your grout in between cleans
When researching how to clean grout, it's also important to know how best to keep it in good shape in between cleans. Just like your tile, the grout should be gently cleaned every week - a similar time frame for how to clean your microwave. After cleaning, using a gentle spray of equal parts vinegar and water will help prohibit mildew and mold. Alternatives include a spray and wipe of rubbing alcohol. Applying either one of these will help to prevent mold from reappearing.
Grout is followed by a seal when it is first installed. Resealing should occur regularly depending upon the type of grout and sealant used. Make sure the grout is dry before sealing. Then apply one or two coats of a silicon-based grout sealer. This provides a good barrier against mold and other microbes.
Amy Hunt is an experienced digital journalist specialising in homes, interiors and hobbies. She began her career working as the features assistant at woman&home magazine, before moving over to the digital side of the brand where she eventually became the Lifestyle Editor up until January 2022. Amy won the Digital Journalist of the Year award at the AOP Awards in 2019 for her work on womanandhome.com.