How to clean a bathroom—a step-by-step guide to get yours gleaming
Learn how to clean a bathroom to a sparkling standard with our handy checklist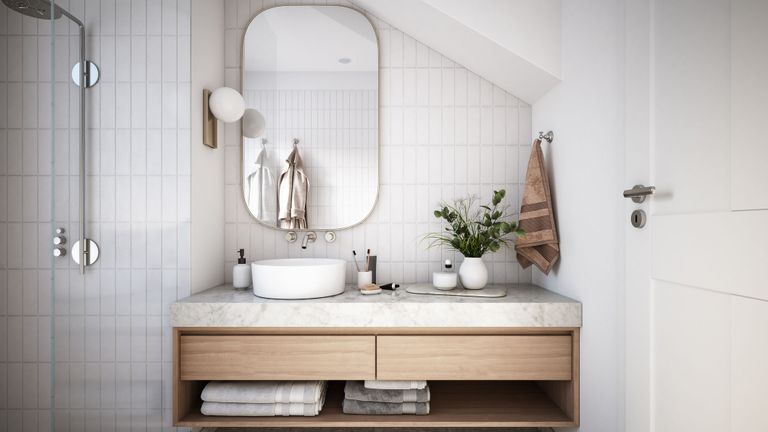 (Image credit: Getty Images)
By Amy Hunt
Knowing how to clean a bathroom properly isn't difficult, but it requires a logical, well-thought-out plan to make sure you hit all the spots likely to get grubby. After all, the place we go to clean ourselves should certainly be the cleanest room in the house. 
Knowing the best order to tackle each area will also help you avoid having to go over surfaces twice, or missing essential parts of your bathroom that need cleaning in order to avoid nasties like mold and mildew later down the line. In general, it's best to deep clean your bathroom every one to two weeks to keep it looking its best—with touch-ups in between. 
Simple daily actions, like wiping over tiles, swiping away toothpaste splatters on the mirror, or scraping off condensation build-up in the shower, can really help keep your bathroom hygienic. When you do have the time to execute a thorough bathroom clean, this step-by-step checklist will ensure you don't miss a single spot, leaving your bathroom sparkling and free from germs. 
How to clean a bathroom—a step-by-step guide
Similar to a good kitchen cleaning routine, following a specific order will ensure you clean your bathroom as efficiently as possible. You can rest assured that you'll be tackling every area—and best of all, it's a routine that won't take you longer than an hour to complete. 
1. Remove or tidy away clutter
It's amazing how fast clutter can accumulate in a bathroom, especially if more than one person shares the same space. Before you start cleaning, remove anything that doesn't belong in the bathroom—be it perfumes, candles, or makeup. If you're in a hurry, you can toss the extra items in a basket to organize later.
Similarly, now is the time to declutter all of the bathroom rubbish that has accumulated after the last week or few days. Throw away empty toilet rolls, empty shampoo bottles, and put any towels in the wash. After removing all of the clutter from your bathroom, empty the bathroom rubbish bin and wash it down, if needed.
Put your bath mat and towels and bathroom linen into wash.
2. Clear the surfaces
Now that you've got rid of anything unnecessary from your bathroom, it's time to make space for cleaning. Take everything off of the surfaces so they are completely clear. Remove all items from the back of the toilet, counters, shower shelves, and the side of your bathtub. 
Now is also the ideal time to clean any of those items. For example, if your toothbrush holder, the soap dispenser, or the soap dish in the shower has started to get a little grimy, wipe them down with a wet microfiber cloth so that they'll be ready to go back to their usual places when you're done. A quick clean can prevent them from putting dirt and grime right back on those newly cleaned surfaces. Then, when they've been cleaned, set those items to the side in another room. 
3. Clean the toilet
Now it's time to get started on the actual cleaning. We'd advise scrubbing the toilet first so that the dirtiest (and likely the most dreaded) job is taken care of immediately. Start by using a toilet brush and a disinfectant cleaner on the inside of the toilet, scrubbing every inch of the toilet bowl. Then, clean the toilet seat, and lift it up to clean underneath. Finally, wipe down the outside of the toilet with a cloth, including the top and sides of the tank.  Don't forget to clean the toilet handle the same way—this can be one of the dirtiest parts of our bathroom! An all-purpose cleaner is ideal for the outside of the toilet.
If you have tough stains on your toilet, you may want to use a textured cloth to make scrubbing easier. However, make sure you keep rags and cloths used around the toilet away from other bathroom areas so you don't carry those germs to other surfaces. For a more in-depth guide to getting the best clean, see our guide to how to clean a toilet.
4. Polish the mirror
In general, you will want to work from the top down in your bathroom so that as you clean one surface, you don't deposit dirt or cleaning spray right back on the surfaces below that you've just finished. That's why it's a good idea to clean the mirror in your bathroom as one of your first jobs. Wipe down the mirror with a specific glass cleaner, taking care to use a non-streak cloth or microfibre towel to help remove streaks from the finished area.
5. Scrub the shower and tub
Cleaning the shower
---
To clean the shower you should tackle the inside walls or area first and allow it to sit, especially if yours is looking particularly dirty or streaky. 
If you have stubborn yellowing, mold, or dirt in the grout on your shower, try applying a mixture of dish soap, peroxide, and water. Scrubbing with a toothbrush can help you get out some of the most stubborn stains. Or, use a specific shower cleaner that can help you to tackle water marks and soap scum. Don't forget to clean the showerhead with this method as well—this is an often forgotten spot, but it can accumulate a lot of limescale.
The next step is to clean the shower door or curtain. Both glass and plastic doors can be cleaned the same way—simply fill up a spray bottle with equal parts water and white vinegar, and spray all over each side of the doors. Leave it to sit for 10 minutes, and wipe the mixture off with clean water and a sponge or squeegee for extra efficiency.  If you have a cloth shower curtain, you can throw this in the wash. For a plastic shower curtain, put together a mixture of baking soda and water, and use a cloth to scrub the mixture into the curtain, tackling all the scummy or moldy spots. Then, rinse the mixture away with water. 
Cleaning the bath
---
To clean the bath, first, rinse away any bits of dirt or hair from the surface. Then either use an all-purpose bathroom cleaner to coat the bath or sprinkle baking soda across it. Then, take a scrubbing sponge, dip it in water, and get scrubbing! Rinse away products with water afterward. It's also important not to forget your bath towels and mat when cleaning your bath and shower too. After you've cleaned your bath and shower, chuck these on a hot wash to get rid of any built-up damp and bacteria. 
For regular weekly maintenance, clean your shower or bath with a standard shower cleaner or all-purpose bathroom cleaner and a sponge or squeegee. The trick is to keep up with your shower cleaning routine on a weekly basis, if you can, to avoid tough scrubbing due to accumulated grime.
6. Tackle the sink and taps
Clean your bathroom sink (including the basin, taps, and the bottom of the sink) with an all-purpose bathroom cleaner. Spray it down, and, using a microfiber cloth, scrub each part of the sink thoroughly to remove soap scum or toothpaste stains. Rinse with water before wiping the sink down with another, dry microfiber cloth. 
Then spray the water fixtures (including the sink taps) throughout your bathroom with a surface cleaner and wipe them down with a soft cloth. If you're keen to tackle other sinks in your home, such as your kitchen sink, you can also see our guide to how to clean a stainless steel sink.
7. Wipe down counters and surfaces
Use your preferred all-purpose bathroom cleaner to wipe down counters and surfaces throughout the bathroom—including shelves, above-the-sink cabinets, and any other surfaces you might have. Pay particular attention to corners and edges, scrubbing hard if there is any scaly or soap build-up. Once you've finished scrubbing, rinse with water to get rid of any cleaning product.
Now is also a good time to take the opportunity to clean the door handles in your bathroom too. They are high-traffic areas that are touched much more regularly than we think, so it's a good idea to sanitize them often, and incorporate them into our deep-clean bathroom routine. Once complete, replace the items that were removed earlier, like toothbrush holders, soap dispensers, and any bottles from your shower or bathtub. And, if you have marble in your bathroom, you can see our guide to how to clean marble specifically.
8. Clean the cabinets inside and out
This is a great time to clean the outside of your cabinets, which are often easily forgotten. Choose a natural cleaning product that is compatible with your cabinet material. If you have wood cabinets, you may want to use a wood cleaner instead of a formula meant for stone or ceramic. 
Close the cabinet doors and clean the outside of them, before opening them and cleaning the inside of the doors to make sure you really get a deep clean done. 
9. Wash the floor
The final job is to clean the floors—something that should be done last, given that you don't want to walk over your clean floor once washed! Mix up a cleaning solution that is safe for your floors that won't leave a slippery residue behind. Vinegar and hot water, with just a couple of squirts of dish soap, is a great choice if you don't have a specialist floor cleaner.
Pay particular attention to the area around the toilet, and corners where dirt and grime often collect. You may choose to use a mop—or, in a smaller bathroom, it may be easy enough to get down on your hands and knees and scrub the floor for a really thorough clean. If you have laminate floors in your bathroom, it might be helpful to read our guide on how to clean laminate floors properly.
You can also see our guide to the best steam cleaners, which are incredibly helpful for cleaning tile bathroom floors.
How often should we clean the bathroom?
Generally, you should be doing a thorough clean of your bathroom once a week or fortnight to keep marks, limescale, and bacteria at bay. However, some parts of it should ideally be cleaned more frequently to ensure your bathroom is as sanitary and germ-free as possible:
Toilet: You may want to aim to clean your toilet two or three times a week, especially if you have young children around who generally make more of a mess. However, most can agree that a once-a-week clean of the toilet (if there are no sickness bugs in your home), is sufficient.
Sink: Similarly, the sink will generally be more than fine with you giving it a weekly clean. However, if spillages occur on the basin, such as toothpaste or soap, it's best to spot-treat it and scrub off the products as you go, in order to avoid having to scrub off hardened-on dirt or products at the end of the week
Bath/shower: This should be cleaned once a week, but it depends on how often you use it. If you have a separate bath and shower, you might not use the bath as often, in which case, a clean once every two weeks can suffice. You should also make sure to clean the showerhead every other week or so too, as they can experience a lot of limescale build-up. However, if your bath and shower are together in one unit, it's best to clean it weekly, with daily wipe-downs after every use to avoid watermarks. 
Towels/flannels/bathmats: It's just as important to clean your bathroom linen as it is the actual bathroom itself. Be sure to throw all of these items into your washing machine at least once a week—and consider replacing your towels and flannels after every three showers to keep them as fresh as possible. 
Door handles: The handles of your bathroom door might slip your mind during your bathroom cleaning routine, but don't forget them! Give this a wipe with disinfectant every other day to avoid any germs or grubby handprints. 
What are the dirtiest spots in our bathrooms?
Of course, when your bathroom hasn't had a good clean for a little while, it can all feel a little grubby. But what are the dirtiest spots in our bathrooms? Often, the grimiest spots can be places that we forget to clean during our routines or high-traffic areas that need cleaning more than others. They include: 
The door handles: You might not expect it, but the handles of your bathroom door can be one of the grimiest spots in the entire room. And it's really hardly surprising—with most people using the bathroom multiple times a day, it's one of the most often touched spots in the entire home. Keep yours clean and germ-free by wiping down with a disinfectant wipe at least every other day
The floor: It's probably not the first place you'd imagine would house the most bacteria, but the floor of the bathroom is actually thought to be the dirtiest place in the room by far. This is mainly because germs and droplets from the toilet can fly out when we flush and land—you guessed it—right on the floor. Similarly, dirt can be tread into the bathroom from other rooms in the house. That's why it's so important to mop your floors as often as you can, to keep them as sanitary as possible.
The bathmat: We step out onto it after every day after a shower or a bath, but did you know that the soft, plushy bathmat under your feet can actually harbor a plethora of bacteria? Whilst it's also prone to the germs that accumulate on the floor, it also tends to gather large amounts of water every day which, if left unaired and unwashed, can lead to mold or other nasties. Wash yours on a hot wash weekly to prevent this.
The showerhead: When cleaning your shower one spot you should be sure not to miss is the showerhead. It's commonly ignored when we clean the shower, but it can accumulate plenty of limescale and soap scum if not properly scrubbed—so don't forget it.
The toilet: No list of dirty bathroom areas would be complete without this much-used bathroom spot, but it's actually the handles of toilets that accumulate the most dirt. The toilet bowl itself is subject to regular flushing, but a swirl of bleach and spritz of anti-bacterial spray as you go will help keep the area cleaner. 
Amy Hunt is Life Channel Editor at womanandhome.com, having been with the brand since 2015. She began as the magazine's features assistant before moving over to digital as a News and Features Writer, before becoming Senior Writer, and now a Channel Editor. She has worked on either women's lifestyle websites previously too—including Woman's Weekly, Goodto.com, Woman, and Woman's Own. In 2019, Amy won the Digital Journalist of the Year award at the AOP Awards, for her work on womanandhome.com. She is passionate about everything from books, to homes, to food and the latest news on the royal family. When she isn't editing or updating articles on cleaning, homewares, the newest home gadgets, or the latest books releases for the website, she's busy burying her nose in a gripping thriller, practising yoga, or buying new homeware of her own.