The best steam cleaners to help keep your home clean and hygienic
Swap harsh cleaning chemicals for simple steam with these nifty steam cleaners to help you tackle every inch of your home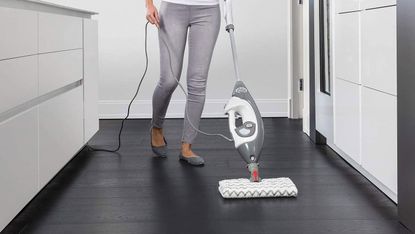 (Image credit: Shark)
Investing in one of the best steam cleaners from our expert-approved round-up will help to streamline your cleaning routine, saving you both time and effort. In order to help you decide which one is right for you, we tested a wide range of steam cleaners available from popular brands including Vax, Kärcher, Bissell and Shark.
Kitchen cleaning and bathroom cleaning (well, just about any cleaning), can be tiresome, but steam cleaners are designed to make it a little bit easier. They tackle everything from kitchen tiles to shower screens, and reduce the need for harsh chemical-based cleaning products, using hot steam alone to clean.
In our testing, we assessed the performance of both corded cleaners with impressive power, and handheld models—whose lightweight designs make hard-to-reach areas that bit easier to tackle. We also made sure to look at models from a range of price points, starting from less than $41/£30.
How we tested the best steam cleaners
Why you can trust Woman & Home Our expert reviewers spend hours testing and comparing products and services so you can choose the best for you. Find out more about how we test.
In order to ensure we could bring you only the most honest reviews of the steam cleaners mentioned, our experts tested them in a real-life home (as we did with the best air purifiers too—another cleaning essential), over a period of one month. In the interest of fairness, each steam cleaner was tested against a range of materials, including kitchen floors, soft furnishings, and brassware, as well as on car seating, walls, and more. Factors that influenced our views on each steam cleaner included:
How easy it was to put together.
How the cleaner and any attachments performed on a range of surfaces.
The aesthetics of the product.
How quickly it heated up and how often it needed refilling.
How easy it was to move around the home.
The value-for-money of each steam cleaner—to ensure they offer good performance for the investment.
The best steam cleaners as tested by our expert
1. Vax Steam Fresh Combi
Best steam cleaner overall
Specifications
RRP: $95.61/£69
Dimensions: 114cm x 30cm x 22cm (H x W x D)
Capacity: 0.26l
Weight: 3.7kg
Cord length: 7m
Power: 1600W
Available in: Gray/blue
Warranty: 1 year
Reasons to buy
+
Great price point
+
Uses steam and detergent for an extra clean result
+
Fresh scent left behind
+
Can be used handheld or as a steam mop
Reasons to avoid
-
Bulky for carrying from room-to-room
Vax is iconic when it comes to home maintenance appliances and its Steam Fresh Combi Classic is a perfect example of why the brand is so revered. It's delivered with an instruction manual that actually features words and pictures (a rare combination!) And the cleaner itself is super simple to assemble—it literally clicks into place. The 'combi' in the name refers to how it uses both steam and detergent as it cleans for extra sanitization—and the detergent element helps to account for the product having one of the smaller water tank capacities of the products we tested. Vax claims the detergent is '2x better' than steam on its own—particularly at breaking down grease and grime—and can reportedly kill 99.9% of bacteria and 'keep it away' for up to seven days, and we can attest to this.
We tested it as a handheld device on a range of kitchen details (tiles, faucets, and the oven door); we also tried the steam mop on a bathroom floor and liked how easy the angular mop head made getting into tricky—and grimy—corners, such as behind standing storage. The results were fantastic—leaving our home sparkling—as was the fresh, zesty scent left by the detergent.
The Steam Fresh Combi Classic is a little on the bulky side for carrying from room to room but the 7m cable certainly helped to reduce the amount of lugging required during our testing. The steam cleaner is delivered with ten accessories that mean you can use it for cleaning grout, windows, and more (though we did find it tricky to keep the various brushes and heads secured within the cleaner. Overall, the Steam Fresh Combi Classic is great value for money and is efficient, too (it heats up in just 20 seconds), which is why it's our pick for the best steam cleaner overall.
The Vax Steam Fresh Combi Classic was supplied by AO.com (opens in new tab) for this review.
2. Black & Decker 1300W Steam Mop
Best budget steam cleaner
Specifications
RRP: $62.34/£44.99
Dimensions: 70.2cm x 19.3cm x 11.6cm (H x W x D)
Capacity: 380ml
Cord length: 4m
Power: 1300W
Available in: White/turquoise
Warranty: 2 years
Reasons to buy
+
Quick to heat up
+
Swivel steering
+
Cost-effective
Reasons to avoid
-
Only for use on hard floors
Ready to use in just 30 seconds, Black & Decker's 1300W Steam Mop is very much what it says on the tin: a classic steam mop that you can be confident will transform even the grimiest of household floors. With an 11-minute runtime per full tank of water, the Steam Mop works hard, as does the microfiber pad it's delivered with—the pad can withstand an estimated 100 machine washes, after all. The product's swivel steering is a pleasing bonus, making navigating tricky corners simple and allowing access to everything from under-the-bed to kitchen corners.
Due to its streamlined design, this steam cleaner would make a great choice for a smaller home. However it loses points for its 'floppy' construction—it needs to be propped up against something to stay upright, so ensure you have somewhere appropriate to store it. It's also only appropriate for use on hard floors—it can't be used on carpets. Its budget-friendly price paired with its performance though makes it stand out from other steam mop products, which is why it's our favorite affordable steam cleaner option.
The Black & Decker 1300W Steam Mop was supplied by Homebase (opens in new tab) for this review.
3. Karcher SC 3 UPRIGHT EasyFix
Best premium steam cleaner
Specifications
RRP: $277.12/£199.99
Dimensions: 31.4cm x 20.7cm x 11.85cm (H x W x D)
Capacity: 500ml
Weight: 3.1kg
Cord length: 5m
Power: 1600W
Available in: Yellow/black
Warranty: 2 years
Reasons to buy
+
Generous tank capacity
+
Intelligent water hardness tech
+
Claims to be great for allergy sufferers
Promising to remove 99.999% of enveloped viruses and kill 99.9% of household germs, Kärcher's SC 3 UPRIGHT EasyFix steam cleaner isn't to be under-estimated. Whilst it lacks the multi-tool capabilities of other steam cleaners, it's a great choice for a solid and reliable cleaning experience that feels bespoke to your home—with three different steam settings allowing total control over the steam output, depending on what you're cleaning.
Whichever flooring you're focused on, there's an accessory to match, with a carpet glider, abrasive floor cloth (for tiles and stone), and a microfibre cloth (for sealed wooden floors and stone) all included for tackling the task in hand.
One stand-out feature of the SC 3 is its bespoke approach towards different water types: the intelligent water hardness setting results in a cleaning experience that's tailored to the hardness or softness of your water supply for a more personalized approach to steam cleaning. Its decalcification cartridge—which can be repurchased via the Kärcher website—promises to minimize limescale too, which is a great bonus feature. Although expensive, the Kärcher certainly stood out during our testing as efficient and adaptable to all kinds of flooring, making it our best premium pick.
4. Shark Floor & Handheld Steam Cleaner S6005UK
Best steam cleaner for a range of surfaces
Specifications
RRP: $249.41/£179.99
Dimensions: 118cm x 34cm x 22cm (H x W x D)
Capacity: 0.5L
Weight: 2.27kg
Cord length: 8m
Power: 1050W
Guarantee: 12 months as standard
Reasons to buy
+
Great range of accessories
+
Versatile—works well on range of surfaces
+
Steam Blast Technology
Reasons to avoid
-
Expensive
-
Requires 30 minutes to cool down
Shark's steam cleaners are famed for their quality and value, so it's not a huge surprise that we found the brand's Floor & Handheld Steam Cleaner to be a solid investment. Offering complete flexibility, it's easy to convert it from a mop-style steam cleaner into a handheld model, depending on which format you prefer. Stand-out features such as its Steam Blast Technology (which delivers a direct jet of steam for tougher marks) and Klik 'N Flip design also made it a genuine pleasure to use.
It transformed a bathroom, managing to shift the grime that had been lurking by the bathtub in particular. Despite being great for heavy-duty cleaning (it promises to kill up to 99.9% of germs), it's also surprisingly lightweight, meaning that transporting it from room to room isn't quite the workout it is with other models. The long cable also means there are limited issues with plugging and unplugging, and it can be used outdoors, too. As such, this is a great option for cleaning all kinds of surfaces.
The device heats up in about 20 seconds which is brilliant, although it takes its time when it comes to cooling down after use—you'll need to leave it for up to 30 minutes before you remove the mop head. Although it's simple to store due to its slimline design (the handy cord hook also makes controlling its 8m cable easy), it's worth noting that it doesn't stand upright on its own, meaning you'll need to securely prop it up to avoid damage.
See our guide to some kitchen storage ideas for more inspiration on storing your appliances with ease.
5. BISSELL Vac & Steam
Best steam cleaner for hard floors
Specifications
RRP: $207.82/£149.99
Dimensions: 116.8cm x 28cm x 25cm (H x W x D)
Capacity: 0.4L
Power: 1600W
Available in: Gray/turquoise
Guarantee: 2 years
Reasons to buy
+
Two-in-one floor cleaning (hoover and steam)
+
Promises to remove 99.9% of germs
+
Great for hard floors
Reasons to avoid
-
Specialist—not for use everywhere
If your home is full of sleek hard flooring, this is arguably the steam cleaner for you. After all, BISSELL's Vac & Steam is designed solely with those surfaces in mind, allowing you to vacuum or steam clean them separately, or both at once. Despite the two-in-one element of the product, there's no forfeit in quality for either the vacuum or the steam cleaner when used on appropriate flooring. The steam is kept distinct from the rubbish hoovered up.
A point or two is lost for the sheer weight of the device; it definitely sits on the heavier side of the spectrum at over 4kg, so is a little more awkward to carry around the house. However, with its impressive dual functionality, we reckon it's a small price to pay.
During testing, the steam cleaner part of the machine worked well. However, an important point to note—you might not want to chuck out the household vacuum just yet. We found this side of the product didn't perform quite so well on our carpet but really excelled on lino and tiles.
6. Beldray 10-in-1 Handheld Steam Cleaner
Best handheld steam cleaner
Specifications
RRP: $36.01/£25.99
Dimensions: 23.5cm x 12.5cm x 29cm (H x W x D)
Capacity: 250ml
Weight: 1.67kg
Cord length: 4m
Power: 1000W
Available in: White/turquoise
Guarantee: 3 years
Reasons to buy
+
10 different functions
+
Fantastic value for money
+
Very compact and easy to store
+
Easy to move around
Reasons to avoid
-
Better for spot cleaning rather than floor cleaning
Our pick for the best handheld steam cleaner had to be Beldray's 10-in-1 Steam Cleaner—a product that not only offers ten different functions but also comes at a very respectable price-point, too. The huge range of accessories means you really feel like you're selecting the right tool for each job, and also means it's arguably the perfect product for a steam cleaning newbie.
It's also incredibly portable; unlike some of the 'traditional' steam cleaners that we tested, the Beldray 10-in-1 Steam Cleaner is very easy to carry around the home. However, a shorter power cord does mean you have to flit between plug sockets if you're planning to use it in several rooms. The steam cleaner's water point is very small, but the product comes with both a jug and a funnel to make filling it up straightforward. It's not for the impatient thought—the steam cleaner takes its time to initially heat up (around three minutes) and we found you need to wait five minutes for it to cool down prior to refilling, as it retains heat.
While we found this option lacks the power of some of the other models, it's a great all-rounder product that offers a satisfactory clean for a range of settings, at a budget-friendly price.
The Beldray 10-in-1 Handheld Steam Cleaner was supplied by Robert Dyas for this review. Browse this month's Robert Dyas voucher codes for discounts.
7. Hoover Steam Capsule 2 in 1 CA2IN1D
Best steam cleaner for upholstery
Specifications
RRP: $166.25/£119.99
Dimensions: 117cm x 30.5cm x 17.6cm (H x W x D)
Capacity: 350ml
Weight: 2.27kg
Cord length: 7m
Power: 1700W
Available in: Blue/black/silver
Warranty: 1 year
Reasons to buy
+
Easily converts into handheld
+
Works wonders on range of surfaces and materials
+
25 minute runtime
Reasons to avoid
-
User instructions unclear
The first thing you should know about Hoover's Steam Capsule is it can run for a brilliantly long time, promising 25 minutes of steam cleaning. It's efficient too, heating up in just 15 seconds, making it the perfect choice for anyone who's searching for a practical steam cleaner that can slip effortlessly into their cleaning routine.
The instruction guide is a little on the vague side though with illustrations rather than steps, which was a bit of a problem—instead, you'll want to head to the Hoover website for clear guidance on how to use the Steam Capsule.
It can be used on floors, walls, appliances, and more but we particularly rated it for its performance on textiles and upholstery—it did a great job on freshening up curtains and tired sofa cushions. We stopped short of trying it on clothes, but are reliably informed it can work wonders on those, too. Because of its multi-function (it can turn from a stand-up steam cleaner to a handheld device), it's a good option for moving around the house, too.
8. Kärcher SC 2 UPRIGHT EasyFix
Best lightweight steam cleaner
Specifications
RRP: $180.12/£129.99
Dimensions: 31.4cm x 16.8cm x 118.5cm (L x W x H)
Capacity: 400ml
Weight: 2.7kg
Cord length: 4m
Power: 1600W
Available in: Yellow/black
Warranty: 2 years
Reasons to buy
+
Lightweight
+
Can choose a steam setting depending on the flooring you're cleaning
+
Easy to store
Reasons to avoid
-
Short cord length—needs carrying from room to room
Slimline and as simple to put together as it is to store, Kärcher's SC 2 model is a great choice for anyone seeking a steam cleaner that can be easily carried around the home. It boasts an ergonomic design, with the flexible head allowing you to reach under sofas, cabinetry, and more with ease.
We tested it on both kitchen and hallway flooring and it worked perfectly—though it did leave the kitchen floor more 'wet' than 'damp', this dried quickly. While it lacks the floor-specific attachments that other Kärcher models offer, it is a great choice if you're looking for an easy-to-use steam cleaner.
The shorter cable length means it will most likely require carrying from room to room, but this is no problem, considering its lightweight design. The EasyFix heats up in just 30 seconds and, using its lamella cleaning technology, claims to kill up to 99.999% of enveloped viruses, such as Coronavirus. It works well on hard surfaces and was surprisingly satisfying to use in a lino-floored kitchen. It's worth knowing that only one microfiber cloth is included within the set, but a descaling cartridge is also included, which guarantees to remove limescale from the water.
The price is perhaps a little on the steep side when compared to other models that offer additional functionality, but there's no question about the quality of the product—as backed up by the lengthy guarantee.
9. Vileda Steam Mop
Best steam cleaner for carpet
Specifications
RRP: $124.70/£89.99
Capacity: 400ml
Weight: 2.3kg
Cord length: 6m
Power: 1550W
Available in: Black/red
Warranty: 2 years
Reasons to buy
+
Fast warm-up time
+
Steam setting options
+
Very easy to use
Reasons to avoid
-
Lacks multi-functionality
Taking just 15 seconds to fully heat up, Vileda's classic Steam Mop is great for carpets and rugs in particular. Our favorite feature? The slinky steam head, which is designed to swivel its way into even the tightest and most awkward of corners to ensure a thorough clean. We tried the Steam Mop on three types of flooring (tiles, lino, and carpet) and were impressed, with the product requiring minimal force to see results. You've also got full control over the steam setting, meaning you can change it according to whether you're cleaning delicate rugs and carpets, or studier wood and tiles (which it also works very well on).
The six-meter cable is great for working between rooms without the need to keep unplugging, and we were able to get almost half an hour of cleaning time out of the tank which is fantastic. Whilst it lacks the all-singing, all-dancing multi-function options that other models offer, this steam mop is brilliant at what it does do. Its Carpet Glider attachment—designed to revitalize (you guessed it) carpets—is ideal for shifting unwanted grime, whilst the included microfiber pad can be easily washed after use which is handy.
10. BISSELL Powerfresh Slim Steam
Best steam cleaner for cars
Specifications
RRP: $180.12/£129.99
Dimensions: 110cm x 35cm x 26cm (H x W x D)
Weight: 1.86kg
Capacity: 350ml
Cord length: 7.6m
Power: 1500W
Available in: Gray/blue
Warranty: 2 years
Reasons to buy
+
Great for high-up cleaning
+
Lightweight
+
Long power cord
The BISSELL Powerfresh Slim Steam is lightweight and comes delivered with an easy-fix wall mount, which makes storing it very easy. The cord is fantastically long at 7.6m, which—combined with its three-in-one versatility—makes it ideal for use on both the interior and exterior of a car.
Weighing in at under 2kg, it's easily converted from an upright mop cleaner into a handheld steam cleaner. In its latter capacity, we decided to test it on a family car and were impressed by its ability to breathe new life into the very neglected dashboard area. It also freshened up the upholstery, too—though it would be great to have the option to add a detergent as per other models, to add a fragrant touch. The extension wand is a bonus feature, meaning that areas that are usually harder to access, such as the back of boots, can also be easily cleaned.
When it comes to cleaning floors, we found it required a bit of physical exertion—but the dirt we saw on the mop head afterward was a glowing testament to how thoroughly it worked. The mop head itself is also very easy to clean: simply detach and put in your washing machine's next 40°C cycle.
Whilst using the product is straightforward, a slightly more detailed instruction guide wouldn't go amiss; if you can't work out what the illustrative step-by-step guide is conveying, head to YouTube, where you'll find how-to videos to get it up and running.
What to consider when choosing the best steam cleaner for you
A steam cleaner can make cleaning a lot easier, but which one is right for you will depend on your routine, and how you plan to use it. Important specifications to consider when choosing the right steam cleaner for you include:
How and where you plan to use it—will you be using the steam cleaner primarily in one room—or are you planning to take it up and downstairs, as well as use it in your car? If the latter, you'll want to consider a lighter-weight model, or perhaps even a handheld steam cleaner.
How much storage space you have—where will you keep it when it's not in use? Do you already have somewhere you can safely store it, or will this require further consideration?
Any extra accessories you need it to have—some steam cleaners perform just one function, however, others have additional accessories specifically designed for grout, windows, or inside your car. Decide if you want/need these extras?
Are steam cleaners worth buying?
If you've ever wondered 'do I need a steam cleaner?', the answer for many is 'yes'. Steam cleaners are worth their weight in gold if you're keen to keep surfaces around your home in a clean and germ-free condition, with minimal fuss. Whether you need to clean grout, freshen up your kitchen floor, de-grime your shower curtain, or lift old dirt and stains from your sofa, a steam cleaner can often help to do these tasks easily and without the need for excessive scrubbing.
With many of the best steam cleaner products offering multiple functions, they can also provide fantastic value for money. Steam cleaners can also reduce the need for chemical-based cleaning products—all you need is tap water. "Purchasing a steam cleaner can help you save a significant amount of time on cleaning and it is also more eco-efficient," explains Matthew Harrison, cleaning expert at priceyourjob.co.uk (opens in new tab). "However, you should consider investing in a high-quality model with multiple functions, as this will be useful for different jobs such as freshening up carpet or hard flooring. Keep in mind that they do take a long time to fill and heat up though, so if you are looking for a quick fix, it may not be the best option."
Remember that you should always ideally hoover or sweep a floor before steam cleaning it—that way the machine is less likely to get bogged down by crumbs or pet hair, making it more efficient. And for the ultimate hybrid, there are even products on the market that can combine a vacuum and a steam cleaner—see our review of the Bissell Vac & Steam above.
And if you're keen to deep-clean all the items in your home, why not see our guide to the best oven cleaners, that'll leave your machine sparkling?
What should you not steam clean?
For all of their uses in our kitchens and as part of our bathroom cleaning routines, there are some surfaces and materials that you shouldn't use even the best steam cleaner on.
You should not steam clean:
Paper or cardboard surfaces
Porous surfaces, such as brick and marble
Delicate upholstery or fabrics
Bamboo products
Matthew Harrison also recommends avoiding velour, thin plastics, and stucco. "Steam cleaning on these surfaces can be dangerous," he warns, "and in the worst case lead to property damage, burns, debris being pushed by the force of the steam or electrical shock".
Can steam kill mold?
Due to the high temperatures they can reach (anywhere between 66-149°C), steam cleaners can kill mold—with many steam cleaner models promising to destroy 99.9% of germs and bacteria. Carpets are particularly at risk of mold growth, with causes including water damage, spillages, humidity, and a lack of ventilation, which is where steam cleaners can come in handy.
However, Harrison says, "Using steam on mold will not kill an ongoing mold issue, as it does not get to the root of the issue. To prevent mold problems, you should consider draught-proofing, which could prevent moisture from entering your home."
To keep the potential for mold at bay, ensure your carpets are kept clean and dry at all times, and if you do encounter a mold problem, take a look at our guides on mold removal and black mold removal.
Where does the dirt go when you steam clean?
Whilst the intense heat of the steam will help to break down dirt and particles, it doesn't just magically disappear into the machine. It's important to note, "After using a steam cleaner, you should wipe down the area with a cloth or use a steam mop in order to remove the dirt completely," suggests Matthew Harrison.
On that note, keeping the cloth attachments of a steam mop clean is crucial—many can be thrown into a standard washing machine cycle to get them looking as good as new. These cloths can be used to finish the job the steam cleaner has got well underway for you.
Katie Byrne is a contributor to woman&home and a writer whose interests span everything from homes and interiors, to pop-culture, travel, business and self-development. A former digital editor, her freelance journalism has featured across a wide range of print and online titles, including Raconteur, Digital Spy and more. When she's not writing, she loves reading (and has the groaning bookshelves to prove it...), dreaming up new décor ideas for her flat and devouring Netflix's latest true-crime series with her husband. You can find her on Twitter: @katie_b123 (opens in new tab).