How to clean hardwood floors to keep them looking like new
Discover how to clean hardwood floors using both cleaning products and natural remedies for a sparkling result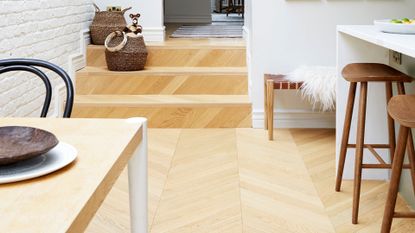 (Image credit: Future/ Anna Stathaki)
Knowing how to clean hardwood floors with the right products is key to avoid damage, ensure the longevity of your floor and so you are left without streaks every time.
Below we share expert advice on what cleaning products should not be used on wooden floors and answer your most asked questions about cleaning dirty hardwood floors, including whether cleaning professionals think it's okay to clean hardwood floors with natural ingredients such as vinegar and water.
We've also spoken to experts in hardwood floors, for their advice on how to best care for your floor between spring cleans so that it looks as good as new for years to come.
How to clean hardwood floors
Follow these four easy steps - reviewed and approved by professional cleaning service providers - to clean your hardwood floors at home:
1. Identify what kind of hardwood flooring you have
Hardwood flooring these days can mean anything from antique heart pine boards to the latest in high-tech engineered planks. With many different varieties available it's important to know what kind of hardwood flooring you have in order to clean it correctly.
Before choosing a cleaning method, identify what kind of hardwood flooring you have from the following:
Solid hardwoods such as oak, maple, pine, or walnut are nailed to a wood subflooring. This is then sanded smooth, stained, and typically sealed with a wax or polyurethane finish. When these hardwood floors get worn, they can be refinished, by repeating those same three steps, two or three times for a brand-new look.
Engineered hardwoods are a thin veneer of wood bonded to a high-quality layer of plywood. This style of hardwood floor is installed as a "floating" floor, where the planks are not attached to the subflooring at all. High-quality engineered floors are indistinguishable from the real thing. They're sealed with polyurethane and can't be sanded and refinished, but they usually last 25-30 years.
Most hardwoods have a urethane finish, either poly or oil-based, so let's focus on how to keep those clean and shining.
Regardless of the finish, water is the bound enemy of a hardwood floor. A saturated wood floor, or even one that's in a high-humidity area, is a prime candidate for warping. The key is in gentle cleansing.
2. Sweep or lightly vacuum daily
"It's important you dust your floors before starting to mop," explains professional cleaning expert Ivan Ivanov, of End of Tenancy London.
"A good vacuuming with the best vacuum can remove resolute dust clumps, or a microfibre cloth if that's your preferred method. Dusting beforehand removes dirt and detritus that will only end up being smeared during the next step: mopping."
Use the hardwood floor attachment on your vacuum to avoid scratching the surface; never use the beater bar. It's well worth investing in one of the recommended best vacuums for hardwood floors to ensure beautiful floors stay that way.
3. Run a microfibre dust mop over the floors
Run a microfibre dust mop over your floors as and when needed or daily, depending on how often you clean your home. If you have pets you'll find yourself giving the floors a once-over at least once a day to stay on top of it. Ensure the microfibre cloth is clean before you begin.
4. Use a sponge mop and a wood cleaning product to deep clean
See our guide to the best cleaners for hardwood floors to find the right product for your floor. A cleaner that comes in a squirt bottle is generally easiest to use.
When you have your cleaning products, simply squirt them onto a damp mop and run the mop across the floor, then squeeze out the dirty residue in the sink or a mop bucket.
When using any solution, ensure floors are never saturated - as we pointed out earlier this can lead to warping.
It's okay to use a strong cleaner if your floors are particularly dirty, but be sure to rinse the mop thoroughly after use. If you do need to use something strong, follow up with a wood floor conditioner. It's not a bad idea to keep a couple of different mops handy, one for tackling real dirt and one for lighter duty.
Ivan explains why a dampened specialist wood-floor mop works best: "They're specifically designed to work with wood and often come equipped with fine fibres in the mop head, which do a great job of dealing with the small cracks your hardwood floor potentially has."
What is the best way to clean hardwood floors naturally?
Whilst store-bought cleaning products do a brilliant job of cleaning hardwood floors, a more cost-effective option (and eco-friendly living solution) could be to make your own natural cleaning products. You can make your own effective, natural cleaner using a few store cupboard staples, including distilled white vinegar, tea bags and even a little lemon juice.
All of these methods have been reviewed by professional cleaning expert Ivan Ivanov, of End of Tenancy London.
1. Vinegar mixed with water
Mix up some warm water and vinegar for a quick spot clean or a full-on deep clean. The vinegar cuts through grease and grime and keeps your floors pristine.
Ivan explains how best to make it: "Fill a bucket with a gallon of lukewarm water, and add in only half a cup of white vinegar before stirring. It's perfectly safe and acceptable to use this method on your hardwood floors. However be aware that vinegar can dull some of the surfaces, especially if the mixture contains too much vinegar. Play it safe and test your mixture out on a small patch of wood before proceeding with the whole floor!"
For more controlled application use a spray bottle to apply the solution directly to the floor.
2. Brewed tea bags
Black tea has been the go-to cleaner for hardwood floors for centuries. Brew five or six bags of tea and let it steep for a few minutes, then add it to cool water in your mop bucket. Mop, as usual, letting the tannic acids in the tea cut through grime brighten up a dull finish.
Although hailing the black tea method as a 'fantastic hack', Ivan has words of warning when trying this at home: "Unlike vinegar, the tea actually adds shine to your hardwood floor after cleaning. However, akin to that of the vinegar method above, too strong a concentration of tea can result in your floor being stained in a mis-matched way, which is not ideal. Again, it's always best to test on a small patch of wood and see what the results are after a couple minutes."
Don't be tempted to use tea on engineered floors, just stick to using them on solid hardwoods only.
3. Lemon Juice, olive oil and hot water
Use the hottest water your tap will produce and pour in 3/4 cup of olive oil and 1/2 cup white vinegar or lemon juice to a couple of liters of the hot water. Mix it up with a wooden spoon, don't add salt or pepper to taste, and mop. When the floor is absolutely dry, the acid in the vinegar or juice will evaporate, leaving the moisturizing olive oil behind. If any spots on the floor are slippery, buff out the oil with a cloth and use a little less oil next time.
Of all the home-brewed hardwood floor cleaning methods is the olive oil, white vinegar and lemon juice is Ivan most preferred. He claims, "Whilst it's the most complicated, it also yields the finest results! When making the mixture, be accurate with your quantities, as each ingredient will change the balance. As ever, testing on a small patch of wood proves what works best."
Tips for preserving hardwood floors
Hardwood floors can scratch easily, so here are some tips to keeping them fresh and look as good as new.
"Naturally, hardwoods such as oak and walnut are a much more durable and hardy option for flooring. Soft woods such as pine will easily succumb to scratches and dents, especially in high footfall areas of the home", explains Greg Elliott, Head of Technical at Havwoods. "For floors that are susceptible to damage from heels, pets and general day-to-day use, opting for a textured wood plank will hide those inevitable wear-and-tear marks."
Greg goes on to advise, "Depending on whether you've opted for a lacquered, oiled or UV oiled finish, there are a few key maintenance rituals that you should undertake. Wood floors should be cleaned regularly using dry methods, such as vacuuming or dust control mops."
"Ensuring that abrasive dirt and grit is removed quickly is essential for the floor's lifespan, so placing protective floorcoverings such as rugs and entrance mats in areas where these rough particles are prevalent (external entrances) can be highly effective in prolonging the appearance and life of the wood floor."
Put pads on the legs and feet of any furniture in the room, especially any moveable furniture. Make sure to use small rugs at doorways and entrances. And always keep your pet's nails trimmed.
Finally, as a last-ditch effort, make sure you keep floor-colored crayons in a drawer for quick touch-ups. Rub the crayon on the scratch, turn a blow-dryer on the spot so that the crayon melts into the gap, then buff with a soft cloth.
Sign up to our free daily email for the latest royal and entertainment news, interesting opinion, expert advice on styling and beauty trends, and no-nonsense guides to the health and wellness questions you want answered.
Amy Hunt is an experienced digital journalist specialising in homes, interiors and hobbies. She began her career working as the features assistant at woman&home magazine, before moving over to the digital side of the brand where she eventually became the Lifestyle Editor up until January 2022. Amy won the Digital Journalist of the Year award at the AOP Awards in 2019 for her work on womanandhome.com.