Spring cleaning checklist: Help your home feel refreshed and new with this simple room-by-room guide
Use our spring cleaning checklist and printable guide to complete your seasonal deep-cleans with sparkling results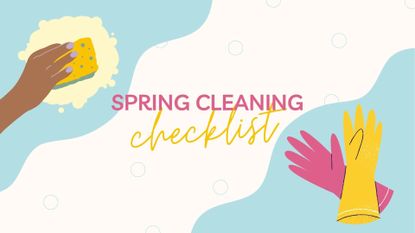 (Image credit: Future)
woman&home newsletter
Sign up to our free daily email for the latest royal and entertainment news, interesting opinion, expert advice on styling and beauty trends, and no-nonsense guides to the health and wellness questions you want answered.
Thank you for signing up to . You will receive a verification email shortly.
There was a problem. Please refresh the page and try again.
The Easter weekend is the perfect time to dust off that spring cleaning checklist and get your home in shape for the season ahead. The flowers are blooming outside and the sun is shining, but for many, the new season really begins when you finish the annual spring clean.
The prospect of conquering the cleaning in every room of your home can feel overwhelming, especially if you've hibernated over the colder months and have let clutter accumulate. But, if you break tasks down into a list and set yourself realistic deadlines, it becomes much less intimidating and even mindful.
Here is our comprehensive list of everything you need to consider when starting your spring clean, from a list of supplies to a detailed checklist featuring guidance on how to clean your bathroom and a step-by-step guide to cleaning your kitchen, as well as handy cleaning hacks to make your life easier. We've also included a condensed, printable at-a-glance checklist which you can print off. After all, is there anything more satisfying than scoring off a to-do list?
What you need before getting started on your spring cleaning checklist
The best way to tackle your spring clean is to work out the tasks you need to undertake for each room specifically. Then, approach them separately, blocking out dedicated time for each one. We have provided a comprehensive step-by-step guide below for every room of the house, as well as a list of tasks that apply to all rooms.
Firstly, you'll need to ensure you're stocked up on supplies: at a minimum, you'll want your best vacuum hoover, a good duster, lots of clean microfiber cloths, cleaning rags, all-purpose spray and window cleaning spray; rubber gloves, garbage bags, a broom and dustpan, and a bucket and mop.
Ready? Let's get started.
All rooms
Start with these simple tasks which apply to all rooms. When you're dusting or cleaning, remember to always work from the top and start at the highest point of the room and move from left to right. Otherwise, you'll spread dirt and dust and find yourself re-doing bottom shelves and floors.
Remember to always vacuum and clean floors at the very end, otherwise, they'll get dirty again as you work.
Clean windowsills
Clean indoor and outdoor windows (find out how to clean windows without streaks)
Dust and clean ornaments and picture frames. Check out these handy tips for how to get rid of dust, which will help you complete this task with ease
Dust the tops of doors and counters
Pick up items from the floor. You might want to store these in a box as you go along, then you can put them in the correct place once you're done
Vacuum or clean curtains or window blinds (whichever is applicable)
Dust cobwebs
Test fire alarm batteries
Test lightbulbs
Dust or clean lampshades
Clean mirrors
Clean computer or television screens
Disinfect doorknobs and light switches
Wipe baseboards
Sweep hard floors and vacuum carpets
Mop clean hard floors (check out our dedicated guides for how to clean laminate floors and how to clean vinyl floors)
You might also want to deep clean your carpets, but this can be a fairly big undertaking, so it may be easier to pick this task up later on in the year, depending on when you last cleaned them, or the level of dirt.
Finally, if you have time, you may want to consider cleaning your walls, especially if your paintwork is looking a little worse for wear. Check our guide to cleaning walls without damaging them.
Kitchen
Cleaning your kitchen is arguably the most time-consuming part of a spring clean, especially when you factor in the time it takes to clean appliances such as your oven, microwave, or stovetop. With that in mind, you might want to approach this room in two steps, firstly tackling the core cleaning tasks in the checklist below. Then, you can move on to secondary tasks if you have time, like organizing your kitchen or pantry or cleaning your oven trays, or giving your old, burnt pans a good deep clean.
Complete core tasks for 'all rooms' except cleaning and sweeping: these can be done at the end
Clean and wipe down the stovetop. Save yourself a headache and use our step-by-step guide on how to clean your stovetop
Clean the oven: here are the best oven cleaners for the job
Clean the fridge: this can be a mammoth task, but luckily we've got a guide on how to clean your fridge and freezer. Remember to wipe clean the top and the seal too, using water and mild dish soap
Clean the microwave: this can be done in four simple steps. Again, don't forget to wipe the top and exteriors
Fill the dishwasher as you go along, then clean it after use
Wipe drawers and shelves using soapy water or multipurpose spray
Discard expired food in the pantry, fridge, and freezer. Donate any unwanted but in-date foods to your local food bank
Wipe countertops using an all-purpose spray
Empty cabinets, clean inside and then restock
Clean sink. Check out our guide to cleaning a stainless steel sink without damaging it. This is also a good time to clean and sanitize sponges
Clean countertop appliances: this includes your airfryer, coffee machine, juicer, breadmaker, or anything else that accumulates grime and dust. For handles, check out our guide on how to clean stainless steel.
Defrost freezer - find out how to defrost your freezer in five simple steps
Empty your garbage can and recycling
Bathroom
Before cleaning your bathroom, it's important to ensure it's completely decluttered and that you've got rid of any empty bottles, containers, or slithers of soap. Then, you can move on to the bigger tasks, like scrubbing your tub and bleaching the toilet bowl.
Complete core tasks for 'all rooms' except cleaning and sweeping: these can be done at the end
Declutter: move your dirty towels into the laundry room, empty any bins and get rid of empty product containers
Remove all products from your bath, sink, and windowsill area so you can clean thoroughly
Wipe down the toilet and clean the toilet bowl: here's how to do clean a toilet thoroughly in six steps
Clean the fan vent (if applicable)
Scrub tile grout: check out our guide on how to clean grout for a sparkling finish
Clean mirrors, sink, countertop, and doorknobs
Get rid of limescale on your fixtures, bath, or shower shield
Clean the shower: check out our handy guide to cleaning a showerhead
Wash shower curtains and bath mats. Most can be popped in the washing machine, but check the washing instructions first
Bedrooms
Bedrooms aren't usually the dirtiest rooms but they do, regrettably, often end up being the messiest ones. You wouldn't be alone if you found yourself throwing your clothes over the chair or keeping your clean laundry in the basket, resolving to put it away another day. Well, today's the day to confront it! The task is far less daunting if you follow the below checklist.
Strip bedding and pillow sheets and launder them while you're cleaning the rest of the room
Declutter: Remove everything from the floor that doesn't need to be there
Do the same for surfaces, and take any empty glasses or cups to the kitchen
Now that you're left with the things that actually need to be there, empty your shelves and nightstands, clean them, then put everything back in its place
Empty your wastebin
Store clean clothes in your wardrobe or drawers and put dirty clothes in the laundry
Organize your closets and drawers, and donate anything to charity that you don't wear. If you have high-value items or are looking for some extra cash, it's worth learning how to sell clothing online. This is a big task, so you may want to dedicate a whole afternoon to it
Wipe surfaces clean
Vacuum the mattress, tops of shelves, and the bottoms of wardrobes
Look under the bed and remove any clutter. Move your bed so you can give this area a thorough clean when you get round to vacuuming and cleaning your floor
Dust and spot clean your curtains or blinds. You might also want to consider taking them to a dry cleaners
Re-make the bed. For an extra fresh spring feel, dress your bed with your best sheets
If you want to go that extra step, consider cleaning your mattress. It sounds like a laborious task but our guide on how to clean a mattress breaks it down into seven simple steps. Otherwise, you can just spot clean it. Use 1/2 cup of warm water and a 1/2 cup of white vinegar, and a little dish soap and blot any stains. Mix in essential oils if you want to mask the acidic smell of the vinegar.
You may also want to wash your duvet or comforter. Some can be washed at home using a domestic washing machine but others will need to be taken to a dry cleaner; check the manufacturer's label before you do anything.
Living room
Chances are, you've spent a lot of time in this room during the colder months. After all, what better way to while away the frosty evenings than with an open fire and some good TV shows, all enjoyed from the comfort of your sofa? Unfortunately, this also means you might need to pay your living room an extra bit of TLC during your spring clean.
Complete core tasks for 'all rooms' except cleaning and sweeping: these can be done at the end
Declutter: gather all the items that belong in other rooms and put them in a box. When you've finished cleaning the room, ensure everything is put in its correct place
Tidy and straighten all books, CDs, DVDs, and other clutter. Ideally, you should bring them all out, dust and clean shelves or storage, then slot them back into place
Dust ornaments, clocks, or any other hanging fixtures
Clean your television screen. First, check your manufacturer's manual in case this could accidentally void your guarantee. They will often include care instructions too so read them before touching your screen as plasma screens are very sensitive. If in doubt, use a clean and dry microfiber cloth, and avoid using too much pressure
Clean glass cabinets using a microfiber cloth and glass polish
Clean all other surfaces: coffee tables, mantelpieces and shelves
Vacuum soft furnishings such as armchairs and softas
Remove cushion cases and put them in the washing machine
Spot clean sofa. Alternatively, the best steam cleaners can be used to clean all upholstery
Dust and spot clean your curtains or blinds. You might also want to consider taking them to a dry cleaners
Clean carpet and rugs if needed
Empty any wastebins
Remove any dirty dishes or mugs that are lying around (even the best of us are guilty of it!)
Entryway / hall
Most of the main tasks are covered in the 'all rooms' list, however, you'll want to consider a few additional tasks for your entryway. As the first room people step into from outside, your hall gets exposed to all of the elements and can get muddy over time.
Complete core tasks for 'all rooms' except cleaning and sweeping: these can be done at the end
Organize your shoes and jackets and get rid of any that you no longer wear
Clean the doormat. Follow the manufacturer's instructions, but many can be hosed down outside
Home office
Over the last few years, more and more people have turned their guestrooms into offices, as working from home becomes more common. Having an organized space to work from is important, so if you're not always great at staying on top of it, this is a perfect time to breathe some new life into your home working space.
Complete core tasks for 'all rooms' except cleaning and sweeping: these can be done at the end
Shred old paperwork and put it in the recycling bin
Clean your screen, keyboard, and mouse
Dust the bookshelves and organize your books and paperwork
Dust electronics
Empty waste bins
If you can brave it, now is a good time to organize all your cables too and work out their uses, and which ones you actually need to use on a daily basis
Dining Room
If you're entertaining guests over Easter, now is the perfect time to clean your dining room before displaying this year's Easter decoration ideas. Once you've decluttered the space, you can also allow your Easter table centerpieces to really shine.
Complete core tasks for 'all rooms' except cleaning and sweeping: these can be done at the end
Dust china and glasses as well as cabinet doors
Clean and press table linen
Spot clean curtains or blinds
Polish chairs and clean cushion covers
Laundry Room
Naturally, as you complete your spring clean, you'll find yourself with a mountain of laundry to get through. It's advised that you do this as you go along so it doesn't become a mammoth task at the end. If you have a laundry or utility room, you'll most likely have adapted it for your own purposes so you may want to customize this list, depending on how you use this room.
Complete core tasks for 'all rooms' except cleaning and sweeping: these can be done at the end
Clean behind the washer and dryer and empty lint traps
Declutter: Get rid of any old detergent bottles or products
Empty the trash
Scrub the sink
Wipe down all countertops
The great thing about a laundry or utility room is that you can store anything you like in it, so this might also be a good opportunity to clean your iron (limescale and all!)
When should you do a spring clean?
There's no right time to conquer the annual spring clean ritual, you should just choose the days that work best for your own schedule. However, it's not advised that you try to tackle the whole house in one day. Instead, block out a few days, either consecutively, or across a few weeks. Set daily tasks and work on one room at a time.
You might also want to consider printing off a customized checklist for each room and scoring it off as you go along. While the above tasks are a robust starting point, prioritize the ones that make the most sense for you and your lifestyle. If you've nailed the perfect capsule wardrobe and you keep your drawers organized, you won't need to rake through your old clothes. If you have one of the best robot vacuums, you might want to let that roll along as you go, meaning you won't have to give the house a thorough hoover after you've cleaned.
Anna is an editor and journalist, specializing in SEO and digital content production. First carving her career in communications and advertising agencies in Berlin and Barcelona, Anna's former life saw her work for film studios and inside a fashion house, before she moved to Metro.co.uk (opens in new tab) where her career highlights include heading up the SEO desk during the Covid-19 pandemic. Anna's published work ranges from culture and films to human interest features and live news coverage.

In her spare time, she enjoys watching movies, discovering the next big thing in music, traveling, online shopping, and poring over poetry and magazines. When she's not consuming those things, she's probably writing about them.

Originally from Glasgow, Anna has lived in Berlin, Barcelona, and London, not to mention stints in Guernsey and Athens. When she's not struggling to navigate a new language, she's always chasing the next hot trend and perfect black dress (you can never have too many).