The 17 spring cleaning mistakes you're probably making - and how to avoid them
Don't let these easy-to-make spring cleaning mistakes undo all your hard work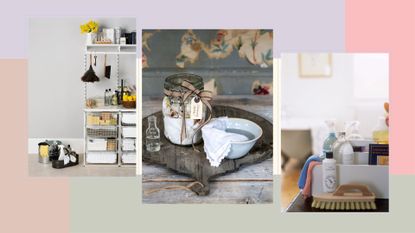 (Image credit: Future)
There's no more satisfying feeling than tackling your spring cleaning chores with gusto and looking around at your pleasingly clean home. But how clean is clean? According to professionals, there are common cleaning mistakes that we're probably all making without even realizing it.
Whether it's deep cleaning the kitchen or scrubbing the bathroom clean, whatever chores are on your spring cleaning checklist ensure you're not falling short by avoiding these innocent cleaning mistakes.
That's not to say that any element of cleaning a house is not always a worthy cause, but it's disheartening to think our own high standards could be compromised by the things we're innocently doing wrong when cleaning the house.
17 spring cleaning mistakes to avoid, according to cleaning experts
To avoid making the most common cleaning mistakes this spring we've consulted professional cleaners and interior experts to find out what they are and how to steer clear to ensure better cleaning results.
1. Failing to declutter first
An important part of spring cleaning that is often overlooked is decluttering. Yet cleaning cluttered areas and surfaces is much more time-consuming and less efficient than cleaning uncluttered ones. Whether decluttering your book collection or decluttering the bathroom, a good clear-out is essential in every room.
"Most of the clutter in your home is probably items you use at one time of the year that haven't been packed away," explains Elaine Penhaul, interiors expert and director of award-winning home staging company Lemon and Lime Interiors.
"Bulky blankets, covers, and duvets probably aren't much use to you in summer just like those thick winter boots cluttering up the hall aren't a year-round clothing item. As things move out of season, pack them away in an organized way so that they're easily accessible when you need them."
Once you have organized and cleared surfaces, shelves, and floor areas you are left with rooms that feel easier to start cleaning. Adopting a daily decluttering habit will keep your house clean and tidy beyond the big spring clean.
2. Trying to clean everything in one go
Don't feel under pressure to get all your spring cleaning tasks done in one day, this can feel like an achievable and daunting task. Instead, try breaking your cleaning to-do list down into manageable-sized areas so each room is cleaned to a better standard – as opposed to rushing the process.
"It's tempting when you get the urge to spring clean to try and tackle the biggest problem areas of the house all in one go," says Elaine. "Breaking your tasks down into 10 minutes of cleaning and decluttering every day will make it more achievable. Set a timer on your phone, pick a small area to get started on and you'll be surprised by the progress you make."
3. Not cleaning in the correct order
One common mistake people make when it comes to spring cleaning is not making an efficient plan before starting. Formulate a plan to suit each room, to ensure non of the cleaning steps are compromised by the remainder of the cleaning routine
"I suggest working from top to bottom when cleaning your kitchen for instance," says Emma Lewis-Jones, product director at leading kitchen retailer CookServeEnjoy.
"Dirt and dust will gradually get knocked down to be picked up when vacuuming or mopping and there is no point cleaning the countertops and floor before knocking the dust from the cupboard tops," Emma explains.
"Start with door frames and cupboard tops before moving on to the inside of cupboards, countertops, and then appliances before finishing with the floor."
4. Dusting and vacuuming the wrong way round
Dusting before vacuuming or vice versa is an easy cleaning mistake to make when looking to get rid of dust in the home because the order very much depends on the room you are cleaning and the objects within it.
"If the surface you are cleaning can be vacuumed first, with a small brush or crevice tool, we would always recommend running over the area first with the cleaner to pick up the bulk of the dust and particles," suggests Geoff Johnson, director at ROIDMI. "Because unfortunately, the very act of traditional dusting with a cloth will lift a lot of dust and other allergens into the air," spreading the dust further.
However, if the objects you're cleaning can't be vacuumed then it's recommended to dust them first: "If the area isn't suitable for vacuuming, perhaps like delicate ornaments or glassware, we suggest dusting before you vacuum the rest of the room" Geoff suggests.
"If you are dusting with a cloth, then it's important to vacuum your home afterward so that any dust that has been disturbed and placed onto the floor is removed and not redistributed around the home by normal activity," states Monika Stuczen, senior research manager at Dyson.
5. Using the wrong cleaning products
When it comes to cleaning solutions it's not safe to assume one product suits all surfaces. "Different surfaces require different cleaning products," explains Jane Wilson, cleaning expert and manager at Fantastic Cleaners. "Using the wrong product can damage the surface or leave residue behind."
"For example, using a harsh cleaner on a delicate surface like marble can cause etching, while using a glass cleaner on a wooden surface can leave behind a sticky residue," says Jane.
"Always read the label and apply the appropriate cleaning product for the surface you are cleaning. Check also for specific instructions, such as how long to let the product sit on the surface before wiping it off."
6. Using dirty cloths and cleaning tools
It's all too easy to pick up the cloth in the sink and start cleaning because it is to hand, but if it's not a clean microfibre cloth is it actually cleaning at all?
"Using dirty cleaning cloths can spread germs and bacteria around your home instead of cleaning it," adds Jane. "It's important to use clean clothes for every cleaning task and wash them regularly. It's also valid for other cleaning tools and equipment like vacuum filters and scrub brushes. Make sure to clean and sanitize your tools and equipment regularly to prevent the spread of bacteria and keep your cleaning efforts effective."
"When washing your cleaning cloths avoid using fabric softener as this will clog the fibers affecting their performance and absorbency," advises cleaning expert and influencer Lindsey @dazlincleaning.
7. Spreading germs when mopping floors
In line with using dirty cloths an all-too-common cleaning mistake is to mop all floors with the same mop head – and usually a dirty one at that. The cleaning expert Vileda has found that many people are making the crucial cleaning mistake of using a dirty mop head when mopping their floors, with many not realizing that most mop heads and pads are machine washable and replaceable.
The level of germs will differ from room to room so it's best to change mop heads between each area and then clean the mop heads after use to ensure maximum cleanliness when cleaning your hardwood floors or tiled living spaces.
"A great tip is to have more than one mop head on rotation, meaning you can alternate between them to ensure you always have a clean mop ready to use," advises the expert team at the cleaning product specialist.
"It's recommended that after every deep clean pop your mop head into the washing machine at 60°. This helps you get a hygienic clean time and time again, with each mop head recommended to be replaced after 6 months of use."
8. Missing overlooked areas
When was the last time you cleaned your baseboards or the top of the extractor fan? The spring clean is not the time to overlook the areas that attract a hearty amount of dust yet seemingly go unnoticed during the list of weekly chores.
"It's easy to forget to clean the baseboards, ceiling fans, and vents," says Jane. "These areas can collect dust and dirt and impact the air quality in your home. Make sure to add these areas to your cleaning checklist."
9. Forgetting to clean high-touch surfaces
We're all probably guilty of this common cleaning mistake because it's all too easy to forget the finer details when cleaning any room but it's actually one of the most important aspects of keeping a house hygienically clean.
"High-touch surfaces like light switches, doorknobs, and countertops can harbor germs and bacteria," Jane warns. "Make sure to clean and disinfect these surfaces regularly, especially during flu season or other times of illness. "
10. Using toxic cleaning chemicals
Vigorous spring cleaning can often equate to a lot of varied cleaning supplies being liberally sprayed around in every room, many of these contain chemicals that can be harmful to our well-being. Thanks to the many brilliant eco-friendly cleaning supplies available it's far easier to eradicate this common spring cleaning problem.
"The best eco-friendly cleaning ingredients – that are also safe for pets – are those that are non-toxic and chemical free," Mahira Kalim, founder, and CEO of eco-friendly cleaning brand, Spruce.
"You can utilize safe ingredients with natural antimicrobial properties that are already lying around your home. Vinegar, lemon, and bicarbonate of soda are just a few must-haves, and are perfect alternatives to products full of toxic chemicals."
Cleaning with vinegar is especially effective for removing limescale when cleaning your shower head or generally cleaning the bathroom. Baking soda is another pantry staple that comes in super handy for cleaning with natural ingredients.
To avoid a chemical overload and make a more sustainable living home choice we say try to go completely natural with your cleaning products – kinder to you, your home, and the environment.
11. Not rinsing products off properly
Whatever solution you choose to use when cleaning, be it a homemade remedy or a natural all-purpose cleaner, failing to properly wipe it off surfaces can be detrimental to your cleaning efforts.
"Not rinsing cleaning products properly can lead to residue buildup and leave surfaces looking dull or streaky," says Jane. "Be sure to rinse cleaning products off surfaces thoroughly, especially when cleaning floors."
12. Failing to remove jewelry
It's all too easy to get to work straight away without evening considering your jewelry, which can not only get damaged itself during the process but could potentially scratch and damage the surfaces you're cleaning.
As an example, Jo Trotman, from the premium window and door designer The Residence Collection tells w&h: "One of the most common mistakes people make is not removing jewelry before cleaning your windows. Wearing jewelry can result in scratched glass, a mistake that is irreversible."
This common mistake could so easily happen too while cleaning a TV screen, cleaning a glass stovetop or even cleaning wooden surfaces that are prone to scratching.
The bonus of removing your jewelry is that it can make you confront the task of decluttering your jewelry collection as part of the spring clean.
13. Cleaning the shower when it's dry
Did you know that cleaning the shower is actually easier to do as soon as you've used it? Bump cleaning the shower up your list of spring cleaning jobs to tackle the task while it's still wet.
"The best time to clean your shower is directly after you've had one," says Lindsey. "Steam is a great cleaner and disinfectant. The steam will loosen the dirt, making it quicker and easier to clean down." Hop out of the shower and grab a cleaning cloth immediately to clean with ease.
14. Using too much water
It's important to keep any level of water exposure to a minimum when cleaning, particularly when cleaning wood floors or surfaces for instance as it could cause potential damage.
"Too much water can damage certain surfaces like wood, laminate, and electronics, " warns Jane. "Use a damp cloth instead of a wet one and wring it out well before using it to clean." This goes for all stages of the cleaning process, from applying solutions to rinsing surfaces free of product.
15. Making glass appear dirtier
So often when it come to cleaning windows we think solely about buffing the panes of glass, yet not taking in every consideration of the design aesthetic and its cleaning needs can lead to the glass appearing dirtier than when you firt started cleaning.
"Before you clean your windows, sweep away any dirt from the window frame with a dry cloth or remove with a vacuum," advises Jo, "otherwise dirt and dust gets smeared around your windows, which creates even more mess."
16. Spring cleaning your wardrobe without caution
Spring is the perfect time to refresh and deep clean your wardrobe, an expert advises how to avoid the most common mistake when undertaking the task.
"Not only is it helpful to put away your bulky winter clothes to make room for warm weather attire, but it's a great time to give love to both your well-worn clothing and the garments lingering in the back of your closet," says Frej Lewenhaupt, textile expert, CEO and co-founder of Steamery.
"When transitioning your closet, you'll want to properly store your winter clothes. A common mistake is not taking the time to do this step which can be detrimental as vermin like moths and fur beetles are attracted to garments made of natural materials such as cotton and wool."
"Make sure the clothes you're storing are clean, as these vermin are more attracted to dirty and used garments. I also recommend folding knits and sweaters instead of using hangers as hanging can cause these garments to lose their shape. Another helpful tip is to spray cedar tree oil on your clothes or place bits of cedar wood in your storage box, as this smell will prevent pests."
17. Neglecting proper ventilation
A combination of unearthing lots of excess dust and spritzing a wealth of cleaning products contribute to indoor air pollution – so always look to open windows and ensure air is circulated as a simple way to improve the air quality indoors while you tackle the big spring clean.
"Indoor air pollution is made up of a combination of dust and particles or gases from everyday household products such as candles, paint, and varnish to floors," explains Lars Dunberger, technology development manager at Blueair.
"These particles in the air can contribute to anything from colds and flu to determining how well you sleep. Breathing in this fine dust or PM2.5 (also known as fine particulate matter) can penetrate deep into the lungs and cause respiratory difficulties, studies show." If opening windows is not a suitable solution try one of the best air purifiers to help "spring clean the air in your home and ensure you are breathing in the cleanest air possible," suggests Lars.
Tamara is a highly experienced homes and interiors journalist, with a career spanning 19 years. Now the Lifestyle Editor of womanandhome.com, she has spent the last 16 years working with the style teams at Country Homes & Interiors and Ideal Home, and it's with these award-winning interiors teams that she gained a wealth of knowledge and honed her skills and passion for shopping, styling and writing about every aspect of lifestyle and interiors.
With a keen eye for the latest interior trends, there's not a lot she doesn't know about home decor – whether it's what colour we should be painting our living rooms next season, or if the latest 'must-have' buys are actually worth investing in.
A true homes and interiors expert, Tamara has served as an ambassador for leading interior brands on multiple occasions, including appearing on Matalan's The Show and presenting at top interiors trend events such as the Autumn Fair and Spring Fair.