How to get rid of dust in your home—eight simple tips for a cleaner space
Our guide on how to get rid of dust in your home will help you create a cleaner and clearer environment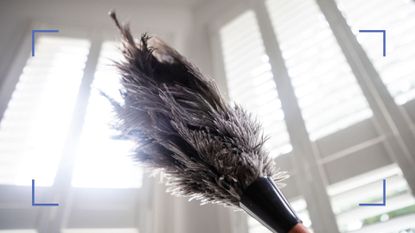 (Image credit: Future/Getty Images)
Knowing how to get rid of dust effectively in your home will not only make your space look and feel cleaner, but it's also important for the health and wellbeing of everyone who lives in your house.
According to the Environmental Protection Agency (opens in new tab), most people in the United States spend about 90% of their time inside, and indoor pollutants can actually be up to five times higher than they are outside. Learning how to get rid of dust is a simple step you can take towards a cleaner indoor environment, for better breathing and improved overall health.
But of course, it's easy to get overwhelmed by the dust in your house. And while eliminating it is an ongoing process—one that includes regular attention and using one of the best vacuum cleaners—by following our eight basic steps you can get on top of it without too much effort.
How often should you dust and why is it important?
Dust comes from a huge range of sources—dead skin cells, food debris, fabric fibers, decomposed insects, particles from smoke and more, including chemical residue from various household products and cleaners. Unfortunately, these substances can contribute to allergies and asthma as well as more serious chronic health conditions, depending upon the toxicity of your dust. So eliminating as much dust as possible is important for protecting and improving your health.
With that in mind, it's a good idea to dust highly used areas every week or two. For low-traffic areas, such as guest bedrooms, and time-consuming dusting projects, such as blinds, baseboards and ceiling fans, you should do them about once a month. You might also want to consult our guide on how to clean lampshades as they can accumulate a lot of dust too.
How to get rid of dust in your home
1. Use a microfiber cloth to remove dust on a regular basis
A microfiber cloth (opens in new tab) or damp rag does a great job of holding dirt, so use one of those to wipe down your furniture, blinds, windowsills, lamps, decorative items, and anywhere else that dust accumulates. This can be done on a weekly basis, but you could even quickly do it in selected spots on a daily basis too to really keep on top of things.
Microfiber cloths can be used for all sorts of cleaning tasks, from dusting and cleaning floors, to kitchen cleaning or cleaning glass and tiles. And there are several other useful tools available as well, including washable dusters with extendable handles (opens in new tab), to help you reach ceiling fans, shelves and blinds. You should also use a soft cloth to carefully wipe the dust off the leaves of your house plants.
2. Clean your carpets and rugs on a regular basis
Hard floors are much easier to keep dust free, and we all know that rugs and carpets hold on to a lot of dirt. If you happen to have a lot of carpets in your home, the best tip is to buy a strong vacuum and run it often (every other day should work). And, see our tips on how to deep clean carpet to give it a thorough clean.
If you have rugs, the same method applies, but you should also shake or beat them outside on a regular basis to keep them as dust-free as possible. You can also invest in a wet vacuum—or even hire a professional carpet cleaner if you have the budget. This sort of deep carpet cleaning should be done at least once a year, and perhaps as often as every three months (especially if you have pets).
3. Invest in an air purifier
Air purifiers work by using a fan to suck the air from your home, drawing it through high-efficiency particulate arrest (HEPA) filters and trapping particles, before recirculating the particle-free air back into the room. This means that they're one of the best options if you're looking for tips on how to get rid of dust, as it works on particles you can't even see yourself.
The best air purifiers are available in a wide range of sizes, prices, shapes and colors, so you can find one that meets your needs, as well as something that fits in with your home decor.
4. Make sure to use a doormat
It seems simplistic, but keeping a doormat both outside and inside your door allows people to remove a lot of dirt from their shoes before they enter your home. Much of the dust and dirt that accumulates in our home comes from outside, so this is imperative to note when learning how to get rid of dust.
However, you'll need to make sure to clean those doormats regularly too, as they themselves can become a breeding ground for dust that can easily be tracked into the living space, if you aren't on top of it.
5. Bathe your pets at least once a month
We all love our four-legged friends, but fur, dead skin particles and the dirt that sticks to your dog's fur after playing outside often ends up on your floors, furniture and more.
In order to avoid all of this accumulating into dust, it's generally suggested that you bathe your dog once every six weeks. Of course, this varies by breed and over-washing could lead to skin irritation and other issues for your pet. So talk to your vet or a professional dog groomer to learn more about an appropriate bathing schedule for your dog based on breed, activity level and time spent outside.
6. Change the filters in your home regularly
Filters in heating and air conditioning units collect dust and debris. Changing them on a regular basis gets that dust collection out of your house, and it will help your furnace or air conditioner run more efficiently.
Filters should be changed about every three months, although some less expensive filters may require monthly changes while others will last for up to six months.
7. Wash your bedding weekly
Sheets and comforters should be washed on a weekly basis, to avoid dust gathering. If your comforter has a duvet cover, simply remove and wash the cover. The comforter itself can be washed just a couple of times a year.
And yes—even the best pillows should be washed about every three months, although you should make sure you know how to wash pillows properly and check the care instructions first, since different pillow fillings require different approaches. You should also vacuum your mattress on a monthly basis, to get rid of any particles there.
8. Ensure you leave your shoes at the door
Instead of wearing your shoes throughout the house, make sure to take them off when you come home. This will help you avoid tracking that dirt that then ends up as dust through your home.
And to further reduce the dirt from your shoes entering your home, try to give your trainers, heels and boots a wipe down from time to time too. A simple antibacterial wipe or a dampened microfiber cloth can be used to wipe both the base and the side of your shoe, to get rid of dirt from the outside world.
Amy Hunt is an experienced digital journalist specialising in homes, interiors and hobbies. She began her career working as the features assistant at woman&home magazine, before moving over to the digital side of the brand where she eventually became the Lifestyle Editor up until January 2022. Amy won the Digital Journalist of the Year award at the AOP Awards in 2019 for her work on womanandhome.com.