The best vacuum to buy—cordless, cabled and robot vacuums to keep your home clean
The best vacuum for you will depend on your home and needs—in our guide, we've included models from Dyson, Bissell, Roidmi and more, to help you make your decision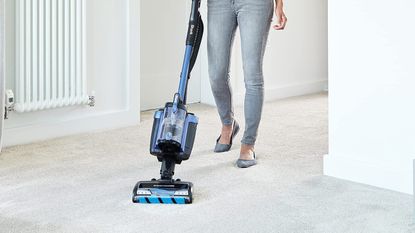 (Image credit: Shark)
There's no one-size-fits-all when it comes to choosing the best vacuum for your home. Whether your ideal model is a compact cordless vacuum cleaner, a hard-working upright, or a self-sufficient robot vacuum, there's a huge amount of choice. That's why our expert homes tester has rounded up the best options on the market, from popular brands such as Dyson, iRobot, and Shark, to help you make a decision.
The best vacuum for you (like the best steam cleaner option) will depend largely on what you need it to do—for example, if you have hardwood or carpet floors (or a mix of both), the size of your home, and what you intend to clean with it—for example, just floors, or perhaps cars and upholstery too.
We've selected and tested the best vacuum cleaners for every budget, including those suitable for pet hair, small homes, large homes, carpet, and hard floors. Each one has been assessed in terms of pick-up power, weight, extra features, emptying, maintenance, and how easy it is to use. We chose the Shark's cordless ICZ300UKT as our best as we felt it had a good combination of features for the price, and, more importantly, cleaned just as well on carpet as it did hard floors.
How we tested the best vacuums
Why you can trust Woman & Home Our expert reviewers spend hours testing and comparing products and services so you can choose the best for you. Find out more about how we test.
To help you find the best vacuum cleaner, our selection includes larger and compact vacuums at a range of price points, from good-value cordless models to more expensive, high-tech machines. You'll find the most popular brands as well as a few newer names too.
Each vacuum cleaner has been tested on a number of criteria. This included:
Design—including its dimensions and weight, which would in turn affect how easy the vacuum was to maneuver and store.
Additional tools and attachments—our expert assessed how easy they were to clip on and detach, whether there was storage for them on the vacuum, and their general usefulness when using the product.
Ease of use—we also looked at how simple the vacuum was to put together, how intuitive the controls were, and what it was like to use over an extended period of time.
Cleaning power and performance—arguably the most important factor, our tester spent hours assessing the cleaning power for each model, using both fine dust and larger debris on hard and soft floors, testing in its standard mode unless otherwise noted.
Value for money—like the best air purifiers, vacuums can be pricey, so we judged whether the more expensive models were worth the money, or whether a more affordable option provided as good an experience.
The best vacuums as reviewed by our expert
1. Shark ICZ300UKT Anti Hair Wrap Cordless Upright Vacuum Cleaner
Best vacuum overall
Specifications
RRP: £429.99
Dimensions: 108 x 25 x 26cm
Capacity: 0.6L
Weight: 6.2kg
Warranty: 5 years
Run time: Up to 60 minutes
Reasons to buy
+
Converts into a lightweight portable
+
Battery power display
+
Quieter eco mode
Reasons to avoid
-
Expensive
-
No onboard storage
If you're looking for an adaptable vacuum cleaner, the Shark ICZ300UKT may well fit the bill. It's as convenient for quick cleans (it converts into a handheld portable machine with an attachment) as well as whole-house vacuuming, with the power of a corded vacuum but in a cordless form. For example, the battery sits low down, next to the dust cup, so that it's light and versatile to steer—perfect for anyone who doesn't like the top-heavy nature of some cordless sticks. Another reason this Shark model is our favorite is the amount of kit included—there's a dusting brush, crevice tool, motorized pet tool, and wide upholstery tool, with a handy bag to keep all the accessories together too.
It has the ability to switch between carpet and hard floor, headlights, and three power levels. The quieter eco mode was all we needed to pick up dust and debris on hard floors, while standard worked well on fine dust on carpet. The boost mode was also great for picking up a few larger specks of debris. However, boost does run the battery power down quickly though, so use it sparingly. On the plus side, the display clearly shows battery power in percentage, so you can see how much is left which is a very handy feature. We liked that it has a good dust cup capacity for a cordless model and emptying was straightforward. Perhaps the only thing that could change is that the default setting is for carpet and standard power (not a previous selection), so you'd have to change it each time to eco mode, if you wanted to preserve battery power.
2. Bissell MultiReach Active
Best budget vacuum
Specifications
RRP: £199.99
Dimensions: 119.4 x 24.1 x 26.7cm
Capacity: 1.5L
Weight: 3.63kg
Warranty: 2 years
Run time: Up to 30 minutes
Reasons to buy
+
Tangle-free brush roll
+
Converts into a handheld
+
Wall-mount with tool storage
Reasons to avoid
-
Battery doesn't detach for charging
-
Awkward to empty
Cutting away clumps of hair from a vacuum brush must rank in the most hated household jobs—so if you'd prefer to avoid that, choose the appealingly affordable Bisselll Multireach Active 21V cordless vacuum. It has a large tangle-free brush roll that stops hair wrapping around it, so it gets sucked up instead, which is super handy. Plus, it comes with a crevice tool and an upholstery tool with rubber teeth so it can clean away pet hair—we found this very effective on both furniture and stairs. There's no on-board storage for these but they can be stored on the wall bracket. Headlights for spotting dirt, and the fact that it can convert into a powerful handheld vac are also big pros.
There are a few niggles though. One is that the battery can't be removed for charging, so after 30 minutes, you'll have to wait for it to power up again before use. The Multireach Active 21V also doesn't stand up by itself, which is a pain if you need to stop while cleaning. Another is that there are only two cleaning power options—hard floors or carpet—with no boost or eco mode. That said, it excelled on hard floors in testing, picking up dust and debris with a couple of passes. And while dust needed multiple passes to pick it all up, debris only needed a couple of passes for it to be visibly gone. Emptying wasn't quite as smooth. Removing the bin revealed that dust had clumped in the pipe rather than being sucked in. A second clean didn't duplicate the problem, but it's something to be aware of when using. That said, the pluses mean this is our pick for best budget vacuum, given that it retails for under $200/£200.
3. Roidmi RS60 Cordless Vacuum Cleaner
Best premium vacuum cleaner
Specifications
RRP: £579.99
Dimensions: 119.1 x 24.9 x 16.4cm
Capacity: 0.55L
Weight: 2.7kg
Warranty: 5 years
Run time: Up to 70 minutes (on eco mode)
Reasons to buy
+
Mops hard floors
+
Lightweight
+
Variety of accessories
Reasons to avoid
-
Small dust bin
-
Battery not removable for charging
-
Expensive
For those who like a high-tech cordless model with plenty of functionality, the Roidmi RS60, known as the X30 in the US, could be the one for you. It's a compact stick yet it comes with a lot of kit—a crevice tool with detachable brush, dusting brush and mattress brush. There's also a pet brush with a flexible hose that can retract its teeth, so you can clean away clumps of pet hair easily. However, the RS60 goes beyond vacuuming—a clip-on mopping head and washable microfibre pads allows you to mop hard floors too. There's even a magnetic charging dock, plus you can link the vacuum to an app so it'll remind you when you need to empty its bin and tell you how many calories you've burned during a cleaning session!
In testing, it did a great job of sucking up dust and debris from a hard floor in one pass on its lowest setting (eco), and while we had to power up a level to standard for carpet—and the top setting, turbo, for the last few bits—overall, we were happy with the performance. However, unlike many cordless vacs, you can't remove the battery for charging. This means that you're dependent on a single charge, which if you're using the turbo setting, only lasts about 10 minutes. We also thought it was quite heavy to hold for longer periods of time, but this is arguably subjective.
4. Hoover H-Upright 300 Pets
Best vacuum for pet hair
Specifications
RRP: £199.99
Dimensions: 114.7 x 30 x 32cm
Capacity: 1.5L
Weight: 4.94kg
Warranty: One year
Run time: N/A
Reasons to buy
+
Lightweight
+
Large bin
+
Easy to empty
Reasons to avoid
-
Only one power level
-
Doesn't convert to a handheld
If the thought of lugging around a heavy vac puts you off the idea of a corded model, the H-Upright 300 should settle that doubt. That's because it weighs less than 5kg (excluding cable and tools), so you can carry it easily without breaking a sweat. It's easy to navigate around a crowded home thanks to a floor head that allows it to swivel by up to 80 degrees, and has a capacious bin for the size of the machine. Its controls are more basic than some, but still helpful—there's a button for switching the brushes on and off depending on your floor type, as well as a slider switch on the front for adjusting the suction for hard floors or carpet.
Its two tools clip onto the machine—there's a 3-in-1 tool that transforms from crevice to upholstery or dusting, as well as a mini turbo brush that we found brilliant for cleaning pet hair from a sofa. And while this vacuum doesn't convert into a handheld, it does allow you to add the tube handle to the hose to extend its reach, which was great for tricky corners. In testing, the H-Upright 300 needed just one pass for picking up dust and debris on hard floors, and a couple on carpet with the brushes in use, so overall its cleaning performance was excellent. We also liked that the bin clipped off easily, ejected cleanly with no mess and only a few dust clumps hung on inside the machine (but these were easily brushed away).
5. iRobot Roomba S9+
Best robot vacuum cleaner
Specifications
RRP: £1,499.99
Dimensions: 9 x 31 x 31cm
Capacity: 0.44L dust box
Weight: 3.7kg
Warranty: Two years
Run time: Up to 120 minutes
Reasons to buy
+
Automatic emptying
+
App controlled
+
Increased suction on carpet
+
Hands-off use
Reasons to avoid
-
Expensive
-
Requires replacement bags
For a more effective pick-up than many robot vacuums, choose the iRobot Roomba S9+. It's large and expensive, but it has a lot to offer for the price—solid build quality, great cleaning on different floor types and a convenient automatic emptying system. What also sets it apart is the mapping function, allowing it to know where it's cleaned and where it needs to go, giving you more control over which areas are vacuumed using the app, which makes cleaning very easy for you. For example, rather than vacuum a whole floor every day, it can be programmed to clean high-traffic areas daily. Or, as it is Alexa and Google Home-compatible, you can ask it to clean a specific space. Once it's finished, it'll empty itself into a bagged base station automatically—meaning once it's set up, you may only have to think about it once a month. This means it's as handy for busy families as it is for busy professionals who are out of the house often.
The Roomba S9+ features a Quiet clean setting and a more powerful Detailed mode that's ideal for carpet. We found that it handled dust and debris on hard floors with ease in Quiet, and debris on the carpet well, whilst on the Detailed setting. Dust on carpet was more of a challenge, with some ingrained dust left behind. But overall, it was the best dust pick-up we'd seen by a robot vac on soft flooring.
6. Bosch Series 6 Unlimited ProHome BCS612GB cordless vacuum cleaner
Best lightweight vacuum
Specifications
RRP: £329
Dimensions: 122 x 20 x 26.5cm
Capacity: 0.9L
Weight: 2.3kg
Warranty: Two years
Run time: Up to 30 minutes
Reasons to buy
+
Lightweight
+
Dedicated mattress tool
+
Wall-mount with storage
Reasons to avoid
-
Battery doesn't detach for charging
-
Performs better on hard floors than carpet
For a lightweight cordless vac that does more than floors, look no further than Bosch's Unlimited ProHome BCS612GB. Its range of specialist tools gives it more versatility than many that come with standard accessories, making it ideal for rooms beyond the lounge. It's especially suitable for bedrooms, equipped with a flat scraper-style nozzle for cleaning mattresses BEST MATTRESS and a long, flexible crevice tool that we found invaluable for reaching behind furniture, into the corners of a wardrobe and underneath the bed. Plus as a handheld, it only weighs 1.4kg. There's also an XXL nozzle—perfect for quickly getting around an upholstered bed, and two batteries. The batteries are compatible with other products from Bosch's cordless range, but even though they detach, they need to be charged on the machine, so you can only have one powering up at once. It also comes with a wall mount with space for two tools, but there's no on-board storage, so you'll need to remember to take the right one with you.
Controls are straightforward—there's a trigger for on and off that doesn't need to be held down and a turbo button. We used normal power for hard floors and it performed excellently, sucking up both dust and debris with a single pass. This power level was less effective on carpet, when it tended to drag on a backward pass and needed the turbo mode to pick up remaining dust and debris. The dust bin was easy to detach, if messy to empty, as the filter had to be removed first. But on the plus side, there's nowhere for dust to gather so emptying was otherwise a simple process.
7. Dyson Outsize Absolute Cordless Vacuum Cleaner
Best vacuum for big homes
Specifications
RRP: £699.99
Dimensions: 93 x 20 x 31cm
Capacity: 1.9L
Weight: 3.56kg
Warranty: Two years
Run time: Up to 60 minutes
Reasons to buy
+
Good for large areas
+
Easy empty bin
+
Five tools
Reasons to avoid
-
Lack of storage for all tools
-
Have to hold trigger button to clean
Smaller vacs with limited dust bin capacity and compact dimensions may not be up to cleaning a larger home, which is where the Dyson Outsize Absolute comes in. Its extra-wide head measures 12 inches across (25% bigger than most), meaning that you can cover a large area fast. There's an array of tools too, such as a crevice tool, combination tool, soft dusting brush, anti-tangle hair screw tool, and a second cleaner head with a laser to illuminate easily missed dust particles. In an ideal world, there'd be storage for all these but the Dyson Outsize Absolute only has a wand clip on-board for two tools. However, there's a wall-mounted dock for the vacuum plus its battery can be charged separately—there's two supplied, which is another plus for a large home.
We found the laser dust detection really handy on hard floors as well as an LCD menu that shows how much running time there is left and the power level (ranging from eco to boost). In testing, we found that we needed to use the medium standard power to pick up dust and debris on the hard floor, although the eco mode performed excellently on carpet, with a single pass for dust and two passes for debris. We also liked that the dust bin could be emptied in one motion, with no dust thrown around. Our only niggle was that you need to hold down the trigger to keep it on, which for a whole house clean was a little taxing.
8. Sebo Felix vacuum cleaner
Best vacuum for carpet
Specifications
RRP: £319.90
Dimensions: 123 x 35 x 25cm
Capacity: 3.5L
Weight: 6.8kg
Warranty: Five years
Run time: N/A
Reasons to buy
+
Anti-allergy
+
Adjustable height handle
+
On-board storage for tools
+
Good for use on corners
Reasons to avoid
-
Heavy
-
Requires replacement bags
-
Not intuitive to use
Given that so many vacuums are bagless, it's easy to forget how good a bagged vacuum can be when it's designed well. The Felix is one such vacuum, equipped with a huge capacity, excellent filtration and bags that securely seal before being removed, making it perfect for allergy sufferers. Another of its clever features is that it'll let you know when the brush bar is in the right position for the floor type, using a series of lights, so you can be sure that each clean is the most thorough it can be. The brushes can be switched off with a button push, so you can protect delicate floors or simply save power when you don't need them. Other features we appreciated were the height-adjustable handle—great for anyone who struggles with too tall or too short models—and the attachment clip that stores both the crevice tool and upholstery nozzle on-board.
The Felix is controlled by a slider to scroll from low to max power, with a dial for adjusting the brush height. We found that 1 was good for hard floors and 4 for our deep pile carpet. However, it's not the most intuitive vacuum to use in general and the instructions are lengthy, which is something to note. It swiveled around corners well but was quite heavy to push around, especially as the bag filled up. However, we were impressed by its performance—only one pass was needed on the lowest power level for dust and debris on hard flooring, and the same for dust on carpet, which was a revelation, and makes it firmly our best vacuum for carpet choice. Only a second pass was needed for debris on soft flooring. Perhaps the only thing on the wishlist would be a longer hose, as we found vacuuming low down meant the machine could tip over.
9. Samsung POWERstick Jet vacuum
Best vacuum for hard floors
Specifications
RRP: £599
Dimensions: 113.6 x 25 x 21.5cm
Capacity: 0.8L
Weight: 2.8kg
Warranty: Two years
Run time: Up to 60 minutes
Reasons to buy
+
Height-adjustable
+
Turns into a handheld
+
Also mops floors
Reasons to avoid
-
Bulky charging station
-
Not as effective on carpet
The ability to mop floors with a dedicated head and cloths after you've vacuumed them is an interesting option that is available within Samsung's Jet 90 Pro, and is especially useful when cleaning a kitchen or bathroom. That's because it already comes with a fair amount of kit—there's a crevice tool, mini motorized tool for pet hair, combination tool (for curtains, furniture and sofas) as well as an innovative flexible tool, which can be set to a particular angle so you can clean hard to reach places. Most of these store on a charging stand in a brush holder, which is a thoughtful touch, but takes up quite a lot of floor space. More frustratingly, the removable battery can't be charged independently of the stand, so the amount of space taken up by the vacuum doubles. You can use it to charge a second battery at the same time, though.
But that isn't to say there's not lots to like about this cordless number. For starters, it adjusts in height, making it suitable for multiple members of a household, plus it contracts for storage, and can transform into a handheld vac. It has a dust bin that's entirely washable for those who like their vacuum to be squeaky clean, too. Plus, we found that on the lowest of its three power levels (min, mid and max), it performed excellently on hard floors, picking up dust and debris with ease. Unfortunately, it wasn't quite as effective on carpet, requiring the max power and second pass to pick up all the dust and debris. We also found emptying overly complicated and messy—the filter and dust fell out when the dust bin was opened, while debris scattered from the pipe.
What vacuum cleaner do professionals use?
Like chefs with the best induction pans, we all want to know what the professionals actually use in their own homes when it comes to appliances. When it comes to choosing a vacuum, professional cleaners and cleaning companies tend to prize reliability, durability and a solid performance over other factors (such as design, extra tools and storage), with many preferring:
Numatic's hard-wearing Henry Hoover machine
Miele's cabled and bagged models
Dyson's cordless vacuum cleaners
It's also interesting to know that Sebo makes a wide range of vacuum cleaners for the commercial market (including hotels, airports and hospitals) and uprights for professional use, often including similar features and technology on its domestic models, such as the Sebo Felix reviewed above.
However, while these models are expert-approved, it's worth noting that they aren't always right for domestic homes (as opposed to large corporate buildings, where cleaning teams tend to be employed mostly). Whether you want to know how to deep clean a carpet or how to clean an upholstered chair, the vacuums within this guide should be more than powerful enough to tackle any hoovering job you have.
Are expensive vacuums worth it?
Up to a certain point, the price of a vacuum cleaner corresponds to its build quality (with more durable parts) and how many added extras are included. For example, a $300/£300 vacuum cleaner is likely to last longer than one that costs less than $100/£100, and should offer more versatility.
However, at the more expensive end of the market, price is more of an indicator of how much technology is packed in, meaning you'll find features such as app-compatibility, voice control, digital displays, and sensors. They may do a slightly better job of cleaning, or make some jobs more convenient. Whether the price makes it worth it depends on how much you value those high-end features in your regular cleaning routine.
Sign up to our free daily email for the latest royal and entertainment news, interesting opinion, expert advice on styling and beauty trends, and no-nonsense guides to the health and wellness questions you want answered.
Rachel Ogden is a UK-based freelance journalist with more than 20 years' experience of writing, editing and sub-editing. For the last 13 years, she has worked exclusively in interiors, writing about everything from extending your home to kitchen worktops, flooring, storage and more.
She has worked for a huge swathe of brands, including Woman & Home, Ideal Home, Elle Decoration, Real Homes, Grand Designs, Living Etc25 Beautiful Homes, The Evening Standard, The Independent and many many more. She was also shortlisted for Lifestyle & Interiors Journalist of the Year in the 2018 Property Press Awards.