How to clean an upholstered chair to keep it fresh, hygienic and looking its best
Learn how to clean an upholstered chair, whether you're dealing with a tricky stain or carrying out a routine spruce
(Image credit: Getty Images )
When it comes to how to clean an upholstered chair, regular vacuuming and steaming should be enough to keep it in good condition. But if you need to deal with a tricky stain, it's important to use the right products and methods to prevent damaging delicate fabrics and ruining your chair.
Debris on your upholstered chair is one thing, but wine stains and muddy paw prints are quite another. Of course, you can ban pets and food from areas where you have nice upholstery, but accidents still happen as anyone can tell you (and if this is you—our article on how to get stains out of the carpet and how to remove wine stains may also come in handy). In this cleaning guide, we look at how to clean an upholstered chair to keep it looking fresh and new.
How often should I clean upholstered chairs?
Upholstery picks up dust and dirt from all over your house and needs to be cleaned and maintained often. It's best if you can do a spot vacuuming daily—but many of us are much too busy for that! Doing a thorough vacuuming once a week should at least keep the dust and debris off of your chairs and keep them looking fresh. A steam cleaner is a great choice for fabric chairs, as it requires no harsh products—cleaning and blitzing bacteria with the power of steam alone. If you're in the market for a new model, take a look at our guide to the best steam cleaners.
The worst scenario is staining—which needs to be dealt with straight away. Whether it's an unfortunate wine spillage or ingrained mud and dirt from muddy paws, we asked an expert how to clean the most stubborn stains out of an upholstered chair to clear the mess quickly and effectively.
How to clean an upholstered chair—three methods
When factoring upholstery into your cleaning routine, there are three cleaning methods to consider to ensure your chairs stay in mint condition:
Regular vacuuming or steam cleaning—try and shoot for a weekly spritz.
Monthly deep clean—upholstery can become dingy without a bit of extra attention.
Spot clean to tackle stains—as and when needed.
Regular maintenance
Remove all the larger debris gathered on the chair—throw away any bits of grit and food that are large enough to be picked up by hand.
Grab your vacuum or steam cleaner—some of them come with an attachment specifically for upholstery. If yours does not have one, use a brush attachment or a handheld vacuum.
Vacuum or steam with short strokes from left to right—ensuring that you get under the pillows and cushions. Make sure your vacuum suction is set to low so that you don't damage your chair.
It's easy to miss spots—so use the same pattern for your cleaning so that the entire chair gets vacuumed/cleaned.
How to deep clean an upholstered chair
Sometimes you can wait too long between cleanings, and find that parts of your chair have turned gray, dingy and a little musty. A monthly deep clean should keep your upholstery fresh.
Wet wipes make a great cleaning tool in this case—they are mild enough not to spot or damage your chair and do a good enough job that most of the dirt will be swept away.
Wipe down the fabric with wet wipes—paying special attention to nooks and crannies in the chair.
Finish with a vacuum or steam clean—as per the previous method to ensure any dirt and debris are swept away.
How to clean a stained chair
Sometimes the worst happens, and your chair gets stained. Even with regular maintenance, accidents occur. The first thing to do if you have a stain on your upholstery is to look for the manufacturer's care instructions or the fabric's cleaning code. This will be found on the label, often located under the seat cushions.
If you own a steam cleaner or can borrow one, they are excellent at getting out stains. Lynsey Crombie, AKA Queen of Clean, recommends this method. "Steam cleaning refreshes and breaks down odors and is eco-friendly and safe around pets and children," she says. Although buying a steam cleaner can be expensive, you can usually rent one for a reasonable price.
If a steam cleaner is out of the question, grab a microfibre cloth and follow the below steps:
Take a microfiber cloth—and fill a bucket with hot water and a few drops of dish soap
Put some hydrogen peroxide in a spray bottle—and spray the areas where the stains are the worst (hydrogen peroxide is also useful if you want to know how to clean grout, how to clean aluminium and how to clean marble). Only use this method on white fabric.
Let it sit for 10 minutes—before dunking your cloth into the slightly soapy water and steadily working on the spots that need cleaning. Lynsey says, "Clean the stain off following the way the fabric goes and do not work in a circle as this could cause a watermark. Instead, work up and down and use a good thick microfiber cloth."
Use hydrogen peroxide only on white fabric—as it is a natural bleach. Otherwise, Lynsey recommends the Dr Beckmann Carpet Stain Remover which comes with a handy brush head.

Our homes editor recommends...
---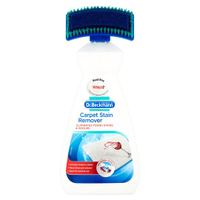 (opens in new tab)
Dr Beckmann Carpet Stain Remover, 350ml, $5.37/£3.59, Dr Beckmann (opens in new tab)
Dr Beckmann Carpet Stain Remover effectively removes heavy soil and unsightly spills such as red wine, coffee, fruit juice, grease, and other common household stains from carpets and upholstery.
---
After you have cleaned your chair, Lynsey advises, "Always air dry naturally, pop outside or leave a window open. Don't lean your chair on or put it near a radiator, and do not use a hairdryer. Heat can set a stain even more if it is not fully out—and can also shrink the fabric."
To finish off, fluff up any cushions and give the chair frame a quick polish for an upholstered chair that looks as good as new.
---
w&h thanks Lynsey Crombie, of Queen of Clean (opens in new tab), for her time and expertise.
Amy Hunt is an experienced digital journalist specialising in homes, interiors and hobbies. She began her career working as the features assistant at woman&home magazine, before moving over to the digital side of the brand where she eventually became the Lifestyle Editor up until January 2022. Amy won the Digital Journalist of the Year award at the AOP Awards in 2019 for her work on womanandhome.com.