How to clean marble gently yet effectively without damaging it
Mastering how to clean marble without harming the material isn't as difficult as you may think with our guide to tackling stains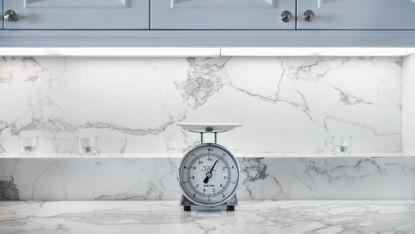 (Image credit: Getty Images)
Learning how to clean marble without damaging it isn't as tricky as it sounds. While marble is a delicate material that should be handled with care, there are some simple cleaning rules that will keep it in condition.
If you are the proud owner of marble countertops or flooring, you'll know how beautiful they look when sparkling clean. And, we imagine, you'll also know how unnerving it can be to see your precious worktops or counters dirty, or temporarily stained from dinner preparation.
Marble surfaces in the kitchen can bear the brunt of hazardous tasks from vigorous food prep to spillages. Equally, bathroom counters are faced with everything from toothpaste to makeup spillages. While marble floors can find themselves sullied by muddy feet (and paws!) on a daily basis.
Marble is considerably more porous and fragile than other worktop materials, which means it often requires a little more regular upkeep to ensure it stays in tip-top condition. But it's worth every moment to keep those stunning surfaces gleaming.
How often should I clean my marble?
The frequency of your marble cleaning will vary according to how often the area is used, advises Ella Jade, co-founder of home brand ROOBBA.com. "In areas with low usage, marble should be cleaned regularly with a soft cloth to maintain the shine," she recommends. "If the marble is in an area that's used more often—such as on a kitchen island that doubles as a dining table—a quick once-over after every use is recommended, and even more so if anything has been spilled."
"When a spillage occurs, wipe it up immediately," Ella says, "especially if it's something like fruit juice, smoothies, wine, or coffee. If the liquid is left untouched, it could result in a stain, due to the porous properties of marble."
The same could apply to any marble bathroom units you have, too. For example, you may want to wipe your marble sink unit, or your marble shower walls, daily, to keep them looking their best.
How to clean marble—four different methods
1. Use a microfibre cloth for a quick clean
It couldn't be easier to give your marble surfaces a quick clean on a day-to-day basis. "Just use warm water and a clean, damp microfibre cloth," recommends Henry Paterson, Senior Operations Executive at Housekeep. "Once you've wiped down your surfaces, dry them straight away with another microfibre cloth to ensure no watermarks are left behind."
Want to take it one step further? A mild mix of washing-up liquid and hot water can also be employed to keep your marble in glistening condition on a daily basis; just use a damp cloth to give it a once-over and then buff dry afterwards with an absorbent kitchen towel. "This will keep your marble looking fresh and is great for a general clean," says Ella.
You can also head online or to your favourite supermarket to find a marble-specific cleaning product. "These are designed with marble in mind," says Henry, "but it's always a good idea to test out a new product on an inconspicuous area first."
2. Use baking soda sparingly for shine
You can use the kitchen essential baking soda to clean marble—just be careful not to overdo it. Marble can react badly to alkali substances such as baking soda, meaning it should be used irregularly rather than as part of a daily cleaning routine. "It's a mild abrasive, so it could scratch or dull your surface," warns Henry. "It can also be damaging if it's in contact with the marble for too long."
However, if you want to give your worktop a more thorough clean, using baking soda from time to time can truly work wonders. So how do you do it right? Simply scatter a small amount of baking soda across the marble and gently massage it in with a soft cloth. Then, rinse the area with water before carefully drying it. The water is essential for helping to neutralize the pH of the area after the alkaline contact, ensuring the baking soda residue doesn't linger or cause undue damage. Cleaning it this way should leave the marble with a great shine though—meaning it's sometimes worth risking the baking soda if you feel comfortable.
Baking soda can also be brilliant when figuring out how to clean copper, or how to clean grout in your kitchen or bathroom.
3. Use cornstarch for stains
If you've spotted a stain or grease mark on your marble countertop, don't panic—cornstarch can help you handle it with ease.
Wet the area in question and then apply a thick layer of cornstarch to it. "Leave it for a good 20-30 minutes," Ella advises. "This will allow it to sink into the marble. Then, wipe the surface and remove all residue with a damp cloth. It should not only have soaked up the stain but will also have given the marble a really good clean, too."
4. Use hydrogen peroxide for tougher stains
Note: this method is only appropriate for lighter-colored marble. If you're worried about discoloration caused by a vibrant food or drink, hydrogen peroxide might be able to help. Simply apply a few drops to the affected area and cover with cling film. Leave it overnight (8-10 hours) before removing the clingfilm and rinsing away the solution with water. Buff dry and repeat if the stain is still there.
Henry also recommends using a non-acidic marble poultice, which can be purchased online and mixed with water to form a paste; be sure to test it first on a non-visible area to ensure it won't cause further damage.
"Simply spread the poultice over the affected area, about a ¼" thick," Henry explains. "Cover the poultice with cling film and tape the edges down. Poke a couple of holes in the cling film and then leave it for a day or two. During the drying process, the stain should lift into the absorbent poultice. Once it has completely dried, the poultice can be gently scraped away."
What not to use when cleaning marble
Don't use acidic or high alkaline products: "Always avoid anything acidic or high alkaline when cleaning marble," warns Henry, "as these products can lead to etching, staining and discoloration. This includes any homemade solutions that contain citrus juice or vinegar, as they're particularly acidic. Similarly, avoid using bleach-based cleaning solutions or products."
Don't use wiry or abrasive cleaning tools: Marble needs careful care—meaning that tough scourers or anything wiry and abrasive could potentially cause more harm than good. If you're not certain about an item, always ask an expert first to avoid any further damage.
Why is it important to clean marble?
You might imagine that a stone such as marble would be more sturdy and resilient than other common kitchen countertop materials—but you'd be wrong. Due to its soft and porous properties, marble is surprisingly easy to accidentally stain or scratch, especially if we're not careful when using our kitchen gadgets on the countertops. It can also react badly to both acids and alkalis, meaning it needs to be treated with appropriate caution when cleaning it to ensure a damage-free result.
As daunting as this all might sound, knowing how to clean marble in your home is actually a fuss-free addition to any regular kitchen cleaning or bathroom cleaning regime—and even the odd spillage or stain can be handled with ease when you know how.
Do I need to seal my marble?
It's worth noting that prevention can be better than cure when it comes to keeping your marble looking its best—and there's no better way to begin than by sealing it.
"I would always recommend that the marble is sealed prior to or on installation," says Ella Jade. A good sealant will not only offer an element of stain protection to your surfaces but will also make general upkeep that bit easier, too.
Of course, whilst a sealant won't make marble entirely resistant to stains or unwanted marks, it will offer an extra layer of protection that otherwise wouldn't be there. (And, in our experience, that's worth having. Even the best blenders and the best food processors can create a terrible mess that sometimes results in heartbreaking stains).
As well as sealing the marble, investing in appropriate coverage will also help to keep your surfaces more protected. We're talking about appropriate chopping boards for marble food-prep areas, table mats for marble dining spaces… It might sound simple but it can all add up to keeping your marble safe from unwanted contact.
With thanks to Henry Paterson, Senior Operations Executive at Housekeep (opens in new tab), and Ella Jade, co-founder of home brand ROOBBA.com (opens in new tab), for their time and expertise.
Katie Byrne is a contributor to woman&home and a writer whose interests span everything from homes and interiors, to pop-culture, travel, business and self-development. A former digital editor, her freelance journalism has featured across a wide range of print and online titles, including Raconteur, Digital Spy and more. When she's not writing, she loves reading (and has the groaning bookshelves to prove it...), dreaming up new décor ideas for her flat and devouring Netflix's latest true-crime series with her husband. You can find her on Twitter: @katie_b123 (opens in new tab).