The best cordless vacuum—lightweight stick models for effortless cleaning
The best cordless vacuum cleaners will clean as efficiently as their upright counterparts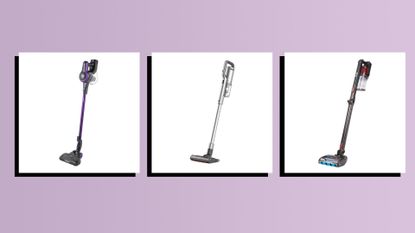 (Image credit: Future)
The best cordless vacuums take the hassle and some of the hard work out of cleaning your home. Ditching the cable means that you can vacuum without the hassle of a trailing cord and finding a plug socket nearby, making the whole process easier and more efficient.
While the convenience of a stick vacuum often used to come at the expense of suction power and a limited battery life, the latest cordless models are now much more powerful and run for longer than ever before. Plus, they are far easier to carry and manoeuvre than a corded vacuum, and frequently loaded with all the tools you'd expect from a larger vacuum cleaner. Models cater to every kind of cleaning issue too, such as pet hair, kitchen cleaning, and vacuuming your car as well as the basic performance of getting rid of dust in your home.
Home appliance tester Rachel Ogden has 13 years experience in interiors and finding the very best appliances and tech for the home. She has selected and tested the best cordless vacuum cleaners for every budget below. Each one has been put through its paces in terms of power, weight, functionality, emptying, maintenance and how easy it is to use.
Included in our selection is Shark's IZ300UKT Stick Vacuum Cleaner, which topped our tests to be chosen as the best cordless vacuum overall. A close runner-up was the VAX ONEPWR Blade 4 Dual Pet & Car cordless vacuum, which is a great buy if you're looking for a good balance of price and performance. And if you're keen to choose from a wider selection of vacuums, look at our best vacuum guide which includes both corded and cordless models.
The best cordless vacuum as reviewed by our experts
Why you can trust Woman & Home Our expert reviewers spend hours testing and comparing products and services so you can choose the best for you. Find out more about how we test.
1. Shark IZ300UKT Anti Hair Wrap Cordless Stick Vacuum Cleaner
Best overall cordless vacuum
Specifications
RRP: $349.99 / £429.99
Dimensions : 118 x 26 x 24.5cm
Capacity: 0.7L
Weight: 4.58kg
Running time: Up to 60 minutes
Warranty: Five years
Reasons to buy
+
Effective on soft flooring
+
Switches between hard floors and carpet
+
Three power levels
Reasons to avoid
-
Expensive
-
Can flick larger debris
Shark's IZ300UKT might be a cordless stick vacuum but it does everything possible to measure up to the best Shark vacuum corded counterparts, with features that help it give a thorough clean, regardless of the surface. The most noticeable are its PowerFins, which are firm but flexible flaps on the rear brush (it has two) that agitate soft flooring to drive out the dust, and sweep hard floors. In our testing, the IZ300UKT efficiently picked up fine dust in one pass on both hard and soft flooring, although we noticed that the fins could also flick larger debris out of the way, meaning a second pass was necessary to suck up missed bits. Even though it's a stick model, it has a good capacity dust cup for a whole house clean and was simple to empty.
What we also liked about this vacuum is its ability to switch between hard floors and carpet and three power levels. There's eco for light cleaning, a deep cleaning mode when you need more and a boost for stubborn jobs. Its display shows how much charge the battery has left, which we found useful as it means you can make sure there's enough before you begin a job, plus its battery can be removed, giving you more flexibility over where you charge it up. The IZ300UKT includes a bag for accessories (crevice tool, multi-surface tool and pet tool) so you can keep them together, headlights to spot dust in dark corners, and the ability to bend to go under furniture and for storage. It even converts to a handheld, making it a great all-rounder cordless.
2. Beldray Airgility cordless vacuum
Best budget cordless vacuum
Specifications
RRP: £129.99 (UK only model)
Dimensions: 125 x 25 x 23.5cm
Capacity: 1.2L
Weight: 3.56kg
Running time: Up to 35 minutes
Warranty: Three years
Reasons to buy
+
Lightweight
+
Can be compact for storage
+
Converts into a handheld
Reasons to avoid
-
Lacks suction on carpet
-
Awkward to empty
-
Need to swap brushes for floor types
Proving that cordless doesn't necessarily mean costly, Beldray's Airgility vacuum cleaner packs a fair amount in for the price. It'll convert to a handheld, comes with a 2-in-1 crevice and brush tool and is fairly lightweight to push around. And while there's no on-board storage or wall mounting like other cheap Dyson alternatives, the handheld part clips onto the front of the machine when you're finished cleaning so it doesn't take up a lot of vertical space. The battery detaches for charging too, so you won't be stuck finding a place for it next to a plug socket. There are even LED headlights so you can spot dirt more easily. However, it does come with quirks. One is that you can swap the brush bars from soft to hard bristles – the latter of which is intended for deep pile carpets. While it's easy enough to do so, we found it a chore to swap brushes when going from thick carpet back to hard floors. The controls aren't that intuitive—there's a trigger to turn it on and off, but this doesn't have to be held down, unlike most trigger controls. There's another button to toggle it between minimum and maximum power.
The Airgility performed well on hard floors on minimum, picking up debris with one pass, though it needed a couple for dust. However, it fared less well on carpet. The maximum power with the hard bristle brush didn't shift some remaining dust, while a couple of passes on maximum were required for debris. We also tried out the crevice and upholstery tool in the handheld mode – these worked well but are much smaller than some, meaning that if you're vacuuming a whole sofa, it would be a time-consuming job. Emptying was problematic—while a good size for the machine, the bin doesn't detach and dust clumped around the filter, making it a messy job.
3. Dyson Outsize Absolute Cordless Vacuum Cleaner
Best premium cordless vacuum
Specifications
RRP: $799.99 / £699.99
Dimensions: 93 x 20 x 31cm
Capacity: 1.9L
Weight: 3.56kg
Running time: Up to 60 minutes
Warranty: Two years
Reasons to buy
+
Good for large areas
+
Easy empty bin
+
Five tools
Reasons to avoid
-
Lack of storage for all tools
-
Have to hold trigger to clean
Big rooms demand a big cleaning solution and few come with coverage as large as the Dyson Outsize Absolute. Its extra-wide head measures 12 inches (25% bigger than most), meaning that you can whizz through vacuuming faster. There's an array of other tools too, including a crevice tool, combination tool and an anti-tangle hair screw tool. There's also a soft dusting brush and a second cleaner head that uses a laser light to illuminate dust particles that can be easy to miss - both tools that come in useful when using a vacuum to clean a mattress and other soft furnishings. It'd be handy to have storage for all these but sadly, there's only a wand clip for two tools on-board. Fortunately, there's a wall-mounted dock for the actual vacuum cleaner plus the battery can be removed and charged separately—there are two in the box so one can be on charge while you're cleaning.
Besides the laser dust detection, which we found really handy on hard floors, there's a fair amount of tech built-in too, including an LCD menu that shows you how much running time there is left and power level (there are three, ranging from eco to boost). In testing, we found that the eco setting wasn't quite enough to pick up dust and debris on the hard floor, meaning we had to switch it to standard power, but it performed excellently on carpet in the eco mode, with a single pass for dust and two passes for debris. We also loved that the dust bin could be emptied in one smooth motion, with no dust thrown around. However, what we found more challenging was having to hold down the trigger to keep it on, which for a whole house clean was taxing. It's also big and bulky in general, so not one to choose if your home is compact.
4. Hoover H-FREE 500 HF522BH Cordless Vacuum Cleaner
Best lightweight cordless vacuum
Specifications
RRP: £199.99 (UK only model)
Dimensions: 107.9 x 25.2 x 19.5cm
Capacity: 0.45L
Weight: Weight
Running time: Up to 25 minutes (standard mode)
Warranty: One year
Reasons to buy
+
Easy to store
+
Lightweight
+
Maneuvers around obstacles
Reasons to avoid
-
Small dust bin
-
Lacks power as a handheld
Whether you're living in a small space or need a versatile lightweight vacuum for little and often cleaning, the Hoover H-Free 500 should be a perfect fit. That's because it's as compact as they come, yet manages to pack in the sort of suction power you'd expect from a larger vacuum. Even better, you can pop the handheld section off and clip it to the front of the wand for storage, making it just 69cm tall and able to tuck into a small cupboard. There's no compromise on features—a twin dusting and upholstery tool stores on the wand before sliding into place when it's in its handheld format, plus there's a crevice tool, and four power modes; standard, hard floors, auto for when tools are attached and turbo. There's even a dust bin cleaning tool, which we used when some dust became stuck around the filter.
What we liked most about the H-Free 500 was how easy it was to vacuum, especially in tight spaces. It can recline down by up to 90 degrees while staying flush with the floor, making it easy to clean under furniture, while its slimline design was great for corners. Plus, you can see the battery status and power level at a glance from lights on the top. In testing, it picked up brilliantly on hard floors in one pass, and while both dust and debris needed a second pass to deep clean the carpet, we were still impressed with the performance. There are a couple of downsides, however. When tools are attached, the power adjusts to a lower level, which we found frustrating when trying to pick up pet hair, plus, as it's small, the dust bin can become full quickly, especially if you're vacuuming more than one room at a time.
5. Roidmi RS60
Best cordless vacuum for pet hair
Specifications
RRP: $785 / £579.99
Dimensions: 119.1 x 24.9 x 16.4cm
Capacity: 0.55L
Weight: 2.7kg
Running time: Up to 70 minutes (eco mode)
Warranty: Five years
Reasons to buy
+
Mops hard floors
+
Lightweight
+
Variety of accessories
Reasons to avoid
-
Small dust bin
-
Battery not removable for charging
-
Expensive
Roidmi RS60, also known as the X30 in the US, should tick boxes for those who like their vacuum to be as functional as possible. Even though it's a compact stick, it comes with a lot of kit; a crevice tool with detachable brush, dusting brush and mattress brush. It also comes with a pet brush with a flexible hose that we found ingenious to use thanks to its ability to retract its teeth, so clumps of hair can be removed. However, the RS60 has more than just vacuuming accessories—it'll also mop the floor with its clip-on mopping head and washable microfibre pads. Ideal for cleaning laminate floors and tiles. There's even a magnetic charging dock, and, should you wish to, you can link it to an app so it'll send you an alert when you need to empty its bin—which all goes towards justifying its high price tag.
But it's not all bells and whistles. It functions well as a vacuum cleaner too, happily sucking up dust and debris from our hard floor in one pass on its lowest setting, eco. We had to power up to standard for carpet with the top setting, turbo, for the last few bits but it still performed well. There are a few niggles, however. Not being able to remove the battery for charging means you're dependent on a single charge, which if you're on eco can be up to 70 minutes but turbo will blitz through it in 10 minutes and make the motor in the handle grow warm. We also found it was quite weighty to hold for more than a single room clean, so it may be better for little and often cleaning rather than a whole house in one go.
6. Vax ONEPWR Blade 4 Dual Pet and Car Cordless Vacuum Cleaner
Best cordless vacuum for car
Specifications
RRP: $400 / £299.99
Dimensions: 114 x 24 x 18.5cm
Capacity: 0.6L
Weight: 3.1kg
Running time: Up to 45 minutes
Warranty: Three years
Reasons to buy
+
Motorized pet tool
+
Transforms into a handheld
+
Flexible powered hose
Reasons to avoid
-
Dust bin awkward to replace
-
Handle can be weighty for long periods
While most areas of your home get a regular vacuum, chances are that you put off cleaning awkward spaces, such as your car, because it's tricky. However, the ONEPWR Blade 4 Dual Pet & Car seeks to change that mindset. It comes with a flexible powered hose that works with all its tools, allowing you to reach under seats, into footwells and the boot. Combined with the motorized pet tool, it's a dream for whisking away dog hair especially because the brush bar has an antimicrobial treatment to protect the bristles from bacteria and fungi growth, and there are handy headlights. Another plus is the removable battery which charges quickly—plus you can upgrade to the twin battery model for £70 more to double the runtime.
It's equally effective as a stick vacuum. There's a crevice tool and dusting brush for above-floor cleaning, a boost mode for when you need more power and a button for turning on the brushes for carpet cleaning. We found it easy to maneuver around and under furniture, and the pick-up was excellent. A single pass on standard was sufficient for dust and debris on hard floors, while dust on carpet was easily blitzed on standard power, with boost only used for picking up the last few fragments of debris. Emptying was easy too. The dust bin can be removed with a squeeze and the contents released with a quick flick of a clip. Our only gripe was replacing the bin—it can be awkward at first to make sure it's clipped back in properly.
7. Gtech AirRam Mk 2 K9
Best cordless vacuum for carpet
Specifications
RRP: £249.99 (UK only model)
Dimensions: 112 x 29.7 x 25.6cm
Capacity: 0.8L
Weight: 3.3kg
Running time: Up to 40 minutes
Warranty: Two years
Reasons to buy
+
Scented cartridges
+
Easy to clean filter
+
Handle retracts for storage
Reasons to avoid
-
No tools
-
Lacks versatility
While some cordless vacuum cleaners are for all areas of your home, the Gtech AirRam concentrates solely on the floor. For those who already have a multitasking handheld vacuum, this could be the perfect complement. The AirRam is fairly light, with a handle that retracts so it's more compact for storage, yet doesn't lack power. Its battery and good-sized dust bin are located in the floor head, so it's easy to steer and not too taxing for longer cleaning sessions, plus you can insert scented cartridges that freshen up as you clean. The filter is easier to access than some—it can be pulled out of the dust bin without having to unclip sections or empty it first, so this is a good one to choose if you like minimal maintenance.
There's only one power level but it works well for both hard and soft floor cleaning, and means you won't have to think about what floor type you're cleaning. We found it actually performed better on carpet than hard floors, with dust and debris picked up in two passes on the soft floor and a couple more required for removing all the dust and debris from our vinyl floor. The dust bin was easy to remove and replace, plus there's a slider that pushes the contents without the need to bang it on the side of the bin. However, we noticed that it still dropped a little dust when we were finished emptying. Other features we liked were that the battery detaches for charging, there's a carrying handle for moving it from room to room, plus there's a cleaning tool for the brush bar so you won't have to resort to scissors.
8. Lupe Pure Cordless Vacuum Cleaner
Best cordless vacuum for hard floors
Specifications
RRP: £699 (UK only model)
Dimensions: 114.5 x 17.5 x 26cm
Capacity: 1L
Weight: 4.6kg
Running time: Up to 60 minutes
Warranty: Two years
Reasons to buy
+
On-board storage for both tools
+
Easy to empty
+
Compact and stylish design
Reasons to avoid
-
Buttons on the front out of reach
-
Doesn't convert to a handheld
Style can be lacking in cordless vacuums, with function placed ahead of form. However, Lupe's compact Pure Cordless is a beautiful mix of both. Not only does it boast a versatile design, it looks sleek, so you could park it in the corner of a room (as it's self-standing) without it looking incongruous. It has on-board storage for accessories—a crevice tool and an upholstery tool—and can be used as an upright or a 'carry' mode with the hose and wand to give extra reach with the tools (although sadly not as a handheld). It also has a brush bar that can be switched off when required. Meanwhile, three power levels, eco, normal and max, give a good choice of suction. The battery can also be removed for charging or if you want to extend its runtime with another.
The control buttons aren't as well-designed. They're on the front of the machine, meaning you'll have to tip it before turning it on. Illuminated plus and minus buttons correspond to the power levels, so it's not always easy to know which one you're on until you get used to the machine. The final button is for the brush bar. It's on by default, which is frustrating if you're only cleaning hard floors. We found it worked incredibly well on hard floors and cleaning tiled floors without the brushes in eco mode, picking up both dust and debris with ease. Soft floors were different; we needed the boost mode and brushes to pick up debris, but this wasn't enough for dust—we could still see residue in the carpet. We also felt that the upholstery brush could use improvement as it didn't pick up pet hair well. Emptying was straightforward—the bin clipped off and back on easily, and discharged the contents without mess or clumping.
How we tested the best cordless vacuums
To help you find the best cordless vacuum for you, our selection includes stick vacuums at a range of price points, from good-value models suitable for those shopping to a budget to investment machines that'll leave your hard floors and carpets scrupulously clean. We've covered plenty of options so you'll find the most popular brands as well as a few you might be less familiar with.
Each model has been rated on a variety of different factors, including its size, weight and design, how well its tools worked, ease of maintenance and value for money. Ease of use for each cordless vacuum was an important factor, so we also assessed it for how simple it was to assemble, how intuitive the controls are and what it was like to use over an extended period of time.
We've spent several hours testing the cleaning power for each model too: using both fine dust and larger debris on both hard and soft floors, cleaning in its standard mode unless otherwise noted. The included tools have been tested as well—how easy each one is to fit and detach, and whether they come with storage or if you'll have to find a place for them to live while the vacuum is in use. Some models are geared towards hard floors while others will switch between carpet and hard flooring automatically, or have a button that ramps up cleaning performance on soft flooring.
How to choose the best cordless vacuum for you
Size and weight—most cordless vacuum cleaners tend to be light to lift compared to uprights or cylinders, however, they can still vary in weight, with some being much lighter than others. If you plan to carry it around the house, rather than having a second vacuum for upstairs, for example, look for one that's compact, has separate tool storage, or is lighter than most.
Tools—just like a full-sized corded vacuum cleaner, many cordless models come with a range of tools for vacuuming upholstery, radiators, dusting, and cleaning crevices and corners. You'll also find motorized attachments on certain models. Some tools will be stored on the vacuum cleaner itself, while others come with a storage bag or can be housed on the charging station. Think about which ones you'll use the most before buying.
Emptying—many cordless vacuums are bagless, with a clip-on canister that can be easily emptied into the bin. However, there are a few bagged models available, so if you prefer this method, there are still some good choices on the market.
Running time—while the battery life of cordless vacuums has improved greatly, most maximum run times are still only 40-60 minutes, with recharging taking several hours. If you have a large house or often use the boost mode that drains the battery faster, look for a model that comes with a spare battery you can keep charged so you're ready to carry on cleaning straight away.
Budget—cordless vacuums can vary greatly in price, so think about how much you want to spend before you buy – or get hunting for those Dyson vacuum deals. On average, prices for a basic model start at around £100 (ideal if you're on a budget, need a second vacuum for an upper floor or are buying for a first home or a student) but they can easily reach £600 and over for a high-powered, fully tooled up model with heaps of extra tech.
Are cordless vacuums as powerful as corded vacuums?
While there are some cordless vacuum cleaners that lack cleaning power, some of the best cordless vacuums will clean as well as one that's plugged in. It'll definitely be less of an issue if you have mostly hard floors, but if you have carpet, be aware that cordless vacuum cleaners don't fare quite as well as those that are corded. Which tested dust pick-up on carpet for robot, cordless and corded vacuum cleaners and found that the best corded picked up 86%, cordless 83% and robots 50%*. On average, cordless vacuums sucked up just 41% of dust from carpet, compared to 70% for corded vacuums.
Sign up to our free daily email for the latest royal and entertainment news, interesting opinion, expert advice on styling and beauty trends, and no-nonsense guides to the health and wellness questions you want answered.
Rachel Ogden is a UK-based freelance journalist with more than 20 years' experience of writing, editing and sub-editing. For the last 13 years, she has worked exclusively in interiors, writing about everything from extending your home to kitchen worktops, flooring, storage and more.
She has worked for a huge swathe of brands, including Woman & Home, Ideal Home, Elle Decoration, Real Homes, Grand Designs, Living Etc25 Beautiful Homes, The Evening Standard, The Independent and many many more. She was also shortlisted for Lifestyle & Interiors Journalist of the Year in the 2018 Property Press Awards.