Best Shark vacuum—cordless and corded models for hard floors and carpets
The best Shark vacuums are ultra-powerful and effortlessly portable, to make cleaning your home easy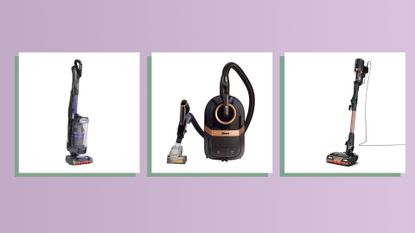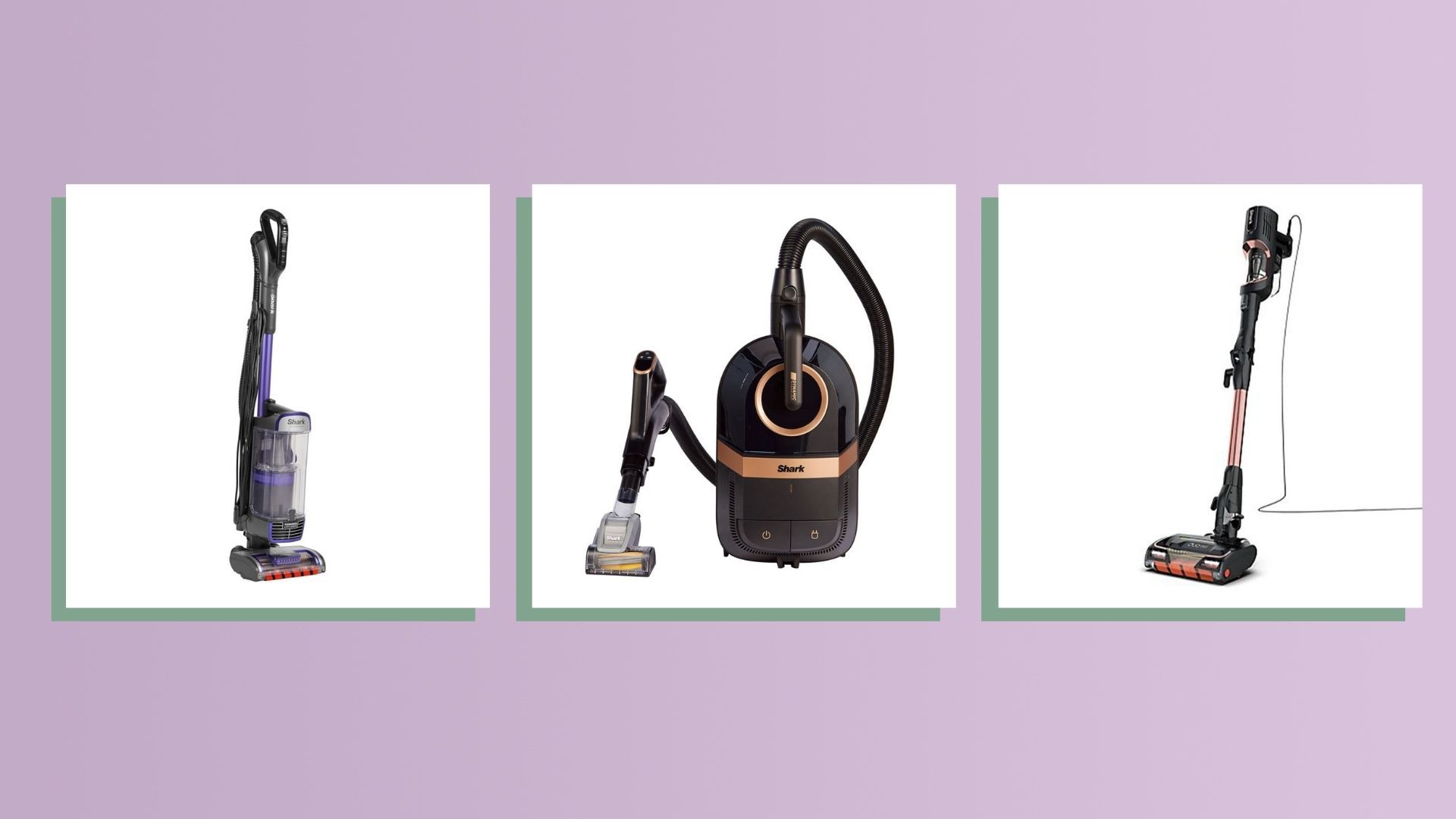 (Image credit: Shark/Future)
woman&home newsletter
Sign up to our free daily email for the latest royal and entertainment news, interesting opinion, expert advice on styling and beauty trends, and no-nonsense guides to the health and wellness questions you want answered.
Thank you for signing up to . You will receive a verification email shortly.
There was a problem. Please refresh the page and try again.
We're spoilt for choice when picking the best Shark vacuum, because there are so many fantastic models to choose from. The brand offers cordless vacuums, uprights, cylinder vacuums, and even hybrid combination models, so there's something for every type of household.
Many of Shark's vacuums include the brand's signature features, including anti-hair wrap technology and DuoClean (for carpets and hard floors), plus tools to tackle pet hair. And their range is huge, with larger models for thorough whole-house vacuuming, slimline cordless sticks for cable-free cleaning, and those that transform into handhelds, which are brilliant for kitchen cleaning and car cleaning.
We've selected and tested the best Shark vacuum cleaner for every budget. Each one has been evaluated for its suction and pick-up power, weight, functionality, emptying, maintenance and how easy it is to use. Included in our selection is Shark's ICZ300UKT Anti Hair Wrap Cordless Stick Vacuum Cleaner—which features in our best vacuum guide—although the model that topped our tests to be chosen as the best Shark vacuum overall was the CZ500UKT Bagless Cylinder Vacuum Cleaner, thanks to its cleaning versatility, excellent pick-up power, smart storage and ease of use.
How we tested the best Shark vacuums
Why you can trust Woman & Home Our expert reviewers spend hours testing and comparing products and services so you can choose the best for you. Find out more about how we test.
To help you find the best Shark vacuum, our selection includes upright, cylinder and stick vacuums, plus combination models, at a range of price points, many of which you'll find available with great vacuum cleaner deals. We've reviewed both good-value models for those on a budget, as well as more expensive vacuum cleaners that'll help you breeze through the typical uses of a vacuum cleaner such as hard floors, rugs and low-pile carpets, as well as mastering harder tasks, like deep cleaning a carpet.
Each model has been assessed on:
Size, weight and design—was it lightweight enough to move around and did it look good in our home (even if it was in the storage cupboard?
Tools—we assessed how well its extra tools for specific cleaning worked, how easy each one was to fit and detach, and if there was on-board storage for them, or a storage bag.
Ease of use—vacuuming shouldn't be a chore, so we also assessed how intuitive the controls were, how easy it was to empty and what it was like to use over an extended period of time.
Cleaning power—we spent several hours testing the cleaning power for each model, using both fine dust and larger debris on both hard and soft floors, cleaning in its standard mode or the lowest power level (where available) unless otherwise noted. Most of Shark's vacuum cleaners are designed to tackle both hard floors and carpet equally well with switches or sliders to toggle between the two, but some models feature options for thicker and thinner carpet too, which we've made use of where available.
Value-for-money—did we feel each Shark vacuum was worth its price, or could you get a better/superior experience with a more affordable option?
The best Shark vacuum as reviewed by our experts
1. Shark Cylinder Pet Vacuum Cleaner with DuoClean and Anti Hair Wrap CZ500UKT
Best Shark vacuum overall
Specifications
RRP: £329.99
Dimensions: 118 x 26 x 90cm
Capacity: 1.6L
Weight: 7.99kg
Running time: N/A
Warranty: Five years
Reasons to buy
+
Easy to store
+
Lightweight
+
On-board storage for tools
Given the raft of cordless sticks on offer, cylinder vacuums can be overlooked. However, the CZ500UKT is one that deserves attention. Unlike some cylinders, it's incredibly convenient, utilising Shark's hinged hose with 'flexology' so that it can vacuum under furniture easily and bend double for easy storage, as well as its anti-hair wrap feature that stops the brushes getting tangled. There are also hooks on the hose and pod of the vacuum that clip it together when not in use, allowing it to be stored as one unit in four different ways. And, for those who hate to have accessories lying around, there's a clip that stores two of its tools – although when it was stored we managed to clip in all three that were in the box: a crevice tool, pet power brush and multi surface tool.
This cylinder is built for convenience – it's fairly light to carry, has auto cable retraction, headlights, the ability to switch it on and off both at the base and on the wand, and a dust cup that clips off easily and empties with a slider. We also liked that it has three power levels and the ability to toggle between carpet and hard floor – in testing the lowest power setting proved sufficient for fine dust and debris on hard floors, while carpet required standard power and a couple of passes for both dust and debris, with no need to resort to the boost. The hard floor setting is ideal for cleaning laminate floors properly without damaging them.
2. Shark WandVac 2-in-1 WV362UKT
Best budget Shark vacuum
Specifications
RRP: £229.99
Dimensions: 69 x 28 x 26cm
Capacity: 0.25L
Weight: 3kg
Running time: Up to 32 minutes
Warranty: Two years
Reasons to buy
+
Converts into a handheld
+
Comes with an additional battery
+
Light and nimble
Reasons to avoid
-
Small dust cup
-
Short run time
Whether you live in a flat or need a supplementary vacuum for upstairs, the WandVac is a smart choice. This is because it's ultra-slim and lightweight yet still delivers a powerful clean. Rather than a plug-in charger, the WandVac comes with a flat base for charging, which also has storage for one of its three accessories (multi-surface tool, crevice tool and a pet tool) and for charging the second battery, which is handy for continual cleaning. The battery itself sits in the handle, making it quite chunky to grip and use for prolonged periods.
There's one speed, plus a boost function that's activated by holding down the power button. Right below it is the slider for emptying the dust cup – the first few times we used this, it was easy to get them mixed up and dump the contents over our vacuumed floor. The WandVac's performance is good, though more suited to hard floors – in our testing, both dust and debris was picked up in a single pass on a hard floor, but on carpet, it took a couple of passes for both. Its dust cup is on the small side – fine for when it's in its handheld mode, but likely to fill up fast when cleaning floors. A good vacuum for little and often cleaning or those who lack the space for a larger model.
3. Shark Anti Hair Wrap Cordless Upright Vacuum Cleaner with PowerFins, Powered Lift-Away & TruePet ICZ300UKT
Best premium Shark vacuum
Specifications
RRP: £429.99
Dimensions: 108 x 25 x 26cm
Capacity: 0.6L
Weight: 6.2kg
Running time: Up to 60 minutes
Warranty: Five years
Reasons to buy
+
Converts into a lightweight portable
+
Battery power display
+
Quieter eco mode
Reasons to avoid
-
Expensive
-
No onboard storage
Were it not for the budget-busting price tag, the ICZ300UKT would have been our hands-down favourite. This is because not only can it adapt easily so it works as well for quick cleans as whole house vacuuming, it feels very much like a corded vacuum but in a cordless form. For example, rather than the battery being in the handle like many cordless models, it's lower down, next to the dust cup. This makes it feel lighter than most uprights even though it's a similar weight, and a good choice for anyone who doesn't like the top-heavy nature of some cordless sticks. Another reason to love the ICZ300UKT is the amount of kit it comes with – a dusting brush, crevice tool, motorised pet tool and wide upholstery tool – and although there's no storage on the machine, there is a bag for its accessories.
There are three power levels, headlights, and the ability to switch between carpet and hard floor. We liked the quieter eco mode – on hard floors, it was all we needed to get rid of dust and debris. Standard worked well on fine dust on carpet, although we had to use the boost to pick up a few larger specks of debris. Boost does run the battery power down quickly, so it's best to use this sparingly. On the plus side, battery power in percentage is shown clearly on the display so you can see at a glance how much is left. Emptying was similarly straightforward – we liked that it has a fairly large capacity for a cordless model. Our only gripe was that the default setting when it's turned on is for carpet and standard power (not what it had been previously selected), so you may end up running the battery down faster than you need to.
4. Shark Anti Hair Wrap Cordless Stick Vacuum Cleaner with PowerFins, Flexology & TruePet IZ300UKT
Best cordless Shark vacuum
Specifications
RRP: £429.99
Dimensions: 118 x 26 x 24.5cm
Capacity: 0.7L
Weight: 4.58kg
Running time: Up to 60 minutes
Warranty: Five years
Reasons to buy
+
Reasonable capacity
+
Switches between hard floors and carpet
+
Three power levels
Reasons to avoid
-
Can flick larger debris
-
Expensive
Can cordless vacs can measure up to their corded counterparts? The IZ300UKT definitely has a good go at it, given the amount of features it has that are geared towards a thorough clean. The most crucial is its PowerFins – firm but flexible flaps on the rear brush (it has two) that agitate soft flooring like the carpet beaters of yore to drive out the dust, and sweep hard floors. In our testing, the IZ300UKT efficiently picked up fine dust in one pass on both hard and soft flooring, while our only complaint was that the fins could also flick larger debris out of the way, meaning a second pass was necessary to vacuum up missed bits.
Another plus of this vacuum is its ability to toggle between hard floors and carpet and three power levels – eco for light cleaning, deep cleaning and a boost for stubborn jobs. There's a display that shows how much charge the battery has left – meaning you can power down to finish a job or make sure there's enough charge before you begin – and the battery can be removed for charging, so you're not stuck returning it to a base station. Other pluses include a bag for accessories (crevice tool, multi surface tool and pet tool), headlights, the ability to bend to go under furniture and for storage as well as a good capacity dust cup for a whole house clean. It even converts to a handheld, making it a great all-rounder cordless.
5. Shark Anti Hair Wrap Upright Vacuum Cleaner XL with Powered Lift-Away & TruePet PZ1000UKT
Best Shark vacuum for large homes
Specifications
RRP: £399.99
Dimensions: 118 x 30.5 x 25.5cm
Capacity: 1.6L
Weight: 6.8kg
Running time: N/A
Warranty: Five years (two years for battery)
Reasons to buy
+
Large capacity
+
Switches between hard floor, low-pile and deep-pile carpet
+
Converts for above-floor cleaning
Reasons to avoid
-
Heavy
-
Can be awkward to steer
Those who are looking for an XL vacuum cleaner are sure to find their perfect match in the PZ1000UKT. It might be big – a good chunk of which is its 1.6-litre dust cup – but it still manages to look sleek and stylish. However, it's the array of features it brings to the table that make it especially good for large homes. These include on-board storage for its dusting brush and crevice tool (so you don't have to carry them with you), a pet tool that's perfect for picking up hair, and the fact that the capsule lifts off, so it becomes a wand for cleaning corners, curtains and stairs, or more like a stick for vacuuming under furniture. There's also a simple slider so you can switch between different floor types in a flick, headlights, and anti-hair wrap – again, useful if you're cleaning lots of rooms and don't want to stop to untangle brushes.
There's just one power level – so no need to think beyond what floor type you're cleaning – and it's easy to empty at the end of a session. We found that it performed excellently on hard floors with both fine dust and debris, with only a second pass required on carpet to pick up stray bits of dust and debris. Our only niggle is the weight of the machine – as it's heavy, it can sometimes be awkward to manoeuvre around obstacles and corners.
6. Shark Anti Hair Wrap Upright Vacuum Cleaner with Powered Lift-Away NZ850UK
Best Shark vacuum for pet hair
Specifications
RRP: £369.99
Dimensions: 77.5 x 31 x 32cm
Capacity: 1.3L
Weight: 6.6kg
Running time: N/A
Warranty: Five years
Reasons to buy
+
Large capacity
+
Switches between hard floor, low-pile and deep-pile carpet
+
Very powerful
Reasons to avoid
-
Heavy
-
Awkward to manoeuvre
-
Expensive
Even if you love your furry friends, it's unlikely that you're a fan of the hair and dander they leave behind. Which is why a specialist vac is a must. As well as the vacuum's main brush featuring anti hair wrap (which removes hair as it cleans), you'll find the same technology on its pet tool. This extra tool is great for removing embedded hair from soft furnishings, such as curtains and carpet, or your car. There's also a crevice tool and multi surface tool but only one storage slot on-board the appliance. One thing we really loved, though, is this vacuum's dust capacity – more than litre, meaning that even your hairiest household resident is no match for it.
There's no getting away from the fact that this corded vacuum cleaner is heavy to push around, sometimes tricky to steer, and could be tiring if you're cleaning a whole house in one. However, the main pod and wand can be lifted off if you're cleaning a staircase or underneath furniture, making it nimbler. The upside is excellent cleaning abilities – hard floor pick-up was effortless, as was carpet – plus we liked being able to switch between low and deep-pile carpet with a slider. A final plus was its headlights, so pet hair has nowhere to hide.
7. Shark Anti Hair Wrap Corded Stick Vacuum Cleaner with Flexology and TruePet HZ500UKT
Best Shark vacuum for carpet
Specifications
RRP: £269.99
Dimensions: 118 x 26 x 41cm
Capacity: 0.3L
Weight: 5.25kg
Running time: N/A
Warranty: Five years
Reasons to buy
+
Converts into a handheld
+
Switches between hard floor and carpet
+
Very powerful
Reasons to avoid
-
Dust cup awkward to empty
-
Motor can grow warm over time
For the versatility and compact design of a stick vacuum with continual power, look no further than the Anti Hair Wrap Corded Stick. While it's slim and easy to manoeuvre around a house, it packs in multiple features – headlights, so you can't miss a dusty corner, an anti-hair wrap brush, ability to fold halfway up for storage or to reach under furniture, plus the ability to transform into a handheld model for cleaning a mattress, other furniture or the stairs. Admittedly, this handheld format is heavier than some but it's also more effective at whisking away debris than many light, cordless models.
Its controls are straightforward – an on-off button, and another for flicking between hard floor and carpet. It picked up fine dust and debris easily on our hard floor, and did an equally thorough job on carpet, with powerful suction that picked up in a single pass. We liked that it came with a crevice tool, upholstery tool and dusting brush but would have preferred some on-board storage for them. Another niggle was that after a few minutes of cleaning, the motor, which is located next to the handle, started to grow warm, making cleaning feel more of a taxing job. We also found the cup awkward to empty as dust tended to clump in the corners. However, overall, the Anti Hair Wrap Corded Stick delivered a fantastic clean that didn't disappoint.
What is the most popular Shark vacuum?
One of Shark's most popular upright vacuums is the NZ801UKT, which was a top seller for the brand. We've included the newer version of this model in our round-up, the NZ850UKT, which we found was excellent at picking up pet hair as well as being ideal for a whole house clean. The NZ850UKT is fast becoming a bestseller now, alongside the PZ1000UKT, which we've also reviewed above.
For cordless, the current top seller is IZ320UKT – the twin battery model of IZ300UKT, which we've reviewed above, although it's a close-run race between the two.
It comes as no surprise that the NZ801UKT attracts consistently good reviews, with some reviewers stating that they'll never go back to a Dyson. It currently ranks as 4.5 stars on Amazon with more than 8,000 ratings.
Which is better – Shark or Dyson?
Shark vacuums are sometimes discussed as a good alternative to Dyson, but actually, the brand more than stands its ground as a worthy equal to the market leader.
Both Shark and Dyson offer a wide range of vacuums with a design for almost every need, so it's down to which of their models suits your home the best, and price. Dyson tends to be more expensive for similarly sized models, although the features each offers will be different – so it's always worth looking for those Dyson vacuum deals. Shark offers slightly more choice and flexibility in style and size of vacuum but if your vacuum wishlist has high-tech features that seek out dust on it, Dyson is the one to choose.
One good thing about Shark's vacuums is that they now come packaged with zero or minimal plastic as standard. You'll find parts and tools boxed in with cardboard or wrapped in brown paper bags, which can be recycled once you've unpacked.
Shark also has a five-year warranty on most of its models, which may prove more attractive than the usual two-year guarantee offered by Dyson.
The brand's 5-year guarantee is also available on the bestselling Shark hair dryer, which launched last year.
Rachel Ogden is a UK-based freelance journalist with more than 20 years' experience of writing, editing and sub-editing. For the last 13 years, she has worked exclusively in interiors, writing about everything from extending your home to kitchen worktops, flooring, storage and more.
She has worked for a huge swathe of brands, including Woman & Home, Ideal Home, Elle Decoration, Real Homes, Grand Designs, Living Etc25 Beautiful Homes, The Evening Standard, The Independent and many many more. She was also shortlisted for Lifestyle & Interiors Journalist of the Year in the 2018 Property Press Awards.