How to clean tile floors for a sparkling finish every time
Getting a polished finish is easy when you know how to clean tile floors like a professional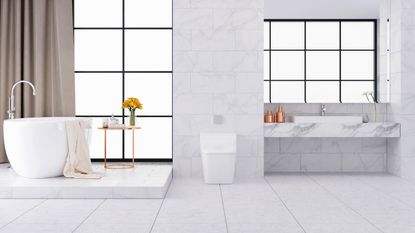 (Image credit: Getty Images)
Learning how to clean tile floors will pay dividends in terms of aesthetics and cleanliness—and it will safeguard your investment in your home. If you've installed stunning tiles, you'll want to be sure you know how best to care for and maintain them, so they can serve you for the longest time.
There are some smart cleaning techniques that you can use to ensure your tiles are always sparkling clean and looking like new. The tips below apply to most types of tile, including natural stone, ceramic, and porcelain. And as a bonus, they'll work for most vinyl and linoleum floors, too. Take a look at our feature on how to clean vinyl floors if you would like a more detailed guide. We also have an in-depth guide to how to clean porcelain tiles, specifically, if that's the tile type you're dealing with.
How to clean tile floors—a step-by-step guide
---
Mastering how to clean tile floors isn't too difficult—the process is simple, there are just five considerations that will help you keep tile floors in great condition, and we break each down into more detail below.
Sweep or vacuum to remove dirt and debris
Mop using a mild floor cleaner
Remove soap residue
Focus on the grout
Dry with a cloth
1. Sweep to remove dirt and debris
The first stage of cleaning your tiles should begin when they are dry. Sweep or vacuum them at least once per week, or whenever you can feel or see debris. Routine sweeping or vacuuming of your tiles helps remove most of the dirt before it becomes embedded in the grout or the tile itself.
Failure to sweep or vacuum will lead to granules of dirt lingering on tiles, specially textured tile such as slate or marble. That layer of grit eventually corrodes the tile, dulling it and making it difficult to clean. While you can use an upright vacuum cleaner to clean your floors, with time it will start to scratch your tiles, especially if you are using a bare floor setting (even if it's one of the best vacuums). To avoid this, use a canister vacuum cleaner, and ensure that it has a brush floor attachment to prevent surface damage.
2. Mop using a mild floor cleaner
A tile floor in your kitchen tile should be mopped at least once every two weeks; a bathroom tile floor, however, should be cleaned once a week as germs tend to accumulate more in bathrooms. Use a gentle cleaning solution, preferably one approved by the manufacturer, as this enhances the tile's shine, gloss, and color. If you're not sure which cleaner to go for, you can always use water and a pinch of dishwashing liquid to get the job done. You can also use white vinegar and water (as long as your floors aren't marble) as the two are all safe for use in homes where there are children and pets. (While you're at it, don't forget all the other cleaning uses to which you can put vinegar—check out how to clean windows and how to clean a showerhead with its help, too).
But back to tiles. Remember to always use the correct technique and cleaner for the particular tile you are cleaning. Check the manufacturer's instructions for your tiles, particularly if they were expensive as they tend to require more specialist care. For example, you shouldn't use a mop with stiff bristles to clean marble tiles, in the way that you wouldn't clean a stainless steel sink with a scratchy scouring pad.
3. Remove soap residue
Cleaning with dish detergent soap can sometimes leave your tiles looking cloudy. To avoid this, use a non-abrasive liquid cleanser. If the film doesn't go away, try a mild DIY liquid cleaner that you can make from diluted lemon juice or white vinegar. This should only be used on ceramic and porcelain tile, and not on natural tile as it may damage the stone. Use a damp microfiber mop to get rid of the haze.
4. Don't forget the grout
Your tile will only look sparkling if the grout is also clean. Tiles are held in place by a protective grout, which may be dark or light, or matching or contrasting with the tiles. Any lighter shades of grout will, with time and exposure dirt, become dingy and discolored. This will detract from the beauty of your tiles.
It is recommended that you clean your grout every few months, or as needed to help preserve your tile and grout. To clean grout, mix equal parts of water and hydrogen peroxide and apply it to the grout using a toothbrush to get rid of stains. You can also use oxygen bleach or baking soda, and water in equal measures. Rinse well and allow it to dry.
To ensure you maintain its sparkle for as long as possible, you must clean your tile regularly to prevent dirt and moisture from accumulating. Otherwise, grit and dirt can build up and damage the surface of your beautiful tiles.
5. Dry with a cloth
Once you've mopped your tile, it's best to dry immediately using a clean microfiber mop or lint-free cloth as leaving them to air-dry will most likely create water spots, especially if you're using water that has heavy mineral deposits.
How often should I deep clean tile floors?
---
We'd recommend deep cleaning tiled floors at least once a month to keep them at their best. If your tiles are heavily soiled or extremely dirty, use a scrub brush and oxygen bleach solution to remove embedded grease and dirt. Make sure to rinse thoroughly using clean water to avoid breaking down the tile's coating.
You can also use a steam cleaner (want to know more—take a look at our guide to the best steam cleaners) to deep clean tiles and get rid of ground-in dirt and gunk. But if your tile floors are beyond DIY help, you can call in a professional to help remove grime and other stubborn stains.
Amy Hunt is an experienced digital journalist specialising in homes, interiors and hobbies. She began her career working as the features assistant at woman&home magazine, before moving over to the digital side of the brand where she eventually became the Lifestyle Editor up until January 2022. Amy won the Digital Journalist of the Year award at the AOP Awards in 2019 for her work on womanandhome.com.