How often should you mop your floors? We ask the experts – and they are all in agreement
Too much causes damage but not enough is unhygienic, so how often should you mop your floors? We turn to floor and cleaning experts to find out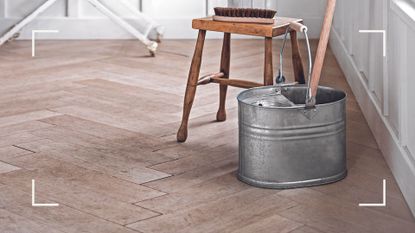 (Image credit: Future)
How often should you mop your floors to keep your house hygienic and clean? We spoke to flooring experts and professional cleaners to find out if there's a definitive amount.
Juggling your household cleaning chores sometimes feels like spinning plates because how often you vacuum and how often you should wash towels will all be different, depending on your lifestyle and the size of your home.
But ultimately each cleaning task has an 'expert-approved' frequency. Whether you stick to it or not is a matter of personal choice but it's a good guideline to help keep each area of the house hygienic to a professional cleaning standard.
How often should you mop your floors?
How often you clean your house will depend on how many rooms you have as well as the room type, but when it comes to mopping floors, experts are in agreement that once a week is a fair recommended amount. 'Once a week' is the general consensus for a lot of household tasks, like how often you should wash your sheets or clean your bathroom.
"Floor cleaning almost feels like a never-ending process, dirt will always get into the home and when it does, mopping is essential," says Ivan Ivanov, an expert at professional cleaning company End of Tenancy London (opens in new tab).
"It is important to keep the high-traffic areas the cleanest, typically these would be the entrance, the kitchen, the bathroom, and hallways. It is key to wet mop them every week. But of course, if you have a pet-loving or family home there may be a need to carry out this task more frequently.
"Getting into a routine of regularly mopping is important not only for hygiene reasons but also for the general preservation of your flooring," adds Declan Christie, founder, and flooring specialist at Luxury Flooring & Furnishings (opens in new tab). "Dirt can quickly build up on your floor which, when not cleaned away, can cause scratching, leaving behind permanent damage."
"When it comes to mopping, keep this chore to once a week or fortnightly for less frequently used areas," advises Declan. "The primary thing to consider is the type of flooring you have. Different flooring types require different maintenance and thus different methods for cleaning."
"It is extremely important to sweep or vacuum any type of floor before starting the mopping process," stresses Ivan, "because over time dust and dirt can build up leaving your floors gritty."
"If you have solid wood flooring, we would advise against mopping, as water can cause natural wood to swell and warp," warns Declan. "Unless necessary, regular dusting with clean microfiber cloths is preferable. If you do need to mop your floor, make sure that the mop is only very lightly damp to avoid water damage."
"Laminate flooring is naturally water-resistant. However, excessive moisture can still damage your boards, causing movement or de-lamination. After you've mopped, try to dry your laminate quickly, such as by opening any nearby doors and windows or using a microfibre cloth - this will protect against warping and shrinkage."
Can you mop floors too much?
Is there such a thing as mopping floors too much? Apparently so, especially if you're cleaning hardwood floors because you could be causing damage with too much exposure to water.
"If using a mop and bucket yes (you can mop floors too much)," warns professional cleaner Lynsey Crombie, better known as Queen of Clean (opens in new tab), "as too much water can ruin your flooring. I advise sticking to using a flat-headed spray-type mop or steamer, this way you are not just pushing dirt around your home. These also offer a dryer cleaning solution so won't damage your floor even if you are washing daily."
"Over-mopping can wear down your floor's seal, causing lasting damage," explains Declan. "The most common mistake when mopping is using too much water. If your mop is too wet you run the risk of smearing any debris instead of actually cleaning it away. Floors should dry quickly after being mopped; if your floor is visibly wet 10 minutes post-mop, it's probably a sign you've used too much water."
"Letting the cleaning solution or rinse water pool on the floor while mopping is the biggest problem to watch out for," warns Mary Gagliardi, aka "Dr. Laundry", Clorox's (opens in new tab) in-house scientist and cleaning expert.
Explaining how the way in which you mop is the real issue Mary says: "If you are mopping a floor properly, and the manufacturer recommends mopping for the floor surface, frequency of mopping shouldn't be an issue in the home. It's always important to follow the manufacturer's guidelines for cleaning a surface, and when in doubt, test whatever product you'd like to use on a hidden area first."
Are you supposed to rinse floors after mopping?
"It depends on what you are using to mop your floor," says Mary. "For example, disinfecting wet mopping cloths don't require a rinse step after use, but a bleach and water solution or cleaning solution does require a rinse step. Check the product label and follow manufacturer guidelines."
"It's best to remove cleaning solutions from the floor," advises Ivan, "I'd recommend finishing by mopping the floor a final time using clear, clean water, and not pouring any cleaning products into the water this time. This is to remove any cleaning chemicals from the floor and ensure that no dirt has been left behind."
How often should you sweep floors?
While mopping might only be a weekly task it's recommended to sweep floors at the end of each day to remove dust and debris that accumulates on a daily basis.
"A regular cleaning routine is essential for proper floor maintenance and you should look to sweep or dust your flooring daily," states Declan.
Lynsey is in agreement, advising: "High traffic areas, such as home entrances should be swept daily, otherwise dirt, debris, and mud will travel through to the rest of your home, for all other areas every few days."
"If you have pets that shed a lot of hair you may wish to sweep daily to stop allergens." You might also consider investing in one of the best air purifiers to overcome this problem.
Tamara is a highly experienced homes and interiors journalist, with a career spanning 19 years. Now the Lifestyle Editor of womanandhome.com, she has spent the last 16 years working with the style teams at Country Homes & Interiors and Ideal Home, and it's with these award-winning interiors teams that she gained a wealth of knowledge and honed her skills and passion for shopping, styling and writing about every aspect of lifestyle and interiors.
With a keen eye for the latest interior trends, there's not a lot she doesn't know about home decor – whether it's what colour we should be painting our living rooms next season, or if the latest 'must-have' buys are actually worth investing in.
A true homes and interiors expert, Tamara has served as an ambassador for leading interior brands on multiple occasions, including appearing on Matalan's The Show and presenting at top interiors trend events such as the Autumn Fair and Spring Fair.