How to clean porcelain tiles correctly to keep them in pristine condition
Different types require different care, but mastering how to clean porcelain tiles is easy with our step-by-step guide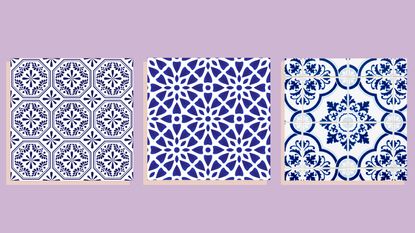 (Image credit: Future)
Not only are porcelain tiles durable, but they also add character to kitchens and bathrooms. Learn how to clean porcelain tiles correctly and you'll be able to keep them shiny for years to come, maintaining their lovely aesthetic.
Porcelain tiles come in a variety of colors and textures that complement just about any home, on floors, walls, and are often used on a kitchen splashback. They're also easy to clean with just a few supplies—and they're things that you probably already have at home.
To make sure you get the best possible end result, also check out how to clean grout—not to mention how to clean a stovetop, how to descale a kettle, and how to clean toilet stains as well—and you'll have your kitchen and bathroom fit for any guests in no time. If you have vinyl floors in your home as well as porcelain tiles, our guide to how to clean vinyl floors might come in handy.
How often should I clean my porcelain tiles?
Once a week—regular weekly maintenance should involve nothing more than a quick sweep with a soft-bristled broom, or you can even use a dry mop. Make sure you aren't using anything abrasive that could damage the surface of your porcelain tile since small scratches will keep it from shining. Sweep up any loose dust and dirt and go over the area with a vacuum to keep the area clean.
Monthly—you should plan on mopping your porcelain tile floor thoroughly at least once per month to keep it looking brand new.
If your porcelain tiles are being used as a kitchen splashback, you may need to give the tiles a daily wipe to keep dirt and grime at bay. If your porcelain tiles are in your bathroom, a quick wipe after showers with a bathroom squeegee should prevent any condensation build-up.
For porcelain tile floors, consider adding floor mats near doors or heavy traffic areas, so you have less mess to clean up. If you have pets or a large family, you may need to sweep more often to keep the floor clean.
Methods for cleaning different types of porcelain tiles
There are three types of porcelain tile—unpolished, polished, and textured—and each of them requires a different method for cleaning. Make sure you follow the correct method for cleaning your floor, so you don't damage the porcelain in the process. Before we get into the specifics of cleaning each tile type, there are some basic steps to take beforehand.
Mix up a cleaning solution—with a quarter cup of vinegar and two gallons of hot water. You can also use a store-bought solution that is specifically made for porcelain tile. Just make sure it doesn't contain bleach, oil, or dye, since these ingredients could damage your floor.
Go over the area with a soft-bristled broom and a vacuum—make sure the area is clear of dirt and debris, so the floor is ready to be mopped.
Next, pick up a sponge mop or squeegee, soft-bristled brush, and a towel or microfiber cloth—armed with these supplies, you're ready to mop. For polished porcelain tiles, you may also need a cheesecloth.
Unpolished porcelain tiles
Unpolished porcelain tiles are probably the easiest type to maintain, making them also popular with homeowners.
To clean unpolished porcelain tiles, follow these steps:
Use your mop to apply your cleaning solution to a small area. Pick four squares and saturate the area with your mop, or a squeegee if you're cleaning a wall or kitchen splashback.
Let it soak for five to ten minutes so dirt will be easy to remove. If there are dirt stains, you can use your mop to wipe them away.
Rinse the area with hot water and dry it with your towel or microfiber cloth.
Keep working in small areas until your entire floor or wall is sparkling clean.
Polished porcelain tiles
Polished porcelain tile has a shiny, luminous surface that is easy to scratch, so take care to avoid damaging the finish. Never use hard bristles or steel wool on your porcelain tile since it can scratch the surface. Steel wool can also break off and cause ugly rust stains. Also, be very careful while the tiles are wet—the polished surface makes them very slippery.
To clean polished porcelain tiles, follow these steps:
Begin by wetting the floor with your mop or squeegee. Spread the cleaning solution across the floor or wall to clean the area.
If you notice any dirt stains, use your soft-bristled brush to scrub them away.
Once the area is clean, mop the area with clean water.
Use your towel to dry the floor or wall, and if you really want to make it shine, buff the tiles with a cheesecloth.
Textured porcelain tiles
Textured porcelain tiles have a slightly uneven surface, giving them a more natural stone look and feel.
To clean textured porcelain tiles, follow these steps:
Start with sweeping your floor or wall with the sponge mop or squeegee, making sure you sweep across the floor in horizontal and diagonal directions. That way, you can make sure you've picked up all the dirt from all the cracks and crevices.
Spread the cleaning solution across the entire floor. Let it sit for five to ten minutes and scrub away stains with your soft-bristled brush.
Once the floor or wall is clean, rinse the porcelain tiles with hot water and dry them off with your towel or microfiber cloth. You could also use one of the best steam cleaners for this step.
Extra tips for extending the life of your porcelain tiles
Porcelain tiles are low-maintenance and easy to clean, but it's important to keep a few things in mind:
Never use hard bristles to clean your porcelain tiles. They can scratch the surface and leave it looking dull.
Don't use cleaning solutions that contain oil.
Never use bleach since it can affect the color of your grout.
Avoid cleaners that contain dye when mopping your unpolished porcelain tiles.
For floors, place rugs near doors or high traffic areas to protect your floor and keep dirt at a minimum.
Don't use steel wool to clean your porcelain tiles. Tiny pieces can break off and cause rust stains.
Once you've mopped your porcelain tile floor or wall, buff it with a microfiber cloth or soft towel. This final step will help your tiles sparkle and shine like new.
With a little weekly and monthly maintenance, you can easily keep your porcelain tile floor or walls looking brand new for years to come.
Amy Hunt is an experienced digital journalist specialising in homes, interiors and hobbies. She began her career working as the features assistant at woman&home magazine, before moving over to the digital side of the brand where she eventually became the Lifestyle Editor up until January 2022. Amy won the Digital Journalist of the Year award at the AOP Awards in 2019 for her work on womanandhome.com.