How to clean a shower properly – 8 ways to remove limescale and water stains
Discover how to clean a shower fast and effectively like the professionals, but with natural cleaning methods that will leave your bathroom sparkling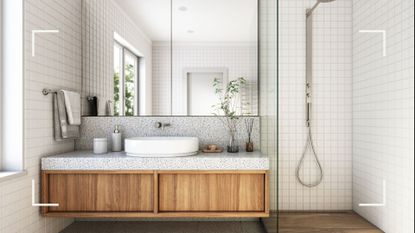 (Image credit: Getty Images/ Creativa Studio)
woman&home newsletter
Sign up to our free daily email for the latest royal and entertainment news, interesting opinion, expert advice on styling and beauty trends, and no-nonsense guides to the health and wellness questions you want answered.
Thank you for signing up to . You will receive a verification email shortly.
There was a problem. Please refresh the page and try again.
Master how to clean a shower like a professional with these quick and natural cleaning tips that can be used in any bathroom.
The best and easiest way to clean a shower is to get into a good bathroom cleaning routine of giving it a quick wipe down after every use. However, we don't always have the time to do this daily, and it's very normal to see hard water stains and soap scum accumulate over time.
Luckily, the handy cleaning hacks below will help you tackle these common problems by providing natural solutions that are proven to scrub away the stains in your shower, leave your glass shower door sparkling and even show you how to clean grout for a clean and pristine finish.
How to clean a shower fast and effectively
There are several strategies you can use to help clean a shower quickly and efficiently, removing water stains, limescale build-up, and mould. We have focussed on tried and tested natural methods below that minimise the need to use chemical cleaning products that contain high levels of bleach.
1. Empty the shower
Start by removing all toiletries and accessories, such as body brushes and sponges , from your shower to create a clear space to clean thoroughly.
Often bottles of shampoo and body wash, or the soap dish and shower caddies, can fill with soap scum and limescale, which turn into an undesirable mold, fed by the daily soaking. So these will need to be cleaned separately.
2. Clean the shower tray with vinegar and baking soda
Vinegar and baking soda is a commonly used, natural, DIY cleaning solution, and it's a good concoction to use to help deep-clean your shower tray.
Vinegar and baking soda, when combined, produce a chemical reaction that can help scrub at the tough hard water stains or other stains on your shower tray. This simple strategy can save you some scrubbing.
How to clean a shower tray using vinegar and baking soda:
Sprinkle a generous amount of baking soda to cover the whole shower tray surface.
Spray down the tray with vinegar. The baking soda will start fizzing as the reaction begins to work.
Allow it to sit for a few minutes and then once the vinegar has had a chance to react with the baking soda and the fizzing has stopped, rinse the tray with water and wipe it clean.
If you have tough stains, you may want to use a bristled brush for extra scrubbing power before you rinse the tray with water.
3. Use an all-purpose solution to clean surfaces
A general all-purpose cleaner is the best thing to clean all surfaces, making cleaning more efficient because you can use the same solution for everything. Start by spraying all surfaces inside the shower with your cleaning product of choice, of which there are now many natural all-purpose cleaners (opens in new tab) to cut down on using harsh chemicals in your home.
Spray every surface in one go to do a quick but efficient clean, then return to where you started to focus on smaller areas when wiping them with a clean microfibre cloth.
4. Mix vinegar and water to tackle limescale
For a cheap, quick, and effective cleaning solution to tackle limescale when washing the taps or when cleaning the shower head, mix vinegar and water. This amazing basic cleaning solution can help remove limescale and have your shower gleaming like new in no time.
How to mix it:
Fill up a spray bottle with equal parts vinegar and water. It's okay if it's not exact! Then, spray down your entire shower, especially the areas where limescale is visibly building up.
Allow it to sit and work for between 5 and 15 minutes
Give the areas a rinse with warm water and then wipe down the shower, applying more pressure to areas where the limescale was at its worst
Professional cleaning expert and TV's Queen of Clean Lynsey Crombie (opens in new tab) offers her advice, saying, "If you have bad hard water build-up and limescale, cut a lemon in half, cover it with bicarb and rub it all over the shower. Leave it to sit and then rinse and buff."
"With the shower head, take it off, and soak it in a bowl of white vinegar to remove any limescale and hard water. If the head doesn't come off, drench a tea towel in white vinegar and wrap it around the shower-head." Be sure to rinse off all traces of the vinegar away after cleaning.
5. Clean the grout between tiles
To get a sparkling finish for your shower, the grout between your tiles might need a little extra TLC. Tiles and grout can both collect tough stains that are hard to wash away, especially if you allow those stains to stack up.
You can use baking soda to remove those tough stains in a matter of minutes.
Make a paste to give your grout a deep clean and use an old toothbrush to apply the paste to the grout to ensure it gets right into the gaps.
How to clean the grout in your shower using baking soda and water:
Create a paste using a spoonful baking soda and water. Add the water a small amount at a time to make sure the mixture is thin enough to manipulate but thick enough to still have texture.
Apply to the grungy areas of your shower. If you have a tiled shower that is showing serious signs of hard water stains, you may want to cover the shower!
Allow it to sit for 15 minutes.
Scrub with a bristled brush. In tough-to-reach areas of the grout, you may find it easier to reach deep and scrub the grime away with a toothbrush. In larger areas of the shower, you can use a larger bristled brush to achieve your goals.
6. Clean the shower screen door and glass surround
Baking soda paste is also a great way to wipe down grimy, clouded glass shower doors and glass panels. Cover the shower door with the paste, allow it to sit for several minutes, and then scrub it away. You may be surprised by just how clear that surface can be.
You can also use a shop-bought glass cleaner (opens in new tab), or make your own, using Lynsey's DIY, natural solution below.
To clean up the shower door, screens, and tiles you will need:
Water
A squirt of washing up liquid
20ml of white vinegar
5 drops of eucalyptus oil
To use, simply mix the solution together and then add to a squirty bottle. Shake well and the apply to the screen. Wipe, rinse down with water and buff with a dry microfibre cloth.
7. Wash the shower curtain
Shower curtains can start to smell of stagnant water and become a breeding ground for mold around the edges, so don't forget to clean your shower curtain too, if you have one.
Simply unclip the curtain from the hanging hoops and give it a hot wash. "Don't forget to check the washing instructions on your shower curtain, as you may be able to put it through the washing machine," suggests Heather Nixon, sustainability manager at green cleaning company Bio-D (opens in new tab). "If not, leave it to soak in the bath or a sink or wipe it down with an eco multi-surface cleaner."
8. Tackle tough stains with peroxide and cream of tartar
Need some extra cleaning power and a punch that will help you scrub away soap scum and tough water stains? Hydrogen peroxide could be just the tool you need. Often, peroxide alone is enough to remove the majority of the stains in your shower, including water stains. Simply spray the shower down, then allow it to sit for 15-30 minutes and wipe it away.
If you're having more trouble getting to the root of the problem, consider creating a paste using peroxide and cream of tartar. By combining these simple household compounds, you'll get a paste that will help scrub away those tough stains. Apply your peroxide or paste to the tough area, then allow it to sit for up to 30 minutes. Finally, use a damp cloth or sponge to scrub the stains away.
How often should you clean a shower?
As with cleaning the toilet, a shower should be cleaned once a week. But it is often advised by cleaning experts to give all surfaces a daily wipe-down after every use to avoid any excess product build-up and use a squeegee brush on shower doors to remove watermarks. It's also good practice to give the shower tray a rinse after every use to ensure all product and hairs are washed away.
You should also make sure to clean the showerhead every other week or so too, as this is where you'll experience a build-up of limescale.
"Bathrooms can cause breathing difficulties if mold is left to build up" warns Heather Nixon, sustainability manager at green cleaning company Bio-D. Advising, "Spray your shower with a bathroom cleaner twice a week and wipe away any dirt to keep airborne dust or mold at bay.
If you want to reduce the time you have to spend cleaning your shower in the future, to make the weekly chore more achievable try this simple tip: store a shower spray (opens in new tab) or spray bottle with an equal mix of vinegar and water, or peroxide and water, in your shower. After each shower, spray, then wipe it down. This simple step can keep your shower gleaming on a daily basis!
How do professional cleaners clean showers?
To get a real insight into exactly how professional cleaners clean showers we asked a leading expert, Chris Wootton, managing director of domestic cleaning business, Poppies (opens in new tab).
Explaining how to clean a shower on a professional level Chris tells woman&home, "Cleaning showers should be approached with care and it's important to note what chemicals work when cleaning. All-purpose bathroom cleaner should work well for all shower-related cleaning, including shower tiles, the shower head, and fittings – there's no need to overspend."
"Start by spraying all surfaces at the same time and then go back to where you started to focus on smaller areas when wiping them. If you have any limescale, ensure it is cleaned with an acidic solution as it is alkaline."
Chris goes on to explain, "The best way to tackle limescale is with warm water and white vinegar solution, and you may need to use the rougher side of a non-scratch scouring pad and some elbow grease."
"For the shower panes, the all-purpose cleaner should also work, but hard water stains can also be lifted and de-odorized by using lemons. To clean the drain, pour a quarter of a cup of bicarbonate of soda down the drain followed by a quarter pint of white vinegar. Let the solution bubble for 10 minutes, then pour boiling hot water down the drain to shift the grease and any lingering debris."
And there you have it, a professional-style shower clean to keep your bathroom gleaming.
Tamara is a highly experienced homes and interiors journalist, with a career spanning 19 years. Now the Lifestyle Editor of womanandhome.com, she has spent the last 16 years working with the style teams at Country Homes & Interiors and Ideal Home, and it's with these award-winning interiors teams that she gained a wealth of knowledge and honed her skills and passion for shopping, styling and writing about every aspect of lifestyle and interiors.
With a keen eye for the latest interior trends, there's not a lot she doesn't know about home decor – whether it's what colour we should be painting our living rooms next season, or if the latest 'must-have' buys are actually worth investing in.
A true homes and interiors expert, Tamara has served as an ambassador for leading interior brands on multiple occasions, including appearing on Matalan's The Show and presenting at top interiors trend events such as the Autumn Fair and Spring Fair.