28 of the best Easter decoration ideas for 2022
These Easter decoration ideas will add a touch of seasonal fun to your home this spring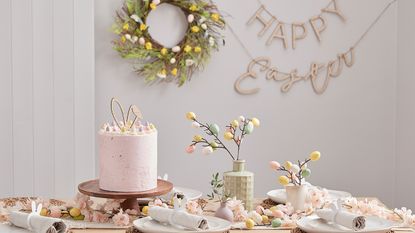 (Image credit: Ginger Ray)
There are more Easter decoration ideas than ever before to add some seasonal flair to your home and we've rounded up the best spring trends and ideas, according to the experts, ranging from floral scents to easy DIY decorations.
Whether you're looking for Easter wreath ideas or want DIY crafting ideas that the kids will love, decorating for Easter is a great way to have some fun.
From fun Easter tree ideas to creative Easter table decor, we've got everything you need to freshen up your spring scheme at home.
Best Easter decoration ideas for 2022
1. Add an Easter wreath to your front door
"Floral wreaths are one of the easiest ways to bring some spring color to the home," says Jess Martin, party decoration expert at Ginger Ray. "Easter wreaths with artificial foliage can be brought out to replace the Christmas wreath year after year, and will always look great. Just choose a color palette that complements your front door!"
2. Use scent and decor to elevate your kitchen island
Your kitchen island is the perfect focal point to position a decorative arrangement on, subtly capturing the senses of everyone who enters the space.
If you're planning to combine flowers and candles, give thought to the overall scent, picking out the best scented candles for the season. "Creating impact doesn't just rely on the bright beauty of spring blooms but their distinctive and joyful aroma, too," explains Joanna Rhodes, founder of Hayford & Rhodes. "While one of the most familiar flower fragrances is the hyacinth, narcissi and lilac are just as beautiful spring scents."
3. Make a quirky indoor Easter wreath
Don't think Easter wreaths are purely limited to outdoors. You can also get crafty and incorporate everything from pom-pom bunnies to fluffy chicks into your designs—without the fear of bad weather wreaking havoc.
"Wreath-making is a great opportunity to showcase your crafting skills beyond the realms of the traditional creations," says Aisha Cluitt, Content Marketing Manager at Hobbycraft. "For those just starting on their crafting journey, all you'll need is a few basic crafting supplies, including a wreath frame, yarn, a pair of scissors, glue gun and ribbon to create an adorable hanging wreath that will be cherished forever."
4. Hang Easter bunting or a seasonal garland
Bunting goes hand-in-hand with most special occasions and this versatile decoration can work in any space. We love traditional bunting flags, but they are not the only option.
"You can't go wrong with bunting," Martin says. "It's quick, easy and cost-effective. There's no need to stick to traditional bunting: try a faux floral garland for more of a spring theme, or consider an Easter-themed balloon arch. You can even get balloon arches with added embellishments like bunny ears and daisies."
5. Look for flowers with bulbs
Nods to Mother Nature is a huge interior design trend of 2022 and nature-inspired elements are appearing in everything from crockery to wallpaper. Easter decorations are no exception.
"One of the key floral trends for Easter 2022 home decor centres around nurturing Mother Nature, with a sustainable living, eco-conscious focus on second life 'earth to petal' florals," explains Rhodes.
"There are certain flower delivery services where you can buy flowers with their bulbs still intact, such as lily of the valley, tulips and iris, to name a few," explains Rhodes. "This presents a wonderful second-life opportunity for your florals. Simply cut the flowers, arrange into delicate cut-glass vases and plant the bulbs in the garden to rebloom next spring."
6. Reuse egg shells for eco-friendly decor
With sustainability and environmental issues never more pertinent, eggs can make a great budget-friendly DIY decoration.
You could use metallic and pastel coloured paints to decorate the egg shells and arrange them in a basket, or even the egg box they came in.
This can also double up as an activity for children, but painted eggs can look surprisingly chic: all you need is a dexterous hand, and some strong palettes.
7. Make use of foliage
A hand-gathered arrangement of twigs and branches is perfect for creating a stylish vase display.
"There's no better time to bring the outdoors-in than spring," says Rhodes.
"Gorgeous branches, blossoms and foliages lend themselves to creating tall vase arrangements and natural table-runners for an Easter celebration."
8. Create novelty Easter-themed napkin arrangements
Napkins are a staple of any Easter dinner, so why not make 2022 the year you challenge yourself to try something a little different with your table linen? After all, it's all in the details—and sitting down to a place-setting that features a perfectly folded napkin will wow your guests no-end.
While there are some great YouTube tutorials that show you how to create an origami-style bunny napkin, we love the simplicity of the idea above. Twist your linen napkin into a long sausage, fold in half and tie with twine just below the centerpoint. Place a boiled egg in the middle to help your bunny ears retain their shape and add a small sprig of fresh flowers for a seasonal finish.
9. Turn the heart of your home into an Easter wonderland
The space above your stove can be a great spot for Easter decorations. Narrower kitchens might benefit from choosing one or two decorative elements to center on, while larger kitchens (such as the one shown above) can comfortably host more extravagant displays without feeling overwhelming.
This idea works best in lesser-used areas of the kitchen: you should avoid putting any decorations above open flames, or in high-temperature areas.
10. Personalise your table decorations
Preparing to host family and friends for a delicious Easter dinner? Give some thought to your table decor.
Merion Willis, Craft Editor at LoveCrafts, suggests tapping into the trend for thoughtful and nostalgic handmade details, "Personalized table decorations are a wonderful way to make your friends and family feel loved."
Consider adding little Easter eggs next to people's place-names, or chocolate for the kids and little Easter gifts for adults that they can take home with them.
Place settings—"Hand drawn or painted name cards are fun and easy to make."
Table linen—"If you're working ahead, make some heirloom Easter table linen by picking up some plain table linen and embroidering it with spring flowers, baby bunnies or pastel eggs. You could also consider crochet pastel edgings around the hems. You'll be able to use it year after year."
Tableware—"Crocheted table mats and coasters will add a vintage feel to your Easter dining table, and you can adorn them with little flowers, too."
Willis has one piece of advice for anyone who's planning to decorate their table this Easter. "Keep your decorations below eye-level," she advises. "This will ensure that everyone can see each other across the table!"
11. Decorate your staircase
Utiilize your staircase for a show-stopping Easter display.
If you have a home with a wide staircase, you could go all-out by adorning each step with Easter decorations. If you love the idea but have a narrower staircase, consider hanging bunting or other decorations from the bannister, or decorating the stair rail with colorful ribbon.
12. Look up at the lights
While it won't work for every room, decorating a chandelier or suspended light fitting is a great idea for your dining space. Dress it with faux foliage, plastic flowers and other appropriate decorations to make it a truly wow-worthy display. This is also a great solution if your dining table is tight on space: rather than taking up valuable table-top room, it will hang neatly above.
You can use real flowers and foliage for this idea, but they'll need daily maintenance to ensure they stay fresh for as long as possible. For a no-fuss solution, opt for artificial flowers and greenery.
13. Make paper egg decorations
For a relatively fuss-free DIY project you can try with the kids, challenge your little chicks to try these simple paper eggs. These easy Easter decorations can be easily incorporated into your existing decor plans, whether they're hung in a window or used to decorate a tree.
To create the paper eggs shown above, follow designer Lia Griffith's guide on how to make 3D paper egg decorations To keep things simple, cut out flat paper Easter eggs and ask your children to decorate them before adding string to hang them.
14. Turn your mantelpiece into an Easter showstopper
If most of your Easter decorations are confined to the dining area, widen your gaze and include your living space too.
Whether you opt for brilliant bunting or festoons of florals, there are plenty of ways you can do it. Easter mantel decor ideas to consider include:
Bunting—from traditional flags to hand-stitched bunnies, the possibilities are endless when it comes to Easter bunting. It'll look great hung from one side to the other of your mantelpiece.
A garland—drape foliage and flowers across the top of your mantelpiece for a timeless and celebratory look.
A wreath—a beautiful floral wreath is perfect for positioning above the center of your mantelpiece. Have a mirror above your mantelpiece? Line its edge with florals or foliage for a wild look.
If you have it, the floor space in front of your mantel can also be utilized, whether for hurricane vases filled with pillar candles or life-size bunny ornaments.
15. Knit decorative Easter eggs
For a different take on chocolate eggs, pick up your needles or hooks and try knitting or crocheting them. Got kids? You can teach them how to knit or crochet, and encourage the whole family to get involved in designing their very own egg. These colorful decorations make great hanging decorations, or will look pretty arranged together as part of a tablecenter.
"Baskets of crocheted or knitted eggs can look gorgeous," recommends Willis. She suggests choosing wool in seasonal colors to really tap into the occasion. "Spring color palettes are all about pastels and buttery yellows, set off by lots of greenery," she adds.
Love the idea? Take a look at this great Easter egg knitting pattern from Love Crafts .
16. Hang Easter decorations on empty coat hooks
If you have a couple of empty coat hooks, use them to display cute hanging Easter decorations. We love this sweet and simple idea: plywood bunny shapes have been decorated with colorful fake flowers for a finished result that manages to be both cute and understated all at once.
Hanging shapes can also make a great addition to kids' bedroom doors during the Easter period and beyond: task little ones with decorating signs before using a temporary fixture solution (such as an adhesive strip) to hang them on their bedroom door.
17. Decoupage Easter eggs
There are all sorts of ways you can transform a papier-mâché egg into something fabulous, with decoupage being one must-try option.
Whether you want to task your kids with creating some DIY decorations or want to create something that little bit more sophisticated, this is an Easter decor trend that offers something for everyone. All you'll need to get started is an egg base, paper, PVA glue and a brush.
We love the idea of incorporating completed decoupaged eggs into a wreath or garland. As well as looking gorgeous, it's a great way to break up the greenery and offers a longer-lasting alternative to fresh flowers.
18. DIY marbled Easter eggs
For something that little bit different for your 2022 Easter decorations, consider opulent marbled-effect eggs in jewel-bright colors.
"Marbled-effect eggs allow you to pull together your color theme in one simple yet effective presentation," says Sanel Konyar, celebrity interior designer and founder of Interior Kollection. "All you need is to dip your eggs in food colouring and water to lay the primary colour, allow them to dry, then dip them in a bowl of olive oil of contrast coloured water to marble them, leave to dry.
"Repeat as many times as you like and finish by adding splashes of gold or silver metallic paint." (marbled designs also make excellent Easter nails, if you fancy matching your mani to your decor)

19. Fill clear vases with eggs for a simple but striking decoration
For a more sustainable approach, look for items around your home that can be incorporated in clever new ways to create a seasonal flourish. One simple idea is to fill vases—preferably clear—with colorful eggs.
As well as saving you money, this simple vase idea can also be easily moved around the home, meaning it can act as a tablecenter, a decoration for a hallway table or a finishing touch for a coffee table.
All you have to decide is what type of eggs you'll use: you could paint the shells of boiled eggs to tie-in with your own specific color scheme, buy plastic eggs that can be reused year after year, or opt for candy eggs that can be enjoyed by guests.
20. Transform mason jars with paint and twine
Don't chuck out glass bottles or mason jars in the countdown to spring. Continuing the focus on reusing old houseware objects, hang onto them and challenge the kids to transform them for Easter.
Whether they use paint, twine, glitter or decoupage paper, turn it into a fun activity for the Easter weekend and use their completed containers as vases for your tablecenter. Filled with chocolate eggs, these decorated jars can make great Easter gifts for adults and children alike.
21. Ramp up your Easter egg hunt
"Easter egg hunt decorations are a really fun way to add some festive themes to your home while getting the kids excited for the Easter bunny," explains Cluitt. "Egg hunt signs are perfect for placing around your garden, or in your home, to help the little ones as they search for those hidden eggs – whether you want to steer them in the right direction or tease the hiding place."
Easter hunt signage can even be kept up for a while after the hunt has ended, "allowing your little ones to continue coming up with their own treasure hunt ideas to keep them occupied," suggests Martin.
22. Turn a cake stand into tiers of Easter decorations
A classic tiered tray is a great way to display Easter decorations. It's also a great way to display home-baked Easter biscuits or Hot Cross Buns for your loved ones to help themselves to.
"Baking your own sweet treats is an option for the whole family to get involved in," notes Cluitt. "Not only does it offer up a colourful centerpiece for the dining table, but it also provides a delicious spring dessert for all to enjoy after dinner!"
23. Make bunny tail drink stirrers
Whether you're planning on mixing up a bunch of cocktails for dinner guests or are throwing an Easter party for children, these cute bunny tail drink stirrers make a neat finishing touch.
They'll add a splash of seasonal cheer to any glass, and are easy to make: simply attach a white pom-pom to the end of a skewer and you're done. While older kids will love it, younger children might need supervision—those fluffy tails have a look of candyfloss to them...
24. Blow up and paint Easter-inspired balloons
Looking for cheap Easter decoration ideas? They don't come much better than this crafty idea. Simply blow up balloons in your chosen color, and then turn them upside down (so they resemble an egg shape). Paint on egg-inspired patterns and then allow the balloons to dry.
25. Choose Easter crockery for your dining table
Whether it's decorated with seasonal illustrations or simply in spring-tastic pastel shades, Easter-themed crockery can often be sourced for low prices online and in homeware stores. It's high-impact, but with minimal fuss required.
"It's a relatively easy decorating tactic, which doesn't require much effort," recommends Sahar Saffari, interior designer at Hi-Spec Design. "You can invest in some themed crockery and bring it out every Easter. This is a great way to bring the season into the home, without decoration overkill. This works especially well if you're planning to host dinner parties or lunches. If you keep any of your crockery on open shelves, that's another fuss-free way it can become a part of the decor."
26. Make place settings that double up as gifts
For a two-in-one approach to your Easter place settings, choose something that can double-up as a gift. From handcrafted Easter decorations to affordable Amazon Easter gifts you can order online, simply add a brush-lettered name tag to each place setting for an elegant finish.
Easy to make and incredibly thoughtful, these take-home place settings make great Easter gifts for adults and children alike.
27. Invest in Easter-themed linens
Treating your home to Easter themed linens and soft furnishings are another great way to embrace the season. From bunny cushions to pastel-colored tea towels, there are all sorts of ways you can do it.
"Similar to the themed crockery, this is a simple yet effective decorating tool to give your home a little bit more of an Easter feel," explains Saffari.
"Pastel-colored towels, tea towels, bathmats and other soft furnishings don't have to be covered in bunny rabbits, but will still help to keep the Easter theme running throughout the house. Remember, when adding soft furnishings in the house, you don't have to have the exact same colour throughout, but make sure they compliment each other well so the theme runs smoothly room to room."
28. Incorporate a nod to Pantone's Color of the Year
Pantone announced that its 2022 Color of the Year is17-3938 Very Peri, which "displays a spritely, joyous attitude and dynamic presence that encourages courageous creativity and imaginative expression" and has set the tone for interior paint color trends this year.
Incorporating the rich purple shade into your Easter decor is a fabulously on-trend way to embrace something different. Whether you do it via flowers, painted eggs or table linens, there are plenty of ways to bring a touch of violet to your home this Easter.
What are traditional Easter decorations?
While there are many different Easter decoration ideas to choose from, there are a few Easter classics that can be relied on time after time. These include:
Arrangements of spring flowers
Easter motifs, such as eggs, chicks and bunnies
Bunting
However, creating your own Easter decor traditions is all part of the fun. Whether you choose to create personalized Easter baskets or decorate your mantelpiece, there are plenty of great ways you can decorate your home for Easter 2022.
When should you hang Easter decorations?
Easter falls on April 17th in 2022, but do you really need to wait until mid-April to put your decorations up? For the experts, it's a resounding "no".
"The first day of spring is March 20th this year," says Martin. "However, there's nothing wrong with injecting a little extra life and color into our homes earlier in the year. The first few months of the year can feel drab, so adding a little spring hope into our homes can be a welcome treat."
She advises holding back putting up more in-your-face Easter decorations, continuing: "Easter falls just over a month later, so maybe hold off from putting up any bunny or egg-themed decorations until a little closer to. However, if you need the lift that that cute pastel decor can provide, just go for it!"
Easter decorating trends 2022
Retro florals—For a bold take on the season, embrace this cute floral trend. "Retro patterns are back with a bang this year," says Martin. "Daisy print homeware is suitable all-year round, but looks especially great as part of a spring-themed decoration theme. Take the look further in your Easter decor plans with pastel balloons and ditsy floral garlands."
The rise of the Easter tree—It's been popular in Europe for centuries, but the Easter tree is finally making its mark in the US and UK, with many people considering Easter tree ideas. "Seasonal décor has really grown in popularity in recent years, and we have seen a real spike in demand as our customers search out inspiration and products to help transform their homes for a given season," says Cluitt. "One of the biggest trends we saw in Easter 2021 was the rise of a unique and inventive piece of décor – an Easter tree! We expect this trend to continue in 2022: our decorative white twig tree has already seen a 29% increase in sales in February."
Return of the rabbit—The bunny is back, and it's not just for kids. "Spring time brings endless bundles of cuteness: think lambs, chicks and especially baby bunnies," says Martin. "Expect to see the Easter Bunny make a comeback in all decorations this year. Bunny-shaped wreaths and woodcut wall decor will allow you to channel the trend without it feeling too childish."
With thanks to Jess Martin, party decoration expert at Ginger Ray; Aisha Cluitt, Content Marketing Manager at Hobbycraft; Merion Willis, Craft Editor at LoveCrafts; Joanna Rhodes, founder of Hayford & Rhodes; Sanel Konyar, founder of Interior Kollection; and Sahar Saffari, interior designer at Hi-Spec Design.
Sign up to our free daily email for the latest royal and entertainment news, interesting opinion, expert advice on styling and beauty trends, and no-nonsense guides to the health and wellness questions you want answered.
Katie Byrne is a contributor to woman&home and a writer whose interests span everything from homes and interiors, to pop-culture, travel, business and self-development. A former digital editor, her freelance journalism has featured across a wide range of print and online titles, including Raconteur, Digital Spy and more. When she's not writing, she loves reading (and has the groaning bookshelves to prove it...), dreaming up new décor ideas for her flat and devouring Netflix's latest true-crime series with her husband. You can find her on Twitter: @katie_b123.