20 stylish Easter table decor and centerpiece ideas for spring
These ideas for Easter table decor will make your meals the heart of your celebrations for spring 2023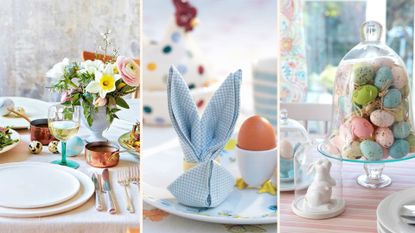 (Image credit: Future)
Serving meals is often the center of many celebrations at Easter, so creative Easter table decor and a thoughtful table layout will please your guests and make your celebrations one to remember.
A pretty table can stand alone, or fit in with the rest of your Easter decoration ideas. There are many ways of decorating your table for Easter, so we asked tablescaping experts for their best advice and delved into the new Easter table decor trends for 2023.
Ultimately, your table setting should reflect the mood of your celebration. Do you want it to be cute and involve your children, or are you aiming for something more creative or sophisticated? Whatever your theme, the Easter table decor ideas below should provide the inspiration you need to set a stylish tablescape for spring.
Easter table decor and centerpiece ideas for spring 2023
1. A classic arrangement of fresh flowers
Daffodils are usually the first thought for Easter and, as the yellow blooms are inexpensive, you can make an impact. Speak to your local florist or look online for your nearest flower wholesaler and buy daffodils by the armful. Massed bouquets of one flower look striking and the lower price of daffodils means spring is a great opportunity to create this look on a domestic budget.
If you prefer classic arrangements, consider focusing on a different flower to ring the changes. Anemones can provide subtle brightness. Tulips can look very sophisticated especially when bunched with twine or ribbon. Tulips can last for more than a week if looked after. Trim the stems at the bottom, cutting diagonally, and remove any leaves that will sit below the water line.
Choose a container that only leaves the top third of the stem exposed: your tulips will benefit from the extra support. With regular water top-ups, your tulips should continue to brighten your home, even when the rest of your Easter table decor has been packed away.
Flowers also make a brilliant seasonal gift. We think these are some of the best flower delivery services in the UK, whether you're ordering flowers for a friend or for your own home.
2. Have fun with bunny ear napkins
You don't have to be an origami master to create some sweet-themed place settings. A boiled egg and a cloth napkin can become an Easter bunny without much effort. Roll the napkin into a long sausage and fold it into a U-shape. Carefully position the egg (still in its shell) at the bottom of the U and use string or ribbon to tie the two ends of the napkin together, making the bunny ears.
If you are up for more of a challenge, this tutorial gives all the instructions for a more complex folded napkin rabbit that will impress any guests – just be careful not to chip your Easter nails in the process!
3. Consider your color scheme
The easiest way to theme your table is to stick to a defined color palate.
"Classic, spring colors are still the biggest hit at Easter time," says Kate Fairlie, founder of Truffle Tablescapes. "A range of pastels mixed together or a base of white with pops of fresh green are both ideal for this time of year."
Fairlie recommends starting by choosing table linens that tie in with your chosen color scheme to create a "beautiful foundation" on which you can build your Easter tablescape.
The top interior paint color trends for 2023 include shades of lilac, so you could consider weaving these into the color scheme of your Easter table decor ideas this year too.
4. Create a floral chandelier
Don't have a huge amount of space on your dining table? Make the most of the space above it instead.
Decorating your ceiling can have a huge impact. You can pin trailing flowers and greenery up using push pins or sticky tape, just as you would with bunting or fairy lights. You can also add decorations to your existing light fittings, but be careful that you don't weigh them down too much and that the decorations won't burn if the lights are switched on.
If you fancy making your own hanging floral installation, floristry trainers Team Flower have a how-to guide. If this feels too much, but you still want a dramatic hanging centerpiece, speak to your local florist about a bespoke commission.
5. Decorate with free seasonal flowers
"One of the easiest and most obvious ways to decorate your Easter table is with seasonal flowers," explains Fairlie. "If you're able to, select blooms from around the garden or forage for wildflowers to create an easy and cost-effective Easter table center."
"Remember to use the vases of flowers – a selection of bud vases or one central vase can both work well– around the home after your Easter meal."
6. Use painted eggs for place settings
Painted eggs are an Easter classic and can be used in many ways. Our list is just a starting point, let your imagination run wild.
Challenge kids to decorate them with paint
Write guests' names on them for a sophisticated place setting
Dip them in metallic paint for a shimmering table decor option
Scoop out the inside of the eggs, paint the shells and use them as mini vases
Stamp them with guests' initials for another twist on the place setting
Whatever option you choose, remember that it's best to blow or hard-boil eggs before decorating them.
7. Go big on greenery
If you want to really feel new life at Easter, surround yourself with green shoots and opt for living plants rather than cut flowers. Pretty pot plants and trailing leaves will add lushness to your table and there won't be any wastage: every plant can be moved back to the garden or to a spot in the house. Green in every sense and a great Easter table decor idea that supports sustainable living.
8. Think about your existing kitchenware
For a sweet and simple take on Easter table decor, incorporate items you already have in your kitchen. We love this egg cup place-setting idea. To create a similar look at home, fill egg cups with soil, top them with moss, and then use a cocktail stick to display mini banners with your guests' names on them.
Alternatively, you could use teacups filled with chocolate eggs or a mini floral display.
9. Use a cake stand to create tiers
As with the floral chandelier, when you can't spread out, go up. A cake stand can do more than just display your Easter cake ideas and is an easy way of adding space for decorations. Try:
Bud vases filled with fresh flowers
Colorful chocolate eggs, perfect for guests to help themselves to
Decorative hand-painted eggs
A mini chalkboard sign with your menu on it
There's always the traditional usage to fall back on too, and you can fill your cake stand with pretty cupcakes, and macarons or try a seasonal spin with hot cross buns or other spring desserts.
10. Embrace grown-up styling
Many Easter decorating ideas focus on the cutesy and kitsch, with pastel colors and sweetness leading the way. But there's nothing wrong with rejecting all of this and opting for luxury.
Focus on one or two key elements. A statement vase filled with seasonal flowers will always look elegant. For eggs, opt for solid jewel colors, or look to the intricately painted eggs popular in Eastern Europe for inspiration. Use a crisp white table cloth for a fresh aesthetic or a linen table cloth for a finish that is altogether more homely.
11. Think about the shape of your table
The shape of your table will dictate the shape your decorations take. A long table means a centerpiece can run the length, whereas a display for a round or square table should sit in the very middle.
Assume your decorations will take up as much room as one place setting. Then consider practicalities. It's obviously important that nothing gets in the way of plates, glasses, and other eating utensils. But think about how your guests will use the space: will they be able to reach a communal plate or the water jug?
You should also pay attention to the height. A big arrangement looks dramatic, but if it stops people from talking to one another then you won't create the right atmosphere.
12. Display an Easter wreath on the table
You may have mastered making the very best Easter wreath, so use your skills to decorate the table too.
"Wreaths make a great addition to any tablescape," notes Fairlie. "Dried flower or feather wreaths make excellent centerpieces, and can be filled with decorative eggs for a nest-like look. Mini wreaths are also a great way to decorate each guest's place setting. Fill them with an Easter favour or mini chocolate eggs as an added surprise."
13. Make bespoke Easter cookies
Chocolate eggs needn't be your only edible decoration. Homemade cookies or Easter biscuits can add a nice personal touch.
"Children can get involved by baking individual biscuit favors to be used at each guest place," suggests Fairlie. "The biscuits can be decorated to match the tablescape color scheme and can have guests' names iced onto them. Place them in cellophane bags and tie them with a ribbon for the finishing touch."
14. Welcome fun Easter crackers
These days, crackers aren't just for Christmas. Although Easter crackers haven't hit the mainstream yet, you can buy them online or make your own. Craft supply store Hobbycraft has a handy how-to tutorial for making Easter bunny crackers.
Etsy 6 DIY Easter Bunny Crackers
$8.71 / £6.95 | Not only will these look great on the table they also provide an ideal Easter Craft for all the family. The kit contains all the materials to make 6 bunny crackers, including DIY Crackers, 6 Tags, 4 Gold Sticker Sheets, and 6 Ribbons. Fill the personalized crackers with treats of your choice.
Gisela Graham Dandelion and Bumblebee Easter Crackers
$22.73 / £18.99 | Easter-themed doesn't have to mean fluffy bunnies and decorated eggs, as this set of 6 Gisela Graham crackers proves – they can also be sophisticated for a more grown-up take on hosting an Easter celebration.
15. Make decorating into a kids' craft project
Children love being involved in special events and will enjoy showing off their crafts to visitors. Save up old jars and bottles in the run-up to Easter and challenge your kids to decorate them with spray paint, twine and glitter. They can also paint eggs and, if old enough to work with scissors, make paper flowers.
Even the smallest children can contribute. "Get children involved in creating the centerpiece by encouraging them to pick flowers from the garden, which they can help to trim and display," Fairlie suggests.
16. Create an Easter tree centerpiece
Decorating trees is no longer reserved for Christmas tree decorating ideas, this decorating trend is becoming popular for Valentine's day decorations and now Easter tables too.
To make your Easter tree feel less of a copycat to the iconic holiday fir tree we recommend using an alternative twig arrangement. You can forage fallen branches to style in a vase and decorate the twigs with lightweight felt Easter egg decorations and playful bunny motifs.
As the centerpiece of the table it's important not to go too large in scale, overwise you run the risk of overwhelming the space and obstructing people's view across the table.
17. Lay a seasonal table runner
Elevate your dining table in an instant with the placement of a seasonal table runner. Dressing your table with linens and textiles helps to give your dining experience more of a sense of occasion – perfect for Easter entertainment.
Choose a dedicated Easter design with iconic motifs to add a sense of playfulness, or for a more grown up touch choose more subtle linens or hessian runners to add texture and muted color to the table landscape.