16 Easter mantel decor ideas to freshen up your living space
The best Easter mantel decor to freshen up your home decor this spring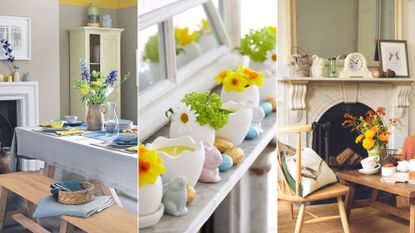 (Image credit: Future)
woman&home newsletter
Sign up to our free daily email for the latest royal and entertainment news, interesting opinion, expert advice on styling and beauty trends, and no-nonsense guides to the health and wellness questions you want answered.
Thank you for signing up to . You will receive a verification email shortly.
There was a problem. Please refresh the page and try again.
Easter mantel decor is a must-consider if your home features a beautiful fireplace. While seasonal bunting and displays of fresh flowers are two classic ways to style the look, there are plenty of other ideas out there to decorate your fireplace.
Much like Easter table decor, the way you decorate your mantel this spring should reflect both your personality and your home's overall aesthetic.
Whether your style is minimalist or over-the-top, there are both subtle and creative Easter decoration ideas that will help your home embrace the new season and choosing the right Easter mantel decor and styling can help tie the whole look together.
With mantelpieces often focal areas in the home, just be sure you choose decorations that you can live with for a few weeks—and that you can maintain! Details such as fresh flowers will require careful care, so if you don't have the time or inclination, opt for artificial alternatives instead. There are plenty of ideas out there to suit every home and style, so get inspired with some of our favorites below.
15 Easter mantel decor ideas for 2022
Decorating your mantelpiece for Easter is a great way to breathe some fresh life into your home this spring. For styling ideas that can double-up as spring decor, stick with flowers, scented candles and vases. For a more Easter-specific take on Easter mantel decor, embrace motifs such as bunnies, flowers and eggs or even traditional Easter tree ideas.
While you might want to put the more Easter-focused ornaments on your mantel closer to Easter Sunday, decorations such as flowers and bunting can be incorporated at any time in the countdown to Easter.
1. Create a rainbow display of cardboard eggs
Looking for a sweet and simple Easter mantel decor idea? Search no further than these cheerful egg decorations. Made from cardboard, you've got full control over the colors and sizes of each egg: intersperse small and large cut-outs to create the illusion of depth on your mantelpiece.
For an easy display option, stick them along the front-facing side of your mantelpiece, or let them act as a backdrop to more Easter mantel decor by sticking them to the wall.
2. Hang seasonal bunting across the mantel
Whether you opt for paper bunnies, hand-stitched felt carrots or colorful pom-poms, there are endless Easter-friendly bunting ideas that you can use to decorate your mantel this spring. After all, with its vibrant colors and bright-and-breezy mood, Easter lends itself perfectly to the playful charm of bunting.
Ideal for stringing between the two sides of your mantelpiece, bunting is easy to DIY or buy and will instantly uplift your living space. For a minimalist look, opt for bunting alone for your Easter mantel decor. For an over-the-top extravaganza, treat it as more of a cherry-on-top, with the main decorations sitting on the mantelpiece above.
3. Fill your mantelpiece with fresh flowers
If you love flowers (and aren't bothered by hayfever), a garland of fresh blooms and foliage across your mantelpiece could look stunning.
So which flowers could work best for such an arrangement? "Easter falls in April this year, which is a gorgeous month for flowers," says Izzy Salva, founder of Seed & Stem. Other than the Easter go-tos of tulips and daffodils, she recommends considering...
Anemones—"These gorgeous flowers with their striking 'eyes' will add a perfect focal point to any arrangement."
Ranunculus—"My favorite flower because of its intricate simplicity, layer-upon-layer of petals, long stem and wide array of color options. For a spring arrangement, I'd recommend the peach variety."
Lilac tree branches—"These make an excellent filler and are also in bloom. They can tend to wilt if left out of water, however."
Salva recommends that foliage should play a key part in adding structure to your Easter mantel decor, adding: "Some of the most gorgeous foliage can be found in your backyard, or in hedgerows. Dusty Miller, mint, wild ivy, apple bloom, borage and climbing Jasmine are all great foliages to add structure and greenery to any arrangement."
4. Incorporate candles for a day-to-night decor look
Candles are always a great way to elevate your mantelpiece, regardless of the time of year. So naturally, your Easter mantel decor is the perfect opportunity to incorporate flickering flames with subtle fragrances that lift your mood.
"Candles will add a sophisticated touch that will allow your Easter mantel decor to navigate from the daytime into the evening," says Salva. "Try using candlesticks or candles of different heights to add rhythm to your arrangement."
5. Display an Easter tree on your mantelpiece
While they've been popular for centuries across Europe, it's only in recent years that Easter trees have been gathering momentum in the US and UK.
There are plenty of stunning Easter tree ideas out there. To create one for your mantel, buy or source branches (real or artificial) and arrange them in your vase or container of choice. Then get decorating: use colorful plastic eggs, bird ornaments or even jelly beans (no, really) to add some personality to your Easter tree and then display it in pride of place on your mantelpiece.
6. Turn your mantelpiece into a miniature garden
Planters, plant pots and garden ornaments are crying out to be incorporated into your Easter mantel decorations. Ideal for adding a spot of Peter Rabbit charm to your home this spring, plant pots are also great for tapping into a home that's filled with rustic-inspired decor.
Make sure the various containers are filled with fresh plants, herbs and foliage: not only will the rich greenery contrast perfectly with the terracotta, but the herbs will add a delicious fresh scent and the vibrant colors will also add a sense of energy and vibrancy.
See our guide to the best places to buy plants online if you want to add to your collection before Easter Day.
7. Pair a dark mantelpiece with seasonal pastel decor
2022's interior design trends have seen the resurgence of black mantelpieces in the home, so to brighten things up this Easter, choose pastel decorations. These will pop perfectly against the dark backdrop, ensuring your ornaments really stand out for the whole of the Easter holiday. Likewise, if you have a lighter mantel, look out for darker branches and buy or DIY decorations in colors that will stand-out against the background.
8. Involve your existing home decor in your Easter mantel plans
If your mantelpiece is already home to vases, ornaments and sculptures, why not get them embracing the Easter spirit too? From popping pastel candles into your most elegant candlesticks to filling your favorite glass vase with colorful Easter eggs, there are plenty of ways you can give you mantelpiece an Easter glow-up, without having to spend a fortune on quirky new decorations.
9. Display mix-and-match vases
An eclectic array of vases in different shapes and sizes, filled with flowers, will add a gorgeous burst of life to your home this Easter. Space your vases across your mantel for a low-fuss decor idea that can neatly sit alongside other decorative elements, too.
"Make your mantelpiece sing by using different shapes and sizes of vases, interspersed with candlesticks for added height," suggests Sam Hood, co-founder and chief creative officer for homeware brand AMARA (opens in new tab). "Be wild and free with your design, but not so much that you can't see all the details. It should be balanced and well-proportioned against the backdrop."
Salva recommends changing the water every two days to keep flowers looking fresh. "You should also trim the stems of their leaves," she adds, "because if any drop into the vase they will turn the water rancid and rot the stem from the inside."
See our guide to the best flower delivery services if you need to order some fresh blooms for your home.
10. Create a nest-effect garland with branches and yarn
For a clever nod to the season, decorate your mantelpiece with branches—whether real or artificial—and position colorful balls of yarn along it. The finished look should look something like a bird's nest filled with eggs. For added Easter cheer, dot miniature fluffy chick decorations along the branches too.
11. Use umbrellas to display bunches of flowers
In a gorgeous nod to the 'April showers' that Easter goes so hand-in-hand with, hang two small umbrellas either side of your mantelpiece and fill them with fresh flowers. For a look that requires less maintenance, use fake blooms instead. Symmetrical styling isn't essential but does look great. You could also consider hanging the umbrellas from the two furthest corners of your mantel if you want to protect your walls.
12. Fill your floor space with tasteful Easter decorations
If you've got the floorspace in front of your mantelpiece, use it to display larger Easter decorations. From life-size topiary bunnies to Easter hampers full of decorations and signage and pillar candles, the floor in front of your hearth can be utilized to add some serious Easter cheer to the room. You can still decorate your mantel too; using the space on the floor in front simply spreads out the look rather than condensing it.
13. Let colorful eggs lead your Easter mantelpiece decorations
If you have no idea what theme you want to give your Easter mantel decor, keep it simple and let eggs do the talking. From wreaths and garlands to vase-fillers and topiary trees, pretty Easter eggs make a great foundation for any seasonal decoration scheme. They also have the bonus of being instantly identifiable as an Easter motif but without being too over-the-top in terms of aesthetics.
Opt for one color palette to run throughout all your egg-related decorations: you can't go wrong with pastels, while metallic eggs are a great choice if you're keen to add some opulence into your home.
14. Display a chalkboard sign with an Easter greeting
As well as adding some gorgeous rustic charm to any room of your home, a chalkboard is also a great way to display a seasonal greeting to anyone who enters the room. And where better to place your chalkboard message than above the fireplace?
Ensure that any other Easter decorations on your mantelpiece are positioned so that they don't obscure the chalkboard. Elegant brush-lettering works particularly well for this, or you could task your kids with designing the perfect chalk display.
15. Make a mirror the focal point of your Easter mantel decor
If you have a mirror hanging above your mantelpiece, incorporate it into your decor.
"A mirror is a great background for your Easter mantel decor," says Hood. "It will maximize the finished look, so incorporate some height with the decorations to make the most of it. You can also use the mirror's frame to add more greenery, and why not add some fairy lights too? There's never a wrong time to add extra twinkle, which will have the added benefit of highlighting your display into the evening."
16. Hang an Easter wreath above your mantel
The center point above your mantel is the perfect place to display a beautiful Easter wreath. With countless Easter wreath ideas to choose from, choose one that will enhance what's already on your mantelpiece. For a minimalist look, opt for the wreath alone; for a more maximalist take on Easter mantel decor, pair it with seasonal ornaments and displays of fresh flowers.
If you've opted for a real Easter wreath and it will be hanging above your mantel for a few weeks, check with your florist how you can keep it looking fresher for longer.
Essential items for decorating your Easter mantel
When it comes to decorating your Easter mantel, there are a few obvious ideas that you should consider, such as bunting, Easter motifs (ornaments featuring bunnies, chicks and so on), and vases of flowers.
But what other ideas could you consider when planning your Easter mantel decor? Salva has a few ideas...
An Easter garland—"This isn't too hard to source and you can easily 'cheat' the look by using low planters, arranged along the mantel," she advises.
Clusters of bud vases—"These can look great placed along the mantel, or perhaps just positioned dramatically at one end."
Tapered candles—"Standing in candlesticks and scattered amongst bud vases or placed behind the garland, tapered candles will add a sophisticated touch."
Katie Byrne is a contributor to woman&home and a writer whose interests span everything from homes and interiors, to pop-culture, travel, business and self-development. A former digital editor, her freelance journalism has featured across a wide range of print and online titles, including Raconteur, Digital Spy and more. When she's not writing, she loves reading (and has the groaning bookshelves to prove it...), dreaming up new décor ideas for her flat and devouring Netflix's latest true-crime series with her husband. You can find her on Twitter: @katie_b123 (opens in new tab).