19 Easter tree ideas that are easy to make at home
Branch out at home this spring with these brilliant DIY Easter tree ideas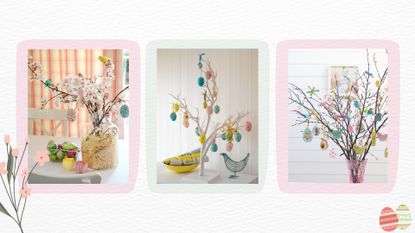 (Image credit: Future)
woman&home newsletter
Sign up to our free daily email for the latest royal and entertainment news, interesting opinion, expert advice on styling and beauty trends, and no-nonsense guides to the health and wellness questions you want answered.
Thank you for signing up to . You will receive a verification email shortly.
There was a problem. Please refresh the page and try again.
Easter trees aren't new when it comes to spring decor, but DIY Easter tree ideas have been slowly gaining in popularity over recent years as more people take this traditional decoration into their homes.
"Easter trees have been steadily growing in popularity for some time now, with social media being the main driver behind the trend being popularized in the UK and US," Sandra Varley from UK flower delivery service Flying Flowers explained to Woman & Home.
Easter trees are a fun, creative and affordable way to decorate your home in the spring, with many of the elements you need to create one able to be foraged or found at home.
These Easter tree ideas will show you how to make your own this spring and bring a fresh creative flair to your Easter decoration ideas at home.
Easter tree ideas
1. Start outdoors
Start with the trees you already have and set the tone before guests even enter the house. Decorate the trees or shrubs in your garden with colorful plastic eggs (there are some great Amazon Easter gifts available this year and we love this candy-bright set of 24 hanging Easter egg ornaments (opens in new tab), from the site for $10.99).
You can also try hanging strings of solar-powered lights, adding plastic flower decorations, or tie ribbons to trunks and branches. Just remember that whatever Easter tree ideas you choose for your outdoor decorations, they need to be weather-proof!
2. Bring real branches inside
You can gather large twigs and small branches from your backyard, nearby wooded areas or from local garden center.
"Willow is brilliant for crafting with as it's strong yet pliable," explains Becca Parker, craft expert and founder of To Be Adorned (opens in new tab). "Cherry blossom or any flowering branches would also be lovely for a real springtime burst of color."
While they're great for hanging decorations on, you can also decorate the branches themselves for a finished look that's both understated and high-impact.
"You can easily spray paint branches, or try wrapping them in pastel-colored yarns," says Parker.
3. Put up a Christmas-inspired Easter tree
If taking down your real Christmas tree always makes you feel sad, you'll love this idea. Dig out your Christmas tree to use as a base, meaning you re-use an item you already own, but don't buy any new baubles.
"Although an Easter display should be fun and free, it's good to practise restraint not necessarily in terms of aesthetic, but in terms of sustainability," says Law. "If you do want to go all-out, I'd suggest doing it in a more organic way, with branches and dried flowers, rather than plastic embellishments. Sprays of dried flowers can be as vibrant and colourful as any man-made decorations."
4. Use artificial branches to kickstart your Easter tree
If you don't have time to source natural branches, artificial alternatives are easy to buy (and can be reused). These branches are sometimes pre-decorated with fake flowers, meaning all you'll need to decide is what container you wish to use, where you'll display the finished Easter tree, and if you want to add any further decorations.
Ideas for further decorations on branches include:
Hanging colorful eggs, which can be reused year after year
Attaching mini fluffy chicks to the branches for a rustic look
Twisting LED lights around the branches
Edible decorations can also work well, too. "Chocolate Easter eggs are nice to include in your display, as they tend to have that pastel, spring-like palette that typifies the season," says Wil Law, Home Design Stylist at John Lewis & Partners. "I also think it's good to build your displays with pieces that can be used, or in the case of chocolate, eaten."
5. Design an Easter tree using a tiered tray
While it's often thought of as a staple of afternoon tea, a tiered tray or cake stand can actually make a great addition to your Easter decoration plans. For a zero-fuss take on Easter tree ideas, simply fill your tiered tray with everything from home-baked Easter biscuits and hot cross buns to flowers and bunny ornaments and chocolate eggs.
To maintain the idea of the Easter tree, be mindful with the order you position things: put something eye-catching in the center of the top tier and use the lower tiers to display smaller objects.
This Easter tree idea is perfect for homes that are strapped on space for decorations, and can be easily moved around to a countertop or used as Easter table decor too. It's also very easy to dismantle once the holiday is over!
6. Decorate with handmade pom-poms
Fluffy pom-poms might look tricky to make but they're actually surprisingly easy to master.
"You don't even need any fancy kit!" says Parker, who has shared her method for fuss-free DIY pom-poms below.
Source a sturdy rectangle of cardboard
Get winding! Wrap yarn around the card multiple times, then tie securely around the middle with another length of yarn
Cut through the loops at the top and bottom of the bundle with scissors
Trim the pom-pom into the shape you want. "You could even try an oval egg shape," suggests Parker. "It's all in the trimming."
As is the case with the Easter tree shown above, mix-up your yarn colors for a vibrant end result. Add googly eyes and stick-on felt ears or beaks to create bunny and chick pom-poms.
7. Create a paper feather Easter tree
One of the more whimsical ideas, this pretty feather-effect look is easy to DIY. It looks sophisticated but is actually very quick to make.
This great how-to tutorial (opens in new tab) suggests hand-painting the feathers, but if time isn't on your side, head to your craft store and buy colorful patterned paper instead.
8. Create a jelly bean Easter tree
Kids and adults alike will adore this sweet idea, but it's probably worth keeping some jelly beans back just for eating.
You'll need branches, a glue gun and a supply of jelly beans. Add a spot of glue to each bean and attach it to a branch. The goal is to make the jelly beans look like budding flowers, so thinner branches will be easier to work with.
9. Stick Easter tree branches to a mirror
To create the illusion of a larger Easter tree creeping up a wall, consider arranging your branches in front of—or even directly on to—a mirror. This will instantly make your Easter tree look even more impressive, as well as adding more depth to the overall display.
10. Whip up some salt dough Easter tree decorations
If you want to create decorations from scratch for your Easter tree, look at making salt dough ornaments. Simple to whip up and brilliantly resilient, salt dough cookies will last and last, meaning you can get your handmade Easter decorations out year after year.
Making your own salt dough is pretty simple. For half-a-dozen decorations, you'll need:
1 x cup of plain flour
Half a cup of table salt
Half a cup of water
Combine the flour and salt together before adding the water. Mix thoroughly and then transfer to a floured surface. Roll out your dough to about 5mm thick and use Easter-themed cookie cutters to create the shapes you want. Pierce holes into the tops of your decorations (for adding string or ribbon once they're cooked), pop them on a lined baking tray and then cook them for three hours at 300°F.
Once cooked and cooled, your salt dough will be ready for decorating.
11. Handstitch felt Easter tree decorations
Hand-sewn decorations are the perfect way to add a touch of DIY charm to your Easter tree. You could opt to keep it simple with egg-shaped designs or try something a little trickier, like a rabbit or chick pattern.
If you love the idea but have no idea where to begin, pick up a kit that will provide you with all the tools, materials and guidance you need, like this Easter Decorations Sewing Kit, £15 at Not On The High Street (opens in new tab).
12. Use painted egg decorations
Encourage the kids to get creative and design their own Easter eggs to hang from your Easter tree.
"Polystyrene eggs are a brilliant base for DIY decorations, and can be found at most craft shops at this time of year," says Parker. She suggests...
Covering the eggs with PVA glue and adding layers of torn-up tissue paper for a decoupage effect
Winding bright string or yarn around the eggs for a home-spun finish
Keeping it simple and decorating the eggs with poster paint: block pastel colors or stripes, dots and animal prints will all look great
"All the family can get involved," Parker adds. "Polystyrene eggs are much less fiddly and breakable than using real eggs. And you can hang them up again next year! Have pins and ribbon on standby to make hanging loops."
13. Create a crochet Easter tree
As we've already seen, there are plenty of Easter tree ideas out there that tap into crafty hobbies, including sewing and painting. Now we've got the perfect option for crochet fans: a top-to-toe crocheted Easter tree.
According to the experts at The Crochet Crowd, this project will take around 3.5 hours to make; you can find the pattern here (opens in new tab). This cute idea is perfect for displaying on a table or countertop, and can be put away for next year's Easter celebration, too.
14. Crochet decorations for your Easter tree
If you're a crochet beginner—or just a bit daunted at the thought of crocheting a whole tree—don't fret. Crocheting decorations to hang on-pre decorated branches is another great idea for Easter 2022, and your designs can be reused next Easter, too.
There are plenty of great Easter crochet patterns to download via Etsy (opens in new tab), and there's also an easy-follow pattern for creating crochet Easter egg decorations here (opens in new tab).
14. Make sun catcher Easter egg decorations
Looking for Easter tree ideas that can bring some serious wow-factor to your home? Search no further than these decorative sun catcher Easter eggs, which are simple to DIY with the kids and will look great hanging from the branches of any Easter tree.
The how-to tutorial (opens in new tab) makes it look pretty simple and fun to DIY—just make sure you give yourself plenty of time to get crafting: you might need to order in some of the supplies needed to create these decorations.
15. Create a poster Easter tree
Whether you're tight on space or have already decorated in another room of your home, creating a Easter tree poster is a great way to tap into the season—without having to worry about taking up space. Whether you feel like getting artistic yourself or have kids who love a challenge, decide where the Easter tree poster will be displayed and get creative!
In terms of the tree's decorations, you've got options. Either continue the artistic theme by drawing them on or, for a 3D touch, stick crocheted or painted decorations onto the paper so they look as if they're hanging.
16. Make 3D paper decorations for your Easter tree
If you've got young children, DIY paper decorations are a great choice for adorning your Easter tree. Flat paper eggs, chicks or bunnies will look beautiful when colored in, and are ideal for bringing a super-personal twist to your family's Easter decorations.
Older kids might want to try something a little bit different, like these 3D paper chick decorations. Relatively straightforward to make (although less so to store!), there's a brilliant tutorial here (opens in new tab) that shows you how to use paper, twine and glue to create these impressive baubles. Add paper beaks or bunny ears to finish the look.
17. Create colorful lollipop trees
Whether you opt to use jelly beans (as recommended in the tutorial (opens in new tab)) or colorful plastic eggs that can be reused next spring, these easy-make topiary trees offer a sweet twist on the Easter tree and are ideal for displaying indoors or outside your home. Keep things seasonal by opting for a spring-friendly color palette of pretty pastels.
18. Make Easter tree decorations with wool
Looking for sweet-and-simple Easter decoration ideas? They don't come much more nostalgic than this crafty option, which looks a lot more complicated than it actually is.
Cover polystyrene or cardboard eggs with PVA glue, and then wind colorful string, yarn or ribbon around them. The finished look is neat and artistic.
19. Create a hanging Easter tree
A hanging Easter tree is a high-impact way to incorporate the look, and is ideal for homes that are running out of surface space.
If you love the idea of incorporating flowers into your Easter tree, Sandra Varley, Sales & Marketing Manager at Flying Flowers, has a few floral recommendations.
"Carnations would be best for this, as they are very resilient and can be easily wired to decorate a tree," she explains. "For something a little more subtle, try hanging test tubes filled delicate spring stems such as tulips and narcissi."
How do you make an Easter tree?
So once you've foraged branches and twigs for your Easter tree, what do you actually do with them?
"The traditional European-style Easter tree is simple to make at home," says Varley. "All you need are a couple of tree branches cut to the right height for your jug or vase. I love to use branches from the cherry tree in my garden."
She continues: "Next, half-fill your vase with water. This will encourage the branches to unfurl any new buds, leaves and blossom, and also helps with stability. The ideal branches are those that have several smaller branch twigs, giving you lots of options to hang any decorations."
Varley advises that simple decorations for your Easter tree can work best. "The simpler the better. You don't need to spend lots. I love to use narrow ribbon tied in bows and pastel-colored egg decorations, which I reuse every year."
If there are live elements to your tree—such as fresh flowers or foliage—Varley recommends ensuring it's kept in a cool room. "Spritz it with a little water every other day," she adds.
What is the meaning of an Easter tree?
In certain parts of the world, the idea of having an Easter tree is nothing new. Rather, in countries such as Germany, Ukraine, and Poland, the egg tree is a centuries-old tradition. Indoor and outdoor trees are adorned with colorful eggs, symbolizing new life.
The tradition has now turned into something of a trend, with people across the US and UK now embracing the idea.
Katie Byrne is a contributor to woman&home and a writer whose interests span everything from homes and interiors, to pop-culture, travel, business and self-development. A former digital editor, her freelance journalism has featured across a wide range of print and online titles, including Raconteur, Digital Spy and more. When she's not writing, she loves reading (and has the groaning bookshelves to prove it...), dreaming up new décor ideas for her flat and devouring Netflix's latest true-crime series with her husband. You can find her on Twitter: @katie_b123 (opens in new tab).