13 Christmas tree alternatives that are perfect for people who don't want a traditional tree
Christmas tree alternatives can be a great idea if you don't fancy a classic fir in your home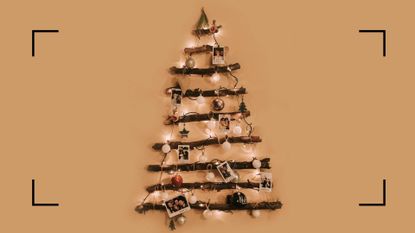 (Image credit: Future/Getty Images)
Christmas tree alternatives are a great idea for people who either don't want to decorate their home with a traditional, bushy tree, or those who don't have the space or time to accommodate one.
Even the best artificial Christmas trees or best real Christmas trees aren't for everyone. After all, they aren't exactly the most subtle of Christmas decorations. A unique design choice, alternative Christmas trees can offer a more modern but equally magical way to decorate for the festive season and more people than ever before are turning to these less traditional Christmas decorating ideas.
Abi Wilson, celebrations buying manager at Habitat, explained that Christmas tree alternatives have surged in popularity recently. "We've seen increased demand for alternative Christmas trees in recent years as customers look for ever more inventive ways to showcase their unique styles," she explains.
Festive Christmas tree alternatives
When it comes to Christmas tree decorating ideas, alternative trees can be much easier to handle than traditional trees, requiring less floor space, less decor and less intensive assembly.
Like most they just require a bit of consideration before putting them into action, to ensure they work with your existing decor and space. So if you're in need of some inspiration, we've curated a selection of fun ideas—from wall stencils to decorative cactuses.
1. Get a floor-level twig tree
Twig trees have been rising in popularity over the years, and they're a great alternative to a traditional, bushy green tree in a modern home. They look sleek and stylish and require minimal decorating—just a few fairy lights added where necessary. You can purchase twig trees from all good retailers (especially if you prefer buying your Christmas tree online) and we love the versions sold by The White Company (opens in new tab) which are currently on sale as part of the brand's early White Company Black Friday deals.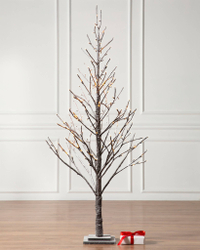 (opens in new tab)
Snowy Branch LED Tree: £169/$149 | Balsam Hill (opens in new tab)
This 6ft twig tree available at Balsam Hill comes pre-lit so you'll need to do minimal work to it to make it ready for Christmas. Available as a 5ft tree or a 6ft, this should be a great option to fit into most spaces, too.
---
2. Build a crate Christmas tree
Use empty crate boxes and assemble them into the typical shape of a tree for a really unique Christmas tree alternative. This is a great way to use up any spare crates you might have, and it's incredibly easy to put together too—simply pile them on top of one another in gradually receding rows until you have just one at the top, forming the tip. Crate trees can also be incredibly useful for creating extra festive storage—they're a great place to put some of your best Christmas decorations if you're not sure where else to put them. Or you could even place practical Christmas items in there too, such as kids' books and presents.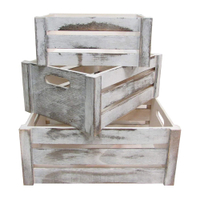 (opens in new tab)
Admired By Nature Rustic White Set of 3 Distressed Decorative Wood Crates: £50/$37.99 | Amazon (opens in new tab)
These chic distressed wood crates are perfect for building an alternative Christmas tree, and would work well whether you're after a more traditional feel or a more modern look.
---
3. Create a wall stencil Christmas tree
For a really minimalist look, and for homes that truly don't have any extra floor space, a Christmas tree wall stencil can look great as well as being really practical. You can buy ready-made tree stencils online to simply attach to the wall, or create your own with separate pieces. Not only do they look stylish, but they're a fantastic option for homes with pets or children, where you might be worried about the possibility of decorations falling or getting damaged. A truly low-fuss way of adding some festive joy to your home.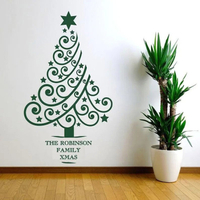 (opens in new tab)
Personalized Christmas Tree Wall Sticker: £12/$16 | Etsy (opens in new tab)
This personalized wall sticker comes in the form of a green tree, and allows you to add some writing on the bottom of the tree too, so you can pop your family's name on the bottom!
---
4. Use lights to create a tree
Lights are a vital part of all Christmas decor, so why not assemble an entire tree made out of them? You can construct this by buying a simple frame and layering fairy lights in a zigzag pattern down the entire frame. This frame could be any size, as long as it starts off thinner and tapers off to a wider base, just like a Christmas tree. If you want, you could also hang lightweight decorations on the wiring.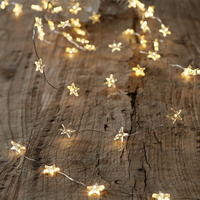 (opens in new tab)
Extra-Long Star Fairy Lights – 80 Bulbs: £22/$32 | The White Company (opens in new tab)
These star lights would be the perfect addition to your wooden structure—being both elegant and impressive enough. And they're an affordable option too!
---
5. Construct a minimal foliage tree
Christmas tree alternatives using natural, foraged items are our favourite. Purchase a simple wooden structure and adorn it with your preferred type of foliage for a really natural look. You could choose to have foliage with decor attached to it, such as pine cones, dried fruit and baubles. Or you could have just foliage without any accessories—choose ones with multiple different leaves, such as eucalyptus, for a really impressive look. Forage extra to use in your Christmas centerpiece for a pulled-together look.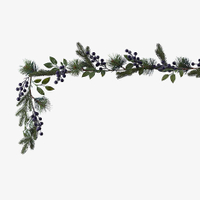 (opens in new tab)
Sloe Berries Garland Christmas decoration: £23/$27.50 | Selfridges (opens in new tab)
This chic garland would be the ideal way to create your foliage tree—pick up a couple to ensure you can cover your whole structure!
---
6. Use a hanging wall frame
Hanging wall Christmas trees are one of the most popular Christmas tree alternatives, because they can be made with natural materials (like regular trees) but take up far less floor space. They can be purchased ready-made from retailers, or you can create your own with varying sizes of twigs, fairy lights, bits of foliage and lightweight baubles.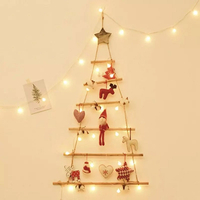 (opens in new tab)
Christmas wall hanging: £13.99/$19.48 | Etsy (opens in new tab)
This minimalist wooden wall hanging comes complete with decorations, for a completely done alternative Christmas tree. However, you may want to add fairy lights of your own to really complete the look.
---
7. Add a decorative cactus to your home
Cacti may not be your first consideration when you think about Christmas, but they're one of the most fun Christmas tree alternatives. Get yourself a real or faux cactus, and decorate it with tinsel, fairy lights and baubles—we'd suggest buying an over-sized one to really create the feel of a Christmas tree. You could even get multiple cacti in different sizes to create an impressive showstopper. To finish off the look we'd also recommend an oversized plant pot put it in, or a festive Christmas tree skirt for a more decorative touch.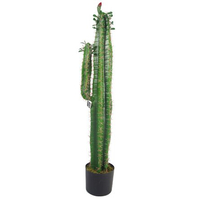 (opens in new tab)
Floor Cactus Plant in Planter: £78.99/$105.39 (opens in new tab)
This tall cactus (which comes with a planter!) would be a ready made way to get started with your alternative cactus Christmas tree—just be careful when popping on your decorations and lights.
---
8. Build a Christmas tree out of books
For the keen bibliophiles among us, a book-style alternative Christmas tree is a unique and easy option to put together. Gather together all of your favorite hardbacks (or paperbacks) and layer them up in a pyramid-style shape to create a faux tree. Decorate it with a fun tree topper and any baubles you can rest on the ends of each layer.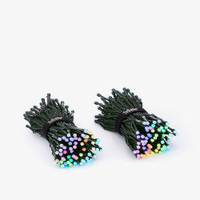 (opens in new tab)
Twinkly Gen II RGB smart app-controlled Christmas fairy lights: £120/$142 | Selfridges (opens in new tab)
Up the ante on your book-inspired alternative Christmas tree with these smart 20m colorful fairy lights, that will really help to make it a stand-out piece in your home during the festive season.
---
9. Put up a ladder Christmas tree
Thought ladders were just for DIY? Think again! They make brilliant Christmas tree alternatives too. And it couldn't be simpler to execute. Grab a ladder and drape across any fairy lights, garlands or pieces of foliage, and hang baubles anywhere you can. You could also entwine the lights around the steps and sides of the ladder. Finish off with a tree topper that will really solidify this as an alternative tree. This would look great in the corner of your living space, in an entry way or, if you're wondering how to decorate for Christmas outside, you could pop this on your porch or patio.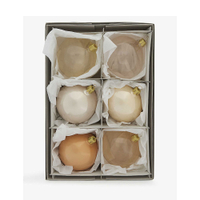 (opens in new tab)
Circular glass Christmas decorations set of six 25cm: £28/$33.50 | Selfridges (opens in new tab)
These gold and bronze baubles would work well on your ladder Christmas tree—why not pair them with some brighter colors too to create a feeling of texture on your alternative tree?
---
10. Place decorated branches and foliage in a vase
For homes short on space (because let's face it, it can be tricky to fit a 6ft tree anywhere) this is one of the best Christmas tree alternatives. Grab a couple of empty glass vases, and place sprigs of oversized foliage/branches inside. You can then decorate the foliage (but minimally, or you risk drooping), with things such as baubles and fairy lights. We'd recommend using three vases of varying size for this decor option, but one would look just as lovely. Any spare foliage you have left over can also be added to make the best Christmas wreaths to reduce waste.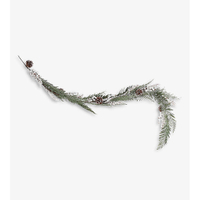 (opens in new tab)
Ginger Ray Foliage garland with white berries 1.6m: £23/$27.50 | Selfridges (opens in new tab)
This piece of foliage would be a great option for popping in a jar or vase—why not layer two or three of them to create a really full tree alternative? You could also buy some more sprigs in varying colors.
---
11. Construct a tree from baubles on your wall
For those short on floor space, this wall decoration idea is a great alternative to a Christmas tree. Add a collection of hooks to your wall in the shape of a tree, and decorate with a variety of decorations and baubles in a matching color scheme—such as golds, silvers, red or purples. You could even create multiple iterations of this around your home for a really impressive look.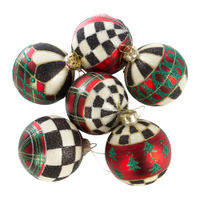 (opens in new tab)
MACKENZIE-CHILDS Tartan Bauble - Set of 6: £84/$112.08 | AMARA (opens in new tab)
These chic and stylish baubles would be perfect for an alternative wall hanging given how much they stand out. Accessorize with a few more neutral-colored options for a finished alternative tree.
---
12. Use a wall ladder to create a tree
Wall ladders are great if you're looking for bathroom storage ideas, but they can also be used to fashion an alternative Christmas tree. It's simple, low-cost and super easy to decorate—just wind lights, baubles and other decor items around the stand for a quick festive look.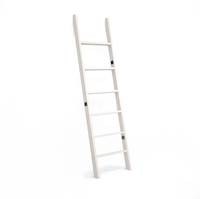 (opens in new tab)
RELODECOR 6-Foot Wall Leaning Blanket Ladder: £78/$48.99 | Amazon (opens in new tab)
This neutral white option is a good choice for creating an alternative Christmas tree as it'll allow you to decorate it with whatever you want—choose lots of color to make it stand out!
---
13. Attach foliage to the wall
Another fabulous space-saving solution, you can create a lovely alternative 2D Christmas tree by pinning (or taping) rows of festive green foliage to your wall, getting bigger as it descends. Pair your foliage with some fairy lights (colored or white will work well here) but just don't leave the lights on unattended.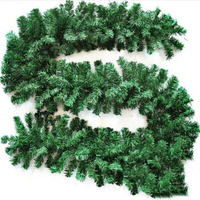 (opens in new tab)
Standard Xmas Artificial Pine Green Spruce £13.99/$18.67 | Etsy (opens in new tab)
This simple green garland is perfect for this alternative Christmas tree idea—pick up a few and cut to size as you need them.
---
What are the most popular Christmas tree alternatives?
If you're still stuck on which Christmas tree alternative you prefer, you might be interested to know which more minimalist options are proving popular in 2021.
Wilson told w&h, "Minimalist designs with a metal or wooden frame play into the popular Scandinavian aesthetic. The slimline profiles resonate with those short on space whilst their portability and storability make them a good choice for renters. Being plastic-free, they're ideal for the eco-conscious too!"
Twig trees, wall frames and foliage-based alternative Christmas trees are perhaps the most Scandi-inspired options on our list, so why not try incorporating these ideas into your home? You'll certainly be bang on trend if you do.
---
With thanks to Abi Wilson, Celebrations Buying Manager at Habitat (opens in new tab), for her expert insight for this piece.