16 Christmas tree alternatives to try this year if you don't want a traditional tree
These quirky alternative Christmas trees are ideal if you don't fancy a classic fir but still want showstopping festive decor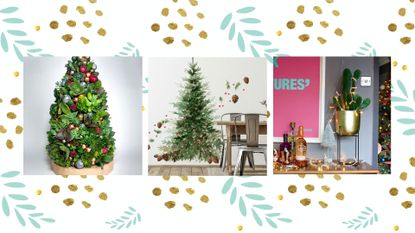 (Image credit: Getty |Amazon | Future)
Christmas tree alternatives are the ideal solution for those who either don't want to decorate their home with a traditional, bushy tree, those who are out of town for the majority of the holidays, or those who don't have the space or time to accommodate one.
Even the best artificial Christmas trees aren't for everyone because these still require a lot of effort to decorate the tree like a professional for a traditional look. A unique design choice, alternative Christmas trees can offer a more modern but equally magical way to decorate for the festive season and more people than ever before are turning to these less traditional Christmas decorating ideas.
Abi Wilson, celebrations buying manager at Habitat, explained that Christmas tree alternatives have surged in popularity recently. "We've seen increased demand for alternative Christmas trees in recent years as customers look for ever more inventive ways to showcase their unique styles," she explains.
Christmas tree alternatives: 16 fun and festive ideas
When it comes to Christmas tree decorating ideas, alternative trees can be much easier to handle than traditional trees, requiring less floor space, less decor, and less intensive assembly.
Like traditional trees they just require a bit of consideration before putting them into action, to ensure they work with your existing decor and space. So if you're in need of some inspiration, we've curated a selection of fun ideas – from wall stencils to decorative plant alternatives.
1. Make a centerpiece succulent Christmas tree
If you only want a centerpiece, why not have a go at making your own succulent delight? To make your own version w&h's Homes editor Esme Clemo offers this advice: "I would take a round piece of wood, drill a hole in the center and slot a wooden dowel in the hole with plenty of wood glue to hold it in place - use a drill bit that's just slightly bigger than the dowel for a snug fit. Ball up chicken wire and use florist's wire to attach it to the dowel to form a tree-like shape.
"Working from the bottom up, position the larger succulents next to smaller plants, pushing the bases through the holes in the wire to secure them. Thread some more florist's wire through the bauble loops and twist the ends together, then push the baubles into the arrangement between the plants. As succulents are drought-tolerant, they should do well without regular watering, but remove any plants that look jaded and soak them in water for 5-15 minutes to refresh."
2. Keep it simple with a twig tree
Twig trees have been rising in popularity over the years, and they're a great alternative to a traditional, bushy green tree in a modern home. They look sleek and stylish and require minimal decorating – just a few fairy lights added where necessary.
You can purchase twig trees, most even come pre-lit, from all good retailers –especially handy if you prefer buying your Christmas tree online.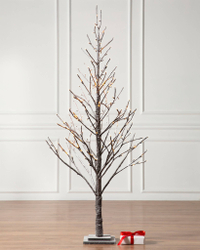 Snowy Branch LED Tree: $167| £149 | Balsam Hill
This 6ft twig tree available at Balsam Hill comes pre-lit so you'll need to do minimal work to it to make it ready for Christmas. Available as a 5ft tree or a 6ft, this should be a great option to fit into most spaces, too.
3. Build a crate Christmas tree
Use empty crate boxes and assemble them into the typical shape of a tree for a really unique Christmas tree alternative. This is a great way to use up any spare crates you might have, and it's incredibly easy to put together too – simply pile them on top of one another in gradually receding rows until you have just one at the top, forming the tip. To keep the structure it's advisable to screw them in place, use a small drill to screw them together which can easily be reversed and dismantled once the holidays are over.
Crate trees can also be incredibly useful for creating extra festive storage – they're a great place to put some of your best Christmas decorations if you're not sure where else to put them. Or you could even place practical Christmas items in there too, such as kids' books and presents.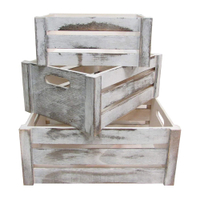 Admired By Nature Rustic White Set of 3 Distressed Decorative Wood Crates: £50/$37.99 | Amazon
These chic distressed wood crates are perfect for building an alternative Christmas tree, and would work well whether you're after a more traditional feel or a more modern look.
4. Create a wall stencil Christmas tree
For a really minimalist look, and for homes that truly don't have any extra floor space, a Christmas tree wall stencil can look great as well as being really practical. You can buy ready-made tree stencils online to simply attach to the wall, or create your own with separate pieces.
Not only do they look stylish, but they're a fantastic option for homes with pets or children, where you might be worried about the possibility of decorations falling or getting damaged. The stickers are easy to peel off, so you won't be damaging your best living room paint color in the process. A truly low-fuss way of adding some festive joy to your home.
5. Use lights to create a tree silhouette
The best Christmas tree lights play a vital role in Christmas decor, so why not assemble an entire tree illuminated? You can construct a tree-like silhouette by using command hooks to form the shape of a tree and layering fairy lights in a zigzag pattern down the whole frame.
Your light tree could be any size, as long as it starts thinner and tapers off to a broader base, just like a real Christmas tree. If you want, you could also hang lightweight decorations on the wiring to add a decorative element.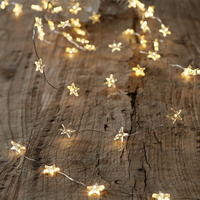 Extra-Long Star Fairy Lights – 80 Bulbs: £22/$32 | The White Company
These star lights would be the perfect set of lights to construct your alternative Christmas tree structure – being both elegant and interesting in shape. And they're an affordable option too!
6. Construct a teepee tree
Christmas tree alternatives don't come much more fun for the kids than a homemade teepee! Create a simple wooden structure using wooden poles or foraged fallen branches that can be stripped down to create a seamless structure, tied together at the top to form a teepee-like structure.
Adorn your quirky alternative Christmas tree with foraged foliage for a really natural look. You could choose to have foliage with decor attached to it, such as pine cones, dried fruit, and baubles. Or you could have just foliage without any accessories—choose ones with multiple different leaves, such as eucalyptus, for a really impressive look. Forage extra to use in your Christmas centerpiece for a pulled-together look.
Take inspiration from Stars for Europe and fill the structure with seasonal poinsettias to add a flourish of color. To do so simply move a side table into the middle of the teepee structure to display plants with ease.
7. Use a hanging wall frame
Hanging wall Christmas trees are one of the most popular Christmas tree alternatives because they can be made with natural materials (like regular trees) but take up far less floor space. They can be purchased ready-made from retailers, such as the Cox & Cox Frosted Branches Hanging Tree above or you can create your own with varying sizes of twigs, fairy lights, bits of foliage, and lightweight baubles.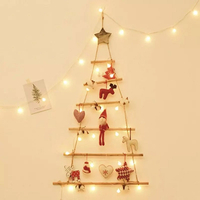 Christmas wall hanging: £13.99/$19.48 | Etsy
This minimalist wooden wall hanging comes complete with decorations, for a completely done alternative Christmas tree. However, you may want to add fairy lights of your own to really complete the look.
8. Add a decorative cactus to your home
Cacti may not be your first consideration when you think about Christmas, but they're one of the most fun Christmas tree alternatives. Get yourself a real or faux cactus, and decorate it with tinsel, fairy lights, and baubles – we'd suggest buying an oversized one to really create the feel of a Christmas tree.
You could even get multiple cacti in different sizes to create an impressive showstopper. To finish off the look we'd also recommend an oversized plant pot put it in, or a festive Christmas tree skirt for a more decorative touch.
9. Build a Christmas tree out of books
For the keen bibliophiles among us, a book-style alternative Christmas tree is a unique and easy option to put together and a trend that continues to grow in popularity every year.
Depending on the size of the tree you want to build the possibilities are endless. Gather your favorite hardbacks (or paperbacks) and layer them in a pyramid-style shape to create a faux tree. For a smaller version, you could open your books and stack them open to create a subtle tree silhouette. Decorate it with a fun tree topper and any baubles you can tack into place on the ends of each layer.
10. Set up a ladder Christmas tree
Thought ladders were just for DIY? Think again! They make brilliant Christmas tree alternatives too. And it couldn't be simpler to execute. Grab a ladder and drape across any fairy lights, garlands, or pieces of foliage, and hang baubles anywhere you can. Take inspiration from this creative ladder tree by Homesense and hang the baubles with a clear wire so they appear to float, adding to the showstopping appearance. Coordinate your decorations to match the latest Christmas tree color trends to make a style statement.
You could also entwine the lights around the steps and sides of the ladder. Finish off with a tree topper that will really solidify this as an alternative tree. This would look great in the corner of your living space, in an entryway or, if you're wondering how to decorate for Christmas outside, you could pop this on your porch or patio.
11. Put up styled shelves
If you simply don't have space for a tree look to utilize the walls to save space, a handy hack when looking to organizing a small space generally. This simple shelf idea allows you to emulate a Christmas tree shape with beautifully styled shelves – creating a shrine to Christmas cards and other decorations that might otherwise get lost among the branches of a fir tree.
If your walls are bare, they provide the perfect place to create this simple Christmas tree alternative but be prepared to fill and re-paint over the holes once the holidays are over. The IKEA Mossaland Picture Ledges, sold in packets of two for £5, is the perfect solution to cut to size to create the ascending shape.
12. Place decorated branches and foliage in a vase
For homes short on space (because let's face it, it can be tricky to fit a 6ft tree anywhere) this is one of the best Christmas tree alternatives. Grab an empty glass vase, and place sprigs of oversized foliage/branches inside.
You can then decorate the foliage (but minimally, or you risk drooping), with decorative items such as baubles and fairy lights. Any spare foliage you have left over can also be added to make the best Christmas wreaths to reduce waste.
13. Construct a tree from baubles on your wall
For those short on floor space, this wall decoration idea is a great alternative to a Christmas tree. Add a collection of hooks to your wall in the shape of a tree, and decorate with a variety of decorations and baubles in a matching color scheme—such as golds, silvers, red or purples. You could even create multiple iterations of this around your home for a really impressive look.
14. Hang a wall art alternative
Hanging wall art is another great Christmas tree alternative for those who are lacking space or for placing in rooms where space is limited – such as entryways and cloakrooms.
The wall hanging is most commonly fabric decorated to look like an alpine forest tree, many like the Amazon design shown above come pre-lit to emulate a real tree with lights. Attached to a wooden plinth with a rope hanging loop these imaginative alternative trees can be rolled up and used year after year.
15. Use a wall ladder to replicate a tree
Wall ladders are not just great if you're looking for bathroom storage ideas, but they can also be used to fashion an alternative Christmas tree. They are simple, low-cost, and super easy to decorate. Simply wind lights, baubles, and other decor items around each tread and along the sides for an instantly festive look.
16. Attach foliage to the wall
Another fabulous space-saving solution, you can create a lovely alternative 2D Christmas tree by pinning (or taping) rows of festive green foliage to your wall, getting bigger as it descends. Pair your foliage with some fairy lights (colored or white will work well here) but just don't leave the lights on unattended.
What are the most popular Christmas tree alternatives?
If you're still stuck on which Christmas tree alternative you prefer, you might be interested to know which more minimalist options are proving popular in 2022.
Abi told w&h, "Minimalist designs with a metal or wooden frame play into the popular Scandinavian aesthetic. The slimline profiles resonate with those short on space whilst their portability and storability make them a good choice for renters. Being plastic-free, they're ideal for the eco-conscious too!"
Twig trees, wall frames, and foliage-based alternative Christmas trees are perhaps the most Scandi-inspired options on our list, so why not try incorporating these ideas into your home? You'll certainly be fashionably on trend if you do.
Sign up to our free daily email for the latest royal and entertainment news, interesting opinion, expert advice on styling and beauty trends, and no-nonsense guides to the health and wellness questions you want answered.
Amy Hunt is an experienced digital journalist specialising in homes, interiors and hobbies. She began her career working as the features assistant at woman&home magazine, before moving over to the digital side of the brand where she eventually became the Lifestyle Editor up until January 2022. Amy won the Digital Journalist of the Year award at the AOP Awards in 2019 for her work on womanandhome.com.