How to decorate a Christmas tree professionally: a step-by-step guide
Experts share insider tips on how to decorate a Christmas tree like a professional to help yours look effortlessly stylish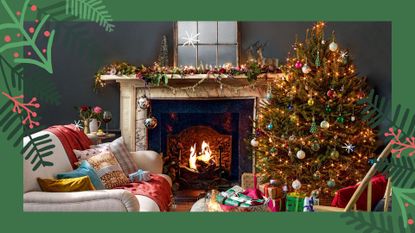 (Image credit: Future)
Learn how to decorate a Christmas tree just like the professionals, with our step-by-step guide filled with expert advice for getting your tree looking its very best.
There is no right or wrong way to decorate your Christmas tree, however, there are a few small tips and styling tricks that might make the process feel a little easier.
To help bring your Christmas tree decorating ideas to life this year, we've rounded up advice from professional Christmas tree decorators as well as interior designers, to take you through the easy process you can follow to decorate your tree.
How to decorate a Christmas tree like a professional
Whether you are stumped on what goes on first, ornaments or the lights, or need help ensuring your best Christmas decorations are displayed perfectly, let the experts guide you through how to decorate a Christmas tree like a professional...
1. Find the perfect position
Positioning your Christmas tree is the first important task of how you decorate a tree like a pro, because if it's squashed into a corner it won't offer maximum impact or if it's real and next to a radiator it won't even last the holidays.
Selecting a tree that fits your space is key for the perfect position, so make you've pre-measured your chosen Christmas room before you visit a tree market or buy a Christmas tree online.
Find a spot that allows enough room to gather comfortably on either side (during present exchanging on Christmas morning), and a space that is within reach of a power source to plug in fairy lights with ease – a visible extension cable is a surefire way to ruin the overlook.
"Give yourself a clear walkway past your tree to avoid it being in a place where people might squeeze past, knocking your carefully chosen decorations to the floor," advise the tree experts at B&Q.
2. Tend to the tree stand
Whether real or faux, the base of your tree requires essential styling attention to prevent it from ruining your well-planned Christmas tree theme.
Most Christmas trees won't come with a stand – but it's essential to have one. Professional Christmas tree decorator Laura Perry, from Team Festive, says, "Remember the tree stand. You can keep this for multiple years and your tree supplier can usually sell you one."
In order to get the best-looking real Christmas tree, you need to make sure your tree is as upright and straight as possible in the stand.
"Keep your tree netted if possible and lift it into the stand, turning the screws equally all around the trunk so the tree is secured vertically – this is easier with two people if you have some help," she says. "Keep checking what the tree looks like from a distance to make sure it ends up as straight as it can be!"
For artificial tree stands, which are never that attractive sadly, we recommend choosing one of the best Christmas tree skirts to hide the metal base in style.
3. Tweak or trim your tree
Like any good Christmas decorating idea, preparation is key when it comes to decorating your tree like the pros. This step won't apply if you buy a real Christmas tree for your home each year, but if you have one of the best artificial Christmas trees then this is an important tip for decorating your tree.
According to Christmas decor expert and founder of Qube Luxe, Debbie Marks, it is essential to fluff out your tree after bringing it home. She said, "Fluff out your tree, especially if you have an artificial tree. Make sure all the branches are spread out really nicely, so there are no big gaps." Tease the individual branches out evenly and spread the coverage.
Celebrated interior designer and founder of La Di Da Interiors Steph Briggs also said, "This takes a while if it's been crammed in a box in the attic all year, but time spent here is worth it – it will make a real difference to the end result."
"Don't be nervous about cutting bits of your tree if you need to," advises renowned international Interior designer Joanna Wood. Adding. "carefully cut-off branches make for excellent table garlands."
4. Place fairy lights, starting from the bottom
The best Christmas tree lights are the key to a festive, magical tree, so they're the next step in making yours look beautiful. "Lights go on first, always!," exclaims Joanna. Starting with lights first means you can place them deep in amongst the branches without running the risk of disturbing ornaments or ribbons etc.
Debbie explained that you should "wrap them from the bottom to the top around the tree. Try and wrap them up and down each branch to get the full tree coverage." Our top tip is to switch the lights on while placing them to gain a better idea of the overall effect as you go.
Top tip, make sure you check all the lights are working first before you put them on the tree. You may need to learn how to fix Christmas lights if they have stopped working since last year, but it can be easier than you think to get them working again rather than buying new ones straight away.
"The more lights the better," adds Debbie. "If you can, I always recommend buying a pre-lit Christmas tree. It's much easier as all the lights are already in it positioned in the optimum placement." You can usually get a pre-lit tree for a good price in the Black Friday Christmas tree deals.
However, if you want to choose/use your own lights, Steph advises 3-4 sets of warm white lights, to cover your entire tree. She told w&h, "it's worth noting that for a regular 6ft tree I usually use 3-4 sets, to cover the entire tree."
Laura also shares the importance of having more lights than too few. She explained, "With too few, you may put them too tightly across and constrict your tree but with enough, then light from the tree becomes the main mood lighting in your room welcoming incredible warmth" – a great way to make a home feel cozy on winter nights."
5. Weave in extra foliage to fill any gaps
No matter how well you've fluffed your tree, or how full it may be, there are bound to be gaps – especially if it's a real fir tree. According to Steph, a great way to combat this issue (as well as adding a few more decor pieces), is to add sprigs of foliage to your tree.
Steph explains, "You can add anything–your imagination is the limit. Eucalyptus (a popular addition to the best Christmas wreaths) adds a beautiful scent, or silk flowers or berries add some lovely color and texture. If you have a faux tree, this is a great way of hiding the trunk too which is usually the bit that looks most unsightly."
Sprigs of moss, vines, or pine cones can also work well as extra pieces of decoration to fill out your tree – add as much as you want to yours and see what works with your style. Adding flowers and foliage is also a great way to add seasonal scents, so you don't have to solely rely on your best-scented candles to do the job.
6. Dress with ribbons to fill gaps
If you want to, now is also a good time to add ribbon to your tree for a fun yet classic look. It's best to do this before adding your decorations and after adding your lights, to ensure you don't dislodge any baubles, and to make sure the ribbon fits in with the fairy lights already on your tree.
Deemer Cass, a Christmas tree delivery and decoration expert at Fantastic Services, explained, "Gather various-sized, colorful ribbons for your tree. For a professional appearance, 3-4 different types of ribbon are recommended. Vary between wider widths and thinner ribbon styles."
7. Choose your core and hero ornaments
Now comes arguably the most important part of our guide on how to decorate a Christmas tree – choosing and adding in your ornaments. It can be helpful to think of your pieces in terms of core ornaments, hero ornaments, and classic nostalgic extras.
"Assuming that the children aren't involved, now it's time to lay out all of your ornaments on the dining room table and decide which are your core baubles, " Steph says. "Choose a variety of sizes, shapes, and finishes to create the ultimate show-stopping tree. If you're unsure of what color to go for I'd recommend choosing a metallic to add timeless sparkle and elegance to any room."
To begin decorating, follow these steps:
Add your core, more basic ornaments: "Once you've chosen your core ornaments, these should be placed in the branches of the tree closest to the trunk," Stepj explained. "You can fasten them with florists wire for a professional finish, and make sure that they stay securely in place. Stand back, and check your work for balance and symmetry."
Then add your more unique ornaments: Next, you should reach for your favorite, bolder ornaments, to decorate the rest of the tree with some personality. Steph says, "This may be with this year's themed ornaments, it may be with your favorite heirloom pieces from Christmas past. These decorations should go on the outer half of the branches – they're your pride of place ornaments that you want everyone to see."
And don't be afraid to mix and match: Whatever your chosen Christmas tree color trend for 2022, it's lovely to mix and match your tree decorations to include a combination of trend-lead pieces with vintage and nostalgic family heirlooms. This curated combination will be what makes your tree so unique to your home. Building into your collection each year with pieces you love is all part of the festive joy.
8. Add your tree topper
The finishing touch is the tree topper, so be sure to add this last to make it perfectly fit with your tree theme, and doesn't disrupt the rest of the decor.
Debbie explains, "I always like adding the topper last as it's like the jewel in the crown and your pride and job that completes the tree design. If you put it on first, you have to reposition again anyway because it will move around when you are dressing the rest of the tree."
When it comes to the most popular Christmas tree topper ideas, an angel, fairy, and star are amongst the favorites, so opt for one of these for a really classic look.
Rules to follow when decorating your tree
Decorating your tree is a personal experience and, of course, it's important to create yours in exactly the style you want, without any pressure. However, if you do want yours to look as close to professionally designed as you can get on your own, you may have to follow a few key design rules...
Don't just decorate one side or part of your tree: Remember to decorate all the way around the tree and not just the main front-facing side! Take time to spread out your decorations and make sure you don't group similar styles together. This will ensure your tree looks polished and put together from every angle – rather than just the side that is most visible.
Avoid tinsel: It's been a popular item of festive decor for years, but according to Marks and Perry it's one of the worst things you can use on your tree. Debbie told w&h: "If you are looking to create a luxury-looking tree, please ditch the tinsel!" For a similar effect, use ribbon, which is much more stylish. Laura agreed, saying, "At Team Festive, we never use tinsel." Try ribbon instead, as suggested above.
Choose a color scheme if possible: If you're struggling with how to decorate a Christmas tree, it will make things much simpler to decide on a straightforward and simple color scheme. Demmer says, "It's not just about picking the decorations but deciding on a palette of a maximum of three colors that will complement the home's general decor, with a few statement pieces for a final flourish. If your old baubles don't fit the theme, you can use them to inspire some great Christmas centerpiece ideas, or to decorate your Christmas table or mantelpiece."
When should you put a Christmas tree up?
So when should you put a Christmas tree up? Not everyone will agree on this, and this year it seems to be even earlier than ever for some. Putting up your Christmas decorations, including the tree is now a personal choice, rather than one steep in tradition.
Paula Boston, visual merchandiser at Festive Lights explains: "Tradition states that the best time to decorate your house for the festive season is four Sundays away from Christmas Day, however, we've seen that those popular traditions are slipping away with Christmas fans starting early."
"We usually recommend putting your tree up in late November, especially if you're using a real tree as they usually only last four weeks. With lights and other decorations, don't be afraid to bring them out a little early if you need some festive cheer!"
As the focal point for many households, it's important to ensure that, where possible, your Christmas decorations are not cluttering up your household if they're up for a long period of time. You should also be careful if you're buying your Christmas tree more than a month in advance as you do run the risk of tree branches drooping and falling off by Christmas Day, although the positive is that these issues can often have quick fixes." See how expert guide for how to keep a Christmas tree alive to combat these.
Sign up to our free daily email for the latest royal and entertainment news, interesting opinion, expert advice on styling and beauty trends, and no-nonsense guides to the health and wellness questions you want answered.
Amy Hunt is an experienced digital journalist specialising in homes, interiors and hobbies. She began her career working as the features assistant at woman&home magazine, before moving over to the digital side of the brand where she eventually became the Lifestyle Editor up until January 2022. Amy won the Digital Journalist of the Year award at the AOP Awards in 2019 for her work on womanandhome.com.