Where to buy a Christmas tree online to get your home looking like a festive wonderland
Wondering where to buy a Christmas tree online that looks like it was plucked straight from an alpine forest? See our guide below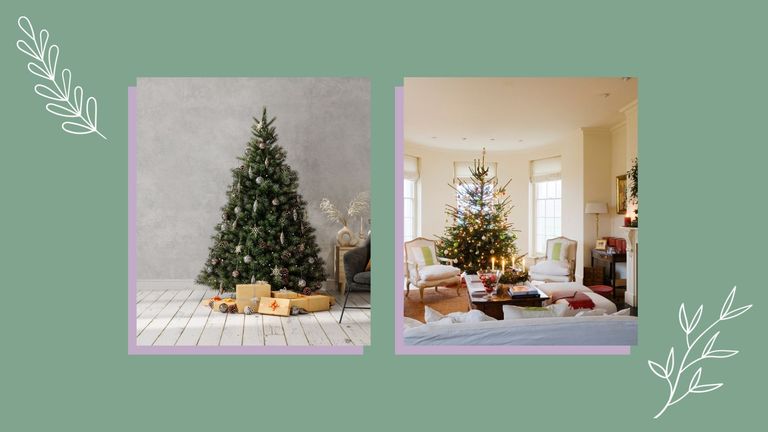 (Image credit: Future)
Buying a Christmas tree online can be a bit of a minefield—it can be tricky to know where to look, what to look for, and whether you'll actually like the tree, without actually seeing it in person. But never fear—because our guide to buying a Christmas tree online will help put your mind at ease to ensure you get the best tree for your home this year.
Nothing marks the start of the festive season quite like thrill of finally finding your perfect Christmas tree. Whether you prefer a real tree or an artificial tree (see our guides to the best real Christmas trees and the best artificial Christmas trees here), the moment you bring it homes marks the countdown to the 25th December.
But for many of us, venturing outside to roam around a garden centre or Christmas tree farm to pick your tree might not what you want to do. Not only is it time-consuming, but you may not have the means (or bother) to haul an enormous, 6ft tree back home. Luckily then, there are some brilliant Christmas tree offerings online that can be delivered straight to your door—so you don't even have to go through the annual trauma of trying to fit it into the car.
What to consider before buying your tree online
Before buying your Christmas tree online, there are a few factors to consider that will help to make your decision easier and more focused. Thinking about things like space, your household, and what you want out of your tree will help to guarantee you get the right one for you and your needs. You ought to consider:
If you want a real or artificial tree: Perhaps the most important initial consideration is where you want to buy a real tree or an artificial one. There are pros and cons to both, but it's worth noting that you can (understandably) purchase artificial trees online much further in advance than real trees, which only have limited availability online at the moment. While real trees have a great smell and are more environmentally-friendly, artificial trees can last for many years and won't drop any needles. Decide what is most important to you, and which you prefer, before buying.
The space in your home: Before buying, think about where you will put your tree and how much space there is in that section of your home. This will dictate how tall and how wide a tree you can buy, as some trees can span up to 20ft in height! Mark Rofe, Christmas tree expert and founder of christmastrees.co.uk explains, "As a rule of thumb a Christmas tree is about half as wide as it is tall. So you can expect a 6ft Christmas tree to be approximately 3ft wide. If you have a compact space, then you will want to consider choosing a tree that is slimmer in shape, such as the Fraser Fir" (or a similar artificial tree alternative).
Whether you have children or pets at home: If you have little children at home or dogs and cats, you might want to consider a real tree which has less needle droppage, or an artificial tree, where the risk of them being hurt by a prickly branch or swallowing any needles is much reduced. Mark told w&h, "If you have children or pets, you will want to choose a tree that has soft foliage such as the Nordmann Fir, or Fraser Fir, and you will want to steer away from a Norway Spruce or any other type of Christmas tree that has sharp or spiky foliage."
When you're planning to put your tree up: If you're an early bird who loves getting Christmas started as soon as the autumn leaves fall, you might want to consider an artificial tree, which will obviously last much longer. However, if you do want a real tree and want put it up as soon as possible, Christmas tree expert and founder of sendmeachristmastree.co.uk, advises going for a 'low-drop' tree variety. He told w&h, "The first question should be when you're planning to put the tree up, as if it's in November or early December you're going to want to choose a low-drop variety like the Nordmann or Fraser." This should ensure your tree is still intact by 25th December.
The tree's appearance: Most obviously, you should also consider what you want your tree to look like before buying a Christmas tree online. Some prefer the more traditional look of a classic, green tree, whereas others might opt for something a bit more unique, such as a snowy tree (an artificial tree with faux white snow on the branches), or even a colored tree, such as a pink or purple tree. Others want a pre-lit tree to save the bother of adding their own lights, while many prefer to add their own lighting and decorations. Make sure you're clear on which you want before buying your tree online.
Where to buy a Christmas tree online: US
There are plenty of places to buy a Christmas tree online if you're in the United States—it all depends on whether you want a real tree or an artificial one. You can buy a Christmas tree online in the below places:
Where to buy a Christmas tree online: UK
Despite Christmas still being a few months away, there are already multiple places to buy a Christmas tree online if you are in the UK. While most places are offering artificial trees at the moment, there are a few places where you can pre-order a real tree for delivery closer to Christmas. You can buy a Christmas tree online in the UK here:
The best Christmas trees to buy online at the moment
John Lewis & Partners Brunswick Spruce Unlit Christmas Tree
RRP: £229 Region: UK Height: 7ft Type: Artificial
If you're keen to pick up a realistic-looking artificial tree ASAP, this bushy, full Brunswick Spruce from John Lewis is a brilliant option. Standing at an impressive 7ft in height, it's available to buy now.
Target Pre-Lit Rose Gold Tinsel Artificial Christmas Tree
RRP: $150 Region: US Height: 6.5ft Type: Artificial
A pink tree might not be your first thought when it comes to buying a Christmas tree online, but we love this gorgeous rose gold tinsel tree which is available to pick up at Target now! With a slimline design and a foldable design it's both beautiful and convenient—why not do something a bit different this year?
B&Q 7ft Lumi Spruce Artificial Christmas tree
RRP: £186 Region: UK Height: 7ft Type: Artificial
For those after an artificial tree that looks as though it's come straight from a wintery wonderland, look no further than this Lumi Spruce from B&Q. Coming with a metal base and a stand included, this tree is unlit, and would look fantastic in modern homes.
Christmastrees.co.uk Nordmann Fir
RRP: From £74.99 Region: UK Height: 5ft-8ft Type: Real
For the super-organized among us, look no further than this real Nordmann Fir Christmas tree from Christmastrees.co.uk. Choose a height between 5ft and 8ft, to be delivered anytime from 26th November. The Nordmann Fir is a traditional tree option, and is known for it's ability to hold needles well all throughout the Christmas period.
Walmart Best Choice Products 6ft Pre-Lit Holiday Christmas Pine Tree
RRP: $129.99 Region: US Height: 6ft Type: Artificial
This pre-lit, snowy artificial Christmas tree is without doubt a show-stopper and is guaranteed to wow any guests who visit your home over the festive period. With 250 warm lights it's super low-maintenance and won't require much decoration at all.
Kate is a freelance contributor to woman&home, covering everything she loves most: fashion, fiction, and fancy face cream. If she's not working, she's probably reading, feeding her online shopping addiction, or judging the taste level of celebrity houses (10/10 for Dakota Johnson, 2/10 for Tan France).

She graduated from Central Saint Martins in 2020 with a BA in fashion journalism, and her byline has also appeared in British Vogue, The Times, and Marie Claire.