How to buy a Christmas tree online that will still look great in real life
Learn the secrets of how to buy a Christmas tree online that looks as good in real life as it does in the pictures, with expert guidance on choosing the best tree for your space without seeing it in person first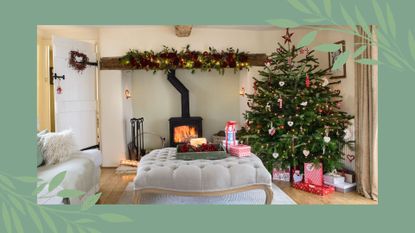 (Image credit: Future)
Buying a Christmas tree online can be a bit of a minefield – it can be tricky to know where to look, what to look for, and whether it will actually work in your space at home, without seeing it in person first. But fear not, because our expert guide on how to buy a real Christmas tree online will help ensure you get the best tree for your home this year.
Nothing marks the start of the festive season quite like the thrill of finally finding the perfect tree, because the moment you bring it homes marks the countdown to the 25th of December.
However, if you can't visit a Christmas tree farm or local seller to pick one up (or maybe you don't have the means to haul an enormous, 6ft tree back home Griswold-style), selecting the best real Christmas trees online or the best artificial Christmas trees without seeing them up in a store first can be a challenge.
There are some brilliant artificial and real fir tree offerings for Christmas online that can be delivered straight to your door – and we have the expert tips to ensure the tree you buy online is exactly the one you want to complete your dream Christmas decorating ideas.
What to consider before buying a Christmas tree online
Before buying your Christmas tree online, there are a few factors to consider that will help to make your decision easier and more focused. Thinking about things like space, your household, and what you want out of your tree (your chosen Christmas tree themes and Christmas tree decorating ideas) will help to guarantee you get the right one for you and your needs.
Here are the main considerations when buying a real Christmas tree online:
1. Where you want to place your tree
Think about where you will put your tree and how much space is available in that area of your home. This will dictate how tall and how wide a tree you can buy.
"Before buying a Christmas tree, decide where it will be displayed," advises Mac Harman, founder, and CEO of Balsam Hill (opens in new tab). He suggests considering the following questions:
Which room will it be displayed in?
Will the tree be a centerpiece?
Or do you want a Christmas tree that will fit into a corner, along a wall, in front of a window, or next to a doorway?
How much space can the tree fill?
"Look for a tree that is six inches lower than the ceiling height. A 7.5' tree is best for a standard 8-9' ceiling. This ensures that the tip of the tree does not hug the ceiling and allows space for a Christmas tree topper," Mac adds.
Mark Rofe, Christmas tree expert and founder of Christmas Trees (opens in new tab) explains, "as a rule of thumb a Christmas tree is about half as wide as it is tall. So you can expect a 6ft Christmas tree to be approximately 3ft wide. If you have a compact space, then you will want to consider choosing a tree that is slimmer in shape, such as the Fraser Fir (or a similar artificial tree alternative)."
"To ensure your Christmas tree is the right size, shop equipped with the height, depth, and width measurements of the area where you picture your tree at home," advises Dobbies' (opens in new tab) horticultural director, Marcus Eyles. "Make sure the area has a plug nearby, for your Christmas lights – corners are ideal, as they will keep your tree safe from potential knocks and bumps."
2. Choose between a fresh cut or potted tree
When ordering a real Christmas tree online you have two options – freshly cut or potted trees. Both have pros and cons, which need to be taken into consideration before buying, to find the right tree for your home and lifestyle.
Freshly cut trees are bigger in size, therefore ideal for those who want a statement tree. They are also better for those that have a backyard where the tree can be recycled post-holidays. Marcus explains, "Freshly cut trees are a fantastic option for those who love that real tree smell and a truly authentic Christmas vibe. A Nordmann Fir is a Christmas classic and Marcus's top choice for creating a winter wonderland at home.
"It can comfortably fill a large space to dramatic effect and will give any room that festive feeling. The full, broad conical shape of a Nordmann Fir makes it easy to spread your best Christmas decorations and lights along its branches right into the center of the tree for an extra magical display. With deep luscious green needles and a height perfect for high ceilings, this picturesque tree can't be beaten."
"Not only that but once the festivities are over, a real tree can be used to create a safe and cozy space for wildlife in your garden to shelter during the winter months. Remove the branches as close to the main stem as possible and make small piles with them on the soil, under shrubs, trees, or hedges. You can also cut your tree's trunk into sections for a mini log pile that will help create a habitat for small animals and bugs."
"For a tree that suits a low ceiling, consider a pot-grown Nordmann Fir tree," advises Marcus, "these smaller trees can be more versatile. Perfect for a cottage, flat, balcony, or bungalow, they can be dressed in lights and baubles for some festive spirit while saving space."
"Pot-grown trees are great for anyone who wants to give their tree a forever home, " Marcus explains. "They can be transferred to the garden and brought back in the following Christmas" - a wonderful option for those trying a more sustainable way of living.
3. Smaller slimline options for space-saving
Consider looking for slimline Christmas tree online if you are short on space but still want a tree in your home.
"If you want the look and feel of a big tree but don't want to sacrifice a lot of space, go for a Slim Nordmann Fir," suggests Marcus. "Grown specifically to have a compact, narrow shape suited to smaller homes while retaining the classic lush foliage, this popular tree adds a touch of elegance to any home during the festive season."
4. Consider safety for children or pets at home
If you have little children or pets at home such as dogs and cats, there are other factors to consider when choosing a real Christmas tree for your home.
Mark told w&h, "If you have children or pets, you will want to choose a tree that has soft foliage such as the Nordmann Fir, or Fraser Fir, and you will want to steer away from a Norway Spruce or any other type of Christmas tree that has sharp or spiky foliage."
It might even be the case that you consider a second cat-proof Christmas tree or one of the latest alternative Christmas trees for a second room and shut the door on your real Christmas tree for complete reassurance when you're not around.
5. How long do you want your Christmas tree to last
The best type of Christmas tree for your home will also partially depend on when you are planning on shopping for your tree. Last minute shoppers who put their tree up just before Christmas Eve may have to settle for whatever trees are still available, but those who like to plan ahead and get their trees up as early as possible should opt for a 'low-drop' tree variety where possibke.
"If you're planning on putting your tree up in November or early December you're going to want to choose a low-drop variety like the Nordmann or Fraser," advises Tom Kidger, Christmas tree expert and founder of Send me a Christmas Tree (opens in new tab).
This should ensure your tree lasts as long as possible throughout the holidays.
See our guide to how to keep a Christmas tree alive to get all the best care tips to ensure your tree lasts longer.
Where to buy a Christmas tree online in the US
There are plenty of places to buy a Christmas tree online if you're in the United States – it all depends on whether you want a real tree or an artificial one. You can buy a Christmas tree online at the below retailers:
Where to buy a Christmas tree online in the UK
Despite Christmas still being a few months away, there are already multiple places to buy a Christmas tree online if you are in the UK. While most places are offering artificial trees at the moment, there are a few places where you can pre-order a real tree for delivery closer to Christmas. You can buy a Christmas tree online in the UK here:
Don't forget to check out the Black Friday Christmas tree deals if you're shopping in November too, as you might be able to get a bargain on your tree right before the holidays.
Tamara is a highly experienced homes and interiors journalist, with a career spanning 19 years. Now the Lifestyle Editor of womanandhome.com, she has spent the last 16 years working with the style teams at Country Homes & Interiors and Ideal Home, and it's with these award-winning interiors teams that she gained a wealth of knowledge and honed her skills and passion for shopping, styling and writing about every aspect of lifestyle and interiors.
With a keen eye for the latest interior trends, there's not a lot she doesn't know about home decor – whether it's what colour we should be painting our living rooms next season, or if the latest 'must-have' buys are actually worth investing in.
A true homes and interiors expert, Tamara has served as an ambassador for leading interior brands on multiple occasions, including appearing on Matalan's The Show and presenting at top interiors trend events such as the Autumn Fair and Spring Fair.

With contributions from