25 Christmas centerpiece ideas to set the scene for festive entertaining
These thoughtful Christmas centerpiece ideas will guarantee your table is dressed to impress for the festive season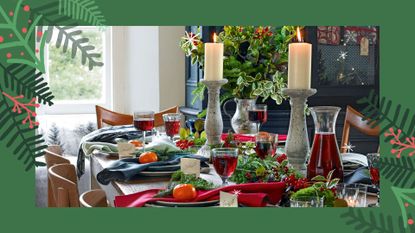 (Image credit: Future)
Take your festive table dressing up a level this year with these creative Christmas centerpiece ideas to ensure your Christmas dining table looks its best come the big day.
When it comes to Christmas decorating ideas, the festive dining table should be as integral as your Christmas tree decorating ideas because you're setting the scene for all your holiday entertaining. "Your dining table should be the centerpiece of your Christmas decorations, it's the place you can really go to town on the festive settings," says home interiors and tablescaping expert Lucy Hood, founder of Tableday.
"This year, gold, silver, vibrant berry red, and royal blue are key colors, but with Christmas, it's all in the details, and just a few key ornaments can really make the setting with minimal cost."
Christmas centerpiece ideas for the 2022 holidays
While placemats and cutlery are of course a festive table staple, a special, Christmas centerpiece ideas are what can elevate festive feasting to the next level, to create a more memorable experience for all of your guests.
1. Display festive berries wrapped with ribbon
Flowers for your festive centerpiece can really elevate the space in an instant. We love the idea of placing a few delicate stems of eucalyptus and festive red berries into an oversized glass vase for a really striking yet understated look to fill the center of your dining table.
"Ribbon is an inexpensive way to add a special touch to your table centerpiece," says Lucy. "Choose a shade that complements your color scheme, then tie a bow around the tops of bud vases, candle bases, or napkins to add an extra layer of festive cheer."
This is a great centerpiece option if you prefer a more minimalist, natural approach to decorating. The vase of flowers would form the main part of your centerpiece, so decorate the rest of your table with fairy lights and candles to continue the minimalist theme.
2. Arrange mini Christmas trees
Nothing says Christmas more than Christmas trees, so why not add trees to your Christmas centerpiece? Of course, we're not talking full-height artificial Christmas trees, but mini-versions instead. These work well to instantly create a festive tablescape and come in a variety of different colors – be they traditional green real trees, faux snowy white trees, or even more quirky alternative Christmas trees.
Choose a selection of these stylish mini trees, at varying heights, and scatter them throughout the middle of your table for a really simple but highly impressive centerpiece. Use the stylist rule of working in odd numbers, so choose three or five, and so on.
3. Use cake stands to elevate displays
If you're tight on space at your Christmas table, cake stands, or even a tiered tray, can work wonders for creating an impressive centerpiece that elevates your decorative display.
Simply grab one out of your kitchen cupboards and layer on any Christmas decor you have to hand – be it candle votives, baubles, pine cones, tinsel, or ribbon. It's also a great way to make use of any decor you've not placed elsewhere around your house, or on your tree.
4. Use tapered candles in varying heights
Tapered candles are a brilliant Christmas centerpiece idea as they look effortlessly elegant and regal, but are inexpensive to buy and easy to assemble. Simply position a few individual candle holders across the middle of your table or place them inside a garland or a wreath for an equally lovely centerpiece look.
Again, ensure they come in varying heights, to create a more dramatic and impressive effect. You can buy LED tapered candles that look just like the real thing, only safer and longer lasting.
5. Create a table runner using candles and foliage
Keep things simple by creating a table runner down the center of your table using only green foliage and an assortment of candles. Stagger different height pillar candles to add interest to this simple centerpiece idea.
For those that may feel a little nervous about using candles, and therefore having live flames at the dinner table (e.g. those with kids or pets), why not try the best flameless candles? Many of them are super-realistic and look just as lovely as real candles - so much so that we bet your guests won't even notice the difference.
Of course, the big bonus is that they remove the fire risk –but they're also great in allowing you to move your centerpiece around as much as you like without worrying about burning yourself on a live flame.
6. Fill a glass jar with a candle and potpourri
This is a really simple idea but it can help you to create a really beautiful centerpiece. If you have a glass jar to hand (or even a vase), why not fill it up with festive foliage and decor items, such as pine cones – or some wintery-looking potpourri? Think dried orange and lemon slices, dried cinnamon sticks, and dried plants and flowers for a rustic look.
If you have the space, pop a candle into the middle when you're finished for an elegant and cozy effect.
7. Pop flameless candles inside Christmas wreaths
Use LED candles to elevate the presence of a festive wreath. Jess explains, "Using a Christmas wreath as a table centerpiece can also work well, and it's a great idea to team it with some candles." We would advise the use of flameless candles so near the foliage, to avoid any possible scorching.
To create a really impressive look, why not place a few larger candles around the wreath? Or alternatively, Jess suggests, "Try placing a hurricane vase with a candle inside in the center of your wreath to create a warm glow." Or to really impress your guests have a go at making your own using a DIY Christmas wreath-making kit.
8. Add decor to a tray for a chic minimalist look
For a fuss-free Christmas centerpiece idea, look no further. Centerpieces needn't be complicated – and to create a sleek, minimalist one, all you need to do is pop some of your favorite decor onto a simple tray.
Create a festive look by spray-painting the tray silver or white (if it isn't already), and add whatever you have to hand such as dried fruit, mini Christmas trees, a festive candle, Christmas ornaments, some fairy lights, or even a few baubles. Containing it within the tray gives you an easy way to create a Christmas centerpiece without your decor spilling out of control across the table.
9. Create a 'deconstructed' wreath on a stylish platter
This Christmas centerpiece idea for the table couldn't be easier – grab a wooden platter or serving board and assemble a deconstructed wreath for an elegant and understated table decoration that welcomes a touch of nature to the table. All you need is some sprigs of foliage, some pine cones, and some dried fruit and plant items or potpourri.
Scatter your items casually across the plate and place them in the middle of your table for a very low-maintenance idea. You could even replicate it with smaller decorative plates across other surfaces in your home.
10. Opt for a statement coloured table runner
Sometimes it can be more powerful to merely add color than lots of fussy details, especially on a busy dining table where there's already a lot going on – so space is at a premium. For the less is more but still magnificent approach, add a vibrantly colored table runner that commands attention down the middle of the dining area – the red carpet for any centerpiece trimmings, if you will.
"A table runner really pulls together the whole dinner table look and should match the color scheme of your napkins and candles," says Lucy, "and if you add matching place mats it will really complete the look."
11. Suspend foliage and decorations from above
If you're keen to use a gorgeous, bushy garland for your Christmas centerpiece, but are worried about having enough room at your dining table, why not suspend it above the table for a real show-stopper of a display? Jess Martin, decoration expert at Ginger Ray explains how it can actually be much more practical to do this.
She says, "Considering how people interact over the dinner table is really important – you don't want to block any conversations. You can create a really dramatic look by using a metal table clamp to elevate a centerpiece without interfering with lines of sight." Or you can hang lightweight decorations from existing overhead pendant light hooks and fastens.
12. Intertwine foraged foliage and statuesque candles
Why not draw attention to your layered garland by creating differing lines of sight? An easy way to do this is to add tall candlesticks, which will add a bit of drama to a wreath that will mostly only be at table level. Opt for elegant and stylish candle holders that fit with the color scheme of your wreath too, to create a really coordinated look.
"Evergreen plants like holly, fir, and berries, (all of which can be easily and cheaply purchased or cut from your garden) can be used as a table centerpiece set around and intertwined with two candles," says Lucy. "And you can continue this theme on your mantel-scaping as well so that it really pulls the whole theme of your interior Christmas decorations together."
13. Drape your garland off the table for a luxury feel
For an added bit of drama, why not choose an oversized garland that will reach down to the floor? Gail Wetherell from Rebel Roses notes, "Foliage is a must for Christmas. By mixing different varieties, textures, and tones, you can easily create a 3D effective showstopper."
Not only does it look amazing, but it'll extend your decor into the often-forgotten sides of your Christmas dining table. Jess tells w&h, "We love a faux foliage garland. They look great draped down the center of a table and onto the floor, and will last the whole festive period without shedding – and one with lights embedded into it can look even better."
14. Place a neutral table runner under your garland
If you're looking to add texture and layers to your Christmas centerpiece, drape your garland/foliage over a neutral table runner for a really put-together look. Handily, it'll also give you a good indication of how much space you have to play with when setting up the rest of your centerpiece, or for placing any candles along the middle of your table. It will also add a protective layer for your dining table too if you need to water the garland for instance.
15. Create a sophisticated display with white flowers
Creating a floral bouquet is one of the best ways to create a Christmas centerpiece—as it's incredibly striking and most obviously draw the eye to the table. "Flowers add a fun and surprising element to traditional Christmas decorations, as well as sweet scents around the table," explains Anna Eklöv, Founder of LÖV Letterbox Flowers. "I love to add a couple of large red roses, dark red calla lilies, or red Love-Lies-Bleeding (Amaranthus) in traditional-themed centerpieces, as well as natural-themed ones."
And if you'd prefer not to go for traditional red and white, but a more modern look? "For centerpieces in silver and white I would suggest sticking to white winter flowers such as delicate hellebore, snowberries, or white astilbe that I find resembles a pine branch covered in snow," suggests Anna.
16. Add Christmas candles to your flower arrangements
If floral displays will form the main part of your Christmas centerpiece, why not add an extra touch of delight by decorating them with candles to add ambiance? Use traditional red roses to fill vases along the center of the table, the exact number dependant on how long your dining table is of course, adding a single white candle in each to create a classic red and white theme within your centerpiece.
Place a few rose petals around the bottom of the jar to conceal a piece of florist's oasis that then becomes the base in which to secure both the rose stems and the candle – an easy DIY Christmas centerpiece that looks stunning for all settings.
17. Embrace a thinner, pared-back garland with a touch of sparkle
Of course, garlands as centerpieces don't need to be huge and oversized to make a statement. If you prefer a minimal look or don't have as much space at your table, why not use a thinner garland (we love the shimmery, sparkly look of this one), that's just as impressive but leaves a lot more room for your food and drink?
18. Use fairy lights as your garland
Of course, fairly lights could even be assembled across your table in place of a garland too. Steph Briggs said, "Ensuring there is plenty of space for the food, wind delicate fairy lights across the table. You can also add sparkle with some of those hero piece tree decorations that will continue your theme." Gail added, "Twinkling fairy lights added to foliage can lift and brighten the whole centerpiece and stop it looking too "blocky" if you are only using one color. Use warm white lights as others tend to have a blue tone to them"
19. Fill glasses and vases with baubles
This centerpiece idea is so simple, yet so effective for welcoming color and festive cheer to the table. Use oversized glasses, vases, or even lanterns to take center stage on the table to be filled with an assortment of Christmas baubles and decorative ornaments.
To coordinate your decorating scheme use the same color as your Christmas tree theme and then use that same color for napkins, best luxury crackers, and table runners to enhance the overall look.
20. Fill mason jars with festive foliage
Mason jars are an excellent way to create a striking and cozy Christmas centerpiece inexpensively and with minimal effort. We love the idea of adding some seasonal foliage to the jars, such as berries and holly, to create a really festive look. Then, simply line them up together on top of a table runner for a DIY but beautiful centerpiece.
21. Place candles in your mason jars
Of course, another way to jazz up mason jars so that they work for a Christmas centerpiece is to put candles inside them. Tea light candles are simple and inexpensive, but you could also try placing larger white candles in there too. If you want the candle light to be further up the jar, why not pad it out with some faux snow, too, to create a really lovely look?
22. Put a candle on a wooden board alongside other decor items
Similar to our tray idea above, candles can look great as part of a centerpiece created on a wooden board or plank, such as this one. You can buy these wood slices from all good DIY retailers, and they're great for creating a festive centerpiece given how similar they look to the trunks of Christmas trees.
Once you've got yours, add as many of your favorite candles as you like, and fill in the gaps with remaining Christmas decor such as mini Christmas trees, dehydrated fragrant orange slices, and cinnamon sticks.
23. Create a festive snowy mason jar for your centerpiece
Another way to elevate your mason jars so that they are Christmas centerpiece worthy is to adorn them with fake snow, so they look as though they've been left outside in a storm for too long. This is easy to do – simply apply a thin layer of glue around your mason jar, and combine your faux snow (you can buy this in most craft shops), with some glitter.
Then, roll your mason jar in the snow and glitter mixture (do this quickly, before it dries!), and leave it to set. Decorate the jar with a bow and/or a label and you're good to go.
24. Add Christmas candy to your centerpiece
If you have chosen mini Christmas trees to adorn your festive table, why not have a bit of fun with them and decorate them with festive candy? Candy canes for example are both delicious and aesthetically pleasing, creating a fun red and white theme within your centerpiece.
You could hang them around the outside of your vase, as above, or place them at the bottom of the vase. Or, why not scatter them across the rest of your table, for a tasty treat at the end of your meal?
25. Have fun with on-trend paper decorations
Paper decorations are the new way to make an impact with Christmas decorations without overspending, plus they come in a variety of different colors to suit all schemes. Paper decorations such as these honeycomb paper balls are super easy to put, they simply fan out from the center, and because they can be closed again they can be used year after year.
Planning a Christmas centerpiece – key considerations
Planning your Christmas centerpiece before you get started is a good idea, as it'll allow you to focus on your creative vision and not get lost in all the possible different possibilities. We asked the experts what the most important things are to remember when planning a Christmas centerpiece and what you might need before you get started.
The good news is that having a simple focal point, like a box, tray or even a ready-made Christmas wreath is a great place to start and building out from there is a really simple and effective way to make an impact come Christmas Day. According to our interiors experts, there are four key things to consider when planning a Christmas centerpiece:
Building your centerpiece around one item: When it comes to planning, it can be helpful to base your centerpiece around one single item, and build out from there. Jess Martin, decoration expert at Ginger Ray explains, "The simplest way to plan a Christmas centerpiece is to pick one piece you absolutely love and build the rest of the table around that. Whether that is a garland, a tablecloth, or some beautiful candles –choose other items that tie into those key colors."
Decide on your color palette first: In a similar vein, deciding on your color palette beforehand can be very useful. Xander Shreenan, an interior designer at home décor brand Dowsing & Reynolds, says, "When it comes to planning centerpieces, a good place to start is with the color palette you have chosen. Try to keep within this theme, and use textures and colors in the same palette for a unified look." Start with a neutral shade, like sage green or navy, and build metallics, lights, and glitter on top.
Consider the size of your space: Anna Eklöv, Founder of LÖV Letterbox Flowers, also noted that taking into account the size of your space is vital. "The main thing is to see what size and shape your centerpiece should be – and this depends on the size and shape of your table. Do you have a round table? In that case, your centerpiece should be round. If you are having a long rectangular table, then you can either go with a long centerpiece, or two-three smaller ones depending on the length of the table."
Don't obstruct the view: "Always consider conversation and how you will interact over the table," says Jess, "you never want to interrupt the line of sight no matter how fabulous the centerpiece!"
What do I need to create a Christmas centerpiece?
Of course, you can buy ready-made centerpieces, but if you're keen to put together your own, there are a few essentials you should have to hand. Grab something to display yours on, like a vase or pretty plate (or just your table top), and then get ready to layer up the following items to create a wonderful, striking centerpiece.
Christmas wreath: This can easily be the main focal point around which to build your centerpiece. Just make sure you choose one that will fit on your table!
Faux flowers: Flowers aren't just for spring – pick the right color palette and they'll work beautifully for Christmas too. Think festive reds and greens.
Fir cones and foilage: Bring the outdoors in with some seasonal greenery and festive fir cones.
Garland: A green, bushy garland is a strong choice for a Christmas centerpiece or table decor in general. It works like a table runner and will fit perfectly down the center of your table.
Fairy lights: Nothing creates ambiance like mood lighting, and for Christmas, twinkly fairy lights are perfect for conjuring up that magical, wintery feel.
Candles: Of course, candles (preferably flameless ones for safety) are a must-have for your Christmas centerpiece – whether you choose some elegant tea lights or bigger, show-stopping candelabras.
Christmas trees: For an extra festive touch you can't go wrong with a smattering of Christmas trees on your table. And no, we're not talking about the life-size ones – you can easily pick up miniature versions which will help you to create your own winter wonderland.
Sign up to our free daily email for the latest royal and entertainment news, interesting opinion, expert advice on styling and beauty trends, and no-nonsense guides to the health and wellness questions you want answered.
Amy Hunt is an experienced digital journalist specialising in homes, interiors and hobbies. She began her career working as the features assistant at woman&home magazine, before moving over to the digital side of the brand where she eventually became the Lifestyle Editor up until January 2022. Amy won the Digital Journalist of the Year award at the AOP Awards in 2019 for her work on womanandhome.com.