How to fix Christmas lights - what to do with a blown fuse, a disconnected wire, or a broken lightbulb
Learning how to fix Christmas lights is often surprisingly simple when you know the root cause of the problem...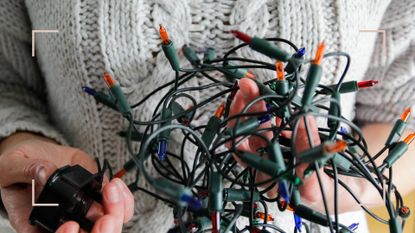 (Image credit: Getty)
Knowing how to fix Christmas lights is a handy life skill to have in your arsenal, especially at this time of year.
Whether you prefer warm white lights or colorful LED iterations, a Christmas tree just isn't complete without a string of the best Christmas tree lights draped around it. But you wouldn't be alone if you found yourself unpacking last year's lights only to discover that they won't switch on and that all your grand Christmas tree decorating ideas have fallen flat. It's often hard to understand the severity of the problem too and whether or not one dud light is the issue, or if the whole set has to go in the trash.
Luckily, we've enlisted the help of lighting experts to help you diagnose why your Christmas lights aren't working, and crucially, how to fix them.
How to fix Christmas lights: four main causes, and how to solve them
Regardless of your Christmas tree theme this year, a set of glowing lights is a must. If your set is failing to light up, here are the most common causes.
1. Broken or burned lightbulbs
How to diagnose: If any bulbs are visibly damaged
What to do: Examine the bulbs and replace the defective one
In many cases, one defective bulb can be the root cause behind broken Christmas lights. You can normally diagnose this pretty quickly as the defective bulb will often be visibly broken or burned out.
Callum Woodstock, lighting expert at the home services marketplace, Rezigo (opens in new tab) advises to "visually inspect the bulbs" while they are unplugged. "The signs of faulty or damaged bulbs are burn marks or a smoky look within or around the bulb, or if you can see that it's lost its small filament inside the bulb," he explains.
"One pro tip would be to get yourself an inexpensive bulb tester. This will indicate which bulbs are bad and need to be replaced, and most of the time, changing a problem bulb will fix the whole strand of lights."
Luckily, replacement bulbs are actually super easy to get hold of, either from your local hardware store or online. If you're not sure which type of bulb you need, bring your lights with you and ask an expert in the store. "Just ensure that the new bulb has the correct voltage rating to avoid damaging the rest of the light set," adds MyJobQuote (opens in new tab) lighting expert, John Mcallister.
2. Disconnected or loose light bulbs
How to diagnose: If one or several lights aren't turning on, but there are no obvious signs of damage
What to do: Ensure each bulb is fully in its socket
If your lights aren't working as expected, it might indicate that some of the bulbs aren't properly screwed in. This is the easiest problem to fix, and often the most common. Callum advises you to start by "plugging in your string of lights. If you notice any problems with bulbs or sections that aren't illuminated, turn off the lights and individually tighten the bulb in that section to ensure they are connected correctly."
If tightening the bulbs doesn't work, "remove the bulb and inspect the two tiny wires at the bottom, advises John. "These should be firmly attached and should not be touching each other. Each wire should also be laid flat against the external part of the bulb. When you push the bulb into the socket, these two wires complete the electrical connection."
Once again, if you're finding it hard to work out the offending lightbulbs, it might be worth turning to a bulb tester or multimeter.
"Just one loose connection can break the whole circuit," adds Thomas Goodman, construction and lighting expert at MyJobQuote. "Lights that hold 50 bulbs commonly work on 2 circuits, meaning that one loose bulb will break that circuit. If only half of your lights are working, this indicates a loose bulb."
Once you've screwed the offending bulbs back on properly, the lights should be ready to use alongside your best Christmas decorations. But if not, proceed to the next step below.
3. Chewed or mangled wires
How to diagnose: If your lights are tangled or visibly chewed up
What to do: Dispose of the lights
Most of us can probably admit to storing our Christmas decorations in tattered old boxes that we keep in our cold attics or garages, or even outdoor sheds. And even the sturdiest Christmas decorations can be subject to wear and tear over time. So if your lights are exposed to the elements in an outdoor space, there's always a chance that some animals have got to them too.
This can lead to finding chewed wires when you open up your Christmas decor box, which, in all honesty, can be quite dangerous. Thomas explains, "45% of Christmas tree fires are caused by chewed wires. If wires are exposed, do not wrap them in electrical tape, instead, dispose of them correctly."
In this case, it's probably better to abandon ship and invest in some new lights.
To avoid coming across this problem in the future, ensure you store lights correctly when you put them away for the festive season. "The main mistake people make with Christmas lights is incorrect storage," explains Callum. "Many Christmas lights aren't durable, so proper storage is key to success. So, wrapping them in a coil and stuffing them in a box means you will most likely be making a trip to the store for more lights next year.
"Instead, carefully put your lights back into the original container that they came in, or one similar and make sure the bulbs don't band together. This way, when you get them out next year you don't damage your lights by pulling and untangling them." In general, storing your Christmas decorations in a safe, dry place is sage advice. While there are no safety risks involved, who wants their best Christmas tree topper to come out of the box all chewed up?
---
4. Blown and tired fuses
How to diagnose: If the metal filament of the glass cylinder has a break in it
What to do: Replace the fuse
If your lights are fully in their socket and there are no visible signs of damage on the bulbs, check your fuse. Inside your lights, there will live one or multiple small fuses and if one overheats and blows, it can cause one section or even the whole string of lights to stop working.
Thomas explained, "You may be able to recognize a blown fuse by sight alone. If the metal filament inside the glass cylinder of the plug has a break, this is a blown fuse. A break appears as a visible gap within the wire or as a dark smear within the fuse itself."
You may have been provided with an extra fuse on buying your lights, but if you weren't (or they've ended up rolling around somewhere in the random stuff drawer in the kitchen) you should be able to get one from a hardware store. You can even purchase them online if you know which type you're looking for. But they are simple to replace.
"Remove the sliding door on the plug and locate the small fuse," advises John. "If the fuse is fried, replace this with a new one. Just ensure that it is the same amperage. You can see the amperage on the plug itself." Here's a step-by-step guide on changing the fuse.
How to replace the fuse:
Open the plug's latch with a small screwdriver (any that you've collected from last year's luxury Christmas crackers would work perfectly!)
Use a fuse tester to figure out which is the one causing the problem
Carefully take out the faulty fuse and replace it with the new one
Screw the latch back onto the plug and you should be good to go!
While fixing your Christmas lights yourself is generally safe, Thomas warns that you should absolutely avoid and exposed wires, and leave it to the professionals in that case.
He told us, "Changing a fuse is safe but you must leave any exposed wires alone. A single bulb is 7.5 watts which can cause a lot of damage if misused."
And of course, if you simply don't feel comfortable, calling in a professional is absolutely fine, although you'll obviously need to be willing to part with your money for them to fix the issue.
To try and help avoid any damage to your Christmas lights this year, installing a Christmas tree skirt around the base of your tree can be helpful, as it will prevent curious hands and paws (from little ones and pets) from touching power boxes.
How can I tell which Christmas light is out?
All of our experts are in agreeance that the easiest way to detect the problem bulb is by buying a tester. These often retail for less than $15/£12 and will save you a lot of money in the long term. We're a fan of this budget allsun Christmas light tester from Amazon (opens in new tab) which is available to buy for $15/£13.57. Failing that, if you follow the steps above and visually inspect your bulbs for any damage or loose connections, you should be able to find the problematic one.
Aleesha is a digital shopping writer at woman&home—so whether you're looking for beauty, fashion, health or home buys, she knows what the best buys are at any moment. She earned an MA in Magazine Journalism from City, University of London in 2017 and has since worked with a number of brands including Women's Health, Stylist and Goodto. A year on the w&h news team gained her invaluable insight into where to get the best lifestyle releases first—as well as an AOP awards nomination.