Christmas tree skirts that will add the perfect finishing touch to your tree this year
Christmas tree skirts are an easy and stylish way to spruce up your tree by hiding the stand or pot it is sitting in. This year's selection includes wicker, faux fur, quilted skirts and more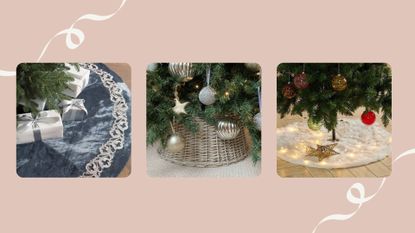 (Image credit: Future)
Christmas tree skirts are a next-level design detail that adds a great finishing touch when it comes to tree decorating—but they're also helpful for covering up unsightly pots, tree stands or tree trunks.
When planning your Christmas tree decorating ideas, a Christmas tree skirt will not only complete the overall look of your tree, but can also prove useful when packing it up too. While not a problem with the best artificial Christmas trees, even the best real Christmas trees will drop needles over the course of December, and a fabric Christmas tree skirt can serve as a way of making sure all of those stray needles are neatly collected up and disposed of.
But let's face it—we're less concerned with how functionally useful they are and more concerned with how they look! To help you decide which Christmas tree skirt is best for your home, we've rounded up our pick of the most stylish options out there from many of the most popular retailers. You'll find faux fur options, wicker skirts, metal skirts, and skirts in a range of different colors—ensuring there's something for everyone.
Best Christmas tree skirts 2021
To help you pick the right Christmas tree skirts for your tree, we're shared the best options in both the UK and the US at a range of price points. There are options from the likes of Wayfair, The White Company, Balsam Hill, and more—meaning you're bound to find something you like.
Christmas tree skirts: UK
1. French Blue Velvet Tree Skirt
Specifications
RRP: £199 (originally £269)
Size: 72in
Material: Velvet fabric
If your Christmas decorating ideas tend to lean more towards the sleek and modern than the traditional, then this is the pick for you. A truly elegant tree skirt, this option is a little bit more sophisticated. It's been made in a deep azure velvet fabric, with a chic metallic applique design, that will create a real sense of opulence. At 72in in diameter, it's definitely on the bigger side so would work well for larger trees, and it's worth noting that it's one of the more expensive tree skirts on our list. Match the color scheme of your wrapping and Christmas centerpiece ideas this year to the colors in the Christmas tree skirt for a coordinated look to your holiday decor.
2. Antiqued Metal Tree Skirt
Specifications
RRP: £60
Size: H26cm x Top Dia 45cm x Bottom Dia 64cm
Material: Tin
Reasons to buy
+
Makes a statement
+
Doesn't take up too much floor space
This vintage-looking Christmas tree skirt is made from a tin base and spray painted in a chic and neutral silver color, for a really stylish-looking tree skirt that will look brilliant in homes with more modern decor. Handily, it also won't take up much floor space, unlike material tree skirts that sit on the floor. Sold by The White Company, home to quality Christmas bedding and luxury Christmas crackers, you can be assured that this product will be of the finest quality.
3. Grey Wicker Christmas Tree Surround
Specifications
RRP: £24.99
Size: 62cm x 62cm x 28cm
Material: Wicker
Reasons to buy
+
Natural and rustic
+
Handmade
This handmade tree skirt is the epitome of a rustic, natural tree skirt that would look equally as lovely in a grand country home as it would in a modern townhouse. It'll fit perfectly to cover unsightly tree stands, wrapping tightly around the base of your tree—and we love the whitewashed finish that makes the raw material look really polished.
4. John Lewis Faux Fur Blush Pink Tree Skirt
Specifications
RRP: £50
Size: 100cm
Material: Polyester
Reasons to buy
+
Multiple color options available
+
Soft and plush
For an elegant finish to your Christmas tree, this faux fur skirt is ideal. It's soft, feels luxurious, and looks fabulous too—almost as though you've got mounds of snow piled up softly underneath your tree, one of our favorite tree skirt ideas. Best of all, it comes in three different color options—blush pink (as above), fawn (which is selling quickly!), and white. And, it can be machine washed at a low temperature, which is good to know if any grubby hands or paws get a hold of it.
5. Next Character Tree Skirt
Specifications
RRP: £25
Size: 100cm
Material: Polyester
Reasons to buy
+
Kids will love it
+
Easy to install
Kids will adore this fun character tree skirt, which features some classic winter figures—Santa, a penguin, and a polar bear. Coming in a deep festive red color, and decorated with white tassels across the edge of the skirt, it's a good option too for those after a very traditional Christmas tree skirt, and who are happy to incorporate some color under their tree. Pile high with Christmas gifts for kids if you're planning family-focussed festivities this year.
6. Jan Constantine Mr Moon and Stars Black and White Tree Skirt
Specifications
RRP: £720
Size: 150cm D
Material: Unknown
Reasons to buy
+
A really unique design
+
Would like striking under a green tree
If you're on the hunt for a Christmas tree skirt that makes a statement, look no further than this black and white moon and stars option. Black Christmas tree skirts are a little more unusual but they look undeniably striking underneath a green tree, causing a slightly more dramatic feel in your home. There's no doubt this is a pricey option though at over £700, so it's only for those who are keen to make an investment purchase when it comes to their tree skirt. With a gorgeous embroidered moon design and sequinned stars though, you can really see the quality shine through.
7. Handmade Quilted Christmas Tree Skirt
Specifications
RRP: £115.50
Size: 125cm D
Material: Quilted cotton fabric
Reasons to buy
+
Handmade
+
A unique star shape
This quilted Christmas tree skirt, available at Not On The High Street, is a real quality piece and one to pass down through the generations. Handmade by seamstresses in a Somerset studio, it's been made with multiple different panels of fabric and sewn together to make an impressive star-shaped quilt that'll look lovely under your tree. It's a great choice if you want a more unique option this festive season, as many tree skirts tend to be a rounded circle shape. It's certainly on the pricier side, but if you want a tree skirt to last for years to come this is a solid bet.
8. Manvel Christmas Faux Fur Tree Skirt
Specifications
RRP: £28.99
Size: 78cm D/W
Material: Faux fur
Reasons to buy
+
Simple and minimalistic
+
Creates a snowy effect
Sometimes a simple and neutral option is best, and we particularly like this white faux fur Christmas tree skirt from Wayfair is that's the feeling you're after. Often if our Christmas tree skirts have reams of decor and bold colors, it can overwhelm our actual Christmas tree decorations. So if you like pops of color and stand-out baubles on your tree, this minimalistic, white snowy tree skirt from Wayfair could be the perfect accompaniment—natural complimenting your tree without drawing attention away from it.
Christmas tree skirts: US
1. iMucci Christmas Snowy White Plush Velvet Tree Skirt
Specifications
RRP: $16.99
Size: 30-60in
Material: Polyester
Reasons to buy
+
Looks like snow
+
Will fit with all decor
Part of the fun of decorating your home for Christmas means creating a festive snowscape in your very own living room—and if that's your plan, then this white velvet tree skirt is perfect for you. Plush, soft and comfortable, it's ideal for either placing presents on or letting little ones sit on for a festive photo—and it will look as though you've got your own little woodland scene going on right inside your home.
2. Willow Wicker Christmas Tree Collar
Specifications
RRP: $99.99
Size: 11in H and 22.25in W/11in H and 27.5in W
Material: Wood
Reasons to buy
+
A great natural option
+
Doesn't take up much space
A typical tree skirt is wooden, so this is the ideal pick for the traditionalists out there. A tasteful, woven wicker design, this tree skirt is perfect for bringing the outside in and will go with almost any tree decor theme, or general Christmas decor. We love that it curves around the base of the tree, and so will easily cover any unsightly bases or stands.
3. LimBridge Knitted Christmas Tree Skirt
Specifications
RRP: $19.99
Size: 48in
Material: Knitted fabric
Reasons to buy
+
Fun festive pattern
+
Popular with reviewers
Christmas tree skirts are there to elevate our festive decor—and sometimes there's nothing better during the holidays than a traditional red and white piece of decor, so we love this snowflake-pattern option. In a soft knitted fabric, it's great for wooden floors, and its unique design means it's great for those after something a bit different for under their tree.
4. Metal Hammered Collar Gold Christmas Tree Skirt
Specifications
RRP: $40
Size: 25in
Material: Metal
This golden Christmas tree collar is certainly striking and, with an impressive metallic sheen and a textured finish, it'll no doubt be a show-stopping piece in your home. Coming in a very festive gold, it should go with all of your best Christmas decorations, and thanks to its durable metal material, you'll be able to use it year after year.
5. Joiedomi Burlap Rustic Christmas Tree Skirt
Specifications
RRP: $29.98
Size: 48in
Material: Burlap
Reasons to buy
+
Rustic and traditional
+
Affordable
Look no further than this sweet rustic tree skirt if you're after something kitsch, cozy, and traditional this Christmas. Not only does it feature a lovely snowman and Christmas tree print, with red and green ribbon around the edge, but it's also made of durable and high-quality burlap, so you can keep it year after year without fear of it degrading in quality.
6. Cable Knit Tree Skirt Ivory Tree Skirt
Specifications
RRP: $30
Size: 48in
Material: Cable knit
Reasons to buy
+
Will go well with all color schemes
+
Unique cable knit design
This Christmas tree skirt offers something a little different, having been designed in a cable-knit material which isn't often found on a tree skirt. Like all the best Christmas jumpers it has been inspired by, this cable knit skirt is stylish, festively chic and incredibly charming. Coming in a neutral ivory color, it's also guaranteed to fit with any style of decor.
7. St. Ives Tree Collar
Specifications
RRP: $69.99
Size: 22.09in W
Material: Wood
Reasons to buy
+
Traditional-looking
+
Adds a rustic charm
This box collar is a little different from other tree skirt ideas, in that you'll place the trunk of your Christmas tree in here, rather than wrap a skirt around the base. But it's a fantastic option for those looking for a solid Christmas tree base. Coming in brown or white, this box collar will create an elegant, rustic and traditional look in your home, and will almost guarantee little ones or pets can't touch the bottom of your tree. It's a little more expensive and takes a bit more assembly than a typical Christmas tree skirt, but we reckon it's worth the extra effort.
8. Not Even A Mouse Disney Christmas tree skirt
Specifications
RRP: $38
Size : 48in D
Material: Cotton, vinyl and velcro
Reasons to buy
+
Kids will love it
+
Fun and unique
Kids and adults alike will adore this Disney-inspired Christmas tree skirt, which features a glitter heat transfer vinyl design of Mickey and Minnie Mouse, alongside a wording inspired by the classic Dr Seuss The Grinch tale. It's not super-luxe, but Christmas tree skirts should be fun! This is a good choice for homes that favor traditional decor at Christmas, with a red, black, and white design, and would suit trees that have also gone for that kind of color scheme—as opposed to more modern metallics and white ornaments.
How big should your Christmas tree skirt be?
The size of your Christmas tree skirt will depend on the size of your tree and how much of the space around your tree you would like the skirt to cover.
The experts at Christmas Tree World (opens in new tab) advise knowing the measurements of your tree before you choose which of the Christmas tree skirts to buy this year.
"To start, you should measure the stand dimensions of your tree," they told w&h. If you have an artificial tree, this will involve digging it out of the loft to measure it, but the experts advise, "If you haven't ordered your real tree yet, look for the technical descriptions of the Christmas tree online".
"We would suggest you should measure the width of your lowest branches and then add around 6 inches, that way you will have enough coverage and the skirt will flow seamlessly with the shape of the tree. If you get the measurements wrong, you could be left with a Christmas tree that looks like it is being choked by the skirt.
"You must also decide if you want the skirt to cover the stand, or if you want it to cover the ground for you to place presents or more decorations on. Once these two factors have been taken into consideration you can find your perfect tree skirt."