Christmas tree color trends 2022: Festive trends and themes for the holidays this year
From merry brights to sophisticated metallics, discover the key Christmas tree color trends for 2022 to bring on-trend festive flare into your home this holiday season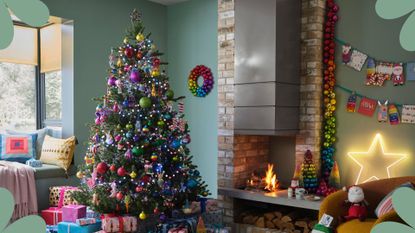 (Image credit: John Lewis)
Christmas is coming, which means it'll soon be time to crack out the tree and deck the halls. But what color tree to choose for this year's festivies? While traditional hues never date, the Christmas tree color trends for 2022 offer something a little different, with captivating tones from classic Art Deco-inspired hues to super bright shades.
If you've had your baubles for a while, 2022 may be the time to upgrade. While the traditional Christmas colors of red and green, and more recently gold and silver, will always be a favorite, this year there are lots of alternative color options to choose from – and that also includes the color of the best artificial Christmas trees too, not just the decorations.
If you need some inspiration, these seven Christmas tree color trends will help you create a Christmas tree decorating scheme to stand out from the crowd this year.
Christmas tree color trends 2022
One thing to consider before choosing your Christmas tree colors for 2022 is to think about where your tree will sit in your home. Fiona Huish, a senior stylist at Berkshire-based company Alexander James Interiors explains that it's important to take inspiration from your existing interior.
"In contemporary and neutral spaces, pair an accent color with silver to add a splash of glamour and sophistication," Fiona advises. "If your home has more of a country feel, embrace and enhance the rustic charm by choosing one of the best real Christmas trees in a traditional Nordic style, with natural wooden ornaments using red as the dominant color."
1. Blue and Gold
Christmas tree color trends this season include all shades of blue, but particularly midnight or navy, mixed in with flashes of gold. Combined, these create a striking Art Deco-style look.
Frances Clements, Christmas buyer at Homebase says while these are classic colors, mixing them together will give your tree a modern edge. "Think Art Deco meets boutique style with a palette of midnight blues, duck eggs, and flashes of luxe gold," she says.
"Adorn your tree with a selection of glittering baubles and sparkling mesh stars to set the scene for a Christmas party any modern-day Gatsby would be proud of."
To achieve this stylish look, choose mostly navy or dark blue ornaments with a smattering of lighter duck-egg blue thrown in. The Art Deco movement favored brighter, more distinct colors, rather than more subtle shades, but adding a lighter color can add depth to your Christmas tree theme. For an added touch of glamour, try tying giant gold bows on your tree.
Wilko Sequinned Gold Tree Topper
RRP: $4.10 / £3.50 | This tree topper is a stylish alternative to a star and is perfect for any Art Deco look. The matt gold and shiny embellishments give it a luxe feel and will add a touch of opulence to any Christmas tree.
RRP: $2.34 / £2 | Paper decorations are having their time in the festive spotlight once more and it's easy to see why. Reasonably priced, this tassel decoration would add an elegant touch to your decorations, while the navy shade makes a nice change from brighter hues.
2. Frosted
The hashtag 'white Christmas tree' received over 4 million views on TikTok last year and this popular Christmas tree color trend is going nowhere in 2022. While the all-white tree was a huge hit last year, 2022 sees snow-flocked trees now rising in popularity.
"2022 interior design trends have been neutral and rustic, making the frosted trend the perfect match," says sustainable interior designer Sophie Howard.
This stylish Christmas tree color trend 2022 features a frosted color palette and high shine metallics. A serene look, Sophie advises if keeping to all white decorations that you mix textures and shapes to create a little more festive interest.
The beauty of this look is that it's an easy to create at home. "You can buy flock in a can and spray away or just spritz your tree with water and dust it with flour to get the same effect," Sophie suggests.
RRP: $186 / £159 | Is there anything more frustrating than adding lights to a Christmas tree? This 6ft artificial tree does all the hard work for you as it's pre-lit. What's more it also has memory branch technology, which makes the tree easy to assemble, as the branches fall into shape with no rearranging needed.
Amazon White Christmas Tree Baubles
RRP: $13.35 / £11.39 | If you want to try a new color scheme out, save time and money by buying your baubles in a set. These white and silver ornaments will give any tree a winter wonderland makeover. Team with silver baubles to make it a high shine winner.
3. Pretty Pastels
If you fancy something a little softer, pastel pinks, blues and lilacs are set to be incredibly popular this year. "Pastel decorations are really on-trend right now," says Charlotte Coleman of Wiltshire Wonderland.
She continues: "The great thing about pastel colors is that they all go together, no worrying if the colors work together, they are a perfect match. Pastel colors have a light and airy feel so make your home feel brighter, even in the winter."
You can either mix and match your pastel shades or keep to one shade, perhaps adding highlights of silver or gold. While pastel shades work well together, Charlotte says they also mix well with stronger colors if desired, such as brighter pinks and purples. "They allow the stronger colors to make a statement and make a perfect backdrop," she says.
Not only are pastel Christmas tree decorations a great way to update your tree, but an artificial pastel pink tree looks modern right now. The beauty of a pink tree – or any pastel shade of tree – is that they don't need many decorations to shine. A few white or pale pink baubles are all that it takes. Fewer decorations are also good if you're looking for cat-proof Christmas trees as there is less for them to play with!
Wayfair Pink Artificial Christmas Tree
RRP: $125.45 / £106.99 | Want something a little different to your normal green tree? Then this Christmas it's time to go pink. This one has realistic needles and the soft blush pink will look great decorated with white and metallic baubles.
Not On The High Street Feather Baubles
RRP: $22.11 / £19 | These personalised feather baubles are a great way to add a pastel touch to your tree. Each bauble can be decorated with the name of your choice, which makes it a great Christmas present as well!
4. Mixed metallics
While gold has long been a popular choice for Christmas tree decorations, this year a top Christmas tree color trend is to mix your metallics.
"Christmas is all about sparkle so don't feel you have to stick to just silver or gold on your tree. Mixing metallics work well when you throw in plenty of different textures too," explains interior designer Caroline Wood-Robertson.
This is a chance to go over the top – no understated baubles here! Caroline advises choosing glittery and shiny baubles when planning how to decorate a Christmas tree this year, plus feathers or ribbons with a metallic finish to add the glam factor. If you feel drawn to gold and silver, but feel it may be a little too much, she advises adding in some accent shades.
She says: "If you feel you want a softer look, try frosted baubles with hints of silver and gold and mix them with softer pinks and greens."
While mixed metallics look fabulous on a green tree, this is one Christmas tree trend that also pops if using an artificial white tree.
Amazon Clip-On Feather Decorations
RRP: $7.00 / £5.99 | Who says that Christmas tree decorations can only be round? These glittery feathers will add a layer of texture and interest to any tree. Just clip them on and go. They would also work well in a wreath or stair garland.
Cox & Cox Vintage-Style Garland
RRP: $29.31 / £25 | Made up of a selection of gold and silver glass beads with an antique finish, this garland is the perfect way to add a touch of vintage sophistication to your Christmas tree.
5. Grey Ombre
If you're looking for a more contemporary feel or are a fan of more muted shades, a grey ombre color Christmas tree could be for you – and while an ombre tree may not be for everyone, it's certainly one that will make a statement. On a tree as splendid as this, you want to keep the decorations minimal in neutral or metallic shades – this is one time when you can let the tree do all the talking.
If you don't want to go as far as getting an ombre tree, you can create the same effect using baubles. Choose a color and then get creative. Put the lightest shade at the top, decorating in layers around the tree – and gradually work down to the darkest shade.
Don't forget the base of your tree either – it's especially important for a pared-down look like this one. "Ditch the red frills this Christmas and go for a contemporary bamboo Christmas tree skirt for a neat and natural finish," advises says Jess Martin, a decoration expert at Ginger Ray. "Or try out a more playful yet sophisticated honeycombed paper skirt in a color to match your scheme."
White Stores Fibre Optic Ombre Christmas Tree
RRP: $80.49 / £69.99 | If you just want a tree that you can put up and go, this fibre optic tree is the one for you! Simply plug it in and watch it shine thanks to the in-built LED lights, which eclipse from grey to white to create a festive light show!
Amazon Luxury Christmas Tree Baubles
RRP: $30.98 / £26.94 | Continuing the theme of easy Christmas decorating, this set of baubles comes with you all need to create a themed look. Layer them up for an ombre look or mix and match with a contrasting colour — such as pink — for a bright, modern theme.
6. Rainbow Brights
"After the past few years, it's obvious why a rainbow bright scheme has jumped to the forefront of themes," says Sophie. "Adding playful energy to your best Christmas decorations and making the festive season extra merry, it's hard not to smile when you see this trend."
There are many ways to interpret this trend. If you want to go all out, buy an alternative Christmas tree in bright pink or purple – this is disco with a capital D! If you decide to stick to a traditional green tree, mix and match your baubles for a truly multi-colored mix. This is strictly not for minimalists.
"Think a curated chaos of traditional shining red and gold baubles and brightly colored garlands… all trimmed with vibrant multi-colored string lights," says Jess.
"If you're a seasoned decorator, don't be afraid to make the most of your accumulated decorations – if it's colorful, shiny, or crusted with glitter, it belongs on the tree. The more the merrier."
Choose retro or kitsch decorations to give your tree an extra layer of fun. Sophie says that this trend is also great if you're looking to be more sustainable, using decorations passed down through your family or buying vintage. "It is the perfect opportunity to buy pre-loved decorations," she says. "The bolder and bigger the clash the better!"
Paperchase Retro Rainbow Decoration
RRP: $11.72 / £10 | Decorations don't get brighter — or cuter — than this one! Featuring Santa flying over a rainbow on his sleigh, mix this decoration with other brightly colored retro trinkets for a truly kitsch tree.
Cody & Co Rainbow Star Tree Topper
RRP: $77 / £65 | Made from glass, this star shaped tree topper is full of joy, thanks to the rainbow-colored design. Whether you perch it atop a real tree or contrast it against a vibrantly- colored artificial tree, it will definitely brighten up your festivities.
Lights4Fun Pinecone Christmas Lights
RRP: $34.49 / £29.99 | If you're going bright this Christmas, then it's time to ditch the stylish white lights for something a lot more fun. These pine cone lights have more than a retro touch about them and are guaranteed to bring a bright festive glow to your home.
7. Neutral and Natural
The trend for natural Christmas tree colors has seen a rise in the last year, according to Google Trends. The great thing about following the all-natural Christmas tree trend is that it will probably fit in with your home décor better than traditional shades of red and green. While not traditional, muted tones of creams, white and natural wood can still look just as festive.
"If you're looking for a more natural style, or perhaps something a little more sustainable, then pinecones with ribbon, wooden beads, or papier-mâché baubles all work well together," says Caroline. This is definitely a trend for minimalists – no sparkle here.
"Try weaving a wooden bead garland in the place of tinsel for a more pared-back look - Scandi is all about taking inspiration from nature, making wood the perfect material for your decorations," advises Jessica.
Use the neutral, natural Christmas tree color trend to inspire your Christmas tree topper ideas this year too, with a wooden star or paper angel making suitably festive finishing touches to this look.
Layered Lounge Wooden Star Decorations
RRP: $23.45 / £20 | Looking to add a touch of Scandi chic to your tree? These wooden star decorations are perfect. Simple and elegant, this set of three stars will add a stylish natural touch to any Christmas tree.
Feelava Pinecone Decorations
RRP: $8.18 / £6.98 | Nothing looks nicer on a Christmas tree — whether real or artificial – than some natural foliage and berries. If you can't be bothered to forage for holly and pinecones though, these artificial gold ones will do the trick nicely.