How to host a Christmas party that will seriously impress your guests
Ready to be the host with the most? Here's how to host a Christmas party that's guaranteed to impress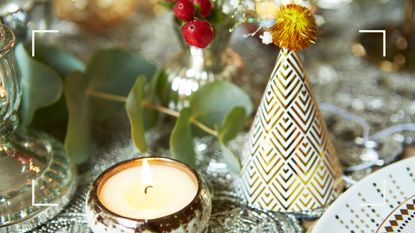 (Image credit: Future)
Wondering how to host a Christmas party at home? If you're looking to throw a fabulous festive bash that everyone will be talking about well into Spring, look no further.
Many of us are more than ready to wind down for the year and get out our best Christmas party dresses for fun-filled festivities. If you're playing host this year, there are a few things to take into consideration when planning a Christmas party, whether it's for just a few family and friends, or you're hoping to invite enough people to cover the North Pole.
From curating the perfect guest list and deciding on a characterful Christmas party theme, to party etiquette to see you through the festive season and beyond, we've got tips and tricks from professionals with years of festive party-planning experience on how to plan and throw the perfect Christmas get together.
How to host a Christmas party: 10 ideas for the holidays
From arranging a guest list to sorting out food and drink, there's a lot of planning that goes into hosting a Christmas party. Read on for a fool-proof guide on how to plan a Christmas party, whether it's your first time or your 100th time playing host.
1. Narrow down the guest list
Think about how many people you want to attend your Christmas soirée. Be mindful of your space – realistically, you can't squeeze 100 people in a two-bedroom house so it may be that you have to host different groups on different days, just don't stretch yourself – or your budget for that matter. Arrange a date that's going to suit the majority of your guests.
2. Decide on a theme
Adopting a Christmas party theme is the best way to make it feel more curated, different from just having guests over at any other time. Holiday glam? Matching Christmas pajama party? Whatever your theme, stick to it. Make it clear what it is on the invite so your guests are aware well in advance.
"You want to ensure that your guests are aware of the dress code in advance as people want to be able to purchase their outfit in advance for your event," says Jess Clarkson, a freelance events planner.
"Most parties I plan have more of a formal dress code like black tie, so men are aware that they are required to wear a suit and look smart for the occasion. While for female attendees, they tend to opt for festive-style dresses that fit within the winter theme. I feel like people go a little extra by wearing an outfit which fits the theme of the event and makes them feel their best."
If your chosen theme is Christmas jumpers don your best Christmas jumper and relish in the festivities. Or if you decide to host a Christmas costume party this year ask friends and family to dress up as their favorite character from one of the best feel-good Christmas movies to get you in the holiday spirit.
3. Declutter and decorate
Before decorating your space for the big day, make sure you clear the party area of any clutter. The first area to declutter in your home is your hallway, as this will be the first area that guests see so it needs to be tidy.
"The hallway is usually a narrow purely functional space that can be forgotten when decorating for Christmas however there are plenty of Christmas decorations you can add to give it that wow factor," says Jess Martin, Christmas decoration expert at Ginger Ray.
"Make the most of your banister rail with foliage garlands and lights or lights wrapped around the railing. Make sure to drape it equally with evenly spaced gaps to create a professional-looking effect. In the gaps, you could add some hanging decorations like snowflakes or paper trees."
In the main party area, ensure there's enough seating and clear some space up for a dancefloor, it's that's the vibe you're going for. Clear away any unneeded, bulky furniture pieces – maybe move safely to a basement or garage area.
4. Party-proof floors
Hosting any party in your home is fun, but can be fraught with worry about it ruining your beloved decor – especially floors. Dirty footprints or red wine stains to clean out of the carpet are a Christmas nightmare no one wants. To eliminate potential damage make sure there is a doormat by every entry point that will be used during the party.
"Having lots of guests in your home can sometimes wreak havoc on your flooring, and whilst your first thought might be to ask people to take off their shoes at the door, it's not always feasible," says Carolina Hansson, head of design at Luxury Flooring and Furnishings . "If guests are going to be wearing their shoes around the house, you might find you need to clean your hardwood flooring after it gets a few black heel marks from rubber soles."
Carolina suggests: "You need to be particularly careful of heels such as stilettos, as these can cause real damage to wooden floors. We recommend planning ahead by laying down some washable rugs in high-footfall areas."
"As for furniture, if you're placing chairs to accommodate your guests, think about investing in some felt furniture pads which can be stuck inconspicuously on the ends of movable furniture such as chair legs. This will lessen the impact that hard furniture can have on wooden floors and will prevent scratches from spoiling your beautiful flooring. For extra protection, placing a large rug in the main gathering area might also save a few scratches as well as shorten your clean-up time."
5. Dress the main party room
A trendy tablescape is a key point to any party, whether you're serving a full meal or just a few nibbles. Kate Fairlie, Founder of Truffle Tablescapes, advises that hosts plan their event's style, look or theme in advance, particularly when it comes to the fine and fabulous details of festive tablescapes and Christmas centerpiece ideas.
"Think about how you want your event or party to look and feel on the big day. Consider the atmosphere, whether that be music or how your decor or table layers will look. Also, remember that decorating a table doesn't have to be expensive," Kate says.
"For example, when it comes to tablescaping, once you have good quality tableware basics, you can use flowers to transform your table look each season. Most importantly, have fun with your tablescape items, be bold and creative!"
To keep things on a budget: "You can use other decorative items you already have in your home," suggests Lucy Whiddett, founder of The Table Stylist. "Try special trinkets, fruit, chocolates, baubles, foraged foliage from the garden, or even homemade items for the most cost-friendly option."
Your Christmas decorations and Christmas decorating ideas will make your decor feel like a party but up the ante by adding extra paper garlands or glitter curtains around the rest of the room to ensure the space feels well-dressed for the occassion.
6. Prepare the bathroom
The bathroom will play an integral role in hosting your Christmas party, yet it's so often overlooked when it comes to decorating and prepping.
"To decorate the bathroom with Christmas cheer, you can add fun fairy lights or tinsel around your window sill or storage units," suggests Lucy Ackroyd. head of design at Christy. 'Something as small as updating your soap dispenser with yuletide design is a simple but effective way to acknowledge the festive season in these often-overlooked spaces."
"With regards to the color scheme, swap out towels and bath mats to favor more festive colors like forest greens, scarlet reds, and snowy whites (to match your Christmas tree color trend) - think pine trees and candy canes.
"When it comes to scenting your bathroom, keep it warm by choosing scents such as orange, gingerbread, vanilla, and cinnamon for your hand soaps, body wash, and best-scented candles. Enveloping yourself in these fragrances is sure to have you and your guests feeling festive."
7. Create the perfect menu
When it comes to food and drinks, be mindful of your guests' tastes and dietary requirements. Also, consider if your menu matches your theme.
"It's easy for guests with different dietary requirements to feel excluded at Christmas parties. With lots of delicious food and drink on offer, it can be pretty disappointing for your guest to find out they can't eat any of it. Have a selection of vegan or vegetarian options, there are some mouth-watering dishes out there that everyone will love," says Lorna Boyer of Eventurous.
"Consider including a note about dietary requirements on invites too, so anyone with allergies or intolerances can easily be catered for. Remember some of your guests may not be drinking alcohol, so if you're whipping up some exciting Christmas cocktails, why not create some tasty mocktails too? A cranberry-ginger fizz or orange and cinnamon mocktail are full of festive flavor and always goes down a treat."
8. Set up a home bar
Give happy hour a festive twist with a Christmas cocktail party. Sip on Christmas cocktails, such as mulled white wine and scarlet Aperol fizz, while catching up with family and friends. Make your budget stretch to bubbles by sourcing the cheapest prosecco and champagne deals to toast the season in style for 2022. Remember to make suitably festive-theme mocktails for younger guests or those who don't fancy alcohol.
Turn your kitchen into the main room for hosting drinks, turning the dining table or kitchen island into a homemade bar.
"Kitchens are always the heart of the home and this is never more true than at Christmas," says Looeeze Grossman, founder of The Used Kitchen Company. "To turn up the party factor and make serving guests a breeze, turn your island or peninsula into a cocktail and canape station."
"Fill your sink with ice and add salt to keep it as cold as possible. This will mean guests can easily help themselves without having to open and shut the fridge door every five minutes."
"If you don't have an island, hostess and drinks trolleys have been given a sleek makeover making them the perfect addition to your festive kitchen. Not only will they look sleek, but they're also on wheels meaning you can mix everything up in the kitchen and then wheel it out to your guests."
9. Create a cozy retreat
Whether for younger guests to wind down before bed or for the guests who need to take a break from the festivities, a chill out area can prove invaluable when hosting a Christmas party – there's a lot going on, so sometimes it's just nice to create a cozy corner where guests can just sit back and relax for a while.
Create a cozy atmosphere with faux fur throws and lots of layering - even adding a few comfy bean bags. Add Christmassy games such as an antler toss and Elf Monopoly for those who want to still be involved in fun and games, just in a quieter setting.
10. Set up a photo booth zone with props
If there are no hilarious photos from the party to share did it even happen? A simple pack of festive-themed photo props and a decorative backdrop are enough to fashion a DIY photo booth for your home. Guests will soon catch on that this is the dedicated zone for taking fun snaps to treasure from the Christmas party of the year. Place a box with a polaroid camera and a cluster of novelty glasses, hats, and wigs to let guests help themselves.
Christmas party etiquette tips from the experts
You're in charge of your guests' comfort and entertainment. Want to be the best party host? Kate Fairlie shares her expertise:
"For parties with friends and family during the festive season, don't worry too much about rules and formal etiquette but there are areas you should always be clear on."
1. First impressions count
"Greet guests with a glass of something fizzy and festive on arrival," says Farlie. "Offer to take coats and make introductions to others when they arrive."
A warm welcome goes a long way to making guests feel instantly welcome - it's also the perfect place to ensure you've said hello to each and every one of your guests.
2. Think ahead
"Don't forget that the perfect host is always thinking ahead! Have an extra seat or place setting if a guest brings an unexpected plus one, and make sure you have alcohol-free and vegan options for all tastes and requirements," notes Farlie.
3. Consider guests' comfort
While many people are excited to join in the festivities with gusto, it's important to be mindful of lingering social anxieties.
"As with everything, the perfect host will be mindful of guests' individual expectations or comfort levels," explains Farlie. "When it comes to attending an event, hugs and handshakes may still be off the menu for some and not others. Always be willing to flex and bend to keep your guests comfortable."
Sign up to our free daily email for the latest royal and entertainment news, interesting opinion, expert advice on styling and beauty trends, and no-nonsense guides to the health and wellness questions you want answered.
After watching 13 Going on 30 one too many times, Emma decided that she wanted to be a journalist and studied Multimedia Journalism at the University of Salford. She started her career as a fashion copywriter before delving into the world of digital journalism and her published work can be found in the likes of woman&home, Cosmopolitan, Metro, i-D and Apartment Therapy. Emma writes about interior design, travel, film and television, celebrities, and internet culture.