How to host a Christmas party that will seriously impress your guests
Ready to be the host with the most? Here's how to host a Christmas party that's set to impress.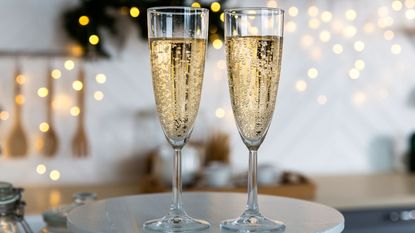 (Image credit: Yulia Naumenko/Gettyimages.co.uk)
Wondering how to host a Christmas party at home? If you're looking to throw a fabulous festive bash that everyone will be talking about well into Spring, look no further.
After a holiday season full of virtual celebrations last year, many of us are more than ready to get out our best Christmas party dress for the real-life festivities. If you're playing host this year, there are a few things to take into consideration when planning a Christmas party, whether it's for just a few family and friends, or you're hoping to invite enough people to cover the North Pole.
From curating the perfect guest list and deciding on a Christmas party outfit, to party etiquette to see you through the festive season and beyond, we've got tips and tricks from the professionals with years of festive party-planning experience on how to plan and throw the perfect Christmas gettogether.
How to host a Christmas party—10 brilliant ideas
Can't decide on a theme? From family-friendly get-togethers to parties where the drinks will be flowing, consider these ideas when hosting a Christmas party this year.
1. 1920s Christmas party
Party like it's 1924 with this classic Christmas party theme. Think gold and black Christmas decorating ideas and invite guests to dress to impress in dazzling suits and dresses. Look to the Kardashian-Jenner clan for inspiration, who threw momager, Kris, a Roaring Twenties-themed 60th birthday party back in 2015.
2. Movie Marathon Christmas Party
Suitable for all the family, grab the popcorn and enjoy a Christmas movie marathon. Curl up with family and friends with festive classic such as Home Alone and Miracle on 34th Street. Serve up hot chocolate and cookies for little ones, and mulled wine for the grown-ups.
3. Gift Wrapping Christmas Party
Make gift wrapping a little more exciting this year by inviting friends over for a wrap party. Play your favorite Christmas tunes, lay out some beautiful gift wrap (bonus points if it's sustainable wrapping paper), and sip on your festive beverage of choice.
4. Christmas Cocktail Party
Give happy hour a festive twist with a Christmas cocktail party. Sip on Christmas cocktails, such as mulled white wine and scarlet Aperol fizz, while catching up with family and friends.
5. Ugly Sweater Christmas Party
Another classic Christmas party theme is ugly sweaters. Don your best Christmas jumper and relish in the festivities.
6. Cozy Cabin Christmas Party
Bring the comfort and warmth of a ski chalet to your home. Create a cozy atmosphere with faux fur throws, rustic décor, and lots of layering. Dress code? Plaid.
7. Winter Wonderland Christmas Party
Turn your home into a winter wonderland for a snowy scene that guests will love. White and silver Christmas decorations and an all-white dress code are a great place to start.
8. Christmas Costume Party
Host a Christmas costume party this year. Ask friends and family to dress up as their favorite character from a festive movie. Need some inspiration? Here are the best feel-good Christmas movies to get you in the holiday spirit.
9. Holiday Games Christmas Party
Host a game night with a difference and opt for Christmassy games such as an antler toss and Elf Monopoly.
10. Christmas Karaoke Party
Get your Mariah Carey on and belt out some Christmas classics at a festive carol-oke party.
How to plan a Christmas party that will go off with a bang
From arranging a guest list to sorting out food and drink, there's a lot of planning that goes into hosting a Christmas party. Read on for a fool-proof guide on how to plan a Christmas party, whether it's your first time or 100th.
1. Narrow down the guest list
Think about how many people you want to attend your Christmas soirée. Be mindful of your space—realistically, you can't squeeze 100 people in a two-bedroom house—and arrange a date that's going to suit the majority of your guests.
2. Decide on a theme
Holiday glam? Matching Christmas pajama party? Whatever your theme, stick to it. Make it clear what it is on the invite so your guests are aware well in advance.
"You want to ensure that your guests are aware of the dress code in advance as people want to be able to purchase their outfit in advance for your event," says Jess Clarkson, a Freelance Events Planner.
"Most parties I plan have more of a formal dress code like black tie, so men are aware that they are required to wear a suit and look smart for the occasion. While for female attendees, they tend to opt for midi or more festive style dresses that fit within the winter theme.
"Some popular outfit choices in 2019 were velvet suits, black bow ties, blazer dresses, and sequin dresses. However, I feel like people this year will be going a little extra by wearing an outfit which fits the theme of the event and makes them feel their best."
3. Spruce up your space
Before decorating your space for the big day, make sure you clear the party area of any clutter. Your hallway will be the first area that guests see, so make sure it's tidy. In the main party area, ensure there's enough seating and clear some space up for a dancefloor, it's that's the vibe you're going for.
4. Dress the room
A trendy tablescape is a key point to any party, whether you're serving a full meal or just a few nibbles. Kate Fairlie, Founder of Truffle Tablescapes (opens in new tab), advises that hosts plan their event's style, look or theme in advance, particularly when it comes to the fine and fabulous details of a festive tablescape (see our guide to Christmas centerpiece ideas if you want more inspiration).
"Think about how you want your event or party to look and feel on the big day. Consider the atmosphere, whether that be music or how your decor or table layers will look. Also, remember that decorating a table doesn't have to be expensive," she says. "For example, when it comes to table scaping, once you have good quality tableware basics, you can use flowers to transform your table look each season. Most importantly, have fun with your tablescape items—test out different set-ups or seasonal additions on your table to really make the look your own. And be bold and creative!"
5. Create the perfect menu
When it comes to food and drinks, be mindful of your guests' tastes and dietary requirements. Also, consider if your menu matches your theme.
"It's easy for guests with different dietary requirements to feel excluded at Christmas parties. With lots of delicious food and drink on offer, it can be pretty disappointing for your guest to find out they can't eat any of it. Have a selection of vegan or vegetarian options, there are some mouth-watering dishes out there that everyone will love," says Lorna Boyer of Eventurous (opens in new tab). "Consider including a note about dietary requirements on invites too, so anyone with allergies or intolerances can easily be catered for. Remember some of your guests may not be drinking alcohol, so if you're whipping up some exciting Christmas cocktails, why not create some tasty mocktails too? A cranberry-ginger fizz or orange and cinnamon mocktail are full of festive flavor and always go down a treat."
Christmas party etiquette tips from the experts
You're in charge of your guests' comfort and entertainment. Want to be the best party host? Kate Fairlie shares her expertise:
"For parties with friends and family during the festive season, don't worry too much about rules and formal etiquette but the areas you should always be clear on,"
1. First impressions count
"Greet guests with a glass of something fizzy and festive on arrival," says Farlie. "Offer to take coats and make introductions to others when they arrive,"
2. Think ahead
"Don't forget that the perfect host is always thinking ahead! Have an extra seat or place setting if a guest brings an unexpected plus one, and make sure you have alcohol-free and vegan options for all tastes and requirements," notes Farlie.
3. Consider guests' comfort
While many people are excited to get back to the festivities, it's important to be mindful of post-pandemic anxiety.
"As with everything, the perfect host will be mindful of guests' individual expectations or comfort levels," explains Farlie. "When it comes to attending an event during covid-times, hugs and handshakes may be off the menu for some and not others. Always be willing to flex and bend to keep your guests comfortable."
After watching 13 Going on 30 one too many times, Emma decided that she wanted to be a journalist and studied Multimedia Journalism at the University of Salford. She started her career as a fashion copywriter before delving into the world of digital journalism and her published work can be found in the likes of woman&home, Cosmopolitan, Metro, i-D and Apartment Therapy. Emma writes about interior design, travel, film and television, celebrities, and internet culture.