Christmas party themes – 15 ideas for hosting parties during the holidays
These simple Christmas party themes make hosting a festive gathering easy and fun for all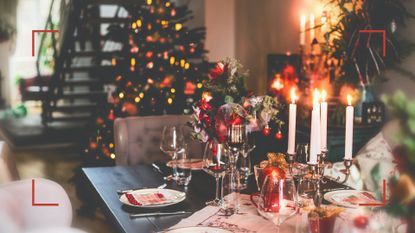 (Image credit: Getty Images | VICUSCHKA)
Christmas party themes can range from elegant, afternoon tea options to something fun and quirky, but the most important thing about any festive theme is that it's easy to achieve and gets everyone into the festive spirit.
When it comes to hosting a Christmas party for friends or family, it can be the smaller details that your guests will truly appreciate rather than grand party pieces. Think personalized place settings, handmade decorations, surprising party favors or luxury Christmas crackers that suit your chosen theme.
Whether you fancy a casual festive film night or have a gold-themed dinner in mind that will go with your brand-new Christmas party dress, this is our pick of the best Christmas party themes and ideas for 2022...
Best Christmas party themes for December 2022
1. Scandinavian hygge
For a cozy feel, go Nordic with your Christmas party theme. Think wooden decorations, warm lighting, and fluffy faux-fur rugs and fabrics. To make your home feel cozy add plenty of candles, we love the best flameless candles to set the scene for a safer party. Serve mulled wine alongside a roaring fire to get the fireplace going if you have one, to bring the theme to life.
A simple palette of white and grey with wooden accents works best for this effortlessly chic scheme. "This decor trend is all about using natural colors, textures, and elements," adds Jess Martin, a decoration expert at Ginger Ray (opens in new tab).
"This makes the space feel as inviting as possible and allows you to easily execute a stunning theme by incorporating more traditional minimalist decor, keeping colors soft and earthy! Pine foliage is a staple along with beaded wooden garlands and frosted pine cone accents."
2. Christmas cocktails
Get the party started by theming a night around cocktail hour. Make an on-trend drinks trolley center stage so it's easy to grab the ingredients needed for some classic cocktails, from a martini to a mojito, that your guests can have a go at shaking up themselves.
Factor in some cocktails with a seasonal twist, too, such as Eggnog, Baileys cocktail, or hot spiced cider, and get your guests to glam up their Christmas party outfits.
3. Sparkle and shine
Add a touch of luxury to your get-together by adding metallic accents to your Christmas decorating ideas, such as rose gold and copper, with twinkling fairy lights.
"Bright fairy lights can be a fantastic way to create a festive glow amongst your Christmas decorations and can be a cheap, long-lasting purchase when updating the décor for the year," says Party Delights' (opens in new tab) creative manager, Sarah Allsop. "To keep electricity costs down with the use of more lights, choose battery-operating lights or use a timing plug, so they're only on at certain times of the day."
The best Christmas lights can go a long way when it comes to illuminating a party theme: "Finish your wreath off with outdoor string lights, so Santa really can see where to stop, or line your window frames with warm white lights – these will make for a cosy living space when watching Christmas movies with your favorite snacks.
"If you've opted for adding foliage to your balustrade on your stairs or mantelpiece, weave lights into them to make the décor really stand out in the evenings." Guests can even add to the glitzy theme by wearing sparkles and sequins in their outfits.
4. Home crafted Christmas
Be it the cost of living or a desire to make more sustainable living choices, homemade arts and crafts are having a real resurgence in 2022.
"There are lots of Christmas decorations you can make at home without breaking the bank," says Sarah."So gather the family together for an afternoon of festive crafting." You can even have a go at one of the best DIY Christmas wreath-making kits too.
"Use pieces of thick white paper, fold them together, and simply, chop triangle shapes out of the sheet, open it up, and, voila, a snowflake is ready to hang in your home. Plus, this is a perfect activity to do if your little ones want to get involved in decorating this year.
Alternatively, recycle old wrapping paper by making paper chains to hang in the place of garlands throughout your living space – hung from central ceiling lights out to each corner of the room or simply draped along the dining table or over the mantlepiece.
5. Festive film night
If you love hosting friends or family but prefer a casual event, simply host a film night packed with Christmas classics. Guests can come over in their comfiest gear – even their best Christmas pajamas if they like and all you need to provide is a decent TV to watch films on and plenty of snacks.
"Getting cozy in the living room with your family's favorite Christmas film is always a must. In addition to your Christmas tree, line your mantelpiece and walls with hanging decorations and foliage garlands to create a festive focal point,' suggests Sarah. "Plus, adding a wreath to your living room door will give your living room more of a traditional feel.'
Want to go that extra mile for your Christmas party? Why not provide matching Christmas pajamas for your attendees?
Save time scrolling through streaming services with our pick of the best Christmas movies available to watch this year too:
6. Classic Christmas theme
You really can't go wrong with a traditional Christmas party theme, combining green and red accessories, tartan, and the best Christmas food. Traditional Christmas parties are always a hit and bring a real festive feel to the month.
"While red Christmas decorations can often be associated with slightly bolder, traditional themes, this is all about embracing red as an accent color and doing so in an understated manner," says Jess.
Opt for fresh greenery and sprigs of holly as Christmas centerpiece ideas, "Holly berries have always been popular however you can expect to see red foliage making a bigger impact in 2022 due to their classically chic look. Build subtle pops of red into your color scheme with berry-laden garlands and sprigs for tablescaping or even try arranging some seasonal branches in a vase to replace your usual florals."
Set the scene and play Christmas tunes and carols as background music.
7. Chalet chic
Many of us might not have made it away on vacation this year, so bring a bit of the Alps to your home with a chalet-style theme. A few touches will transport guests to the mountain slopes, including faux fur rugs, blankets, and lanterns. Cozy Fair Isle jumpers and a cheese fondue set won't look out of place either to set the scene for this classic winter hideaway.
8. Nordic winter wonderland
For a winter wonderland feel, simply go for a silver and white color scheme in your home and add touches of fresh ivy, holly, and mistletoe if you can. It's a simple but effective way of adding that Christmassy vibe to the home and is perfect for those who prefer a "less is more" approach to decoration.
"Elements of the nordic-style work spectacularly well when it comes to your Christmas tablescape, especially if you're looking for that classy, subtle touch of festivity," says Andrea Waters, tablescaping expert at Portmeirion (opens in new tab).
"An easy way to ensure cohesion of your theme is to opt for patterned tableware - nothing says traditional Christmas like a bunch of mistletoe or sprigs of holly and ivy. Finish dressing your table with sparkling glassware and linen napkins for a feeling of decadence that's sure to impress your guests."
9. Games night
One of the hallmarks of the festive season is getting together with friends or family to play some good old Christmas games, so why not theme your gathering around them – both classic and new?
Whether you create your own quiz, pick up a deck of cards or find a hilarious new yuletide-themed game for the grown-ups, this idea brings some structure and lots of laughs to your party.
10. Silver glitter
All that glitter isn't only gold, as this season silver is set to take over Christmas party themes. "Those looking for a more glam take on Christmas decorations are not alone, in fact, searches for 'metallic Christmas decorations' are 24% higher this year compared to 2021," explains Jess.
"Gold and copper have proven popular in interiors over the past few years however the fresh take on metallics this festive season will see silver glitter adding a luxurious feel to any Christmas decoration scheme."
"Opt for cool cream, white and silver tones, glitter, glass and crystal textures, and frosted foliage to have your home feeling like a winter wonderland. The great thing about this theme is that it allows you to embrace the maximalism trend while sticking to a cohesive color scheme throughout your home. To achieve this anything goes look, incorporating silver glitter 'Merry Christmas' bunting, alongside statement pieces such as a silver confetti balloon tree which provides the ultimate wow factor!"
11. Luxe appeal
Christmas is a time for sparkle, so why not create a luxuriously indulgent space that will wow your guests? Mix luxe fabrics and brooding dark colors to offset shiny metallics to add that extra Midas touch.
"The festive season is the perfect time to add a splash of bling, especially if you're planning on hosting any parties," says Andrea. "Impress your friends by playing around with layering luxe metallics to add that splash of glitz. Choosing statement serving plates brings glamour to any social soiree in an instant- leaving you time to get glam yourself!
"This luxe trend oozes sophisticated chic and will see you through your festive social calendar into the New Year"
12. Christmas tea party
If you're not massively into cooking or drinking alcohol for that matter, opt for an early Christmas tea party for friends or family instead of a big meal.
Simply dig out your finest china, from vintage cake stands to cup and saucer sets to add a certain charm to the occasion. You can serve scones, cakes, sandwiches, and hot teas, and add a few touches of Christmas theming for an easy yuletide event like the best mince pies.
13. Modern monochrome
Not into overly festive Christmas decorations? A clean and contemporary look is just what's needed. Opt for a modern monochrome color palette, punctuated with greenery.
"A contemporary Christmas is on the cards and while you might be thinking bright whites, this year's contemporary trend has a gothic twist," explains Ginger Ray's - chic and classic, contemporary Christmas decorations with striking black accents are set to be a big trend."
"Incorporating on-trend minimalism with modern and edgy monochrome colorways is still the perfect way to embrace traditional Christmas silhouettes like stars and trees with a fresh twist. Make black your base color to build off with dark tablecloths and metal ornaments that add a contrasting gothic twist. Then add touches of green foliage and wooden textures to soften the effect and bring back that classic homely feel that Christmas is all about."
14. Whimsical woodland
Easy to achieve and wonderfully rustic, a woodland theme means you can make the most of what's around you – especially if you have a holly bush or some berries in the garden. Add some candles and earthenware plates and this is as simple as Christmas party themes can get.
Keep your Christmas tree decorating ideas simple and decorate for your Christmas party using candles instead of an eclectic mix of decorations.
15. Outdoor magic
If you're lucky enough to have a garden and some outdoor heaters, why not invite guests outside for drinks or dinner. The use of outdoor lighting, tealights in jars, some holly and mistletoe, or even a festive wreath, will make for an incredibly atmospheric evening.
Mulled wine or cider would make an extra layer of cosiness for your guests along with hot Christmas dessert ideas like Christmas pudding, hot apple pie or mince pies warmed in the oven before serving.