The very best mince pies for Christmas 2022
Our expert food team at woman&home have selected the best mince pies for this year's festivities, with Waitrose, Sainsbury's and more coming out on top after a blind taste test...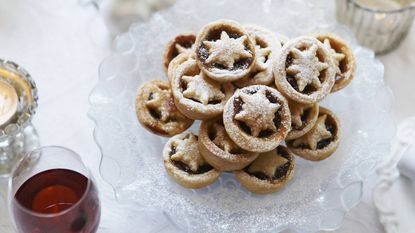 (Image credit: Future)
The best mince pies for Christmas 2022 have been shortlisted by our expert panel of judges so you can seek out the finest festive fare this Christmas.
During the Tried and Tasted awards, judges sampled over 500 products to shortlist the best Christmas food in the shops for 2022. The panel was made up of food experts and editors with years of experience in the industry between them.
As well as mince pies the team tested a range of Christmas dessert ideas, from the most irresistible yule logs to the best Christmas cakes the supermarkets have an offer.
Which are the best mince pies for Christmas 2022?
1. Taste the Difference Mince Pies
Best supermarket mince pie 2022
Specifications
Stockist: Sainsbury's
Pack size : 6-pack
Price: £2.25
Reasons to buy
+
Great traditional mince pie
+
One of the cheapest and most affordable packets of mince pies in this guide
+
Buttery pastry that tastes like homemade
+
Visually appealing when served
The winner of the best overall mince pie this year was Sainsbury's Taste Difference Mince Pies. We all thought this was a great, traditional mince pie. Group Food Director, Jen Bedloe commented: "This is an excellent quality traditional mince pie. The filling is not too sweet and the pastry is lovely and buttery. The brandy flavour is subtle but strong enough to allow for a pleasant taste." Food Editor Jess Meyer also added, "The pastry on this mince pie tastes like it could be homemade. I also really like the mincemeat, it has a good amount of juicy fruits and it's generously filled too."
It's not surprising we loved these mince pies so much. These melt in the mouth pies have an all butter pastry and are packed to the brim with a wonderful blend of juicy fruit, warming spices and infused with a generous amount of brandy. The pies also look great. Topped with a pastry star that is embossed with a snowflake, they have even finished it off with a dusting of icing sugar. It makes the perfect accompaniment to a cup of tea or coffee.
2. No.1 Brown Butter Mince Pies with Cognac
Runner-up for best supermarket mince pie 2022
Specifications
Stockist: Waitrose & Partners
Pack size: 6-pack
Price: £3.50
Reasons to buy
+
Great subtle twist on a classic mince pie
+
Well-balanced sweetness
+
Filling has a lovely variety of fruits
+
Lovely golden finish
Reasons to avoid
-
Could have more filling
-
Not for those seeking a traditional mince pie flavour
Described by some of the judges as 'the perfect mince pie', these brown butter mince pies should definitely be added to your trolley. A slight twist on a classic mince pie, the brown butter pastry adds a different dimension, giving the pie a beautiful nutty flavour. This compliments the filling which is stuffed with vine fruits, apricots, glacé Amarena cherries and almonds. An extra layer of indulgence is added when they are all laced generously with Cognac.
In addition to being packed to the brim with fruits, the flavour stood out to us as well. Mince pies can often be overly sweet due to the amount of fruit in the filling, however, we thought the balance of sweetness was just right. Jen Bedloe said, "these mince pies have a wonderful flavour, the pastry is buttery with a slight nutty quality and the filling has a lovely variety of fruits which are not too sweet and are generously soaked in just the right amount of booze." I also felt that the addition of almonds and cherries to the filling adds a great contrast in texture, something that is hard to get from a mince pie.
The appearance of the pie was also commented on by Rose Fooks, Deputy Food Editor, who said "mince pies can often be quite pale and uninviting. These have a lovely golden finish and the crimped edges give them a homemade look."
3. Handmade Biscuiteers Mince Pies
Best artisanal mince pies
Specifications
Stockist: Biscuiteers
Pack size: 6-pack
Price: £15
Reasons to buy
+
Generous sized mince pie with deep filling
+
Topped with frangipane for extra sweetness
+
Handmade and high quality
+
Great for gifting
Reasons to avoid
-
The most expensive pack of mince pies in the list
-
Not for those who dislike Bakewell flavours
Whilst on the more expensive side, we were instantly won over by these charming mince pies and the whole judging panel agreed that they would be worth the investment if you were willing to spend a little more to get the best mince pies this Christmas. Deep filled and full to the brim with a matured mincemeat made up of cranberries, sultanas and currants, the fruits are delicately flavoured with warming spices like nutmeg and mixed spice. To top it off these juicy vine fruits are then soaked in brandy, rum, lemon juice and orange juice.
Not only do these pies have a lovely filling, they are also topped with an indulgent layer of sweet and nutty frangipane. Jess Meyer adds, "The mincemeat is full of juicy fruits and I love the layer of frangipane. It's not often mince pies have frangipane in and it really works! I think it's a great addition and has a subtle nod to bakewell flavours." Rose Fooks commented on their appearance saying, "The rustic topping and golden brown colour gives them a homemade feel, I especially love the flaked almonds on top, which adds a welcome crunch."
These mince pies are, in fact, handmade. The bakers use a traditional vintage pie blocker to create these miniature masterpieces. Presented in a beautiful box, these would make a lovely Christmas gift for friends or family if you're visiting them for Christmas.
4. The Best Deep Filled Mince Pies
The best deep filled mince pies
Specifications
Stockist: Morrisons
Pack size: 6-pack
Price: £2.25
Reasons to buy
+
The most filled mince pie we tasted this year
+
All butter pastry case
+
One of the cheapest and most affordable packets of mince pies in this guide
Reasons to avoid
-
Not for those looking for a traditional-tasting mincemeat
Another top contender for the best mince pie this Christmas was the Morrisons. Unlike some of the other mince pies featured in this list, these mince pies are deep filled. This means they are even more liberally packed fruit. In this case, they were filled with a cider and brandy infused mincemeat and a warming spice blend. The addition of cider was a refreshing and pleasant twist, making the mincemeat feel a little less heavy than your usual mince pie. I thought these mince pies were nicely spiced, with a very generous filling. The mincemeat had a slightly refreshing quality to it that is hard to find in a mince pie.
As well as having a delicious filling, the all butter pastry case was marked highly by our judges too. Rose Fooks said, "The pastry on this mince pie is the perfect combination of buttery and crumbly, it balances out the refreshing mincemeat so well".
Our panel also noted that the pie had an enticing appearance. Jen Bedloe noted, "These pies are adorned with a star, which makes a nice contrast to the usual topping. They also have a deep golden colour which makes them even more appealing."
5. Pear & Fig Mince Pies in Cheese Pastry
Best savoury mince pie
Specifications
Stockist: Waitrose & Partners
Pack size: 6-pack
Price: £3.50
Reasons to buy
+
Creative savoury twist on a classic Christmas recipe
+
The combination of sweet and savoury is delicious
+
The only savoury option on this list for those without a sweet-tooth
Reasons to avoid
-
The bold flavour combination may not be to everyone's tastes
A bold twist on the classic mince pie, we applauded the creativity of these ones. Inspired by one of Heston Blumenthal's favourites - Eccles cakes with potted Stilton - this savoury twist aims to recreate the elements of a cheeseboard in just one bite. We enjoyed the buttery pastry laced with Cheddar, Emmental and Italian hard cheese. Rose Fooks commented, "Cheese straw meets mince pie! This is everything you would want from a savoury mince pie, the pastry is buttery and light and the addition of cheese is a real winner which compliments the jam packed fruity filling so nicely."
The filling is stuffed with plump vine fruits, figs, apple, Ruby port, candied pears, nutmeg and ginger. Jess Meyer noted, "the addition of pears and ginger to this mincemeat is delicious. The fiery ginger works so well with the sweet vine fruits and cheesy pastry.' These pies are also not conventional looking, rectangular in shape; they almost resemble a sausage roll. The pies have a lovely golden colour, making them even more enticing. We think they are best served warm alongside Heston's Tipsy Potted Stilton.
Definitely worth a try if you fancy opting for something a little different this Christmas and we'd recommend serving with your best turkey leftovers on Boxing Day.
6. St Clement's Mince Pies by Dukeshill
Runner-up for best artisanal mince pie
Specifications
Stockist: Dukeshill
Pack size: 6-pack
Price: £13.50
Reasons to buy
+
The largest mince pies on the list, they would double up as dessert
+
Look aesthetically pleasing when served
Reasons to avoid
-
The citrus flavours may be too strong for some
-
One of the more expensive packets of mince pies on this list
Dukeshill are purveyors of some of the finest Christmas hampers and they describe themselves as 'Champions of the Artisan' - and we firmly agree.
Their St Clements mince pies are packed full of a delicious brandy soaked mincemeat. As well as the usual ingredients in mincemeat, they've also added extra orange and lemon peel to the mix which adds a subtle zestiness. Jen Bedloe said, "the mincemeat is delicious, there are strong citrusy notes which really cut through the rich mincemeat, this makes it lovely and refreshing." Rose Fooks adds, "I really like the texture from the orange and lemon peel, it makes a nice change."
As well as a zesty filling, these mince pies have a pretty exterior. Unlike the deep-filled mince pies from Morrisons, Dukeshill have opted for a wider yet shallower mince pie with crimped edges. Jess Meyer commented, "These pies are a lot shallower than others we have tasted which makes a nice change. The pastry is a wonderful golden colour and is nice and thick, giving it an appealing rustic look."
7. Rosebud Preserves Mince Pies
Best mince pies for gifting
Specifications
Stockist: Rosebud Preserves
Pack size: 8-pack
Price: £12
Reasons to buy
+
Locally sourced ingredients
+
Handmade, light pastry
+
Suitable for vegetarians
Reasons to avoid
-
The mincemeat didn't have as much texture as others in the list
A family run business based in Yorkshire, Rosebud preserves pride themselves in sourcing ingredients locally to give the best flavour. Their mince pies are filled with mincemeat that is packed with vine fruits, Bramley apples, orange and lemon. Instead of using traditional animal suet, Rosebud Preserves use ground almonds which makes these delights suitable for vegetarians. This mixture is then generously finished with a glug of brandy. We enjoyed the orange and almond flavours in the mincemeat, Jess Meyer commented, "I really like the orange throughout the mincemeat, it's not too overpowering so you can still taste the other delicious flavours from the vine fruits."
As well as having a delicious filling, the pastry was also rated highly by our judges. The pastry was light and airy, yet strong enough to hold the filling. it comes as no surprise that the pastry is so delicious, given that they are handcrafted in a local bakery. You can also buy these as a lovely Christmas food gift for someone, neatly packaged in a pretty box, they can be delivered straight to the recipient's door.
8. Free From Mince Pies
Best gluten-free mince pie
Specifications
Stockist: Asda
Pack size: 4-pack
Price: £2
Reasons to buy
+
A good choice for those catering for a group with multiple dietary requirements. These are suitable for vegans as well as those who are gluten-free
+
Delicious pastry that surpasses other gluten free alternative products
Reasons to avoid
-
Smallest pack size in the list
We couldn't finish the list without mentioning our favourite gluten-free mince pie. If you are gluten free, it's likely you have been disappointed on many occasions with the cardboard-like pastry you are often faced with. Well, these are the opposite to that! Jess Meyer said, "We've tried a lot of gluten free mince pies and are more often than not we're left feeling disappointed - these are the closest to regular pastry I've tried!"
Our judging panel also highly praised the appearance of the mince pies. Rose Fooks commented, "The colour of the pastry is golden, which is often not the case with gluten free mince pies. I also love the festive star design on top too which adds a nice touch."
As well as having a nice pastry, these pies are packed full of succulent raisins and warming spices. Jen Bedloe said, "gluten free mince pies can often be lacking in flavour, but these have a lovely balance." An added bonus? Not only are these lovely mince pies gluten free, they're made with vegetable suet so are also suitable for vegans too.
How we tested the best mince pies for Christmas 2022
We taste test all of our Christmas food blindly so that each product can be judged on its own merits without the panel forming any preconceptions based on branding.
When testing mince pies our judges considered the pastry, filling, appearance and flavour of each entry.
Having good pastry is essential to a delicious mince pie. When scoring, judges were looking for a good, buttery flavour with a balanced texture somewhere between crumbly and firm. The filling should be generous and delicately spiced with no single ingredient overpowering another. Mince pies that were excessively sweet or jammy in texture would have scored poorly as judges like to see defined pieces of fruit and or nuts.
While looks aren't everything, they do say you eat with your eyes and an attractive finish is important when it comes to mince pies. The woman&home judges were enamoured with mince pies that boasted festive touches like stars, but the main focus was, of course, the flavours.
This year the mince pie entries were all mostly traditional in their flavourings. These pies are easiest to judge and compare and there were some real standouts.
Sign up to our free daily email for the latest royal and entertainment news, interesting opinion, expert advice on styling and beauty trends, and no-nonsense guides to the health and wellness questions you want answered.
Georgia Sparks is Junior Food Writer, working across Woman & Home, Woman's Weekly, Chat and goodto.com. She's passionate about food and is most content knife and fork in hand around the table with family and friends. Georgia works within the Food Team at Future Plc where she can usually be found in the kitchen developing and testing recipes as well as assisting on shoots and writing food features. Before writing recipes for woman&home Georgia trained at Ireland's famous Ballymaloe Cookery School where she was able to develop her practical cooking skills.