Best mince pies 2021: The woman&home taste test
Our pick of the best mince pies for this year's festivities. You're in for a jolly good treat.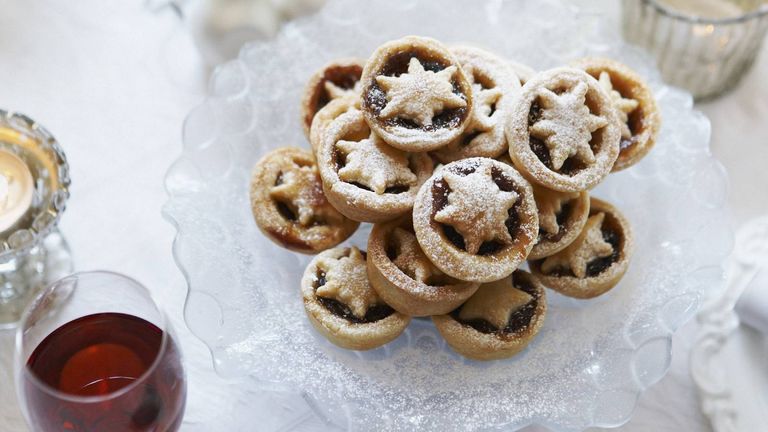 (Image credit: Future)
The best mince pies of 2021 have been shortlisted by our expert panel of judges so you can seek out the finest festive fare this Christmas.
During the Tried and Tasted awards, judges sampled over 500 products to shortlist the best Christmas food in the shops for 2021. The panel was made up of food experts and editors with years of experience in the industry between them.
As well as mince pies the team tested a range of Christmas dessert ideas, from the most irresistible yule logs to the best Christmas cakes the supermarkets have an offer.
How we test mince pies
When testing mince pies our judges considered the pastry, filling, appearance and flavour of each entry.
Having good pastry is essential to a delicious mince pie. When scoring, judges were looking for a good, buttery flavour with a balanced texture somewhere between crumbly and firm. The filling should be generous and delicately spiced with no single ingredient overpowering another. Mince pies that were excessively sweet or jammy in texture would have scored poorly as judges like to see defined pieces of fruit and or nuts.
While looks aren't everything, they do say you eat with your eyes and an attractive finish is important when it comes to mince pies. Judges were enamoured with pies that boasted festive touches like stars but the main focus was, of course, the flavours.
This year the mince pie entries were all mostly traditional in their flavourings. These pies are easiest to judge and compare and there were some real standouts.
Which are the best mince pies for Christmas 2021?
Judges awarded the Biscuiteers Handmade Mince Pies the prestigious title of best overall mince pie. These indulgent, deep-filled pies were topped with a decadent layer of frangipane which scored highly with everyone.
Speaking about the winner, deputy food editor Rose Fooks says: 'Biscuiteers are best known for their adorable iced biscuits but these mince pies are an exciting and delicious addition to their range. The mince pies are big enough to share but once you've had a bite we're certain you'll retract any invitation to do so!'
Waitrose won best gluten-free mince pies and Riverford took the title of best vegan mince pies.
Biscuiteers Handmade Mince Pies
The best mince pie 2021
Specifications
Stockist: Biscuiteers
Weight: 600g
Price: £15
These pies took the top spot because of the combination of rich, buttery pastry and the generous, well-balanced filling. Judges were completely enamoured with the thick layer of frangipane that sits on top of the mince pie and felt it added a decadent twist to the Christmas classic. They're big enough to serve as a dessert with ice cream or alongside some classic Christmas cookies.
Best mince pies 2021 - the best of the rest
Gluten-free Mince Pies
Best Gluten-free Mince Pies
Specifications
Stockist: Waitrose
Weight: 2-pack
Price: £3
Gluten-free pastry can be difficult to master but the judges were very impressed with this entry from Waitrose. They liked the big, flat design and the festive star decoration. The mincemeat was well-balanced with nice chunks of fruit and woman&home's Food Editor Samuel Goldsmith thought the packet of two was convenient if you're only catering for a few gluten-free loved ones.
Organic vegan mince pies
Best Vegan Mince Pies
Specifications
Stockist: Riverford
Weight: 6-pack
Price: £5
'I couldn't believe it when we were told these mince pies were vegan', says Food Writer Keiron George. 'The pastry had a delicious texture somewhere between firm and crumbly and the sprinkling of sugar on top gave them a nice crunch', he adds. The filling was balanced and generously portioned. Plus, these mince pies also happen to be made form completely organic ingredients. One to serve alongside your vegan mains this Christmas.
Jack & Beyond Mince Pies
Specifications
Stockist: Jack & Beyond
Weight: 6-pack
Price: £12
These mince pies had a lovely golden colour and come packaged in a pretty box which is perfect for gifting if you like to find the best Christmas food gifts.
The filling has a tasty mix of warming festive spices and a good variety in fruit texture.
​Rosebud Preserves Mince Pies
Specifications
Stockist: Rosebud Preserves
Weight: 8-pack
Price: £9.95
Judges picked out the inclusion of currants in this mincemeat and were delighted. The pastry is rich with butter and the mincepies are well portioned. A lovely option to serve with tea one festive afternoon.
No.1 Brown Butter Pastry Courvoisier Mince Pies
Specifications
Stockist: Waitrose
Weight: 6-pack
Price: £3
Everything about these mince pies screams luxury. Rich, decadent brown butter pastry, which gives a wonderful nutty undertone and the mincemeat is laced with apricots, glace Amarena cherries and chunky almonds. The filling also has a generous but balanced amount of booze in the form of Courvoisier cognac for the ultimate festive finish.
Do any of the mince pies contain alcohol?
Three of the mince pies listed above contain alcohol in the mincemeat mixture but only the Waitrose No.1 Brown Butter Pastry Courvoisier Mince Pies flag this as a defining ingredient.
The Biscuiteers mince pies have brandy and rum in the filling while organic vegan Riverford pies have cognac and cider listed in the ingredients. Rosebud preserves have 2 per cent brandy in both the classic and the almond and orange mincemeat.
See all the winners of the Tried & Tasted Christmas awards here.
Jessica is a Senior Food Writer at Future and is an enthusiastic, self-taught cook who adores eating out and sharing great food and drink with friends and family. She has completed the Level 1 Associate course at the Academy of Cheese and is continually building on her knowledge of beers, wines and spirits.
Jessica writes food and drink related news stories and features, curates product pages, tests and reviews equipment and also develops recipes which she styles on food shoots. Some career highlights for Jessica include chatting to one of her favourite food writers and chefs Sabrina Ghayour for an interview in Country Homes and Interiors and having the opportunity to meet the legendary Michel Roux Jr. and Raymond Blanc.