Best Christmas cake 2021: The woman&home taste test
Our panel of food experts have found the best Christmas cake for 2021 after putting all the top products in the shops to test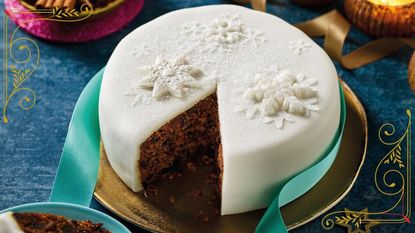 (Image credit: Morrisons)
Our pick of the best Christmas cakes that you can buy this year from supermarkets and independent producers has been carefully curated based on rigorous testing and careful tasting to ensure you get the best products for your money.
Christmas is always a busy time of the year, so cross one thing off your to-do list and instead of baking, buy one of these wonderful Christmas cakes instead.
Tested along with the very best Christmas food on offer this year, our expert panel of judges with years of experience in the food industry between them have chosen the best Christmas cakes out of this year's batch in the shops.
A more traditional Christmas dessert idea, these Christmas cakes are rich so would be best served in the afternoon with a cup of tea where they can be admired and enjoyed.
How we test the best Christmas cakes
Our panel of taste testers are all food experts who are tasked with tasting multiple products throughout the year for quality, affordability and, of course, flavour.
All of the Christmas cakes are blind tasted in the woman&home test kitchen. This it to avoid bias and so the judges taste each cake not knowing which brand it is from. When scoring Christmas cakes the judges award points based on the decoration, look, texture and taste of all aspects of the cakes.
The Christmas cake category includes traditional fruit cakes, iced or 'naked' cakes, but we have also added a couple of the judge's favourite novelty cakes at the bottom in case not everyone invited to your dinner table this festive season is a fruit cake fan.
Best Christmas Cake 2021
Choose from classically iced Christmas cakes below or opt for a 'naked' cake that you can then use for your own Christmas cake decorating ideas for a personal touch.
Tried & Tasted Best Christmas Cake 2021
Waitrose No.1 Rich Fruit Cake
Specifications
Stocklist: Waitrose & Partners
Weight: 1.3kg
Price: £16
This decadently rich fruit cake was commended by the judges for having both a great flavour and texture. Packed with plump vine fruit, glacé cherries and chopped almonds, this cake also treats the eater to a generous helping of brandy.
It is covered in a layer of marzipan that has a lovely almond flavour and fondant icing. The pretty decoration is classy and effective. A general all-rounder. The Waitrose No.1 Rich Fruit Cake won't disappoint and would be a splendid accompaniment to a cup of tea on Christmas afternoon with some of the best mince pies served with brandy butter.
Best value Christmas cake
The Best Iced Christmas Cake from Morrisons
Specifications
Stocklist: Morrisons
Weight: 900g
Price: £9
Morrisons' festive bakes never fail to impress, and this delicious cake is no exception. It may look a little less impressive than some of the other entries, but the snowflake design is simple and classy. Plus it's what's on the inside that counts and it's delightfully booze filled and perfectly spiced.
The vine fruits and cherries used to make the cake macerate for 24 hrs in oak aged cognac before being baked into this wonderful sweet treat. After baking, the cake is matured for a minimum of three months to enhance the flavour. We think you're going to love it.
Best decorated Christmas cake
Biscuiteers Christmas Greenery Christmas Cake
Specifications
Stocklist: Biscuiteers
Weight: 1.5kg
Price: £58
The judges were charmed by the intricately iced design on this splendid cake from Biscuiteers. It stood out from the crowd as it utilises bright colours and has a charming vintage feel, emotive of Christmases long ago. Not only does this cake look great, but the judges felt that it tasted as though it were homemade. It contains ginger figs and chunky pieces of cherry and it is generously spiced for an extra festive feel. This cake is 6" in diameter so will serve 10-16 people.
Best Christmas cake for gifting
Cartwright & Butler Christmas Loaf Cake in a Tin
Specifications
Stocklist: cartwrightandbutler.co.uk
Weight: 530g
Price: £12
If you're looking for the best Christmas food gifts to give this season then look no further, this cake makes a perfect present as it comes ready to gift in a jolly red tin.
More understated and smaller than other cakes we tested, this product is ideal to give friends or as a Christmas gift for neighbors if you're invited round to enjoy the festivities. It is decorated with cherries, almonds and marzipan stars and contains 46% fruit. The generous fruit filling adds richness and a great flavour to this cake. It will serve 5.
Best novelty Christmas cake
Asda Bruce the Brussels Sprout Cake
Specifications
Stocklist: Asda
Serves: 14
Price: £10
The charming Asda Bruce the Brussel Sprout family is growing. This year Bruce is joined by his wife Betty (also in cake form) and a whole host of other sprout themed sweet treats including Brussel sprout ice cream (tastier than it sounds, trust us!)
Both Brussel Sprout Cakes are made with a delicious chocolate sponge cake with chocolate flavour frosting covered in soft, green icing.
Best festive cake for chocolate lovers
Elf Colin the Caterpillar
Specifications
Stocklist: M&S
Weight: 670g (Serves 10)
Price: £10
M&S's iconic caterpillar has gotten all dressed up for Christmas. Made from an extremely chocolatey sponge roll with chocolate buttercream, enrobed in a thick coating of milk chocolate, this could be a great alternative to a Christmas cake for the festive season if the majority of your guests aren't too keen on fruit cake. Covered in cute chocolate decorations there's plenty to go around and it makes a great dessert idea for kids along with the obligatory Christmas cookies for Santa.
Available in-store from the 30th November.
See all the winners of the Tried & Tasted Christmas awards here (opens in new tab).
Rose Fooks is the Deputy Food Editor at woman&home. Rose completed a degree in Art at Goldsmiths University before beginning her career in the restaurant industry as a commis chef at The Delaunay in 2015. She then worked at Zedel and went on to become part of the team that opened Islington's popular Bellanger restaurant.
To hone her patissier skills, Rose joined the Diplome de Patisserie and Culinary Management course at Le Cordon Bleu. She ran a food market in Islington and cooked for a catering company that used only surplus food to supply events, before finding her way into publishing and food styling.