We've found the best Christmas cake of 2022 after hours of blind taste testing
Our panel of food experts have found the best Christmas cake for 2022 after submitting all the top products in the supermarkets to a blind taste test. It's a tough job but someone's got to do it...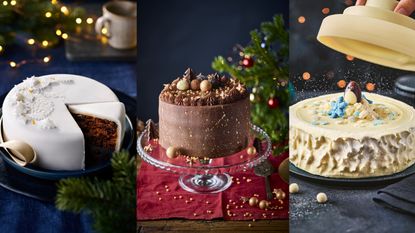 (Image credit: Future/Patisserie Valerie/M&S)
woman&home newsletter
Sign up to our free daily email for the latest royal and entertainment news, interesting opinion, expert advice on styling and beauty trends, and no-nonsense guides to the health and wellness questions you want answered.
Thank you for signing up to Woman & Home. You will receive a verification email shortly.
There was a problem. Please refresh the page and try again.
The expert woman&home food team have hand-picked the very best Christmas cakes for 2022 after putting all the most popular products in the supermarkets this year through a blind taste test process.
Our pick of the very best Christmas cakes that you can buy this year from supermarkets and independent producers has been carefully curated based on rigorous testing and careful tasting to ensure you get the best products for your money.
Christmas is always a busy time of the year, so cross one thing off your to-do list and instead of baking, buy one of these wonderful Christmas cakes instead.
Tested along with the very best Christmas food on offer this year, our expert panel of judges with years of experience in the food industry between them have chosen the best Christmas cakes out of this year's batch in the shops.
A more traditional Christmas dessert idea like the best mince pies, we've focussed mainly on classic Christmas cakes in this guide, but we've also rounded up our favourite alternative Christmas cakes at the end - for those who would rather tuck into chocolate rather than fruit cake on Christmas Day.
How we tested and chose the best Christmas cakes for 2022
Our panel of taste testers are all food experts who are tasked with tasting multiple products throughout the year for quality, affordability and, of course, flavour. Christmas cakes were sourced from all the main supermarkets and as many independent retailers as possible for the test. To avoid bias every cake is tasted blind, and the scores are not shared until the tasting is over.
When scoring Christmas cakes the judges award points based on the decoration, look, texture and taste of all aspects of the cakes.
The best Christmas cakes must look the part. We favour those with attractive festive decorations. We also consider how easy the cake is to slice. A crumbly cake is often a sign that it has not matured long enough, or not enough booze was added. The quantity of fruits visible is also a good indication of the quality of a Christmas cake. Generally, those cakes more densely packed with fruits are superior. However, it is a fine balance, as too much fruit can cause the cake to be overly rich and crumble.
Taste is the most important factor when choosing the best Christmas cakes. We are looking for a good balance. The flavours of vine fruits, spices and booze must all be evident, without overpowering one another. A good traditional Christmas cake should be packed with flavour. But the very best will transport your tastebuds to a Christmas memory of homemade cakes long ago.
Although we are not aware of the price of the cake during the judging, we do also take it into account. If two cakes are awarded the same score, but one is cheaper, then the cheaper of the two will automatically score higher, as it represents better value for you, the reader.
As well as this year's best traditional Christmas cakes we have also included some fantastic alternative cakes for those not a fan of fruit cake. Again the most important element is the flavour, but we have taken into account the decorations too. The M&S Helter Skelter Cake for example is a simple-tasting cake, but we were charmed by the decoration.
Best Christmas Cake 2022
Choose from classically iced Christmas cakes below or opt for a 'naked' cake that you can then use for your own Christmas cake decorating ideas for a personal touch.
Best Christmas cakes for 2022 as chosen by woman&home
1. No. 1 Rich Fruit Cake by Waitrose
Best Christmas cake 2022
Specifications
Stocklist: Waitrose & Partners
Weight: 1.5kg
Price: £18.50
Reasons to buy
+
The perfect taste and texture for a traditional Christmas cake
+
Classy design
+
A generous size
Waitrose & Partners Christmas cakes are consistently great, scoring highly year after year. This year's with its classy minimalist decorations has an unmistakable wow factor. But it's what's inside that counts and it was the taste that really won us over. We awarded this cake the top spot for its great rich and well-balanced flavour, great texture, and generous ratio of brandy-soaked plump vine fruits. Georgia Sparks womanandhome.com Junior Food Writer commented, "the flavours of festive spice and zest really sang in this cake. A perfect balance with the rich molasses and boozy brandy flavour. This was a clear winner."
One of the larger cakes in our round-up, this cake is ideal for feeding a crowd as it would serve up to 22 people.
It is iced with marzipan and fondant icing. A thick layer of each, so those with a sweet tooth would be pleased. The marzipan tasted good quality as it has a strong almond flavour. This cake also has a fabulous texture. Food Editor Jess Meyer observed that, "despite being fruit packed this cake holds together well when cut and has a pleasant moist crumb texture."
Although this Christmas cake sits at the higher end of this products price range, we think that the price of £18.50 is justified for the quality of ingredients and presentation
2. Collection Jewelled Fruit & Nut Cake by M&S
Best Christmas cake for a gifting
Specifications
Stocklist: M&S
Weight: 755g
Price: £20
Reasons to buy
+
Comes in a tin, making it great for gifting
+
Packed with fruits
Reasons to avoid
-
The smallest one on the list
-
Doesn't have icing
A classic fruit cake topped with a layer of marzipan and an attractive 'jewelled', glazed candied fruit and nut top. We really like the look of this cake. It's smaller than many of the others in this guide, but ideal if you don't want Christmas cake hanging around after Christmas. Similar to the winning Waitrose Christmas cake, the flavour of this version by M&S was popular with all of the judges, who enjoyed this cake's rich and decadent feel. In my notes when tasting this product blind I wrote: "delighted with the rich and buttery flavour of this cake." Lighter on the boozy flavour, the brandy and Cognac are subtle but lift the fruity and spicy flavours in the cake.
Thanks to the lack of icing on this cake it is not overly sweet. Therefore we think it would be nice to serve with cheese at the end of the meal or equally delightful saved for tea time. This cake is certainly a good classy choice that we would highly recommend.
Bonus points as it comes in a sweet little metal tin, making it ideal to give as a Christmas food gift. This year M&S are selling Christmas hampers that you can fill yourself in-store to create a lovely personalised gift and this Christmas cake can be added. Alternatively, keep it for yourself and use the unbranded tin to store your future bakes or for general storage.
3. Tesco Finest Rich Fruit Cake
Best budget Christmas cake
Specifications
Stocklist: Tesco
Weight: 907g
Price: £10
Reasons to buy
+
Great value - one of the cheapest Christmas cakes in our list
+
Discount with a Tesco Clubcard
This cake really proved its fantastic value. Costing a tenner (and even cheaper with a Clubcard) it's half the price of the smaller M&S cake that won second place. So if you're on a budget this year then this is the cake we recommend.
The design is very minimal with a simple gold star motif on top. However, if you favour a more busy appearance it would be a good one to dress up a little more at home with extra decorations.
The winning element of this cake was the texture and taste. The texture of this cake is great and Food Editor Jess enjoyed the consistency saying, "I really that this cake was moist and rich, with a great mouth feel". It's filled with vine fruits, nuts and glacé cherries and laced with Cognac and brandy. I noted that I liked that "the glacé cherries give this cake a lovely nostalgic feel" adding "it's everything you expect from a Christmas fruit cake".
The cake is covered with marzipan and fondant and serves 12 so will be sufficient for most on Christmas day. However, if you require a larger cake we suggest you opt for our winner, the No. 1 Rich Fruit Cake from Waitrose cake, which will serve 22.
The benefit of a traditional Christmas cake is that it will keep until the big day. So we recommend buying this one as soon as possible before it sells out.
4. Morrisons Fully Iced Christmas Cake
Best decorated Christmas cake
Specifications
Stocklist: Morrisons
Weight: 900g
Price: £10
Reasons to buy
+
Modern design and stylish blue bow
+
Affordable price point compared to other cakes in this list
Reasons to avoid
-
Only mildly boozy compared to other Christmas cakes on this list
This cake from Morrisons has the perfect balance of spice that contributes to the rounded flavour. We also enjoy the contemporary look. Embossed white snowflakes adorn the top, and it's decorated with an ice-blue ribbon. Georgia was taken with the design and ribbon commenting, "this is the cake I would choose on looks, it's fun and modern looking and I love that the ribbon adds a pop of colour."
This cake is made with Cognac-drenched currants, raisins, sultanas and glace cherries. Food Director Jen Bedloe added, "the glace cherries give this cake a charming nostalgic feel". We felt it could have been more generous with the booziness, but for the price, we still think it's a fabulous option. And we would certainly be very content sitting down with a chunky slice of this, and a lovely cuppa on Christmas day.
5. Royal Iced Wreath Christmas Cake by Bettys
Best Luxury Christmas Cake
Specifications
Stocklist: Bettys
Weight: 2.4kg
Price: £80
Reasons to buy
+
Lovely traditional design
+
Large, great for a big gathering
+
Delivery is available, so great for a gift
Reasons to avoid
-
The most expensive in the category
-
You may prefer a more contemporary look
Well, it's really no surprise that Bettys made it into our roundup of the best Christmas cakes. Everything that comes out of the iconic Harrogate tearooms is sensational. Bettys offer a range of Christmas cakes of different prices, but if you are looking for the most spectacular the Royal Iced Wreath Christmas Cake is the one for you.
I really love the traditional look of this cake, it screams Christmas with a real nostalgic charm. The piped edges, holly, ivy and rose decoration are hand iced on each cake making it extra special. This cake has a 21cm diameter, Bettys suggest it would serve 16-20, but it's so gorgeously rich we think it would serve many more. So there will be plenty to go around if you're planning a big celebration this year.
If money was no object this is the cake we would choose to enjoy at Christmas. It's the most expensive in the round-up. It's definitely worth every penny, but for a more affordable option, the smaller version is adorned with a pretty floral holly motif and costs £22.
Alternatively, if you're hunting for a really lovely gift the Bettys Soft Iced Christmas Cake, which comes in a cute branded tin, is the perfect Christmas gift for a mother-in-law, parents or host this festive season.
Best alternative Christmas cakes for 2022
If classic cakes aren't your thing, here are our top alternative picks that the whole family will love.
6. Madame Valerie Gateau
Best alternative cake
Specifications
Stocklist: Patisserie Valerie
Serves: 20
Price: £54.95
Reasons to buy
+
Ideal for the chocolate lovers
+
Perfect for a party as it serves lots of people
Reasons to avoid
-
Pricey, the most expensive non-traditional cake that we tasted
-
Very large and requires refrigerating, so best for a large gathering
This showstopping cake stood out at the tasting and caught the eye of the judges. The chocolate truffle decorations looked very tempting and as a chocolate fanatic, I was drawn to this cake. It looked so decadent and chocolaty it was calling to me, I couldn't wait to cut into it to see what the inside had in store!
Inside four layers of moist chocolate fudge sponge sandwich is a chocolate cream and caramel filling, reminiscent of butterscotch and Angel Delight. The sponge and icing are rich, which is balanced nicely by the fresh creamy fillings. We loved that there is so much going on in this cake every mouthful tastes different.
The Madame Valerie Gateau is a biggie, it would happily serve 20, making it ideal if you are planning a festive bash. Out of all of the cakes that we tasted this one oozes the most wow factor, it's sure to be a talking point too.
Patisserie Valerie offers delivery options from £6.95 too.
7. Irresistible Belgian Chocolate Orange Wreath Cake
Best supermarket alternative Christmas cake
Specifications
Stocklist: Co-op
Weight: 739g
Price: £9
Reasons to buy
+
Rich and indulgent
+
Pretty and classy decoration
Reasons to avoid
-
On the sweet side
-
Not available online
This Belgian Chocolate Orange cake from Co-op would be a spectacular alternative to a fruit cake at tea time, or we think it would even be a lovely festive dessert. The jaffa combination of orange and chocolate is an iconic Christmas favourite. And was popular among the tasters. Jess said, "the surprise chocolate and orange centre is a real joy. It just gives that instant festive feel."
The orange-flavoured milk chocolate ganache buttercream in the centre is nestled between rich chocolate sponge cakes. The cake is then covered in a glossy chocolate glaze adding a real lux feel. It almost looks like it's come straight from a fancy french patisserie. On top chocolate bulbuls and curls give this cake an unmistakable celebratory feel.
8. M&S Collection Helter Skelter Cake
Best Christmas cake for children
Specifications
Stocklist: M&S
Weight: 1110g
Price: £25
Reasons to buy
+
A talking point and fun for the kids
+
Great design
+
Lovely fluffy light sponge
Reasons to avoid
-
Not festive tasting
-
Quite sweet
One to enthral the little ones. This charming Helter Skelter Christmas Cake from M&S comes with edible chocolate balls that can whiz down the chocolate run. But the fun doesn't stop there. When you remove the chocolate structure to cut the cake you reveal a cute edible snowy penguin scene hidden underneath.
As you can imagine the taste of this cake is nice but pretty basic. It's made with a delicate Madeira sponge filled with raspberry jam and sweet vanilla buttercream. But the overall innovative design really impressed our panel.
I think kids would adore this, it's so fun they would enjoy playing with the chocolate run. Plus the flavour is very child friendly, sweet and spongy. It reminds me of children's birthday cake. It makes me want to be a young'un again, but I would probably squabble with my sister about who got to eat the chocolate penguin!
A lovely Christmas gift idea for a family with children, if you're looking for something to take on Christmas Day that will contribute to the festive feast.
Sign up to our free daily email for the latest royal and entertainment news, interesting opinion, expert advice on styling and beauty trends, and no-nonsense guides to the health and wellness questions you want answered.
Rose Fooks is the Deputy Food Editor at woman&home. Rose completed a degree in Art at Goldsmiths University before beginning her career in the restaurant industry as a commis chef at The Delaunay in 2015. She then worked at Zedel and went on to become part of the team that opened Islington's popular Bellanger restaurant.
To hone her patissier skills, Rose joined the Diplome de Patisserie and Culinary Management course at Le Cordon Bleu. She ran a food market in Islington and cooked for a catering company that used only surplus food to supply events, before finding her way into publishing and food styling.